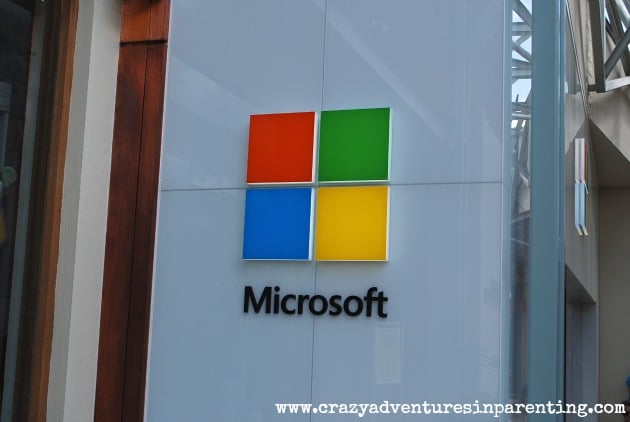 After seeing a ton of the amazing commercials out there for the new Windows phones and Surface, curiosity got the best of me, I really wanted to see what all the hoopla is about. I may or may not have jumped at the chance when invited by The Motherhood to check out the new Microsoft Store that opened in The Shops at La Cantera to see all it has to offer (while hiding my Apple devices, ahem). I was particularly interested in learning more about their free summer camps in San Antonio.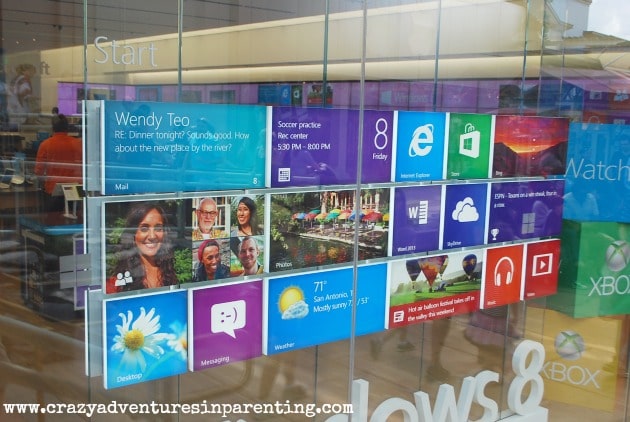 I brought all eleventy-billion kids with me (and my husband), and I have to tell you – it was awesome! I was kinda-sorta-really afraid my kids were going to burn the place down, but the sheer amount of awesomeness in store (literally) kept them happy, entertained, well-behaved, and AMAZED (just as it did us). Do yourself a favor, if you have a store near you and you haven't had the pleasure, go! Do not fear bringing children, just go! You won't be sorry! Every Microsoft person we encountered was AWESOME with the kids!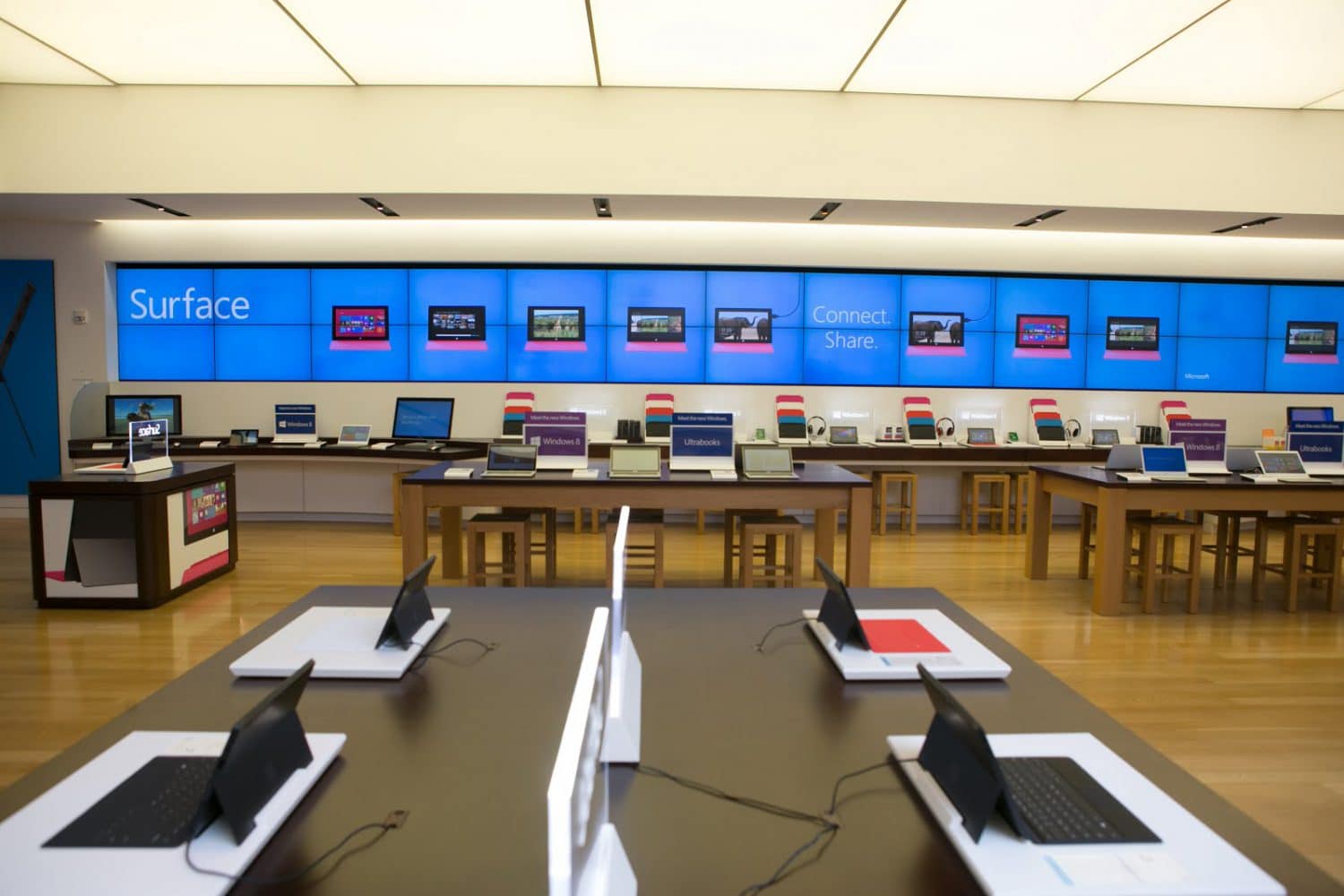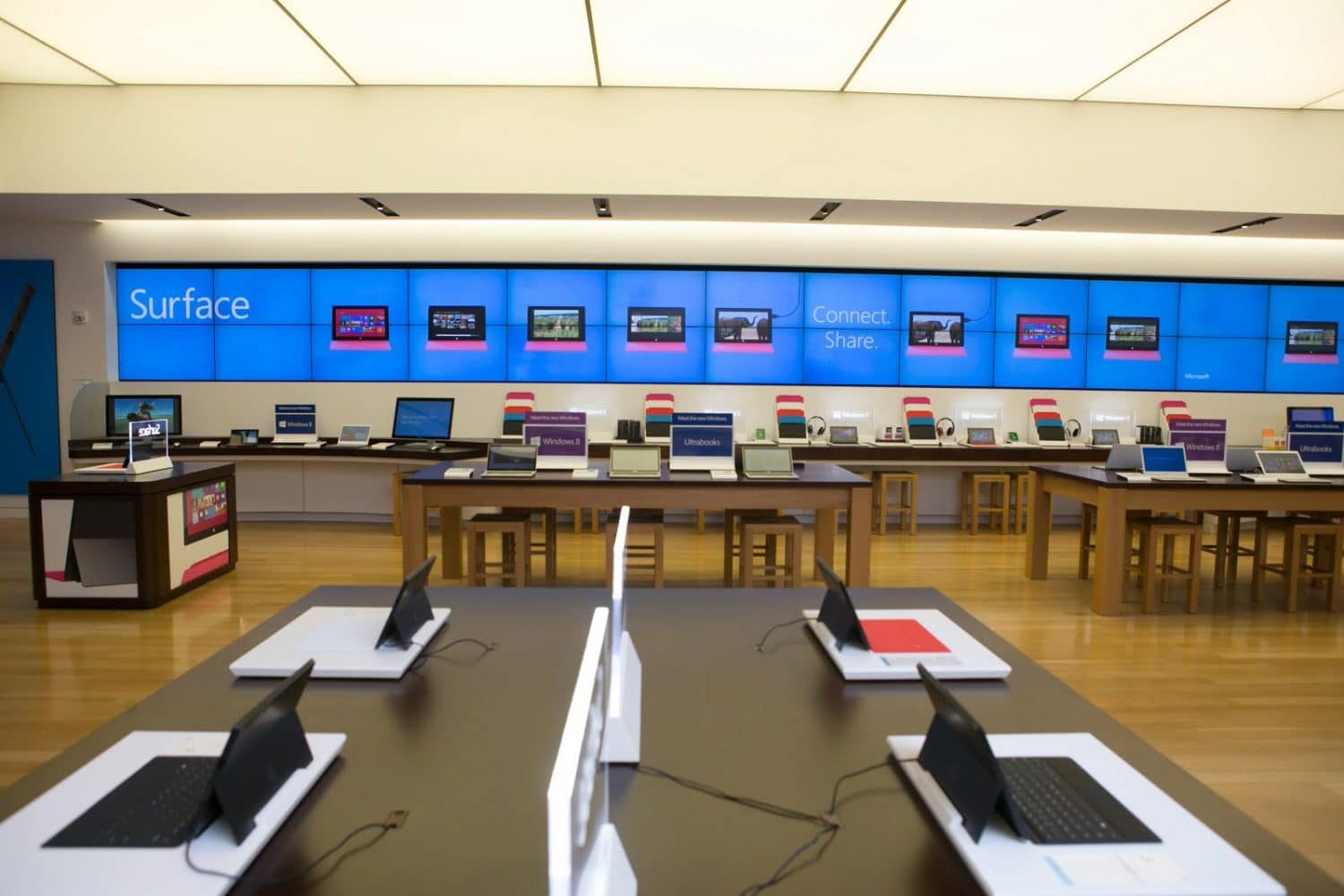 There are 35 full Microsoft stores in the country (the ones with the full theatre in the back) with 31 specialty stores. The full Microsoft stores have it all, offering the latest technology, games, software, and advice with a full theatre in-store offering great events, including summer camps for kids (woohoo, more on that in a bit), programs for the Boy Scouts and Girl Scouts, and more. Also, these stores have a great theater space that you can use for your own personal events for free (think little Johnny's birthday party)!
The specialty stores are smaller stores offering a curated selection of the best Microsoft products, including computers and phones. Curious if you have a store near you? You can find out by entering your zip code into their store locator here or perusing their list of all stores. (Specialty stores have a blue symbol next to them.)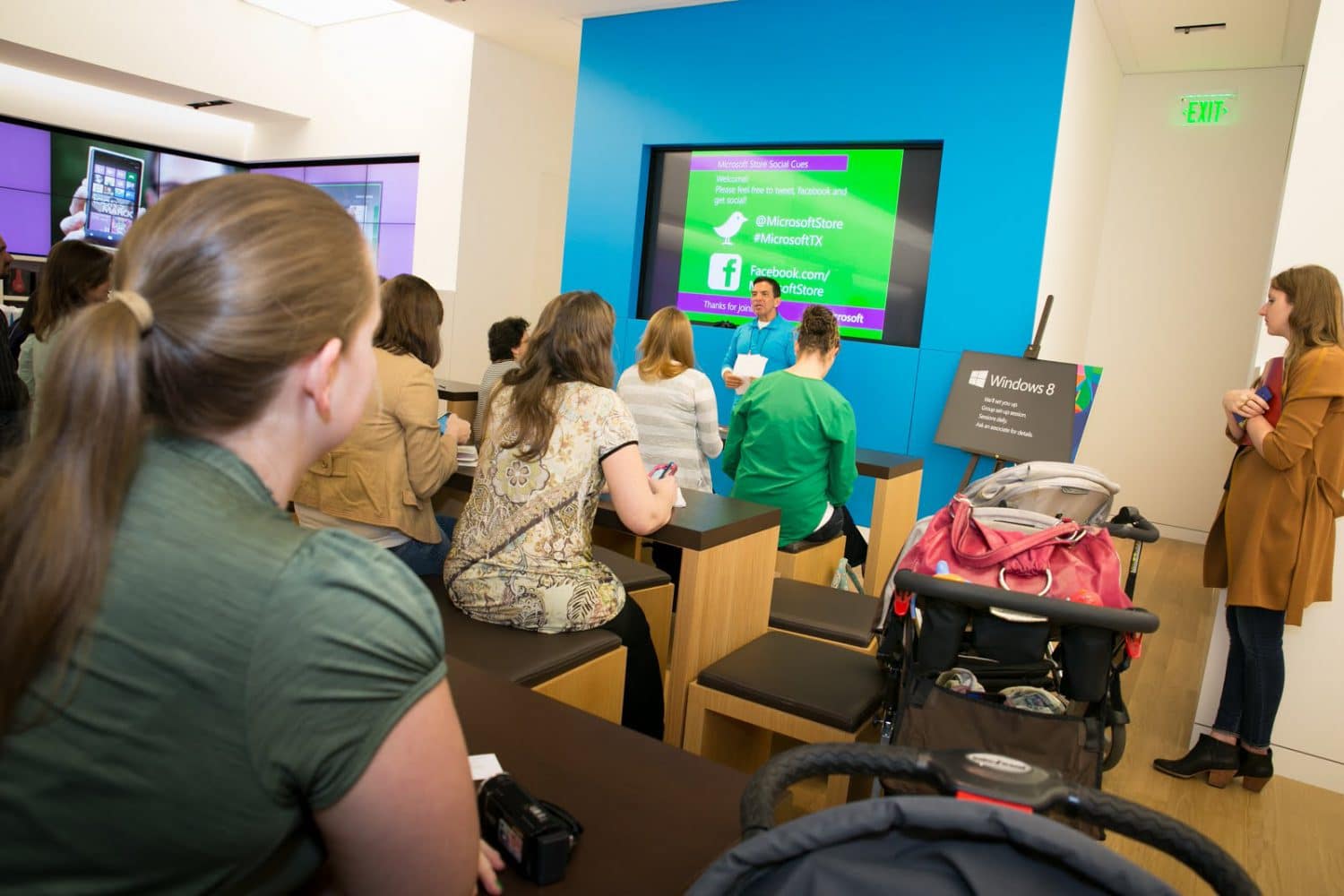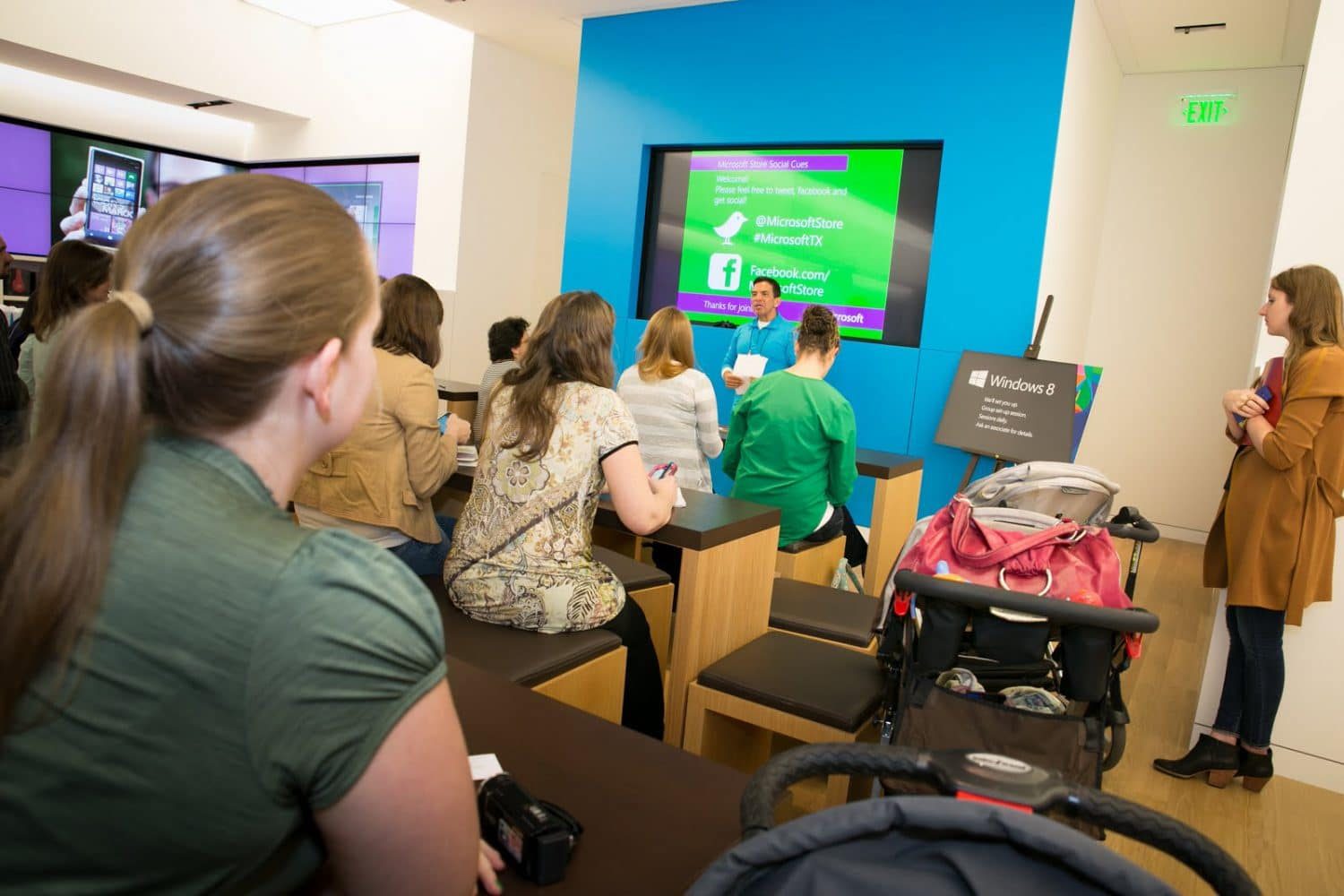 Immediately upon entering the store, my kids inhaled and, I swear, never exhaled. It was awe-inspiring. A true tech-loving family's dream come true. The walls were alive with all sorts of promotional and educational stuff about the Windows products, and every model on the floor was shiny and turned on for road-testing, being polished regularly by friendly and inviting Microsoft personnel in colorful shirts and smiles to match.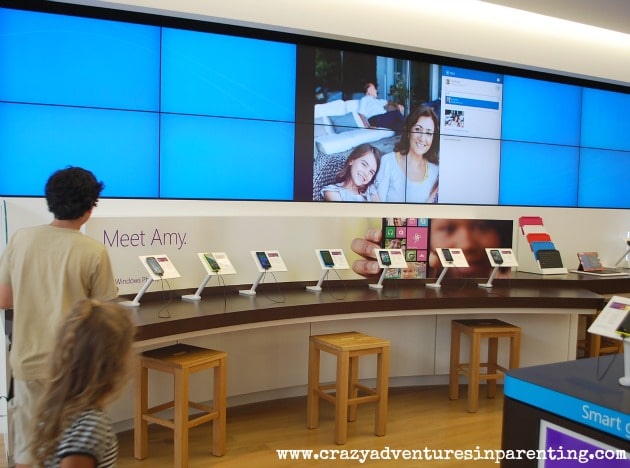 I thought the live tiles on Windows 8 systems would be tough to get used to on these devices, but it's amazing how intuitive it is, particularly for children. The kids hopped on and touched the screen like pros, without even knowing what it said, they knew what it did because of the icons or images. Amazing!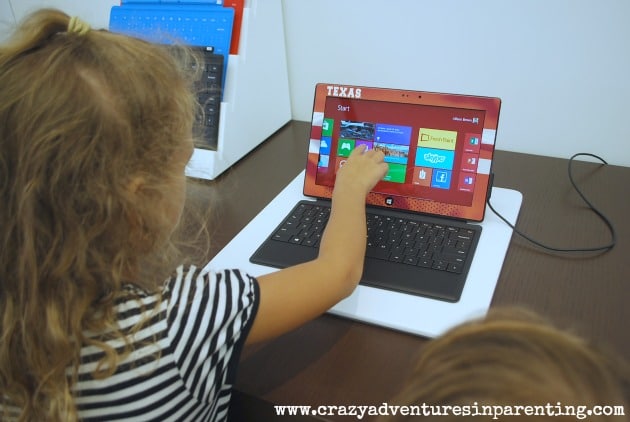 I was blown away by some of their huge PCs – a whopping 27-inch touchscreen with a wireless keyboard to boot. Picture having this badboy in your bedroom instead of your TV! Or in a student's dorm room, maybe? Oh yeah!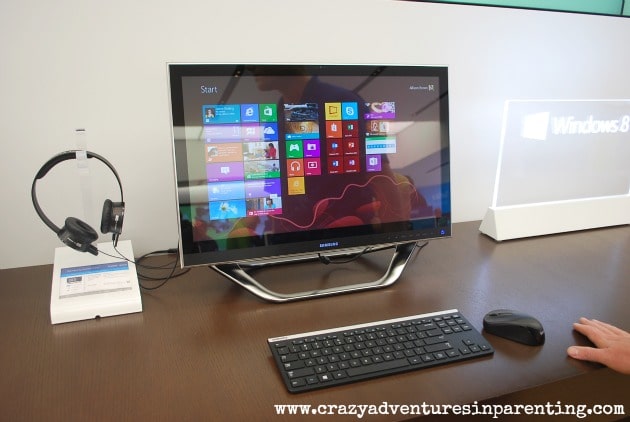 Speaking of dorm room, this is the most epic set-up right here. You can connect all your Windows devices into these new computers to form an all-in-one center – the Surface, Windows phones, and Xbox connect directly into these new Windows PCs which act like a touchscreen TV. How crazy is that? Technology is cool, man.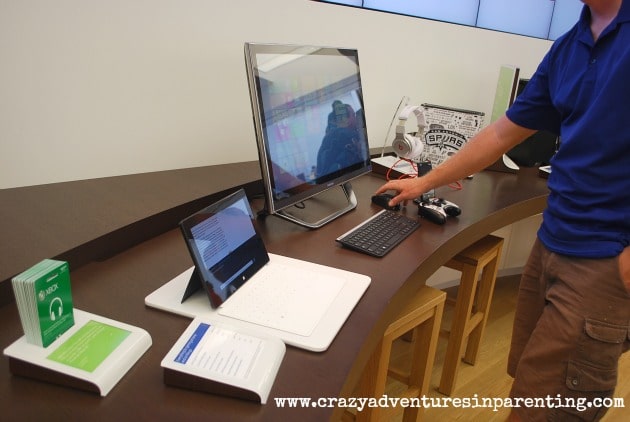 My kids were absolutely enamored with the app called "FreshPaint." (I gotta admit, I'm completely obsessed, too.) Not only can your child use the touchscreen to paint, but they can draw with chalk, pencil, watercolor, change their paper, zoom in, use coloring pages, and even blend paints on the pallet, too. When the guy demonstrated all FreshPaint can do, I may have salivated. I also may have wanted to kick my kids off the PC to try myself. Ahem. (The artist in me couldn't help it!)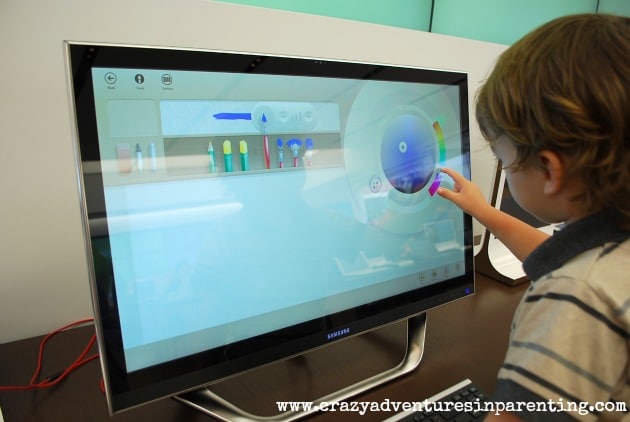 Now that I've gone on and on about how magnificent the retail store experience really is, here's some important Microsoft Store Information you might want to know about:
"The Answer Desk" is something additionally awesome and helpful, where you can enjoy worry-free technical support and protection. These Answer Techs truly can answer ALL of your questions, resolve any problems, and help safeguard your new device before you even leave the store! You don't even have to book appointments with them ahead of time! Don't want to go all the way to the store? You can even reach an Answer Tech over the phone! These advisors are always available to help answer any technical questions for you, no matter how small or big. I was quite impressed with the fact that they can help you set up parental controls on your kids' devices for you before you go home. One of the many techs I spoke to told me they not only perform tunes-ups but upgrades in-store as well. Neat!
Your local store also hosts events of all kinds, not only for kids, but for businesses and for the community, too. In the theatre space, you can train with experts by choosing a topic and learning one-on-one with Microsoft associates at your local store. They also offer single hour-long classes with maximum flexibility, a 3-session subscription, a year-long membership for a variety of courses to buy and redeem in stores, and business training, too. Workshops can either be one-on-one or a group training or workshop. Training can be an ongoing class or a one-time specific topic of your choice – check your local store's schedule to see which workshops are being offered or request your own.
And if you're in the market for a new device but completely lost as to what you may need, they even offer personal shopping sessions specialized helping you find and understand which Microsoft product is right for you and best for your needs. Wow!
Best of all, (and I mean BEST of all) – all workshops and training sessions are completely free! F to-the R-E-E, yo!
And heeeere's what I'm most excited about – the summer camps! Yes! They offer free summer camps, too! Youth Spark Summer Camps begin on June 3 for kids ages 8-13 Monday-Friday for 2 hours a day with different topics offered every day, such as Digital Movie Madness, Digital Art Smart, Gamemasters, Storyteller Studio and more! Some stores may even offer a camp for kids ages 15-18 – the App Builder Class. You can also inquire about their Tech Tots Camp for kids ages 2-5. This extremely interactive experience helps teach children keyboard skills and embracing technology in other ways.
To find camp locations and to sign up, visit this Microsoft Summer Camps link. (Summer Camp dates/times vary by store, so contact your local Microsoft store for details on the Summer Camps in your area.)
For those of you here in San Antonio, do I have some news for YOU! During my visit, I spoke with the woman in charge of the camps here, and OHMYGOSH, she is awesome, and I am SO excited to take my kids in June/July. Here's San Antonio's schedule of events to sign your children up for F-R-E-E this summer at the Microsoft Store camps.
Also, if you're planning on checking out your local Microsoft store soon, be sure to enter the giveaway below for a $100 gift card! Also, be sure to tune into our one hour #GoMicrosoft Twitter party 5/14, at 1pm ET/Noon CT/11amMT/10am PT where we'll be exploring all of the ways that the experts at Microsoft can help make your life easier and giving away gift cards. Your Microsoft store isn't just a place to shop, but a fun place to visit – for both you and your kids! (My kids are already asking when we can go back to visit the "cool computer store!")
Where: We'll be on Twitter – follow the #GoMicrosoft hashtag to track the conversation. You can see the details and RSVP via this Twtvite:  http://twtvite.com/GoMicrosoft
Hashtag: #GoMicrosoft
Prizes: We will be giving away six prizes to randomly selected winners. Five winners who answer trivia questions during the party will receive $25 Microsoft retail store gift cards, and one grand prize winner will be chosen for a $500 Microsoft retail store gift card!
Hosts: @MicrosoftStore, @theMotherhood, @CooperMunroe, @EmilyMcKhann
TweetGrid for the party: http://bit.ly/11SJxNf
Your fellow co-hosts: (Be sure to follow us all!)
Lisa, Crazy Adventures in Parenting – @crazyadventures
Candy, Mommypalooza – @mommypalooza
Kelly, Kansas City Mamas – @KCMamaKelly
Kristen, Dine and Dish – @DineandDish
Mara, Kosher on a Budget – @kosheronabudget
Claudya, Unknown Mami – @UnknownMami
Heather, Rookie Moms – @rookiemoms
Jessica, It's My Life – @kikarose
Jen, The Mom Reviews – @themomjen
TerriAnn, Cookies and Clogs – @cookiesANDclogs
Divina, Dancing Hot Dogs – @DancingHotdogs
JessieLeigh, Parenting Miracles – @micropreemies
Marianna, Green Mama's Pad – @GreenMamasPad
Rachel, Rachel Ferrucci – @RachelFerrucci
Sarah, Sarah's Cucina Bella – @SarahWCaron
Heather, Sprittibee – @sprittibee
Clay, Dad Labs – @daddyclay
Kim, Prairie Mama – @prairiemama
Stephanie, The Candid Pastor's Wife – @stephaniepete
Christine, Boston Mamas – @bostonmamas
Christy, Quirky Fusion – @QuirkyFusion
Mackenzie, The Centsible Family – @TheCentsibleFam
Erika, Musings of a SAHM – @MusingsSAHM
Additional links of interest:
Facebook – https://www.facebook.com/MicrosoftStore
Twitter: https://twitter.com/microsoftstore
Pinterest: http://pinterest.com/microsoftstore/
Microsoft retail store website – http://content.microsoftstore.com/Home.aspx
---
To win a $100 Microsoft Gift Card, leave a comment below telling me your favorite Microsoft product, or a product you'd most like to try out!
Winner will be chosen via Random.org. Contest ends 5/28/13 10pm CST.
---
This post is sponsored by Microsoft and part of the Motherhood. I was compensated for this post, but all opinions, images, and awesomeness are my own.