You like me…. you…. okay, I'm kidding. But in all seriousness, you guys really do like me 😉
Once upon a time, I was an artist. I probably still could be considered an artist, except, well, I never pick up a pencil, or a paintbrush, or a carving tool anymore. Here is some of what I have done before, though (see, I promised I'd show you, Amber):
(Pardon the marker on the second lino print, my son got to it before I could put it away a few years ago).
That second one is a self-portrait, and is a linoleum cutting, same as the landscape. The first one was my grandmother and is in pastel. The last picture is of a guy I went to school with, and of a little girl I used to watch in daycare, drawn in pencil. The third is a landscape in water color.
I received "Gold Keys" in the Scholastic Art Awards my junior and senior years for my work in high school.
I don't know why I don't do it (art) anymore.
Oh yeah, 'cuz I have six kids, and my toddler would eat the paper I was drawing on, or poison herself on my paints, because it doesn't matter where I'd hide the stuff, she would stalk me, with her sweet, toddler-sized body, and launch a full-scale thermonuclear attack on my art, 'cuz she's got mad skills like that. Yeah, that's why.
No seriously, I might get back into it again. And I *might* be for hire, some day soon, too. We'll see..
I laugh like Betty Rubble, or at least I used to. So much so, one Halloween I dressed like her and made the costume myself. Y'know, back in the "I wear a size nothing" phase, curves in all the right places, could wear something tight without scaring anyone. Yeah, those days.
I love to dance. Somehow, it didn't seem to matter how in or out of shape I was, I could dance for hours, whether it be listening to my own music, or dancing in a class or performance, or in a club when younger. I performed Modern Dance in college, SUNY New Paltz. Perhaps one of these days I might see if I can get the video into digital…..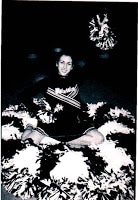 I used to be a cheerleader and later, cheerleading coach. I adored doing it. Seeing my daughters now do it reminds me of how much I used to love it. (Yes, that's really me, senior year. Straight out of my yearbook, hence the quality.)
Because I was a cheerleader, I learned how to raise my voice the right way (yes, there is a right and wrong way. The wrong way strains your throat, makes it hurt. The right way, comes from your gut.) Just another free service I offer – my ability to yell loud. My kids are not too fond of it, but hey, can't say I'm not heard (or, perhaps, just not listened to…)
Did you know that Firefox considers "cheerleading" not a properly spelled word, but "cheerleader" is?
My favorite ice cream of all time is chocolate-chip cookie dough.
I was never a country music fan. I used to tout my love of all music, except country, until I moved to North Carolina. A lot of people, who we would hang out with, would play it, and I realized that some of it actually wasn't all as bad as I'd made it out to be, especially the stuff they play in country bars you can line dance to, like "Save a Horse, Ride A Cowboy", and other popular tunes. (Recall, I love to dance, hence why I like them). But no, you aren't going to catch me listening to country stations or anything, but I don't leave country out, anymore.
I had braces almost all of high school. Not fun. I needed them, though, as my teeth were more crooked than a politician. I had adult teeth growing out over my baby teeth. So, in an effort to fit them all in my teeny mouth, they had to pull 6 teeth out, just to fit them all. Like I said, not fun. I might have a big voice (recall, my ability to yell loud) but it comes from a small mouth 😉
I'm kind of sort-of semi-addicted to perfume. And by 'kind of', I really mean, very much so. I am a perfume 'collector', if you will, especially considered I love it so, but rarely wear it. I know, weird, but true.
I drink a ton of coffee (which is obvious) but I don't make a huge pot in the mornings. I make a little, drink it throughout the morning. I'll make more again in the afternoon, drink it throughout the rest of the day. I don't like old coffee, hence why I don't make a huge pot to drink throughout, I like it fresh (who doesn't?!). But even though I drink a lot, I don't drink it fast, I drink a little here, a little there. I really need a better way to do it.
I drink coffee out of the soup-bowl-lookin'-mugs. You know, like they did in Friends?
I get migraines. (Okay, you might already know that.) What you might not know is, they stopped, completely, when I was pregnant with my two-year-old daughter. Promptly resumed just after I had her, though. Strange how that worked.
I love the smell of laundry. Like, Gain, particularly. Fabric softener. Ohhh fabric softener…. BUT, since we go 'natural', I don't use any of it, sadly. I wish I could, but we don't because of the chemicals. If only I could find a natural version to add to our laundry that smelled just as delicious. (I guess this stems back to the whole "I love perfume" thing, huh?)
I have green eyes.
There you have it. 16 things you might not have known about me. Ish. (I was tagged by Steph.)
But that's not all! You all spoil me, seriously, spoil me. So there's more!
Toni-Lynn aka Fabulous One, said I'm fabulous, too, and asked me to join her in her evil plot to overtake the country in fabulous-ness.
No wait. That's not right.
She awarded me the "Your Blog is Fabulous" award! How sweet fabulous is she?! I'm supposed to put it on my blog. Check. Nominate 10 blogs, linking to them (of course). Check. Visit them to let 'em know (of course). Check. Finally, share the love and visit Toni-Lynn with my link. Can do!
My 10 are chosen by loving their site design, content, or both 🙂
The Run Amuck (with a schnazzy new makeover!)
Dr. Mommy Says (with a schnazzy new picture!)
Amanda (also with a schnazzy new makeover!)
Subjective Beauty (with a new site, and who's doing a blog makeover for me!!!)
Little Window Shoppe
Congrats ladies!
Believe it or not, there's more!!
I got another award from Stephanie from Bizzie Mommy, the "Honest Scrap" award, thank you!
(See, you guys really do like me!)
I'm to list 10 honest things about myself (and I just listed 16 above, how's that for tackling two things simultaneously?!). I'm also to pass this award along to 7 bloggers I feel embody the spirit of the Honest Scrap.


I picked 7 bloggers that tell it like it is 😉
Congrats everyone 🙂