I don't know about you, but I'm always looking for fun things to do with kids during summer vacation. I've vowed to make 2013 rock, and so every day this summer (and some days more than once), I'm going to be doing something special, something awesome, and fun for (and with) my kids. I hope you'll join me!
The rain was gone, the day's forecast looked like a good one. Upon waking up, eating, and doing a few chores, I felt the morning's air calling us, particularly before the heat set in. "C'mon, kids! Let's gooo!"
We made water bottles, packed some snacks, hosed one-another down in sunscreen, and broke out all the helmets. It was GO time, people! And it was gooood!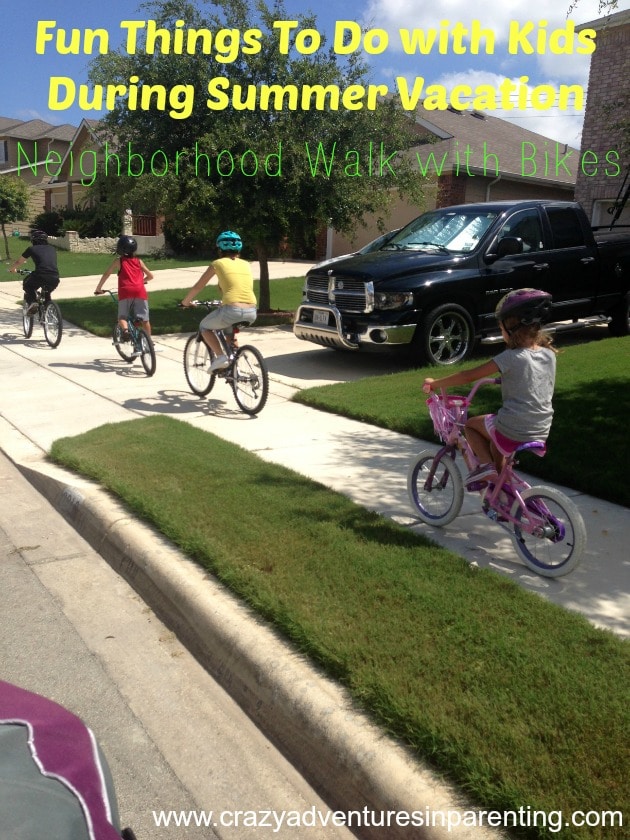 We walked our way to the park, played at the park for a little while (we couldn't do much after a while, though, as the afternoon sun began to really heat up the climbing apparatuses, making it difficult to climb, swing, and play). We brought plenty of water to enjoy our walk/bike ride, and made it home to the delicious air-conditioning to eat a little lunch and then get wet in the sprinklers. Win!
A little secret – my husband and I are looking into getting bikes for ourselves with that cute trailer thingie to pull the babies in. I canNOT wait to get that so we can ALL ride! Woohoo!
Walk/Bike Riding Tip: Go in the morning. Get up, eat breakfast, pack a few snacks with LOTS of water, and go before that afternoon heat hits! You won't regret that fresh morning air and time spent with your kids! It feels like an adventure!
What about you? Do you like taking walks with the kids while they ride their bikes? Be sure to check out my new "Fun Things To Do with Kids During Summer Vacation" page, where all our fun summer ideas will be indexed 🙂