Originally, this trampoline-putting-together task was going to be a "fun" activity for my two middle-schoolers. An afternoon project, if you will. I figured it couldn't be TOO HARD to put together the poles in the bottom to create the base of the trampoline, right?
WRONG.
All the kids were outside helping – even the littler ones were unpacking the parts and collecting the paper trash (or, you know, playing in the ginormous boxes) while the older ones were spreading the pieces out and putting them together. Sounds like a perfectly strategically planned late summer morning/early afternoon, right?
WRONG.
Even with very few parts to maneuver, and a huge backyard area to work with, they still couldn't get it together without mom-type assistance.
"Spread out all the like pieces together." Nope.
"Read the directions, and follow what they say." Nope.
"Work together." Nope.
My plan to keep the kids busy was foiled. Even though they were both quite capable of reading the (picture) directions, they needed me and my help. Besides, with all the repetition of commands, over and over, going unheard, not to mention the reasoning behind assigning them this task in the first place (after frustrating the hell out of me all morning), I guess I needed a good physical outlet with which to work through my frustrations anyway. Without going into much detail, yesterday was a no-good, very-bad day, and the manual labor helped me take my mind off of it, even if only for a while.
The springs, however, almost beat me senseless. Have you ever put a trampoline together with that death tool they include to stretch those springs out? Holy smokes, that sh*t is no joke. I've seen my husband do it many times, and I really didn't think I was going to be able to do it, but some how, some way, I ninja-kicked, yoga-stretched, and Rambo-ed my body using my Herculean Baby-Lifting Arm Strength™ to get those suckers on. Whew!
But I did it. I freakin' did it! Springs on! Go go gadget mom!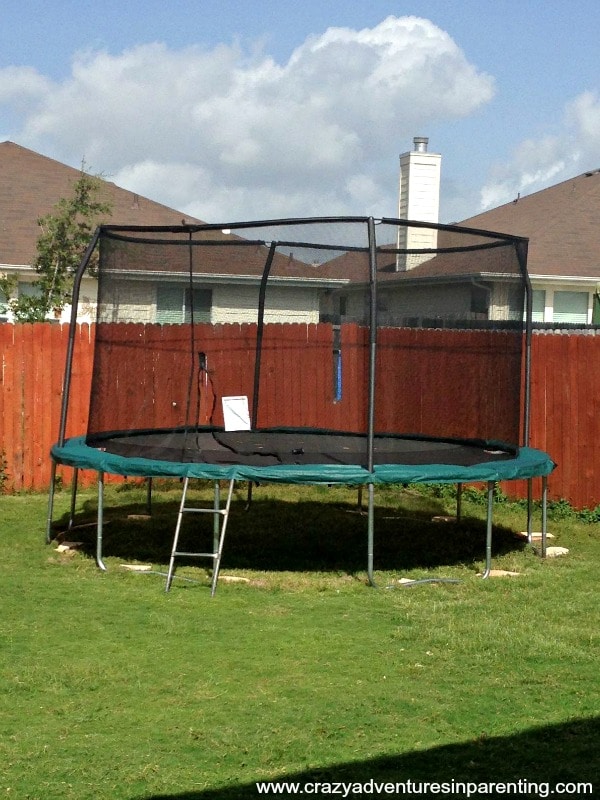 (Just don't ask me how sore and bruised my poor hands are today, okay? Ow.)