This is a sponsored post written by me on behalf of NUK. The opinions and text are all mine.
Having a baby is a miracle in itself, but sometimes those to-do lists and shopping/packing lists from all the parenting books, magazines, and websites can seem quite overwhelming. Do you really need eleventy-billion spit-up rags, a bib to match each outfit, and gadget for every day of the week? Of course not. I'm here to share with you my favorite baby gear items for you to consider putting on your registry (and why), along with a chance to win one of TWENTY to be given away! Read on!
Now, before I get into the must-have gear, let's take care of what mom needs first, okay? (Not everything has to be for the baby, you know.) After all the excitement of giving birth, you're going to be sore. Be sure to have some doctor-prescribed acetaminophen and ibuprofen on hand for the aches and pains that goes along with having a baby. (You will be surprised by the parts of you that hurt afterwards). By having it already on hand, you can enjoy your new baby without worrying about sending hubby out to get you some (or having to call the doctor for it). (Tip: Another thing to help with the aches and pains is a heating pad. I love using the washable heating pads, that you can throw right in the washing machine for my backaches.)
Second thing for moms is breast protection – you will need at least one good breastfeeding bra (two is preferable, so you've got one on while the other's being washed), some nursing pads (disposable or cloth) to help keep you dry, and nipple cream. Breastfeeding bras make it easy to access your breast with a squealing, hungry baby in your arms. The nursing pads help avoid the inevitable leaking, especially in the beginning, and a good nipple cream or lotion (not gel) that's easy to absorb will be more beneficial to you in the beginning, when nipples are prone to cracking.
While you're resting at home with your little one, I think moms should have a good foot cream and aloe-infused fuzzy socks on hand to keep their toes cozy, lotioned-up, and moisturized. (Bonus: Have your husband apply it, it's simply magical.)
Now that we've got mom's needs out of the way, here's my favoritefavoritefavorite baby gear registry choices for the first six months:
A baby carrier, like a Moby wrap- This item I put at the A#1 spot, especially when they're so small. The jersey knit on the Moby is THE BEST because they are breathable and feel like your favorite t-shirt (not to mention soft against the baby's skin). Babies want remain close to you, and it allows you to be able to do that without your arms falling off. (Trust me, an 8-lb newborn feels like a 20-lb bowling ball after a week or two of constant nursing/burping/rocking, etc.)
Vibrating bouncy chair – get one with a newborn insert so their heads are protected. These things are like GOLD when you've got a child who likes movement. (Beats driving them in the car making laps around your neighborhood.)
Bumbo seat – not a necessity for the first couple months, but once your baby can hold his/her head up, this thing is AWESOME and helps to make your infant feel like one of the big guys.
A few swaddle blankets to help keep them cozy and tucked in when they are small. They double as blankets when they get older.
If you're worried about spit-up or breastmilk leakage on the baby's outfit, I wouldn't purchase bibs yet, as they are mainly used when baby starts solids. Spit-up rags are better alternatives, as they are larger and can fit over your shoulder or over the baby as you nurse (like a blanket/napkin). I prefer the gauze/cloth diaper looking ones that come in a pack of twenty.
NUK pacifiers – The hospital will probably send you home with one, but I prefer the NUK brand, particularly this one. You can put your finger into it to place it into the baby's mouth, they're easily washable, and have orthodontic nipples that promote the natural development of jaws and teeth.
An electric breast pump – As someone who has attempted to use a manual (and failed spectacularly), an electric pump is the way to go, particularly in the beginning when your milk is coming in, the baby isn't feeding as much, and you're engorged to H-E-double-hockeysticks. NUK's new Expressive Double Electric Breast Pump is easy to use and clean, and comes with everything you need to pump, store, and feed right out of the box. It even has a memory feature which remembers your preferred settings!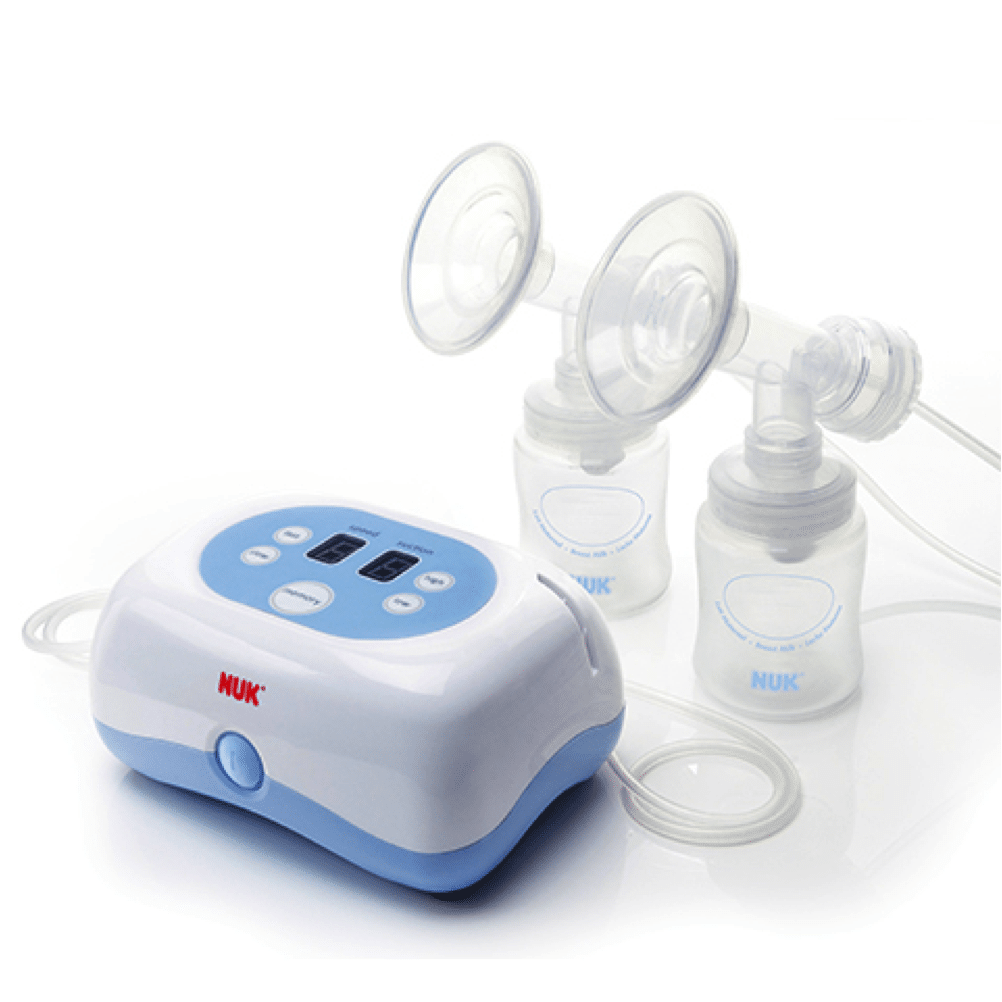 Win it!
Would you like to win one of TWENTY (20) NUK Expressive Double Electric Breast Pumps? To enter, leave a comment here telling me YOUR must-have baby gear item. For extra entries, share this post and leave a comment for each share! (You can keep sharing for unlimited entries!)
Contest open to those living in the 48 Contiguous United States. Winner will be chosen via Random.org. Contest ends June 26th 2013 at 10pm CST.
Am I forgetting anything? Let me know your must-have registry items in the comments!