This post is sponsored by Joann.com.
Our mission this summer was to make summer fantastic and AWESOME! Most of it was spent outside, getting wet, and having fun playing games and riding bikes, but there were crafts and fun indoor activities, too! I had the spectacular idea to create some fun and crafty flip-flops for not only summer dress-up use, but for back-to-school as well! We shopped Joann.com's Cape Discovery catalog for some fun projects and found their cute project for these DIY embellished flip flops.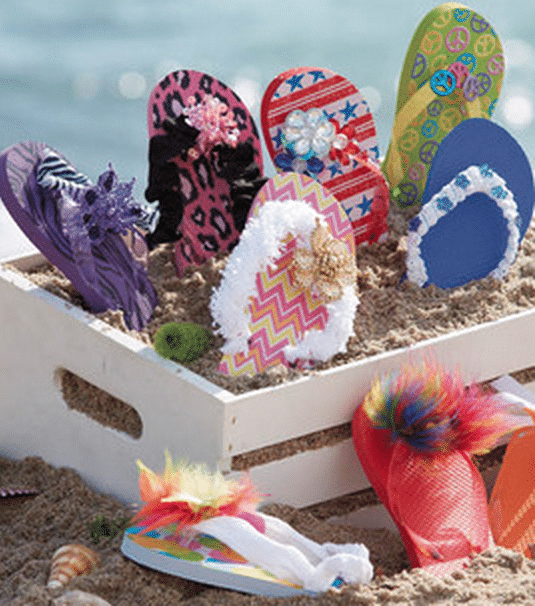 We decided they were just too cute to only do one set, so we purchased THREE SETS! (The other two tutorials are coming soon!)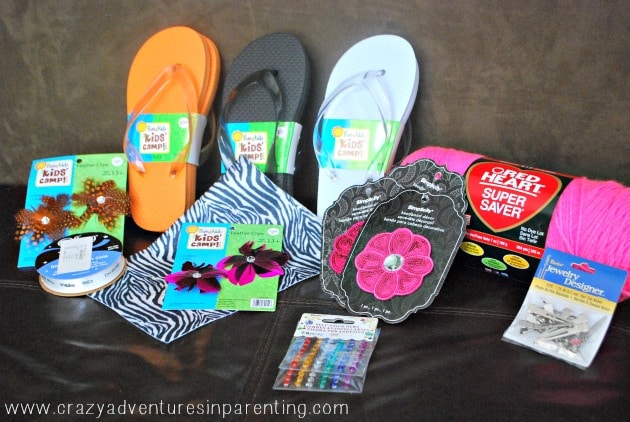 I'm going to share with you how I transformed those white flip flops into a white and pink yarn-tied flip flop set with matching flower barrette clip!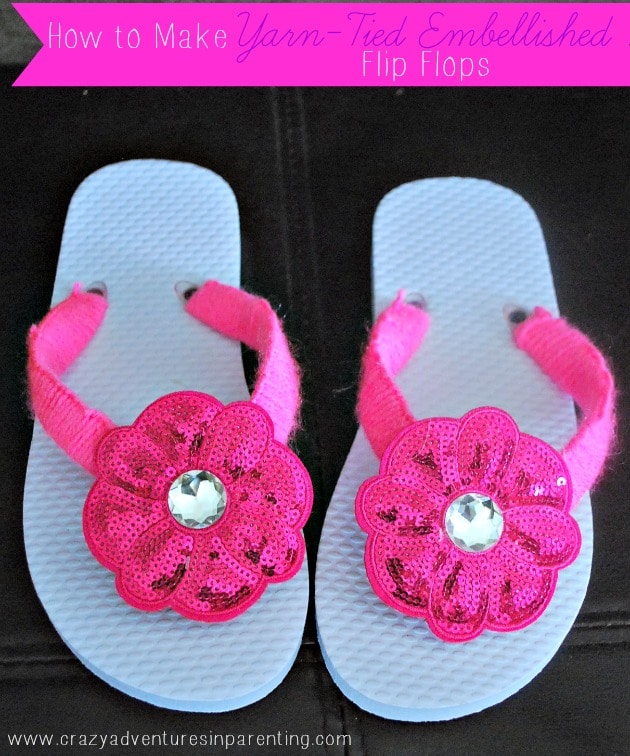 These were SO much fun to make! Here's their version vs. my version:

For this particular project, you'll need:
set of flip flops, color of your choice
yarn of a similar, contrasting color (or rainbow)
flowers or other embellishment, with or without a clip (two for the shoes alone, three or more for matching hair accessories)
hot glue gun and glue sticks
metal hair clips if you choose to make matching hair accessories (if your embellishment doesn't already have a clip
To start, take your yarn and tie a knot around the base, double-knot it, with the knot facing out, and press it as far down as it'll go. Cut a looooong strip of yarn for this project, but not too too long, because it takes forever to weave in and out. (You can tie more onto your yarn later, should you run out.)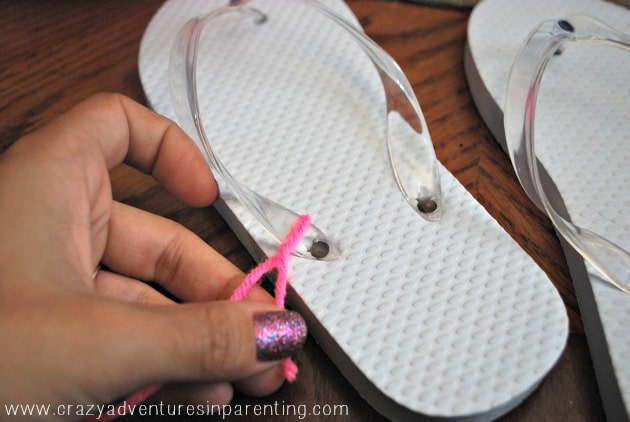 From here, you're going to wrap the yarn over your hand (since I'm a righty, I wrapped it clockwise over my hand), over and under the plastic part of the flip flop, and then through the loop created by your hand (as shown below):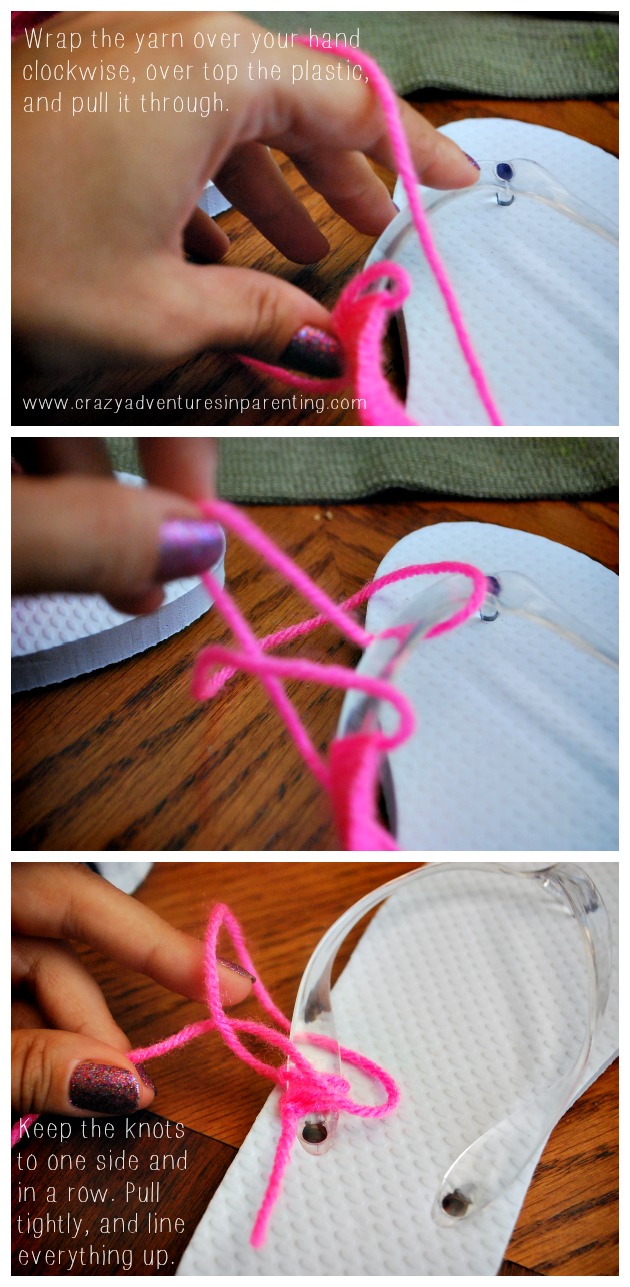 Here's another look at the knot: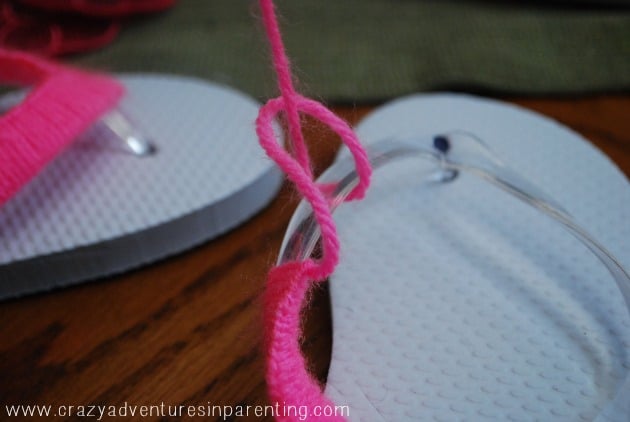 Once you get going, you're going to see a cute little knotted line in a row – keep those straight.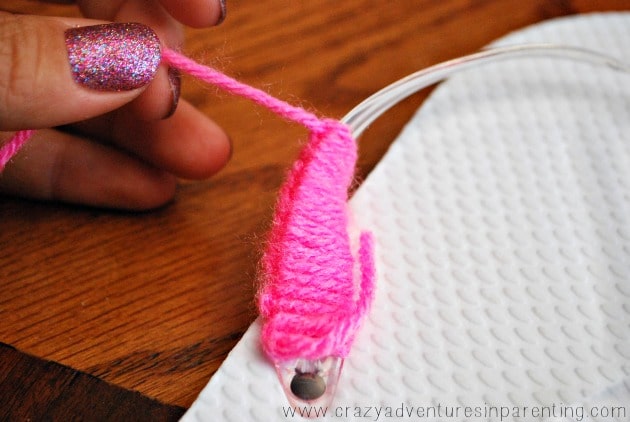 Once you get to the thong area between your toes, knot over and under the thong a couple times, but don't worry too much about whether it covers completely or not, this is where your flower will go!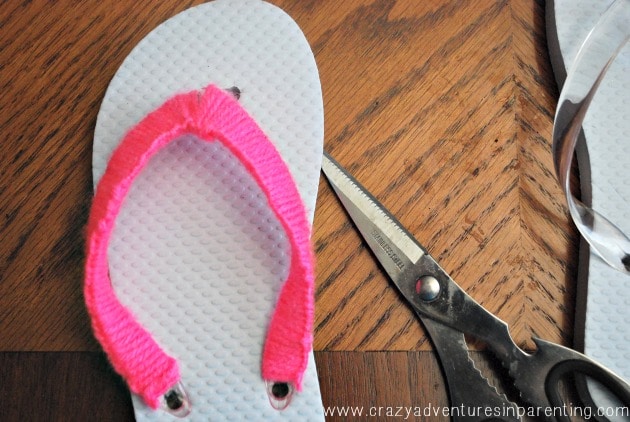 Once you finish one flip flop, the second will be a breeze to get through!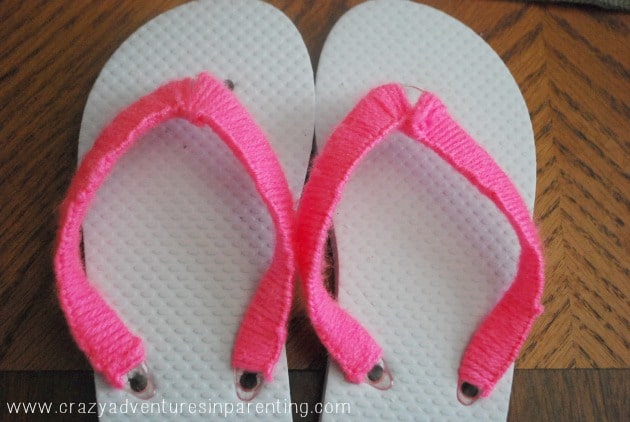 Finished and ready for hot glue, yeah, baby! Place a large sized dollup of hot glue onto the yarn in the center where the thong is.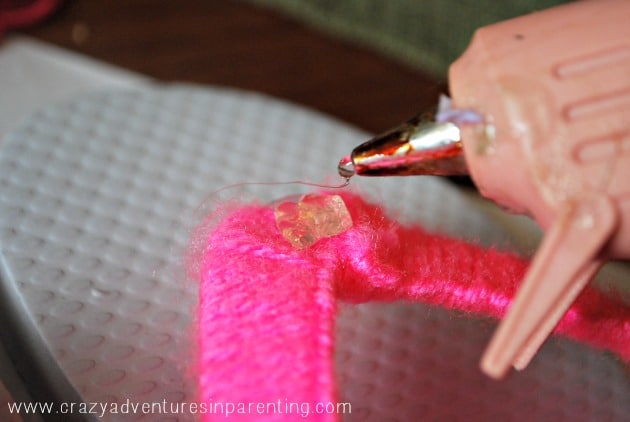 Set the flower onto the hot glue and press hard! You can choose to add additional glue underneath on either side to secure the flower better, if you'd like.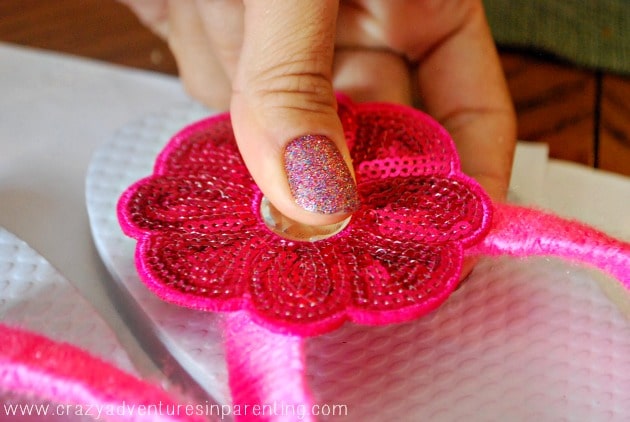 Ta-da! You've got some super-cute flip flops ready for an equally cute outfit!
To make the matching hair clip, place hot glue onto the flat part of the clip and secure it carefully to the matching flower.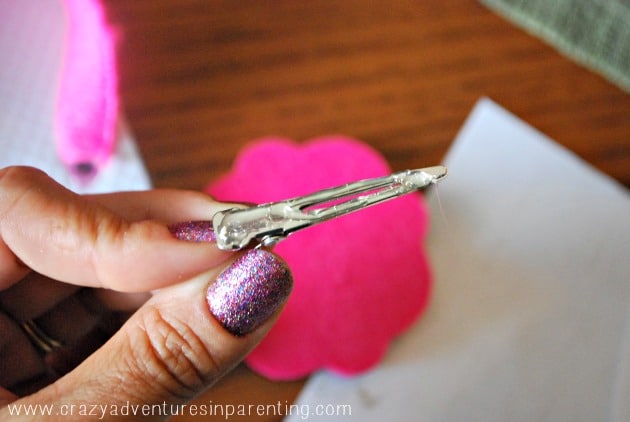 See how cute that comes out as a hair clip or barrette?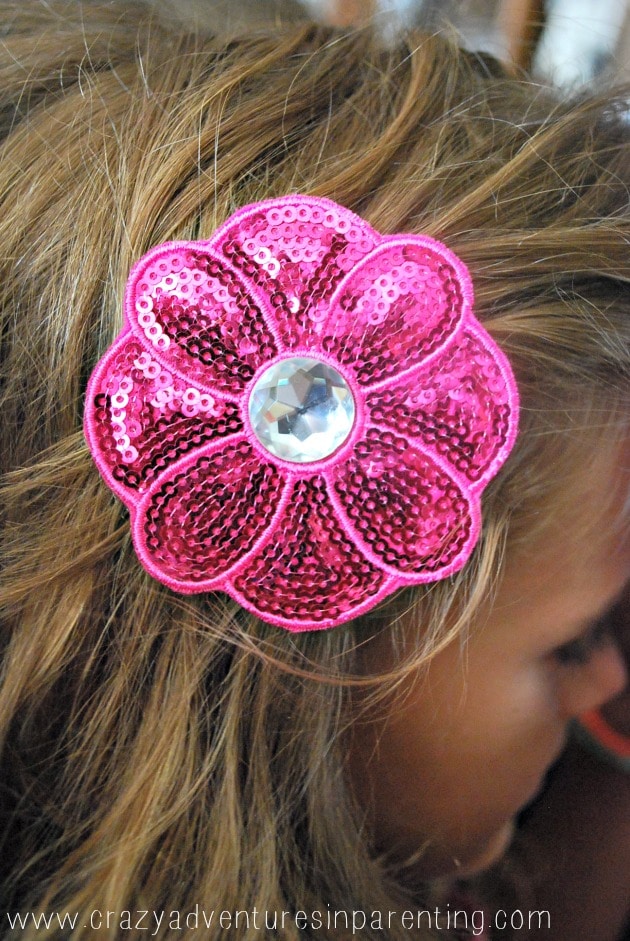 Look at what it looks like all put together – adorable, right?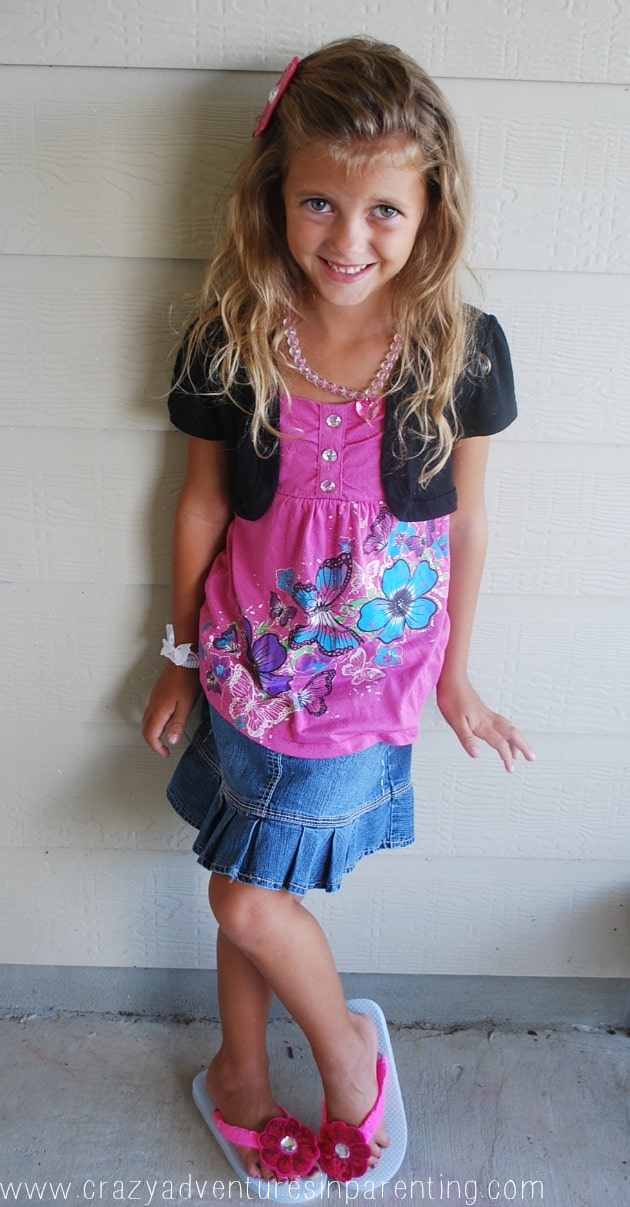 What do you think? Do you think this is something you could make? I don't know about you, but now I want to make a pair just for me!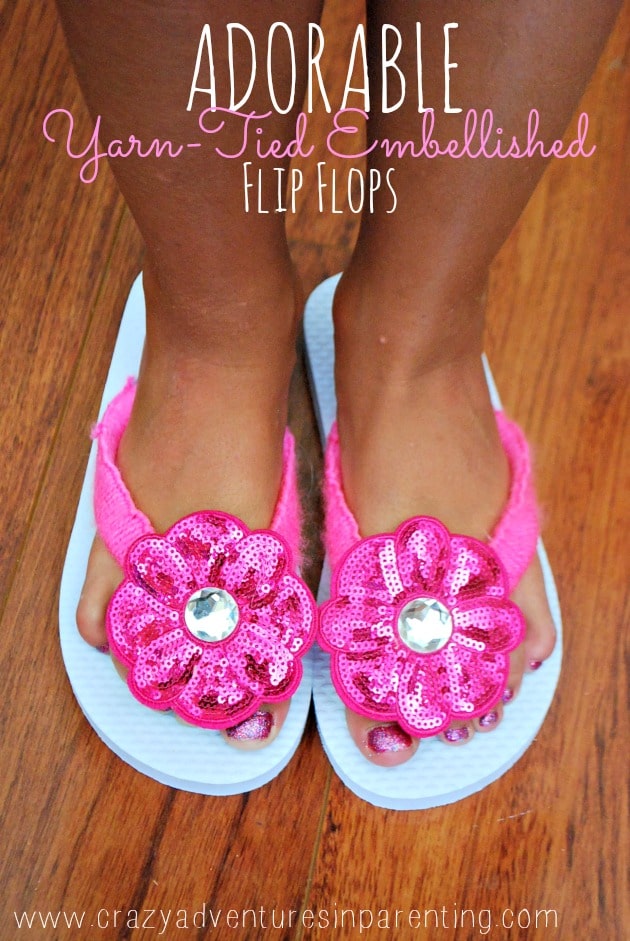 Would you like to become a Jo-Ann preferred customer? You can save 20% off by signing up!
If you're looking for some more fun crafting inspiration, check out the #summerofjoann hashtag on Twitter, Pinterest, and Instagram.