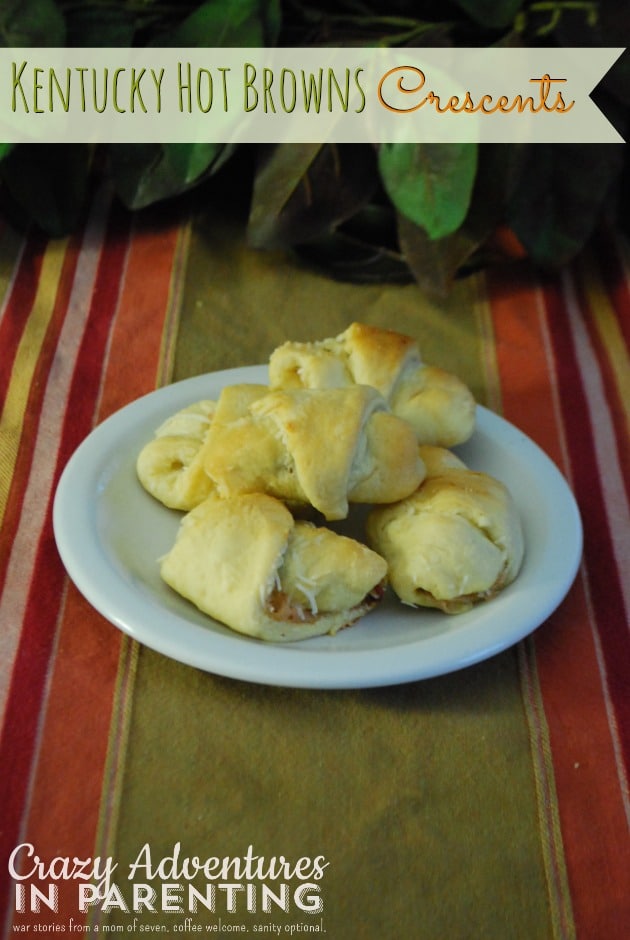 My son's favorite dish is Kentucky Hot Browns. When you ask him what he wants to have for his birthday dinner, it's Kentucky Hot Browns. When you ask him his input on what to make for dinner when menu planning, what's his first choice? You guessed it, Kentucky Hot Browns. And why wouldn't it be? Candied bacon, sumptuous Mornay Sauce, turkey and Parmesan cheese. What's not to love about it? Until now, that is, because I've made them easily portable for the kids' school lunches by making these Kentucky Hot Browns Crescents. My kids love me even more now. I win!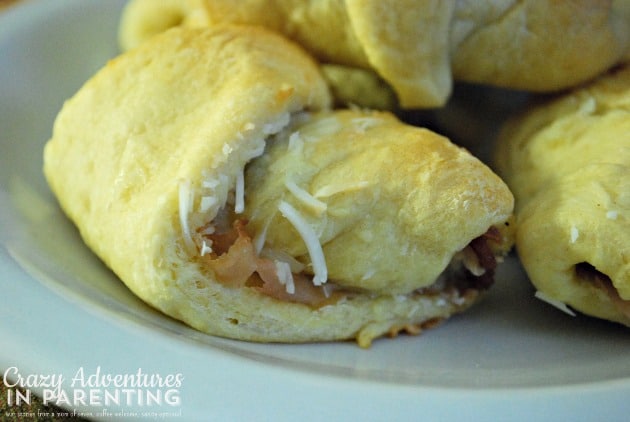 Do not be intimidated by this recipe, it really is made easy. Even better is the fact that you have left over Mornay Sauce for dipping. Woohoo!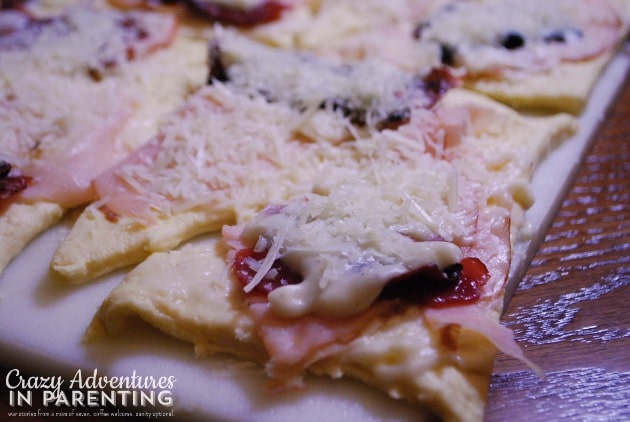 Using a basting brush, I spread the Mornay Sauce on each crescent, followed by the turkey, candied bacon, a bit more sauce drizzled on top, and then the shredded Parmesan Cheese.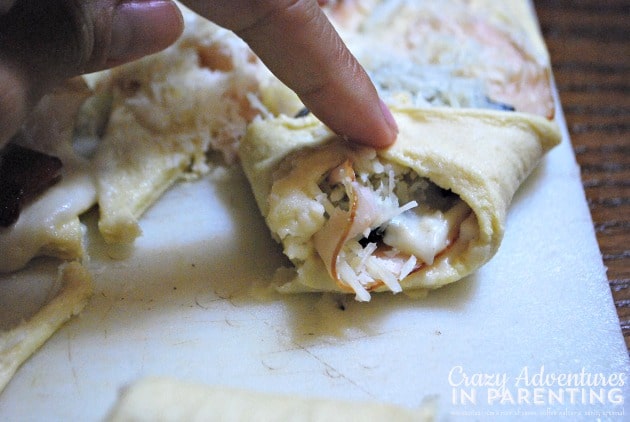 I carefully pin the two triangle edges together so I can roll. (Will you LOOK at how stuffed that is! Yum!)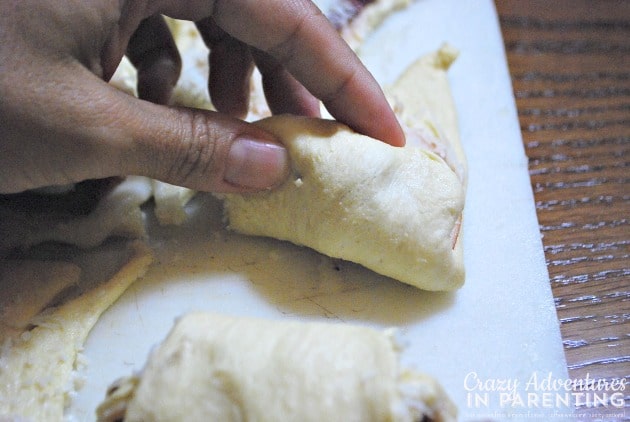 Rolling the big side to the smaller side, I carefully tuck in any straggling ingredients while I roll.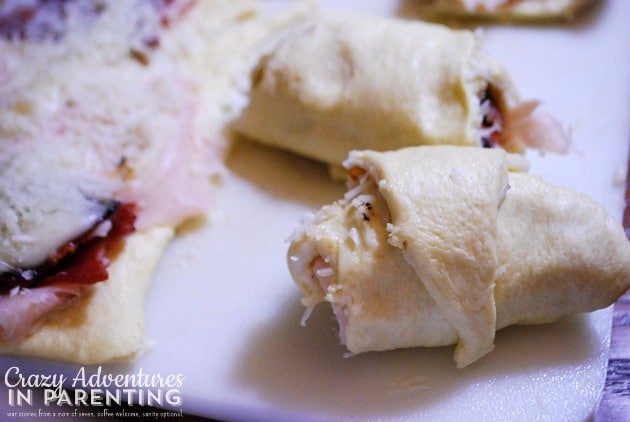 You might have a little cheese or sauce on the outside, and that's okay! It'll bake nicely on top.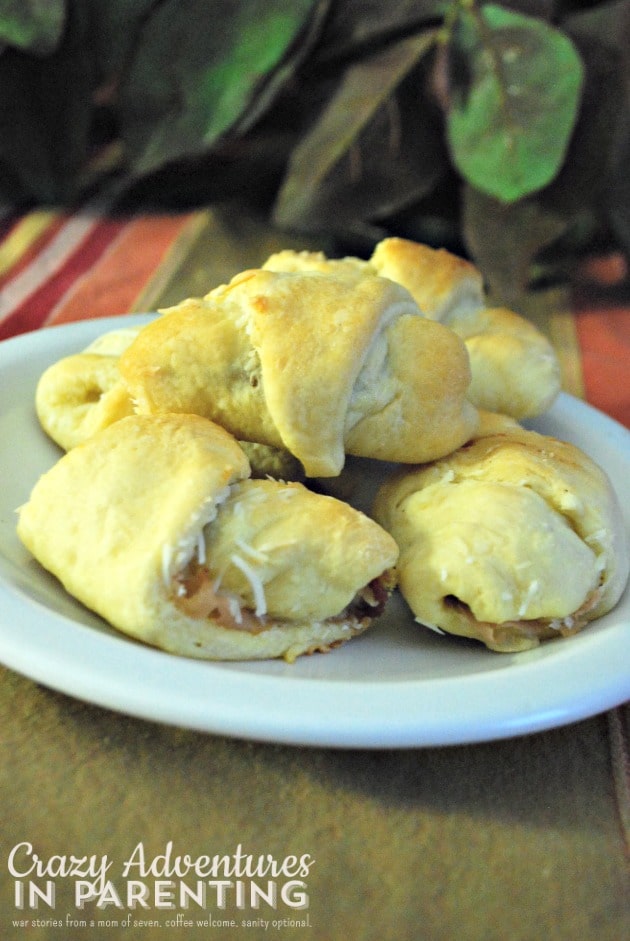 Oh, yes it will bake nicely.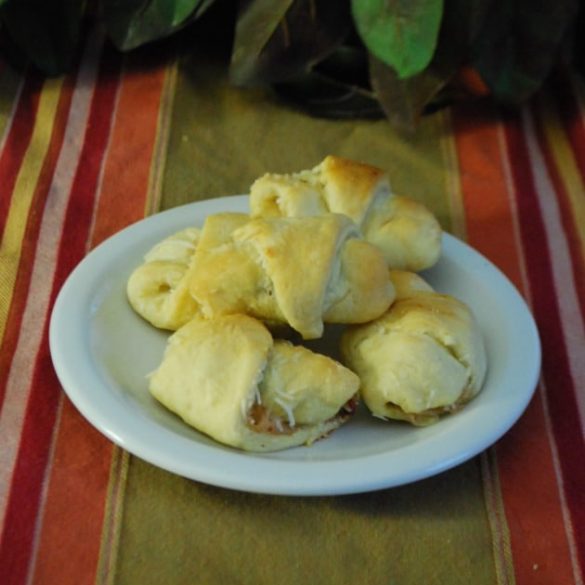 Kentucky Hot Browns Crescents
Taking Kentucky Hot Browns and making them into portable sandwiches using crescent rolls made for a spectacular dinner and school lunch the next day.
Print
Pin
Rate
Ingredients
4

packages

crescent rolls

we use Immaculate Baking

thinly sliced deli turkey

10-12

slices

turkey bacon

1/4

cup

grated Parmesan cheese
Mornay Sauce
3

tablespoons

butter

¼

cup

all-purpose flour

2

cups

milk

1

cup

grated white Cheddar cheese

½

cup

grated Swiss cheese

Freshly ground salt and black pepper
Instructions
Preheat your oven to the temperature according to the directions on your crescent rolls (probably 350-degrees).

Lay the bacon strips onto a baking sheet lined with parchment paper and sprinkle each slice with the brown sugar, as evenly and fully covered as possible.

Bake until the bacon is beginning to brown and crisp, but isn't yet completely done, about 8 or so minutes.

For the Mornay Sauce, place butter in a medium saucepan and cook until melted and bubbling.

Add the flour and stir with a whisk to form a roux, whisking constantly for 2 to 3 minutes (do not let this roux brown).

Pour in the milk all at once, continuing to stir with the whisk while bringing it to a simmer.

Add freshly ground salt and pepper here, while occasionally whisking to test consistency while it continues to cook until smooth and thick; be sure to break up any lumps that form while it thickens.

Once it becomes thick like a gravy, turn off the heat and remove the pan from the stove.

Immediately add the Cheddar and Swiss cheeses while whisking, until melted and well combined.

The cheese will further thicken the sauce to a thick gravy, almost paste. (You can add milk back in if you'd like it thinner. I don't normally.)

Season with salt and pepper again, if needed.

Break a couple pieces of your prepared candied bacon into half or thirds.

Using a basting brush, spread the Mornay Sauce on each crescent triangle, followed by a small slice (perhaps ½ a slice) of the turkey, a piece candied bacon slice, a bit more sauce drizzled on top, and then the shredded Parmesan Cheese.

Fold the two end triangles into one another and begin rolling, being sure to tuck in any ingredients back in that might trickle or fall out.

Once all the crescents are rolled, bake for 8-10 minutes, or until the crescent rolls are puffy and slightly honey brown on top (do not over cook).
Just typing this up for you, I can almost taste that sweet bacon mixed with the Mornay on my tongue. Mmm.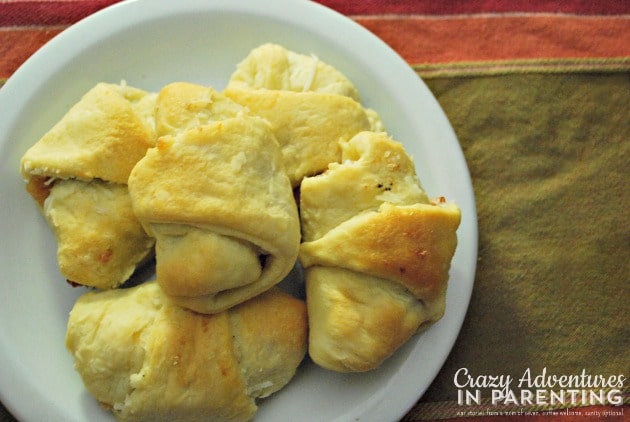 The best part about this recipe (other than the taste) is how easy these are to pop into lunchboxes and containers the next day for a super tasty lunch. My son said no less than five people asked if they could have some, too (including teachers)! I'm apparently a hit at the junior high, now. Heh.
What do you think? Would your kids go bonkers over something tasty like this for dinner? These taste wonderfully with my Slow Cooker Potatoes Au Gratin. Be sure to check out my full list of recipes and my Operation Awesome School Lunch page for great school lunch ideas for your family.