The following post is sponsored by MomTrends on behalf of Hampton Hotel.
I'd love to share with you a little story about a dislocated family searching for a forever home. We were traveling 6+ hours from Fort Polk, LA to San Antonio, TX every weekend, packing the car right after school let out on Friday to drive until nightfall to reach our destination – The Hampton Inn & Suites. For many weekends, we lived there, and even moved in for a few days before our house was officially ours. Their staff was extraordinarily friendly, their breakfasts were plentiful and helped fill our house-hunting-weary bellies before a full, heat-ridden day in and out of our minivan traipsing through houses.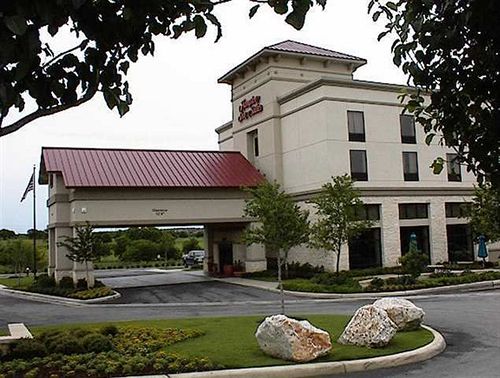 I pass this hotel daily, as it ended up being close to where we finally found our house, and each time I see it I recall our family's stay there, quite grateful for their help and their spaciousness. It's never easy finding suites big enough for our family, and their's was and thensome. They even graciously assisted me in working an important teleconference in their business center while my family received our household goods on our first day as homeowners. I could go on and on about how appreciative I am to this hotel and brand. They were a second home for a while, and I will always hold a soft spot for them.
With the holidays almost here, I'd love to recommend the Hampton to you if you're facing a dilemma on where everyone from out of town should stay, and how to manage it all on top of the typical holiday craziness. Not everyone's house is built to host many guests at one time, but whether your guests are staying with you or in a local hotel, be sure to make them feel as welcome as possible by adding a little "Hamptonality" in your hosting plans. I sure appreciated their "Hamptonality" when we stayed there, and I believe you and your guests will, too.
What is "Hamptonality" you ask? Hampton Hotels is all about celebrating the little moments that make a big difference through what the brand refers to as "Hamptonality." The 5 Tenets of Hamptonality are:
Unexpected delight
Being anticipatory
Sharing a compliment
Providing a moment of humor
Showing empathy
Are you a host looking stress less this holiday? Are you looking to maximize the hospitality offered to your out-of-town guests, and make it a super special stay? Here are 10 simple tips inspired by Hamptonality I think are important to consider when you're hosting guests:
Tip 1: Prepare, prepare, prepare!
Santa doesn't have to be the only one checking his list twice, holiday hosts do too! Do as much preparation in advance as you can. Do a huge grocery shop before your guests arrive, including not only the food, but the beverages, the toiletries, and the unexpected out-of-town needs (extra shampoo, toothbrushes, feminine products, ibuprofen, bandaids, etc). Plan menus for non-holiday days around recipes that can be made ahead of time, and/or are freezer-friendly or simple one-dish meals like lasagna or beef stew, which are great options when serving a crowd. Also plan to have a lot of snacks on hand, so that everyone's needs are met. Be sure to do your own laundry before guests arrive, so that the washer and dryer are available for them, if necessary. The ultimate holiday hosts know that being prepared is the absolute best way to make your guests feel as welcome in your home as possible. Also, being prepared helps you, too, so you can enjoy your guests during their visit instead of fretting about other details.
Tip 2: Surprise your guests with a warm welcome
Isn't it always exciting to arrive at a hotel and have something special waiting on you? Maybe it's a note with a small snack, or a special gift basket with treats just for you. Help your guests feel welcomed by surprising them with a little something upon arrival, too. It could be a simple token of your affection by making them their favorite cookies, or a fun, hand-decorated welcome sign. Adding a personal touch for your guest's stay can help them feel welcomed and right at home.
Tip 3: Serve big breakfasts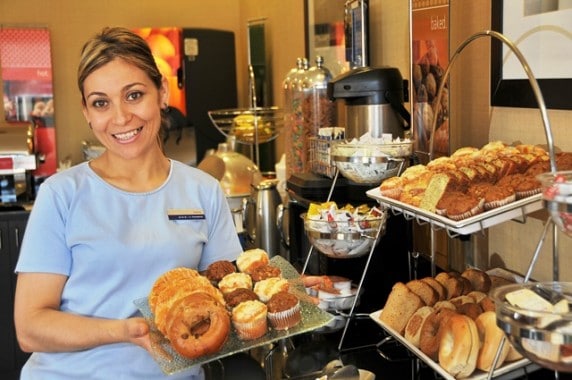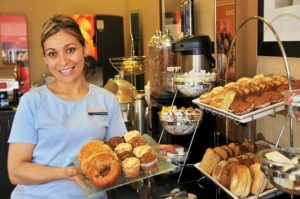 You already know I adore preparing gigantic breakfasts for my family, let alone for guests. Serving a big breakfast is always the best way to start the morning off just right, and make everyone happy! Whether it's a crockpot breakfast casserole, a mix of continental and hot items, or an array of different flavored pancakes, when hosting guests, it's important to prepare plenty for everyone, including planning for guests having second and third helpings. Some breakfast foods to consider: pancakes, eggs, bacon, sausage, waffles, hash browns, fruit, yogurt, bagels, french toast, muffins, coffee, tea, milk, juices, and water. Isn't it fun to get those fresh waffles from Hampton when staying there, and eating like a king before starting your day? Think of it much the same way for your guests. A big breakfast is the perfect thing to get everyone's day started right!
Tip 4: Make time for fresh air and fun exercise time
Just as the Hampton offers fitness centers and swimming pools, be sure to help your guests burn off a little excited energy by getting them up and on their feet. What about inviting them on an evening stroll with you to check out the neighborhood holiday decorations (perhaps with coffee or hot cocoa in hand if the weather's particularly chilly)? Or, if your family is particularly sporty as ours is, get the whole family together for a game of touch football in the yard! We all feel a lot better with some good ol' fresh air in our lungs daily, I know I'd be lost without daily exercise to clear my head and invigorate my spirit. When you're staying away from home, where there's nothing normal or routine, your guests will thank you for fitting in something so healthy and so good for them.
Tip 5: Planning makes perfect
While I don't want to go overboard scheduling an activity for every minute of every day, I do want to give my out-of-town guests an idea of what to expect and when. Post up a somewhat loose schedule for everyone to see so they'll have an idea of what to expect and when during their stay. Definitely don't go overboard and overbook your guests, but be prepared to take them sight-seeing, or to take in some holiday activities while they're there, if they're able. Be sure to schedule plenty of free time for them to do their own exploring or relaxing, too. Also, because the holidays can be very exhausting, especially for your guests who have traveled from quite a distance, be sure to schedule down time for resting in the afternoons or early evenings, or between activities. An afternoon nap can feel like an indulgent treat for exhausted guests. Another thing to consider is a daily ritual – perhaps, after your big family breakfast, invite everyone to go out and explore for the day, but meet back up at the house before dinner for a "happy hour" of your own? Play holiday music with egg nog and games for the kids while the adults can graze over wine and cheese while dinner is being prepared, and everyone can discuss their day.
Tip 6: Include your guests in holiday preparations
Just because your guests are staying with you, doesn't mean they don't want to help in some way. Out of town guests aren't there necessarily for a vacation – help them feel more like the everyday family in-house by asking them to help with tasks you know they'll enjoy. Does your mother-in-law make a mean chocolate pie for dessert? Why not ask if she'll make one for the holiday dessert table? Or, if you're hosting young children, ask them to help make table decorations because "you've heard" they're such great crafters. It not only pays your guests a great compliment, but it makes them feel like they are part of the activities, too, rather than just spectating.
Tip 7: Make your home a "help yourself" friendly home
Don't let your guests feel like they are "in the way" by making your home is "guest-friendly" before they arrive.  Set up a table or area in the kitchen as a refreshment center that is available to them daily, complete with coffee/tea in the mornings, bottles of water to take for the day, with cups, mugs, straws and more. Also have an area where portable snacks can be located, in case your guests are feeling snacky or have to eat something on-the-go. Compile a list of local area "hot spots" with their phone numbers, websites, and locations, in case your guests need them, where they can easily reference them. You can also make a few sets of spare keys, or show them your hide-a-key spot, so your guests can feel free to come and go as they please.
Tip 8: Celebrate the past
Encourage your guests to bring old photo albums and videos for a walk down memory lane. Getting together and reminiscing over the holidays of the past is a fun way to get everyone having a great time. From bad clothes to questionable hair styles, old videos and pictures always make for a great holiday conversation and some laughs.
Tip 9: Embrace the present
Take a lot of pictures, and record as much as you can to look back on in the future, but don't get too wrapped up that you're behind the camera the entire time. Also, look into getting a tripod and a remote timer (if your camera doesn't have one already) for some great group photos of everyone.
Tip 10: Be the best OFF-SITE host ever…
Let's be completely honest – you love your friends and family, but maybe cramming everyone into your house for days at a time might not be the best idea, especially if you've got a lot of people coming. If you simply don't have enough room to host all of your holiday guests, or you just think some might be happier with their own, comfortable space, consider booking them at your local Hampton.  With more than 1,900 locations, and a free, hot breakfast with fresh-baked waffles, as well as free wired or wireless high-speed internet in their guest rooms, Hampton is the perfect place to stay no matter where your guests may be traveling from.
Hampton and MomTrends will be hosting a "Holiday Hosting" twitter party December 17th at 1 p.m. EST. I hope you'll join us!
Visit their website at www.hampton.com, or connect with Hampton Hotels online at www.faceboook.com/Hampton, http://twitter.com/Hampton, http://www.instagram.com/Hamptonality or www.youtube.com/Hampton.
Win it!
Would you like to win a one (1) night stay at a Hampton Hotel location of your choice to experience a little "Hamptonality" yourself? Maybe for a little getaway or staycation breather after all the holiday craziness is said and done? To enter, share in the comments below if you're expecting guests for the holidays. For extra entries, share this post on social media with your Hamptionality tip. Easy entry via Rafflecopter below:
Disclaimer: Compensation was provided by Hampton Hotel via MomTrends. The opinions expressed herein are those of the author and are not indicative of the opinions of Hampton or Momtrends.