The following post is sponsored by Verizon Wireless.
Are you tired of waiting two full years before upgrading your phone? Me, too! A lot can happen in two years, (especially with eleventy-billion kids like me who like playing with my phone ALLTHETIME). Mobile phone insurance has been invaluable in our household (and I've used it on MANY occasions, ahem), but there are some times when your insurance simply won't do, and an upgrade is needed, and you're already passed your return window. What do you do? Normally, you'd have to ride out the remainder of your contract time waiting for your upgrade, because having the ability to upgrade before your two years is up without paying full price is almost considered a dream, right?
Not anymore, friends.
Introducing.. Verizon Edge.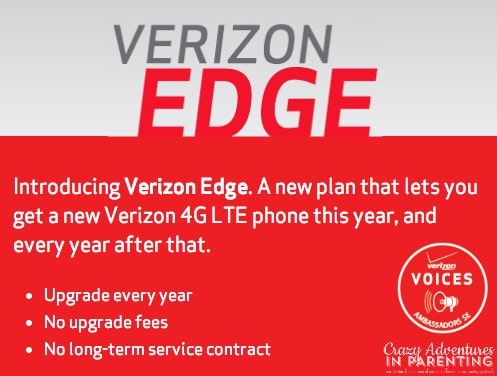 Verizon Edge is a program that lets you pay for your phone over 24 months rather than paying for it all upfront. You only need to pay the first month's installment at the time of purchase, from then on you'll make a monthly payment until your phone is paid off completely. Or, after six months, if you've paid 50% of the balance due and after meeting the eligibility requirements, you'll have the option to "Edge Up" to a new phone without any upgrade fees.

What do you need to be eligible for Verizon Edge, you ask? Firstly, existing customers must be eligible for an upgrade at the end of their current plan (of course). New customers with accounts less than six months will need to go through an internal e-credit check in order to become eligible. Verizon prepaid accounts are not currently eligible for Verizon Edge, unfortunately.
Two more reasons to sign up for Verizon Edge:
Free One Edge Activation – New customers who sign up for Verizon Edge, will receive a credit back for their $35 Activation Fee. (Dude!)
One Payment Free – All customers new to Verizon Edge, will receive a credit back for one month's Verizon Edge device payment (limited time offer). (Dude x 2!)
Verizon Edge does not require a service contract; Edge customers will be on a month-to-month service agreement and device installment agreement. You make a device payment each month which appears on your bill. There's no finance fee or upgrade fee to join the program, either.
I think this could be hugely successful for some folks who tend to need more for their money, and want to get into the newest technology faster without the sticker shock with paying full price for it. What do you think?
For even more information about Verizon Edge, or to shop for your next phone using Edge, visit verizonwireless.com/edge