The baby had me tossing and turning at around 5am to 8am. She was restless, and restless upon me. Breastfeeding wasn't helping, laying beside me wasn't helping, clearly she was still tired yet hungry, but still attempting to sleep (as was I). When she finally rose at 8am, I grumbled with drowse that wouldn't blink free from my eyes. My husband generously woke up to be with her so I could get more sleep.
It was the beginning of our awesome day – best in a LONG time.
I awoke in time to see my husband putting the baby and my seven-year-old in the car to take them shopping, allowing me to sleep more if I'd like, or have the rest of the morning off (from her, anyway). The older kids had two sleepovers, some breakfast was already made, the others were hanging out, too, and the house was crazily, deliciously quiet.
After preparing some additional breakfast for the older kids, consuming some coffee and breakfast as well, I got dressed, worked out, all before my husband got home. The sun was shining, it was calling us. Family bike ride time! And… go!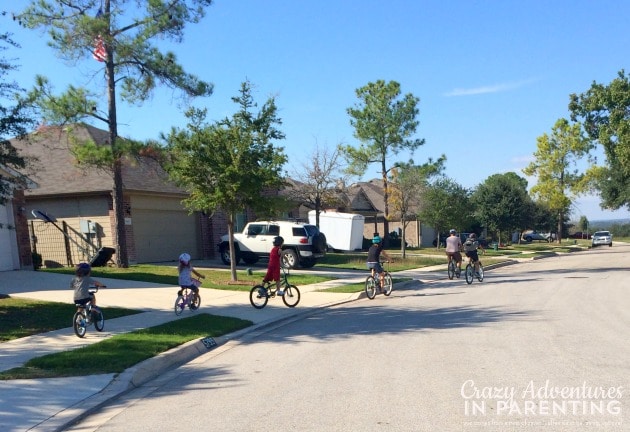 There is nowhere on this earth I would rather be than on my bike riding with my family. Okay, maybe Disney, or on the beach or something, but seriously? Pedaling on our bikes with the kids in the sunshine is such my favorite. It not only brings me back to my childhood, but it's good exercise, something we can all do together, and it just feels amazing.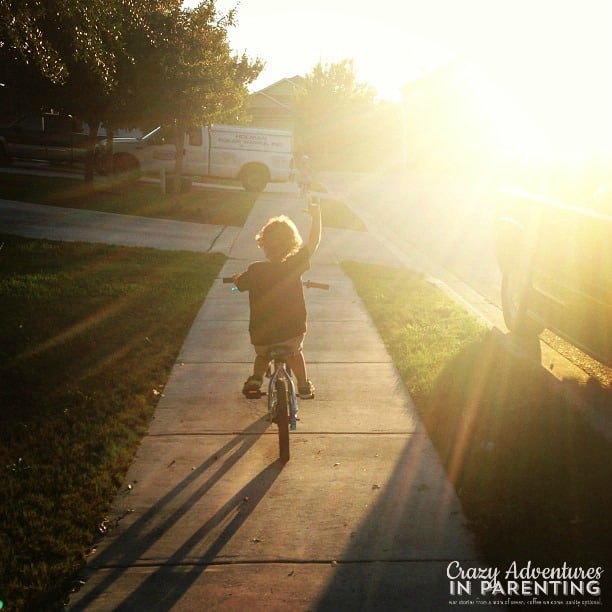 We stopped at the park to play for a bit, eating up all the ridiculous amounts of sunshine we could before returning home after pedaling 6+ miles. My legs felt so wonderfully, I didn't want to stop, so my husband encouraged me to continue on, and I did! I ended up riding a 12.11 mile bike ride after an earlier 30 minute workout, and the endorphins from all of that exercise could not be surpassed.. I felt alive! Rejuvenated! Ready to take on the world! The alone time, the working out, it was EXACTLY the medicine I needed. (I got a shower! With soap and hot water and conditioner and my legs aren't furry anymore, and I feel amazing!)
We played on the trampoline.
We laughed uncontrollably.
We played tag, and swung on swings.
We held hands.
We hugged and kissed.
We wrestled.
We sung out loud.
We painted nails and did hair pretties.
We ate a wonderful dinner.
We bathed and went to bed fairly easily (and early).
And while this day was full of wonderfulness, I was lucky enough to get it to tick by just slow enough to savor every last morsel of awesome.
My head will hit the pillow tonight with nary a regret for the day's events. It's all I've ever wanted, and all I want every day from this day forward. Balls the wall, every day, lived FULLy.
Because my kids and husband – they're worth it. And so am I.
This is life.