This Cheesy Baked Egg Toast recipe is a cheesy take on an "Egg in a Hole" breakfast. Delicious cheesy egg toast! I hope you decide to try it for a fun breakfast for your family!
(I am a compensated Great Day Farms ambassador.)
This post may contain affiliate links which means we receive a small commission at no cost to you when you make a purchase. As an Amazon Associate I earn from qualifying purchases.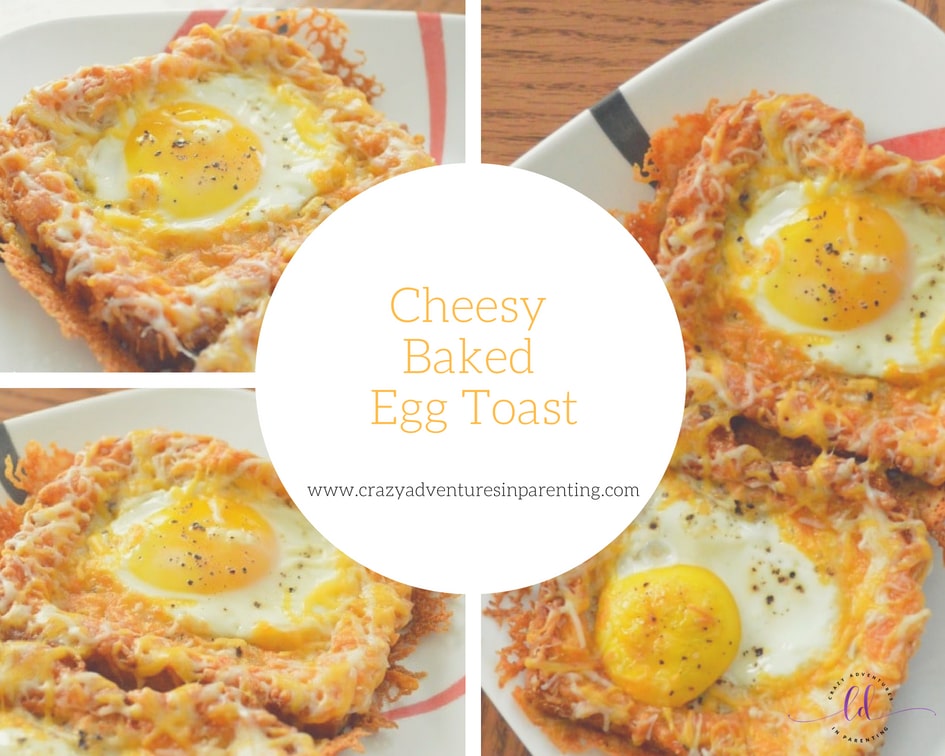 Cheesy Baked Egg Toast
Eggs and toast are such a perfect breakfast staple. They're our default, our 'go-to' breakfast, especially if you're like me and love a good runny egg with a little buttered toast to mop it up with. Mmm!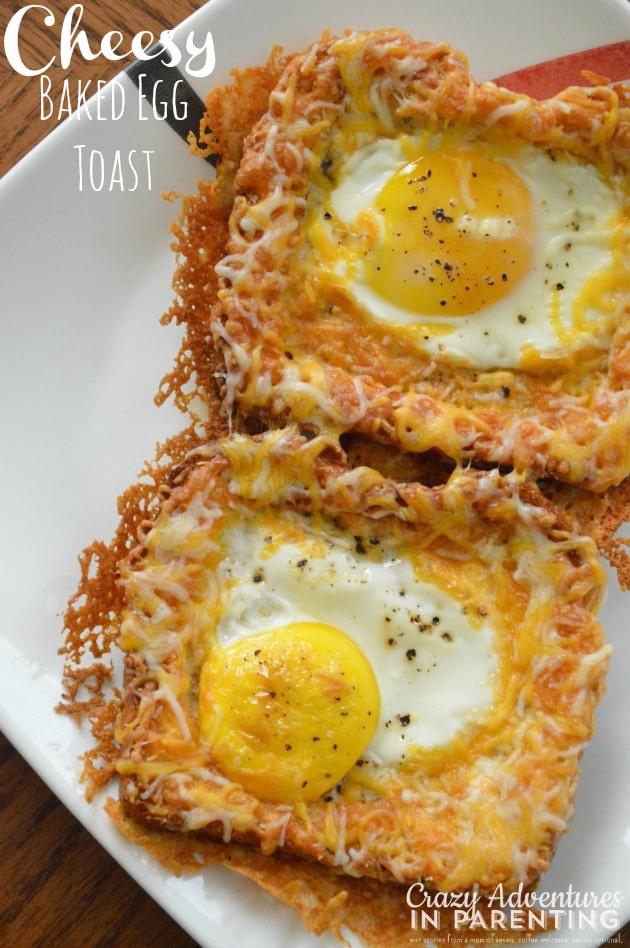 Cheesy Baked Egg Toast Recipe
But I wasn't always a runny egg fan. In fact, I preferred scrambled as a child, especially with cheese. Cheesy scrambled eggs were my thing, man. Until that one fateful day, a line cook made me an "over easy" egg sandwich for breakfast. From that day forward, "over easy" eggs were my jam.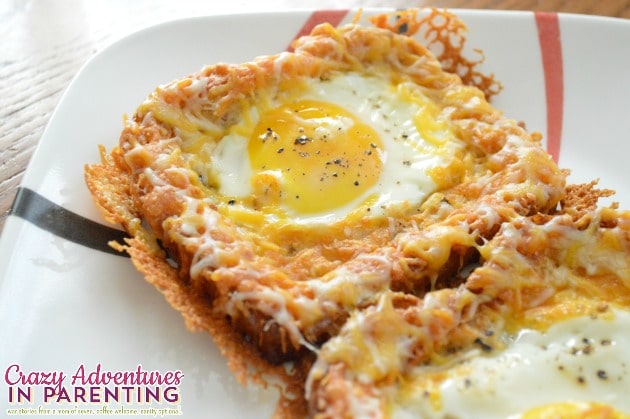 Baked Egg-in-a-Hole with Cheese – Cheesy Baked Egg Toast
I try to add a little cheese to my kids' egg breakfasts whenever I can, because it tastes good and I recall my fondness for cheesy eggs as a child. One morning recently, it hit me, since now all my kids love "over easy" eggs, too, why not try making this cheesy baked egg toast?
Why not turn the traditional egg-in-a-hole toast recipe on it's head with delicious cheese? And make a portable yet flavorful breakfast for them like this? Isn't it so pretty? It tastes just as good as it looks.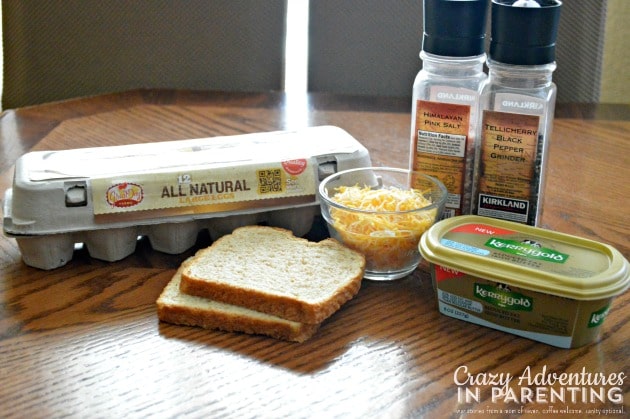 How to Make Cheesy Baked Egg Toast
On a plate, press your spoon into the bread, making a rectangle, as demonstrated below. I prefer using a pointy-tipped iced tea spoon, because it makes great corners, but if you don't have one, a butter knife will do.

Using salt and pepper, season your bread. (We use fresh-ground.)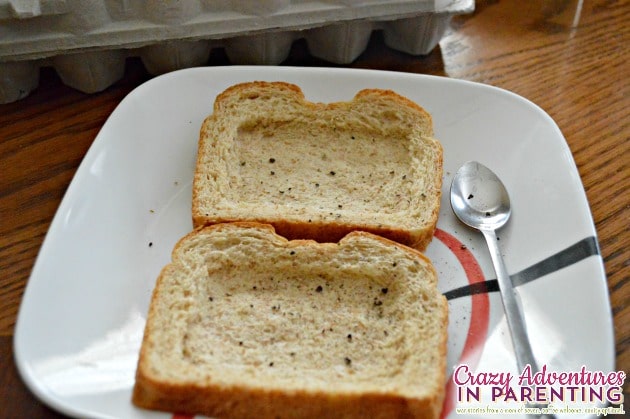 Crack an egg into the bread rectangle carefully, trying hard not to break the yolk. (Don't worry, this rectangle will fit the egg nicely.)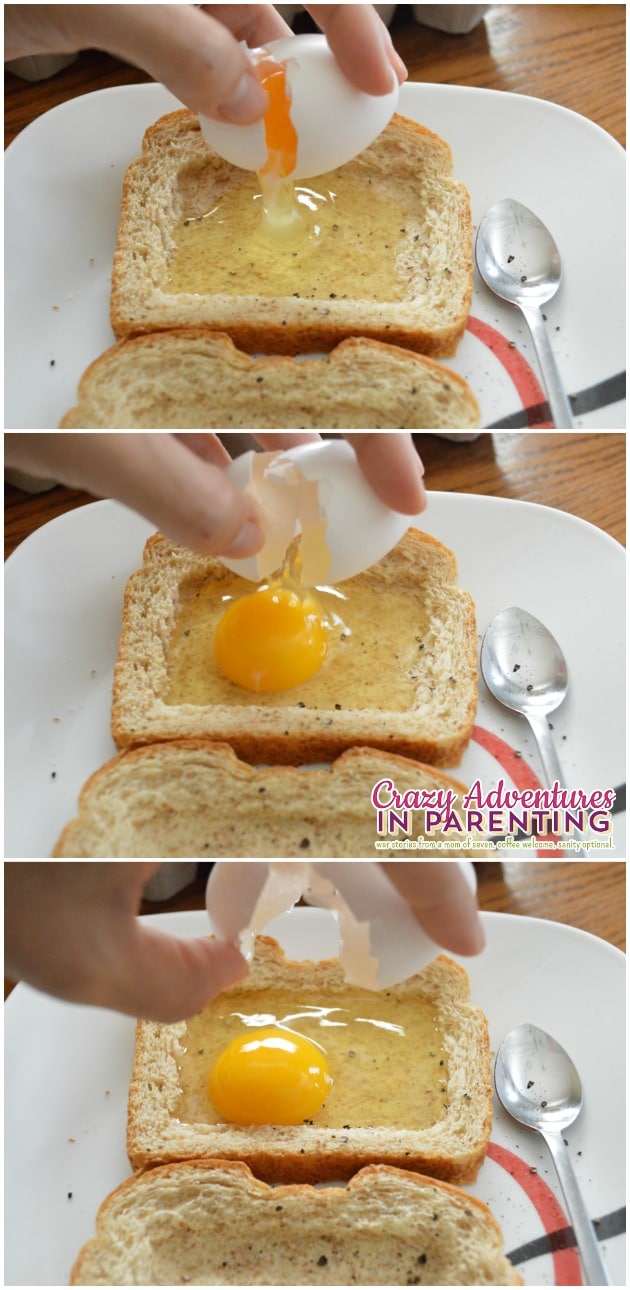 Season the top of the egg.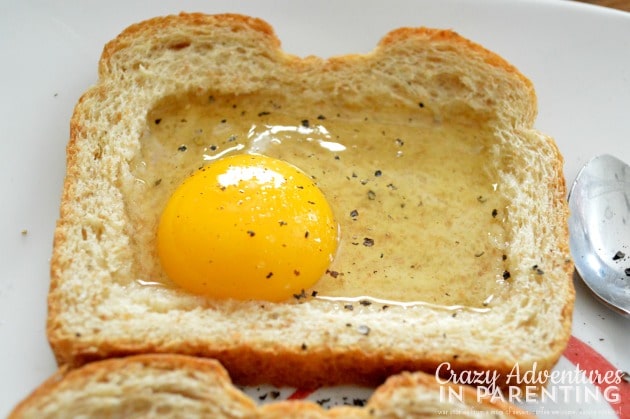 Gently spread butter around the edges being careful not to touch the raw egg.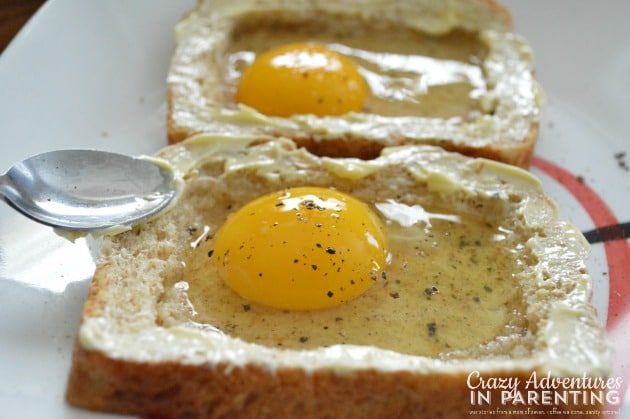 Sprinkle your shredded cheese around the edges onto the butter.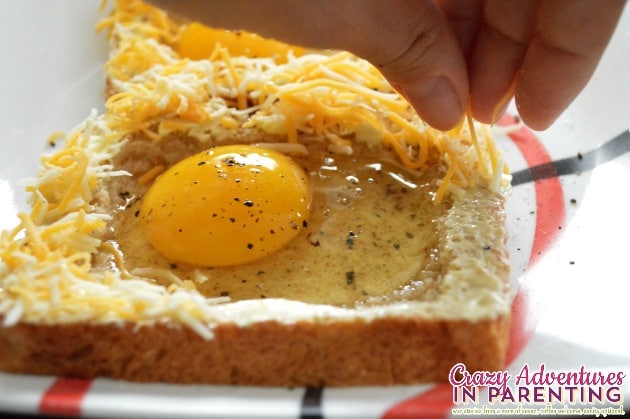 Place your cheesy egg bread onto your baking plate, toaster oven, or into your covered medium skillet (whichever you choose), and cook at 350 degrees for about ten minutes, watching carefully to ensure it doesn't burn and that the egg is cooked. You can choose to add a little more cheese again at the end before serving, if you'd like.
PLEASE NOTE: All ovens are different, even toaster ovens, as well as elevation affecting cooking time, so I advise you to keep watch while this recipe cooks. In addition, not everyone wants a runny egg, so cooking to doneness will vary from person to person!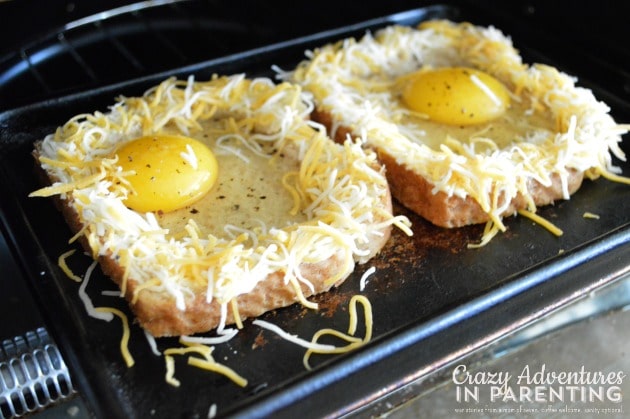 Will you just LOOK at THAT!? Cheese toast that just got an egg makeover! Yes!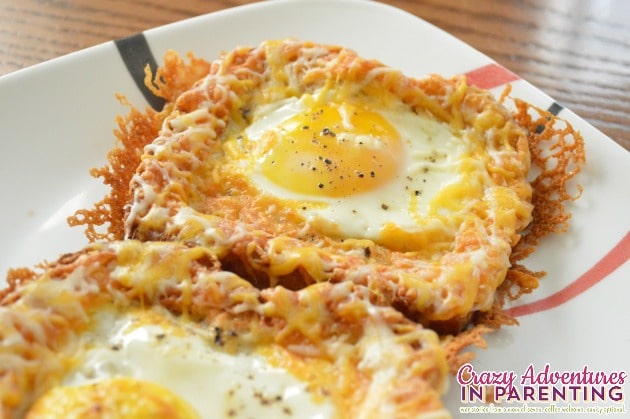 That baked on cheese, that beautifully seasoned egg. Baked egg in a hole with cheese, baby!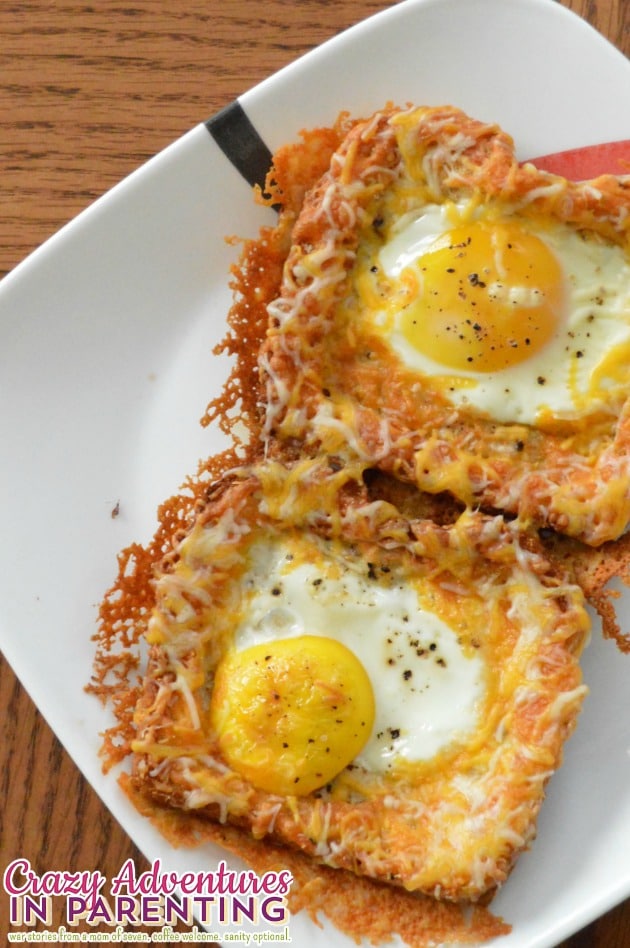 Eat it with a knife and fork or pick it up like a regular piece of toast, just be sure to savor every bite.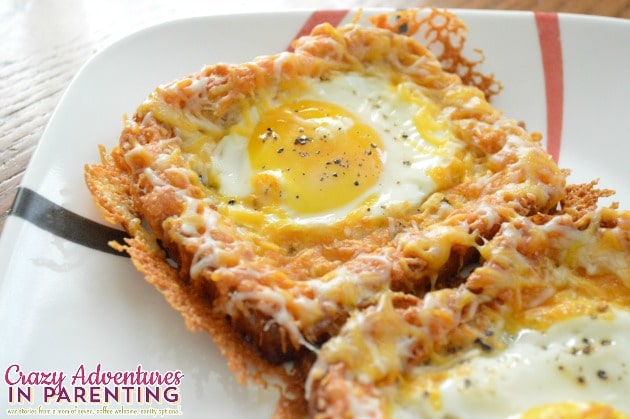 The full recipe instructions are below, but if you want to want to prepare this in bulk, check out my Sheet Pan Cheesy Baked Egg Toast recipe!
While you're here, if you LOVE tasty egg recipes, check some of these out!
There's more in my recipe index, check 'em out! Isn't this recipe wonderful? Now that you see how to make this glorious Cheesy Baked Egg Toast, be sure to pin it below! Or if you're looking to prepare a lot of it at once, check out our Sheet Pan Cheesy Baked Egg Toast recipe!
If you love this Cheesy Baked Egg Toast recipe as much as we do, please leave me a 5-star review below and help me share this recipe on Facebook and Pinterest! If you do make the recipe, I hope you'll share that you tried it on Pinterest! I love it SO MUCH when readers share their feedback! 🙂

Sign up below to receive my newsletter filled with delicious recipes, fun crafts, and family adventures straight into your inbox:
Here's my Cheesy Baked Egg Toast recipe instructions: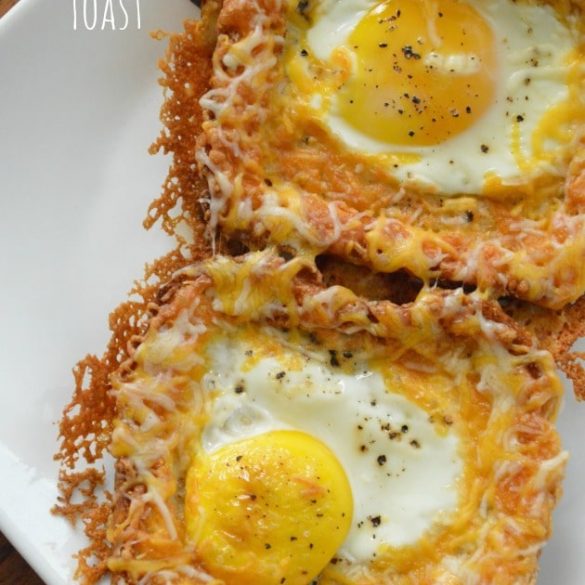 Cheesy Baked Egg Toast
Easy and delicious, this Cheesy Baked Egg Toast is a new take on baked egg-in-a-hole. It's toasty, cheesy, and gives you a perfect simple breakfast!
Print
Pin
Rate
Ingredients
Great Day Farms Eggs

Sandwich bread

salt and pepper

teaspoon

with a pointy tip

or a regular, rounded teaspoon with a butter knife
Instructions
Using a pointy-tipped teaspoon (or a butter knife), create the corners of the edges for the rectangle on your bread, pressing almost to the crust edges. Press down to create the rectangle.

Using the teaspoon, gently press the bread down to form the inside of the rectangle without tearing.

Repeat for every slice of bread you wish to make (1-2 slices per person).

Season the bread with salt and pepper.

Crack one egg into each slice of bread prepared; season the egg on top.

Butter the edges of the bread gently, being careful not to touch the egg.

Sprinkle shredded cheese onto the butter.

Spray your small baking tray or tin foil with cooking spray before placing into the toaster oven. (If you don't have a toaster oven, you can place it into a covered saute pan and cook on medium until cooked).

Toast in your toaster oven (or covered saute pan) at 350 degrees, observing as it cooks, until the egg appears fried, about 10 or so minutes. Egg doneness varies based on personal preference, as well as oven variations and elevation.

Eat with fork and knife or as you would a piece of regular toast.