Looking for a fun school lunch for your kids? Try these homemade pepperoni pizza rolls on for size!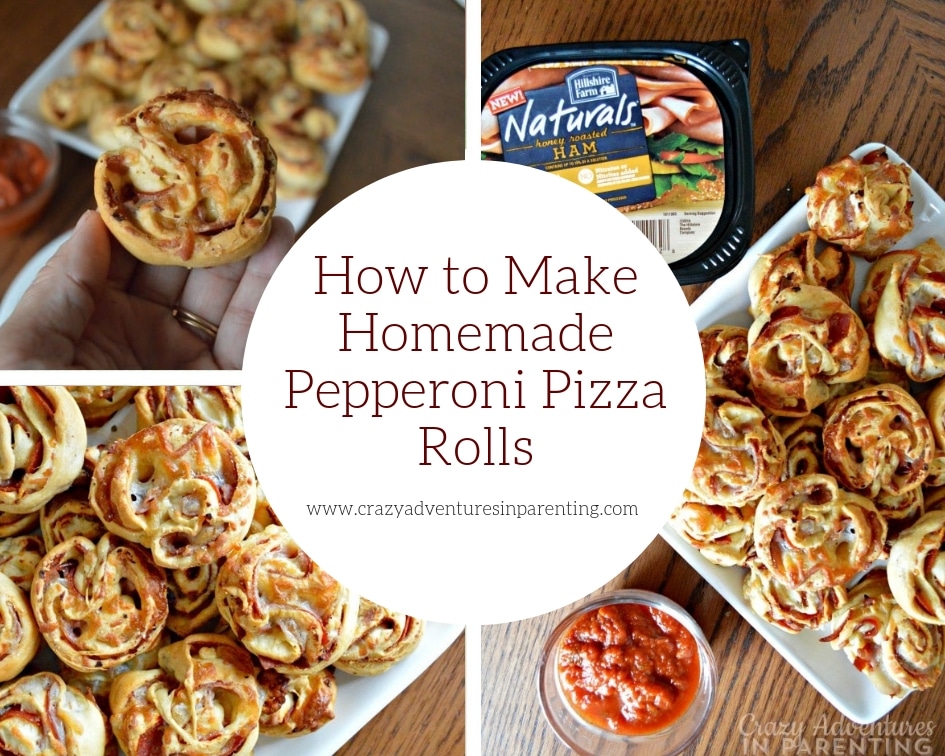 Homemade Pepperoni Pizza Rolls
Making new, cool recipes for my kids' lunches is my jam. I want my kids to be excited when they flip open their lunch box, y'know? I want to know that they eat well, and are fed well while learning and hanging with friends at school all day away from me. It's a big mom worry I have deep down, "Are they eating enough?"
With that said, though – we are also lunchmeat fiends. As cool and unusual as my school lunches are, we sure do love a good ol' "sammich" around this house, in any way, shape, and form. BRING IT!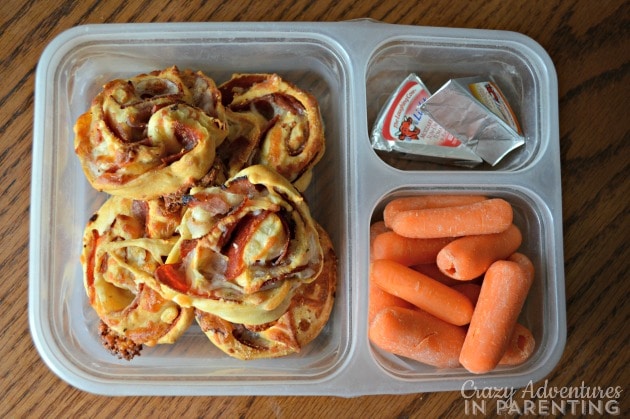 I couldn't have been more pleased to "test drive" the latest addition to the Hillshire Farm family from Walmart – Hillshire Farm Naturals™!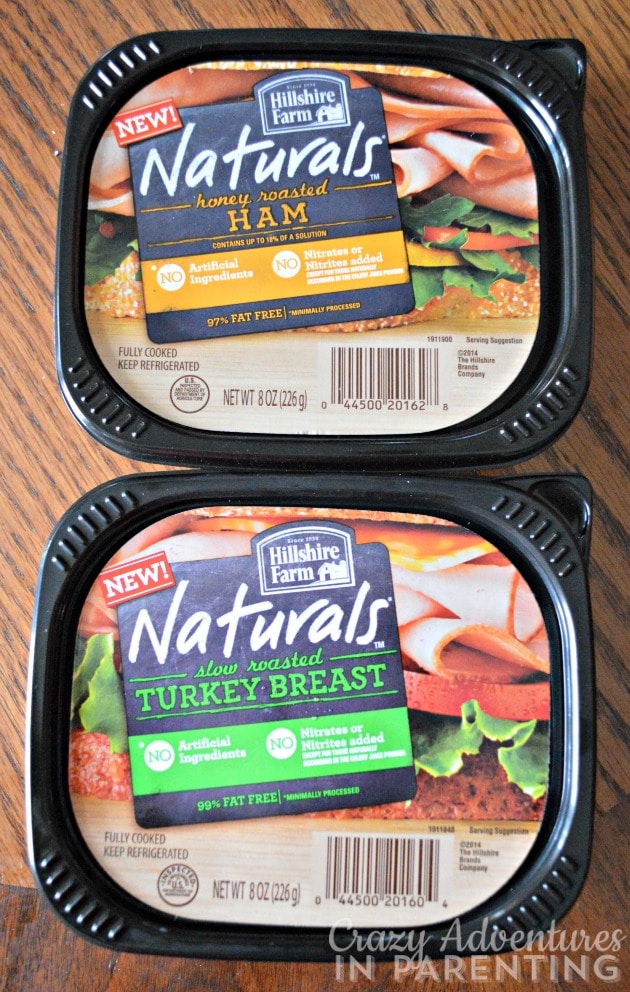 Hillshire Farm Naturals™ are a new premium line of lunchmeat that contain no artificial ingredients, preservatives, or colors, as well as no added nitrites or nitrates (except those occurring naturally in celery juice). Currently, there are four lunchmeat varieties including: Slow Roasted Turkey Breast, Hardwood Smoked Turkey Breast, Honey Roasted Ham, and Black Forest Ham. Oh yeah, baby. All good things, all good things (said in my best Olaf voice).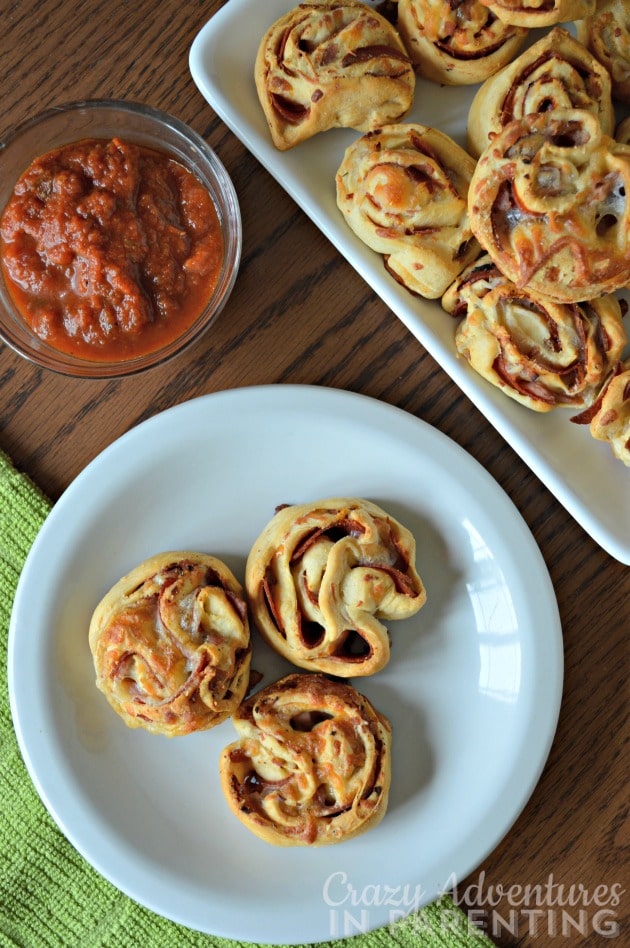 Naturally, I could've made some form of a sandwich with this new lunchmeat, but instead, I decided to break out an old recipe – one I forgot to share on my Operation Awesome School Lunch page, and a kind reader pointed that out to me a few days ago *waves to Ashley* – Homemade Pizza Rolls!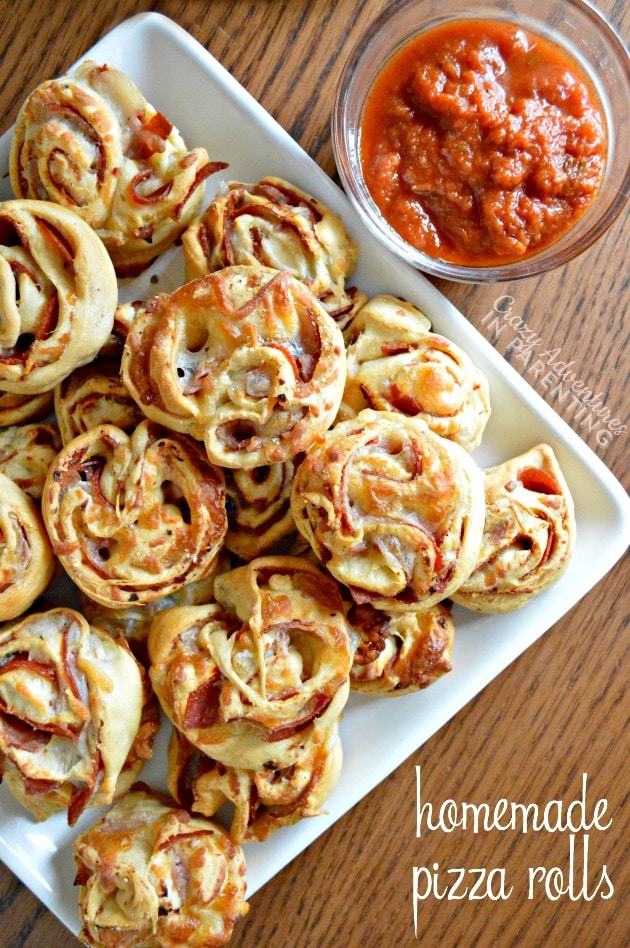 You can choose to use crescent roll dough (like I did) or pizza dough – which ever you choose, it's made the same 🙂 Roll it out onto a cutting board, like so: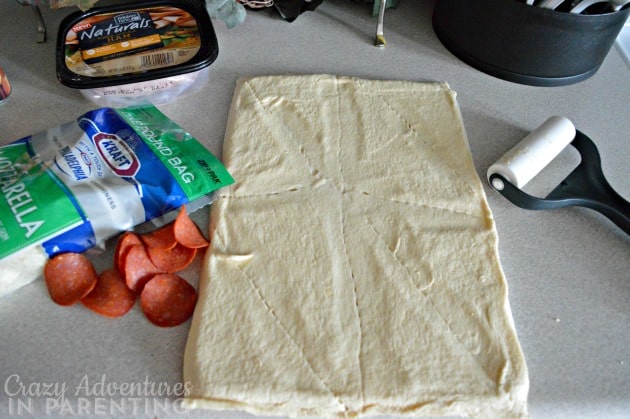 Add your pepperoni slices, filling the dough (better than I did here, I ended up adding a fifth row later, ahem).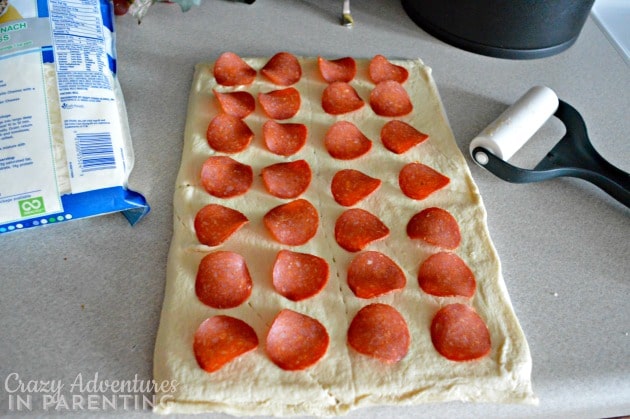 Slice 'n dice up your ham into tiny bite-sized pieces.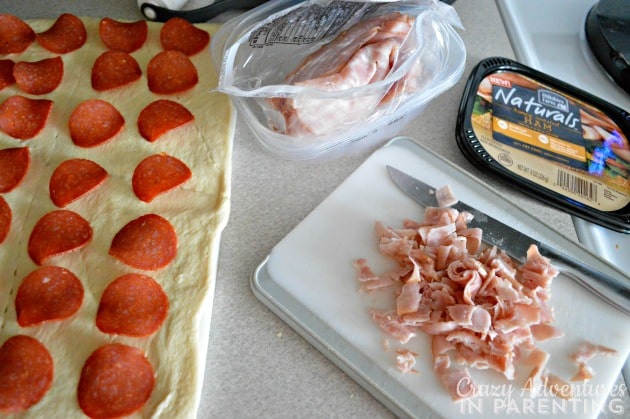 G'head and sprinkle 'em on there.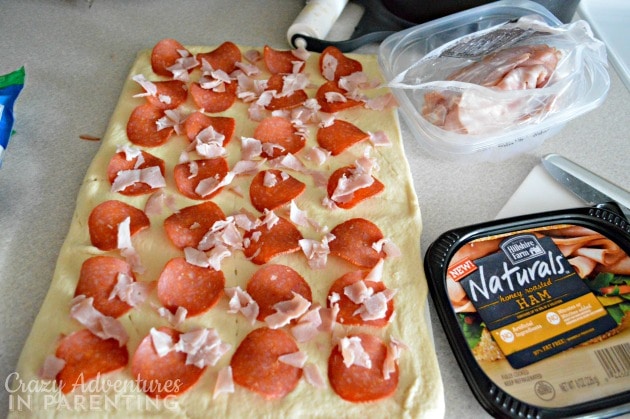 Pile on the lovely, delicious mozzarella like your life depended upon it.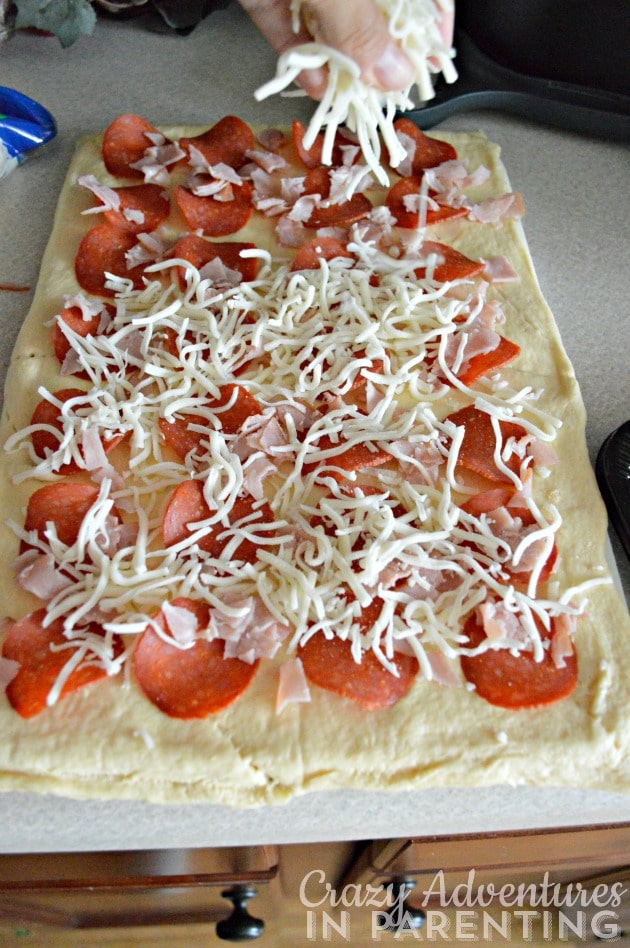 Be sure to add parmesan and season it up real nice, too!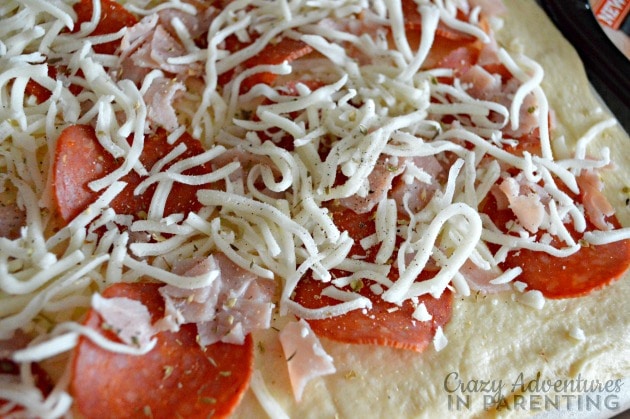 Now, you take one side and roll it up tightly.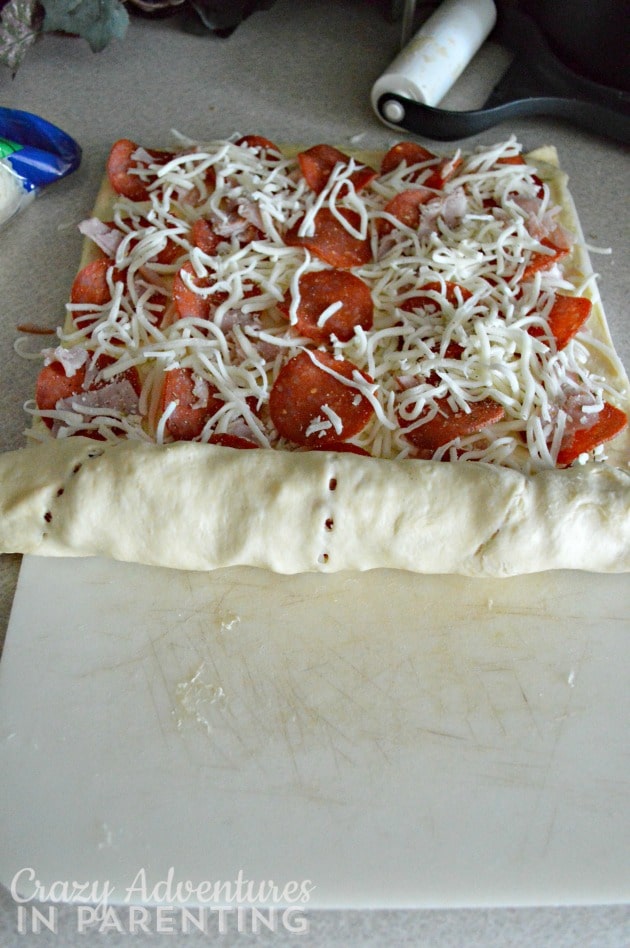 Press the end of the dough into the roll, and lay it seam-side down.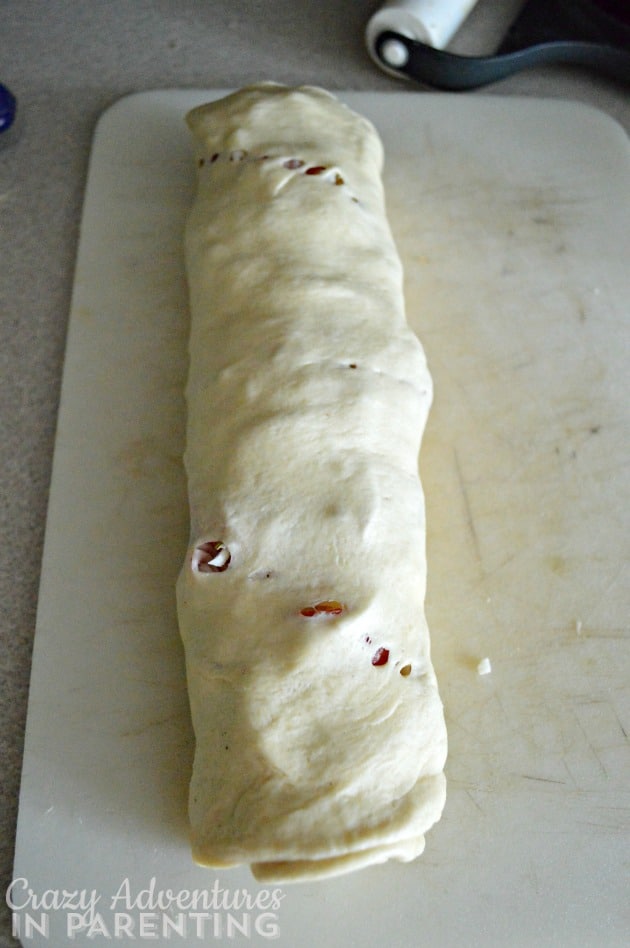 Grab your pizza cutter (or super sharp knife) and cut it into slices.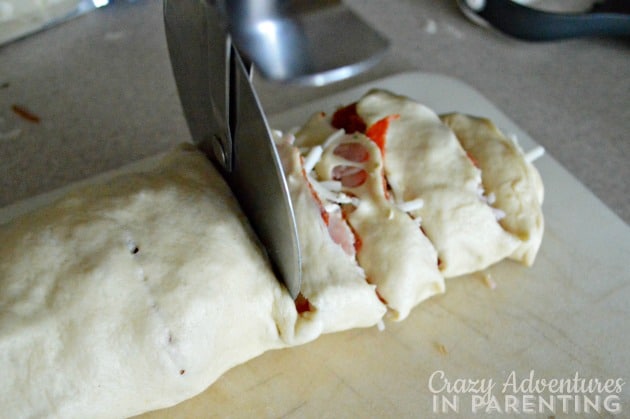 Once cut, it might be flat and more oval than a circle – but that's okay!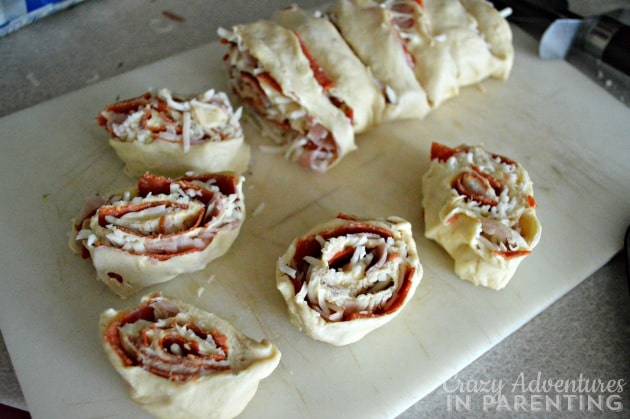 You can roll and tuck it back into itself to make it more circular – see? Just be sure to press the seam back into the dough so that it stays.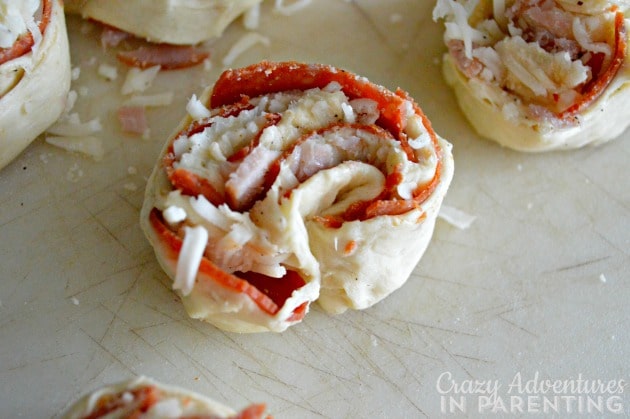 Place them onto your baking sheet or stone and into the oven for about fifteen minutes.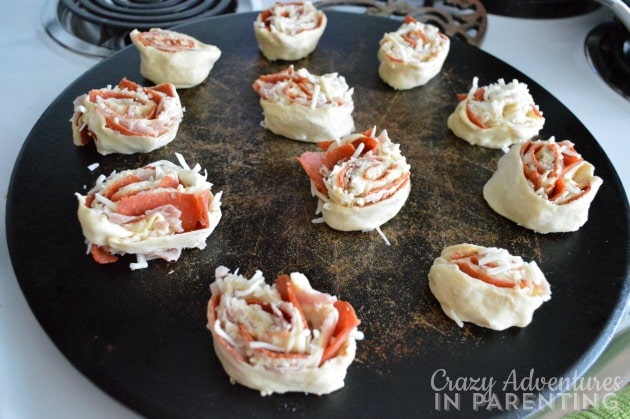 Bam! Done!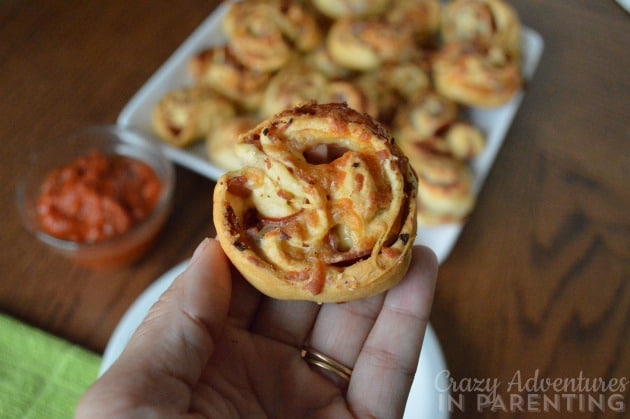 Aren't they adorable and tasty lookin'?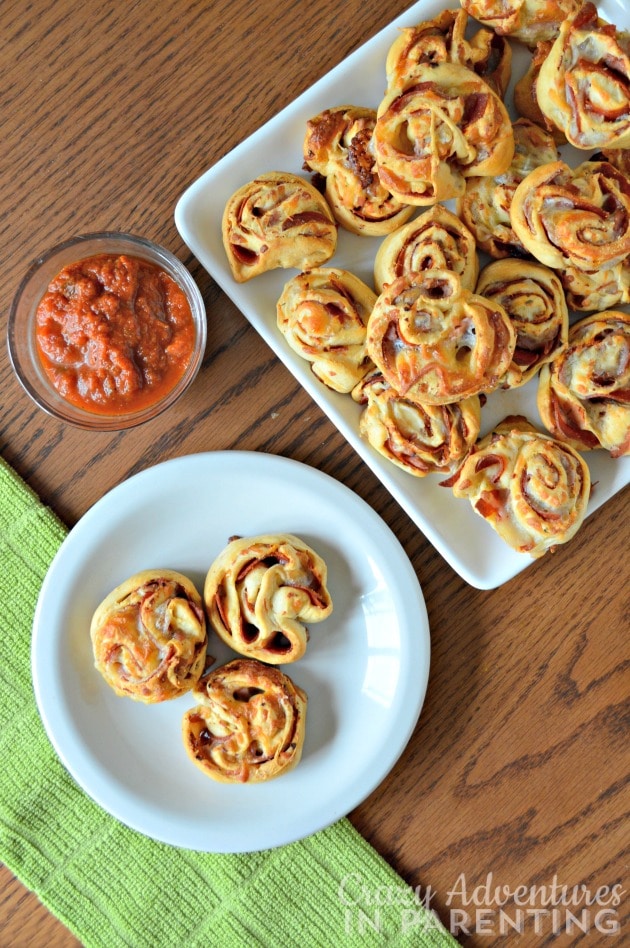 I hope you decide to try making these for your kids. They'd even make a fantastic appetizer or spectacular addition to your football parties (since it IS that time of the year)!

Be sure to follow Hillshire Farms on Twitter, Facebook, Pinterest, and YouTube for more recipes for #HillshireNaturals! 🙂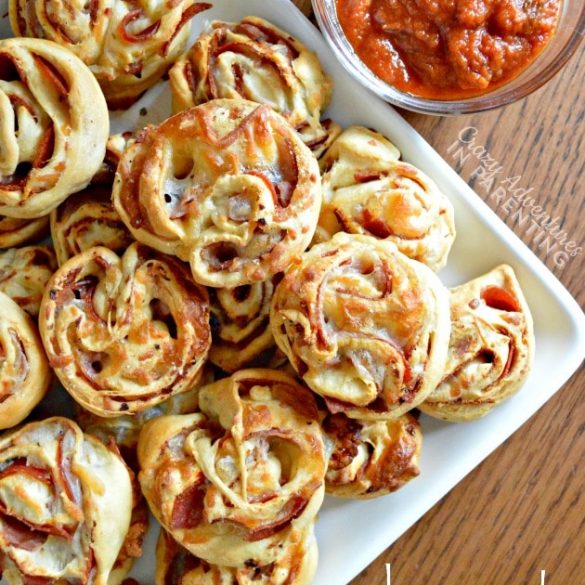 Homemade Pepperoni Pizza Rolls for School Lunches
These homemade pizza rolls are simple and easy for kids' school lunches!
Print
Pin
Rate
Ingredients
two rolls of crescent roll dough

or two packages of pre-made pizza roll dough

1

bag pepperoni slices

we use turkey

1

package Hillshire Farms Naturals Ham

bag of shredded mozzarella cheese

fresh-ground salt and pepper
Instructions
Preheat oven to 350 degrees.

Unwrap the dough and roll it out onto a cutting board. If using crescent roll dough, press the seams together, but it isn't a big deal if there are still seams left.

Place your pepperoni slices onto the dough, evenly spread apart, but filling most of the dough's surface.

Cut the ham into tiny bite-size pieces and sprinkle over the pepperoni.

Add both cheeses, evenly.

Season well with seasonings over top.

Begin carefully rolling the dough from the bottom up to the top.

Place seam-side down before cutting with a pizza roller or super-sharp knife into 10-12 even sections.

If the roll is somewhat flat, press into itself to form more of a circle, and press the dough to meet the other side so that it stays.

Bake for 10-15 minutes on a sprayed cookie sheet, pan, or baking stone until dough is no longer doughy and lightly brown and a little crisp.

Let cool completely before serving or packing into your child's lunch box.