I've partnered with Kohl's for the #MakeYourMove campaign. 
2015 has been a doozy of a year, and I'm sad and ashamed to say that I lost my way a little, friends. All the hard work that I've done over the years to get my body (and me) back, I feel as though I completely undid it all (even though, I know it's not fully true). But, it sure felt that way. Trying to slip into outfits and things I used to wear for special occasions and such, only to find they don't quite fit anymore. My body's changed this year, and not necessarily in a good way. Especially with Jeremy's deployment, our lives were turned upside down in a lot of ways, even if it only lasted a brief period, we certainly didn't know in advance it would only be brief, and I did my best to prepare and get through it. However, that "best" may have been the best to survive, but it wasn't the best for my body and health. Now, I'm left with the aftermath, feeling like I'm "starting over," and that's a pretty sucky feeling.
Until recently.
I was invited on a bike ride with a few neighbor-friends of mine. I'd missed our family bike rides in San Antonio, we haven't done much of that here (two of the boys' bikes are flat currently). When they invited me to ride along with them, it just felt right, and getting on that bike again, pedaling my little hiney off, and realizing I hadn't lost my way as much as I'd thought. I was stronger than I was giving myself credit for, I was just out of practice. And dang, if that "practice" didn't feel amazing, and powerful. It inspired me, and I'm so thrilled to get back to "it" again.
I'm SO excited to be partnering with Kohl's for this Make Your Move campaign. This couldn't be more appropriately timed for me right now! I've already begun to "make my move" here at home, working out, taking vitamins, and I'm already seeing inches lost and clothes fitting better! Here's one of my moves I perform daily – forearm plank!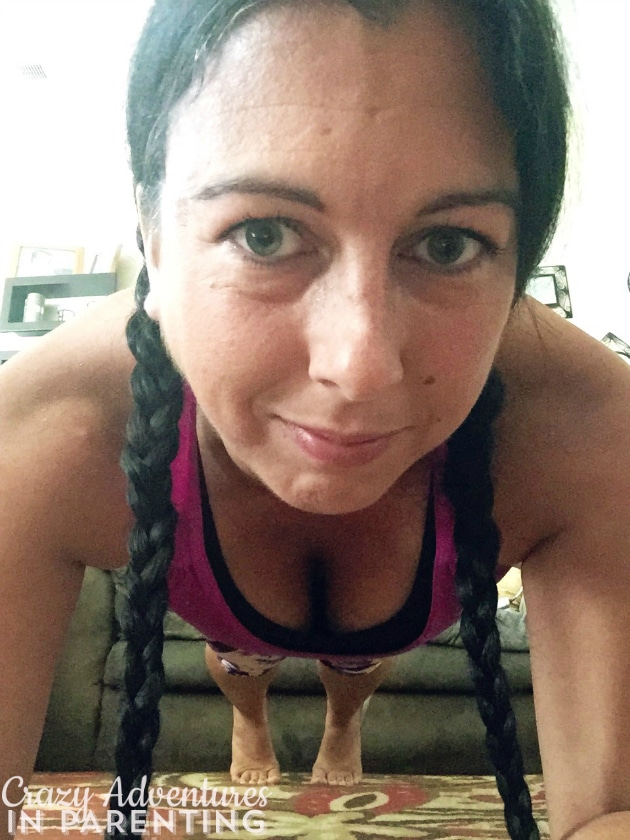 Kohl's aim with this campaign for 2015 is to help their customers achieve wellness with their many fitness and health-inspired products, to help motivate and energize them towards their fitness and wellness goals. They know you plan to #MakeYourMove toward a healthier you in 2015!
Check out these adorable and BRIGHT FILA SPORT® running capris from Kohl's paired with this light Nike tank. I didn't think I'd like bright pants like these, but WHOA NELLY, I do!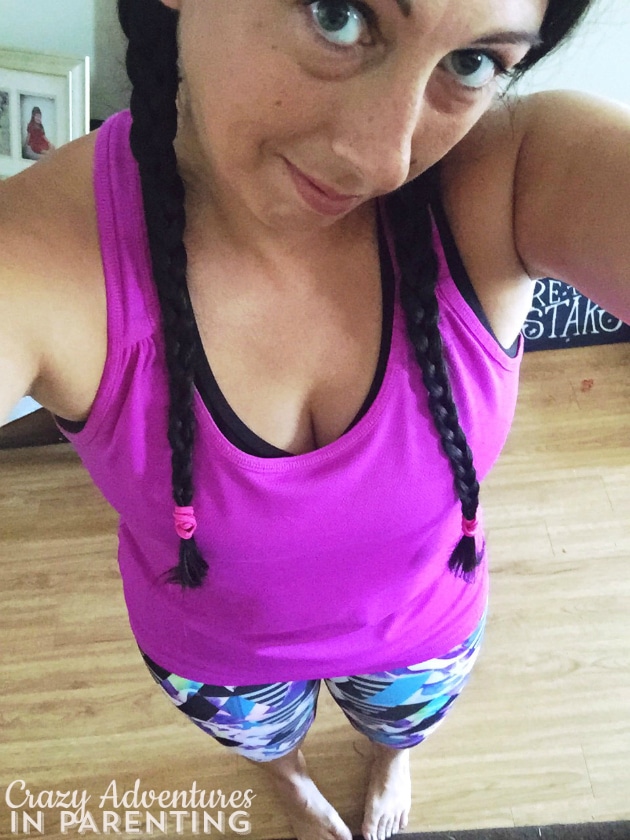 The capris shown above were sent in a pretty sweet little introductory box of awesome. Check it out!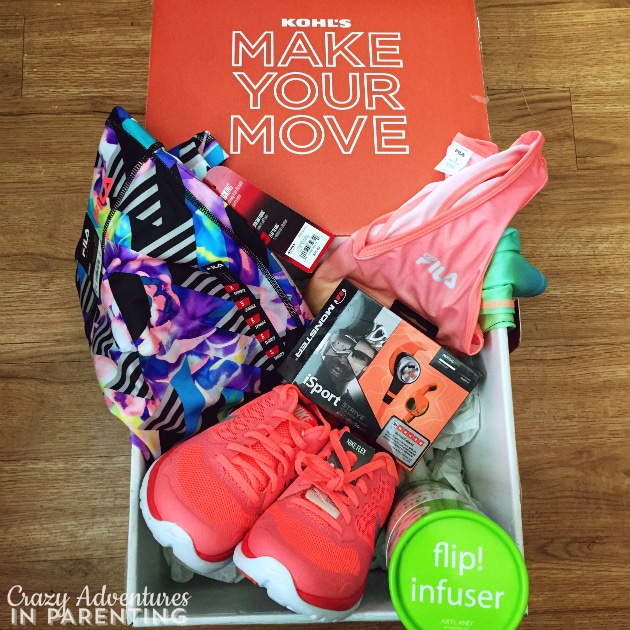 In addition to those capris, the package from Kohl's included:
In the coming weeks, I'm going to be sharing what we're up to to close out summer, including preparing healthy food with new fun gadgets, fitting in family fitness during these summer months, and preparing to go back to school.
Be sure to follow Kohl's on Twitter, Facebook, Instagram, and Pinterest for all kinds of wellness inspiration, and check the #MakeYourMove hashtag to see what the other participants like me are up to! 🙂
This post is sponsored by FitFluential on behalf of Kohl's.