This easy Garlic Pull-Apart Pepperoni Pizza Monkey Bread is the absolute PERFECT appetizer for your family gathering during the holidays!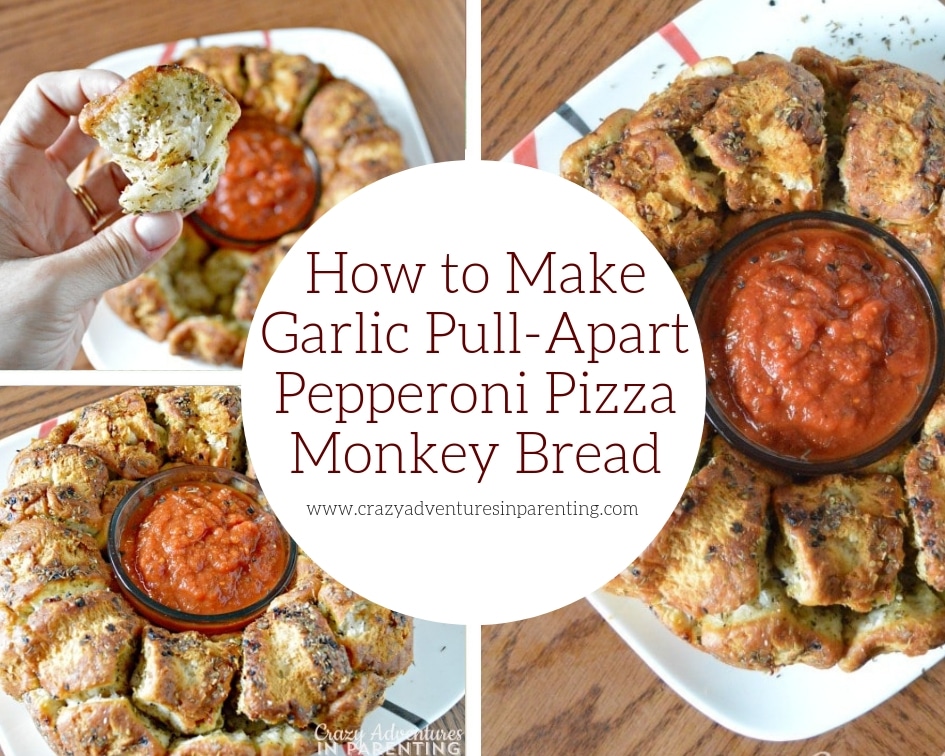 This is a sponsored recipe on behalf of Pillsbury®.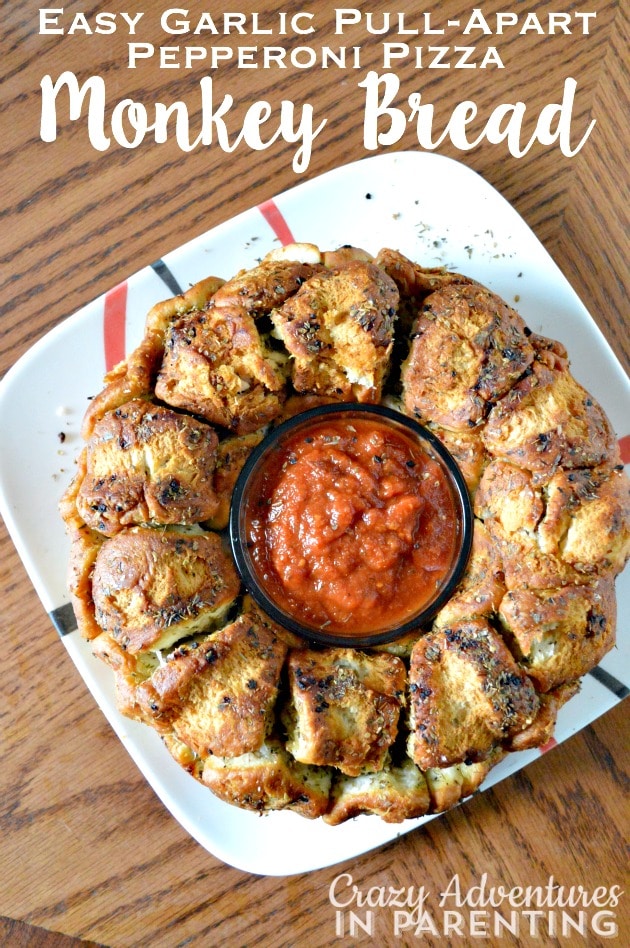 Easy Garlic Pull-Apart Pepperoni Pizza Monkey Bread
It was day three of turkey leftovers when one of the kids whispered softly, "Mom? I'm kinda sick of turkey. Is there anything else we can eat?"
Ohhh, could I ever relate to that sentiment. The holidays are SO WONDERFUL, but the tryptophan was really starting to drug me, man. Turkeypalooza had to end, at least for a day or two. Turkey hiatus, please.
Man, was I ever glad we hadn't made THIS appetizer. I love making this appetizer during our holiday festivities this time of year because it's so pretty and festive looking, with the red sauce and green flecks of seasoning. (And it's wreath shaped, too!) It was by sheer accident that I'd forgotten to make this the morning of (before baking the turkey), because, as it baked, the aroma seemingly called to every child in every corner of the house, cowering from turkey leftovers, beckoning them to come downstairs and realize, with great joy, THERE WAS SOMETHING IN THE OVEN! AND IT SMELLED DELICIOUS AND IT WASN'T TURKEY! AND IT WAS GLORIOUS! HALLELUJAH!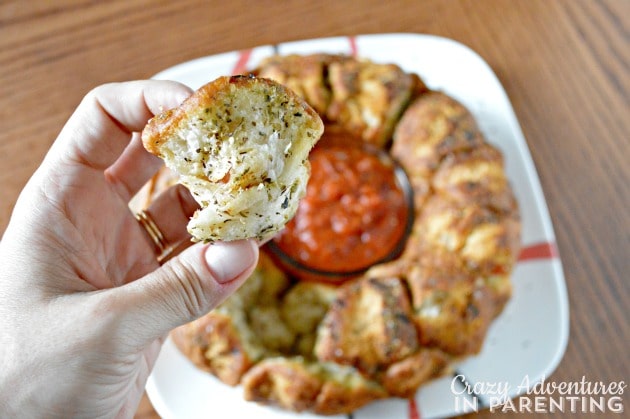 Garlic Pull-Apart Pepperoni Pizza Monkey Bread Recipe
These weren't difficult to make, either, thanks to Pillsbury Grands!® biscuits found at Walmart. We're usually making wonderful meal ideas with crescent rolls, but this time, their Grands!® biscuit had a starring role in this easy and tasty dish. So easy, in fact, my eight-year-old helped me prepare it!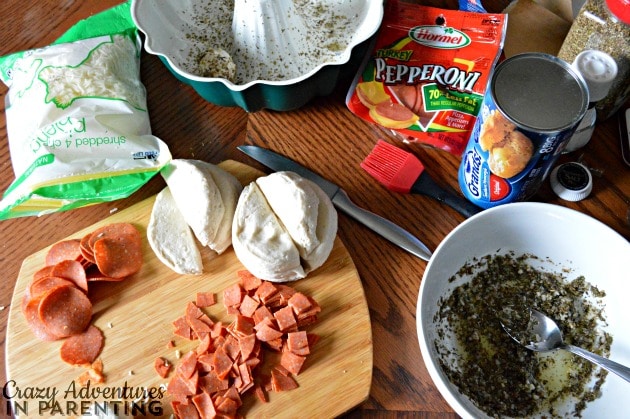 How to Make Garlic Pull-Apart Pepperoni Pizza Monkey Bread
Choose whatever pizza fillings tickle your fancy. For us, we're huge pepperoni lovers in this house. The pepperoni was quite welcomed that day, friends.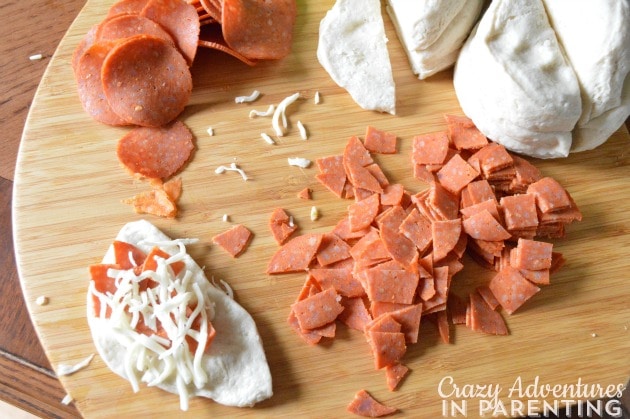 We're also huuuuuuge fans of garlic bread, so, OF COURSE I had to go and make the pizza all deliciously garlicky 'n stuff. Roll those tiny pepperoni balls of goodness in olive oil, oregano, and garlic like it's your job. My daughter took this job VERY seriously.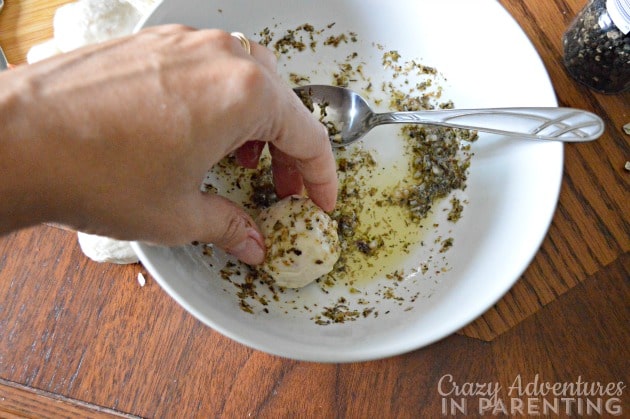 Plop each little dough ball of awesome into your bundt pan, and be prepared for the fantastic aroma wafting from your oven for the next half hour or more. Wait 'til they're pretty and golden on top…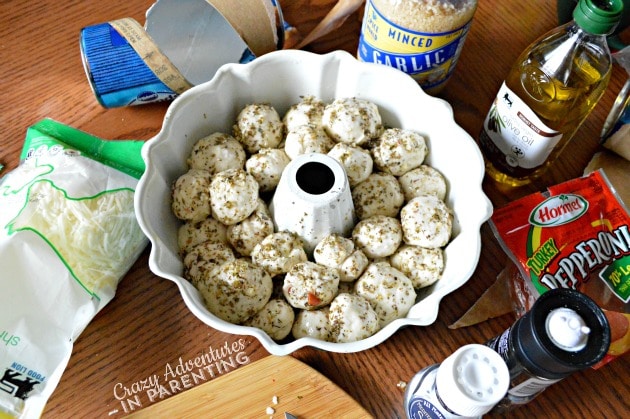 … like this! Oh my gosh!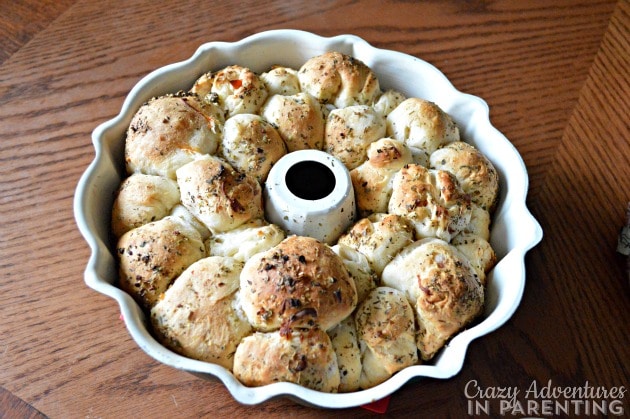 So so perfectly seasoned, oil baked in nicely into the dough, perfectly-sized portions of pepperoni dippable goodness. Bundt pans have that perfect-shaped hole in the center which holds your favorite pizza sauce quite nicely.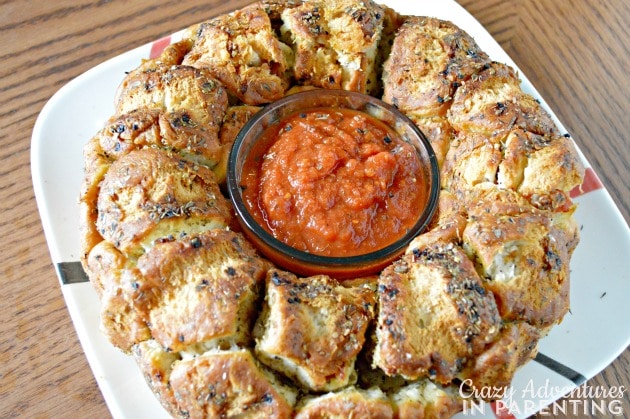 Here's what you'll need to make this for yourself!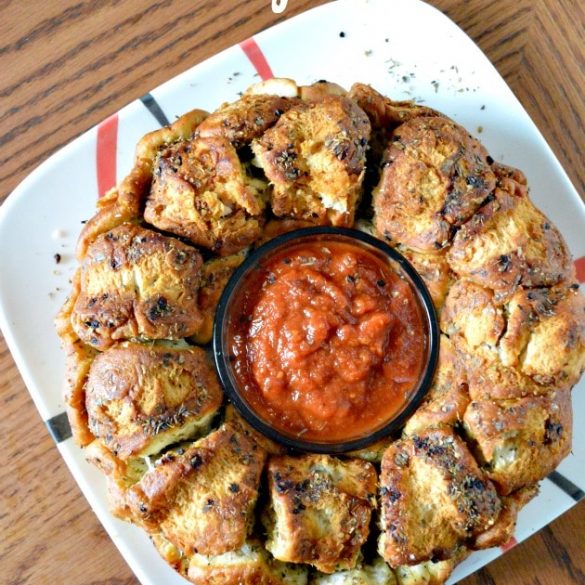 Easy Garlic Pull-Apart Pepperoni Pizza Monkey Bread
This easy Garlic Pull-Apart Pepperoni Pizza Monkey Bread is the absolute PERFECT appetizer for your family gathering during the holidays!
Print
Pin
Rate
Instructions
Preheat oven to 350 degrees.

Baste your bundt pan with olive oil; season it with oregano.

Cut-up a handful of pepperoni slices, keeping some close by to cut up if you run out.

Open up the biscuits cans, and slice your biscuits in half.

Thin out the biscuit half, as thin as you can.

Add some pepperoni pieces and cheese into the center of the biscuit half, and fold the sides inward, pressing seams together, rolling into a ball; set aside.

Continue with each biscuit half until all are filled with pepperoni and cheese.

In a bowl, add oil, oregano, salt, pepper, and garlic; mix well.

Roll each ball into the bowl until well coated.

Place each oil coated ball into the bundt pan.

Bake for 30-40 minutes, or until top is golden brown.

Remove from oven, flip onto a large serving plate.

Let cool before serving.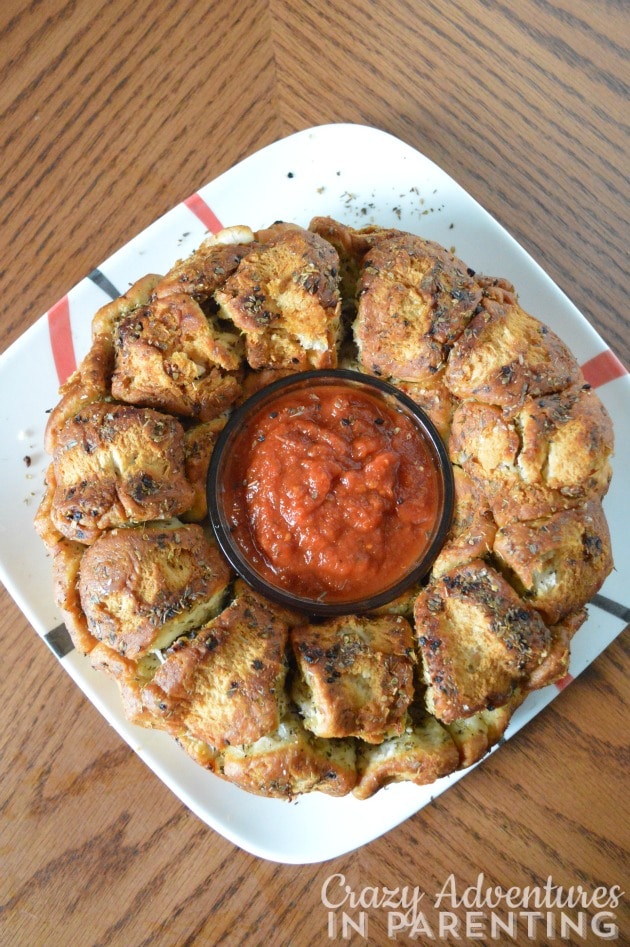 Is that not bite-sized pizza perfection? The pepperoni and cheese, all melty and gooey inside, with the crisp seasoned bread on the outside. It felt fancy, like something you'd get in an Italian restaurant, or something, yet it was SO EASY and made inexpensively at home!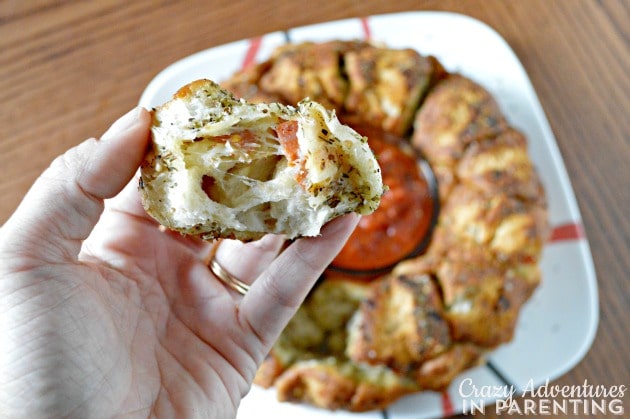 What are your favorite appetizers and meals to make for the holidays? What sort of family recipe traditions do you have in your household?
This is a sponsored conversation written by me on behalf of Pillsbury. The opinions and text are all mine.