This blog post is part of a paid SocialMoms campaign for "Daddy's Home" in theatres nationwide on Christmas Day.
The crazy stories and ideas expressed here are definitely my own.
I thoroughly enjoy decorating for the holidays, we go "all out" decorating almost every doorway, every flat surface, empty spot on the wall, the kitchen cabinets, e-v-e-r-y-w-h-e-r-e. I take great pride in all our holiday decorating splendor, the kids love seeing the place decorated like Santa's workshop.
We have a fake tree we've had since the beginning of time. Not only does it hold our entire family's memories, but it holds a metric crap-ton of sneeze-inducing dust, too. Yet, despite my December allergic fits while this bad boy is twinkling all holiday a-glow in my living room, I'm damn proud to see the memories dangling from the tree – all the handmade and collected ornaments from over the years. Nothing matches, but I prefer it that way, y'know? So special.
I always supervise every branch being unfolded from the box. Every one of my kids knows, before the branches get placed on the tree, they have to pass mom's inspection. Then, before the lights get strung, mom has to make sure there are no holes, everything looks as it should, and only then can my husband proceed to string up the lights. This year, though, I mistakenly let my husband and kids do the tree themselves. I was at my desk, working feverishly to get a deadline completed, and I let them "have at it" unleashed.
NEVER. AGAIN.
No branch or hole checking. No thumbs up to the hubs about his lights application. In fact, this year he let our oldest son help with the lights (!!!!), and clearly gave him no direction whatsoever, because if mom had been around… well, let's just say, those suckers would've been tucked in properly, and not mashing branches inwards, openly displaying themselves such as they were. The lights on one whole side of the tree were all "HEY, WE'RE HERE! WE'RE BLINKY! THERE'S NO SHAME IN OUR GAME!" while I smack my forehead because, NO! Christmas lights 101 – you wrap those suckers in so that you don't see the strands, just the bulbs *smacks forehead*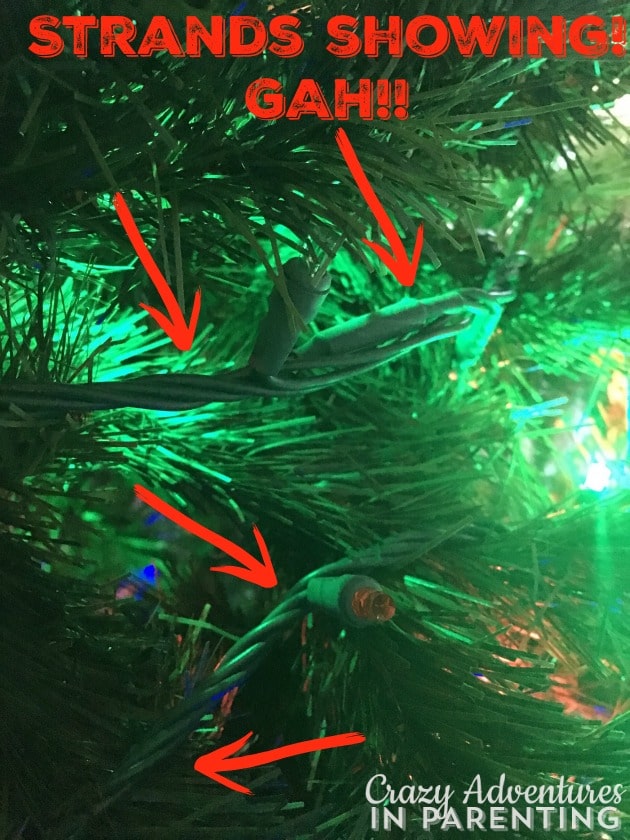 As if that wasn't bad enough, you had OrnamentGate. Three and four ornaments on the same branch, collections of ornaments clustered together, it was mass hysteria! No, you can't hang three Disney ornaments from the same branch, they shouldn't even be within the same vicinity!
The nail in the coffin was the entire bottom had no lights whatsoever. It couldn't be helped. Momma was gonna have to roll up her sleeves, overdose on allergy meds, and dig into the tree, ripping ornaments and light strings off, one by one, until the branches stuck out properly, the light strings were wrapped in, sight unseen, and the ornaments were pleasantly and spatially placed. There would be no sanity this holiday until the tree was done properly. (What? Is this not normal? Everyone has their "thing," right?)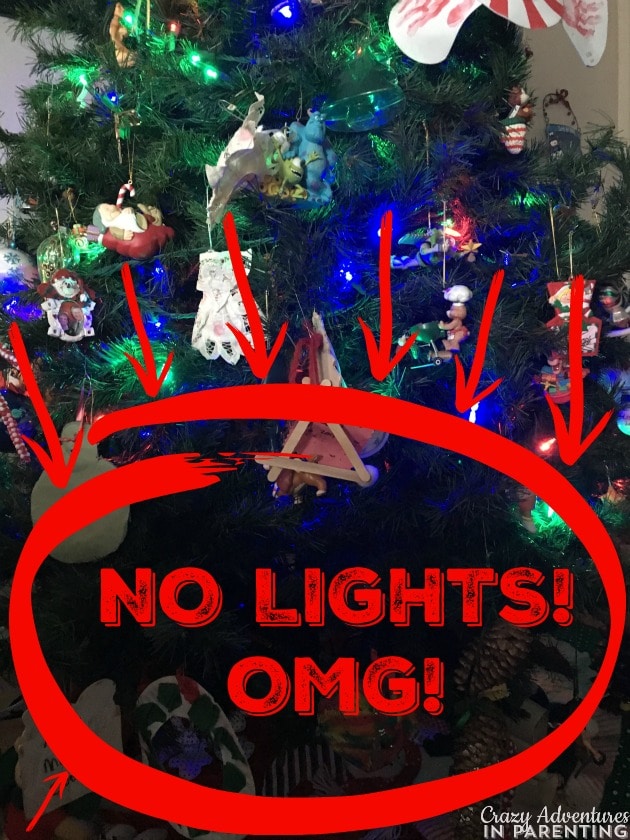 It may have taken me almost four hours, but damn if the tree doesn't look pretty now. I was *thisclose* to setting this thing on fire, and starting over (and quite possibly my hair as well). THIS! CLOSE! But I didn't, despite wanting to. Because, the memories of it (and on it) mean too much to me.
This holiday, if YOU are about to set the tree (or house) on fire, or if holiday stresses got you down, getchyo spouse, kids, and families out the door and together for some good ol' family fun! Drink the hot cocoa, build a snowman or two, enjoy the Christmas carolers, and hit the movies to see "Daddy's Home" in theaters nationwide on Christmas Day. You'll be in good (crazy) company with Will Ferrell and Mark Wahlberg, these two were absolutely hilarious together in "The Other Guys," and, after seeing the previews, it is clear these two are going to illuminate the screen with comedy and leave you gasping for air. Follow #DaddysHome on your favorite social media channels – Instagram, Facebook, and Twitter for more funny family updates about the movie, holidays, actors, and more!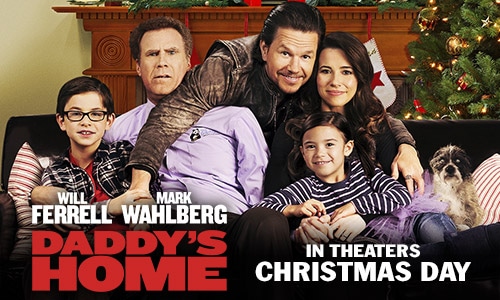 Win it!
Want to win a $50 to Amazon? OF COURSE YOU DO! To enter, use the easy entry form below. Contest ends December 27th and is open to US only, 18+. Giveaway winner will be chosen via Random.org. Good luck, and Happy Holidays! 🙂