This is a sponsored post for Best Buy as part of the Best Buy Bloggers Network.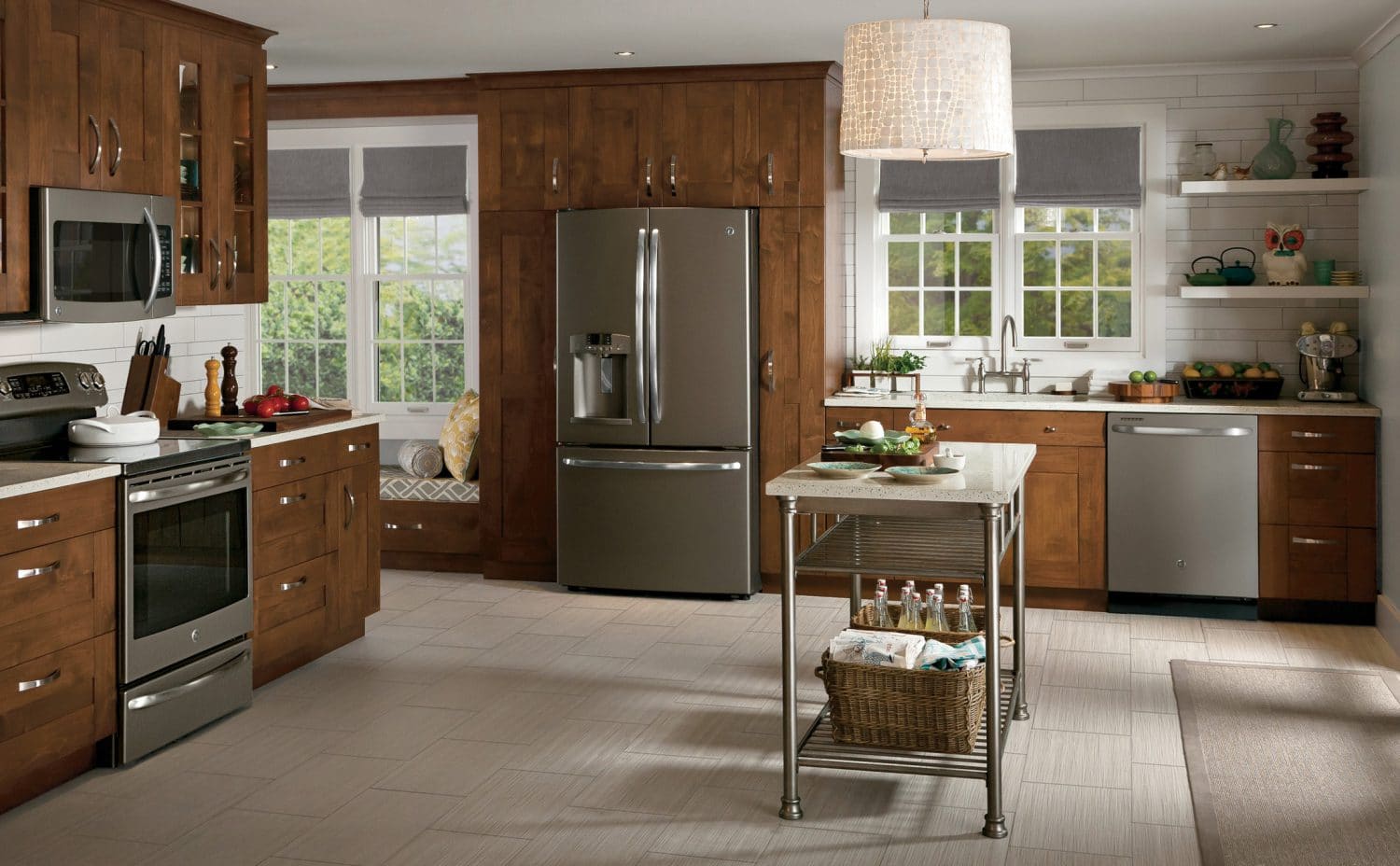 Dream with me for a second, will ya friends? Close your eyes, and envision, if you will, your perfect kitchen. First of all, you're gonna want space to work. You're going to want loads of space to store things (cough cabinets cough), beautiful (and clutter-free) counterspace, yes? Perhaps even some eye-catching flooring (hand-scraped tile faux wood planks, anyone?). But, the most important things in your kitchen are the appliances, amirite? You need dependable, spacious, beautiful, and EASY TO CLEAN. And GE has delivered with their gorgeous GE Premium Slate Finish Appliances available at Best Buy.
From GE about this new line: "Inspired by stone, this slate finish added to their appliances provides an elegant, modern, and easy-to clean surface as an alternative to stainless steel." (Did you read that? EASY. TO. CLEAN.) "The dark matte appearance also naturally hides fingerprints, smudges and dirt, so it's delightfully easy to maintain." (Cleaning that's delightful? Can I get an amen?)
Let's not forget how functional can be, with its flawless ability to pair with virtually anything! From sleek granites and composites to organic glass and wood, Slate perfectly harmonizes with all of today's materials and colors, allowing it to fit seamlessly into your home – no redecorating needed (unless you really want to)! With such a broad palette of complementary finishes, Slate can appeal to every taste (mother-in-law approved).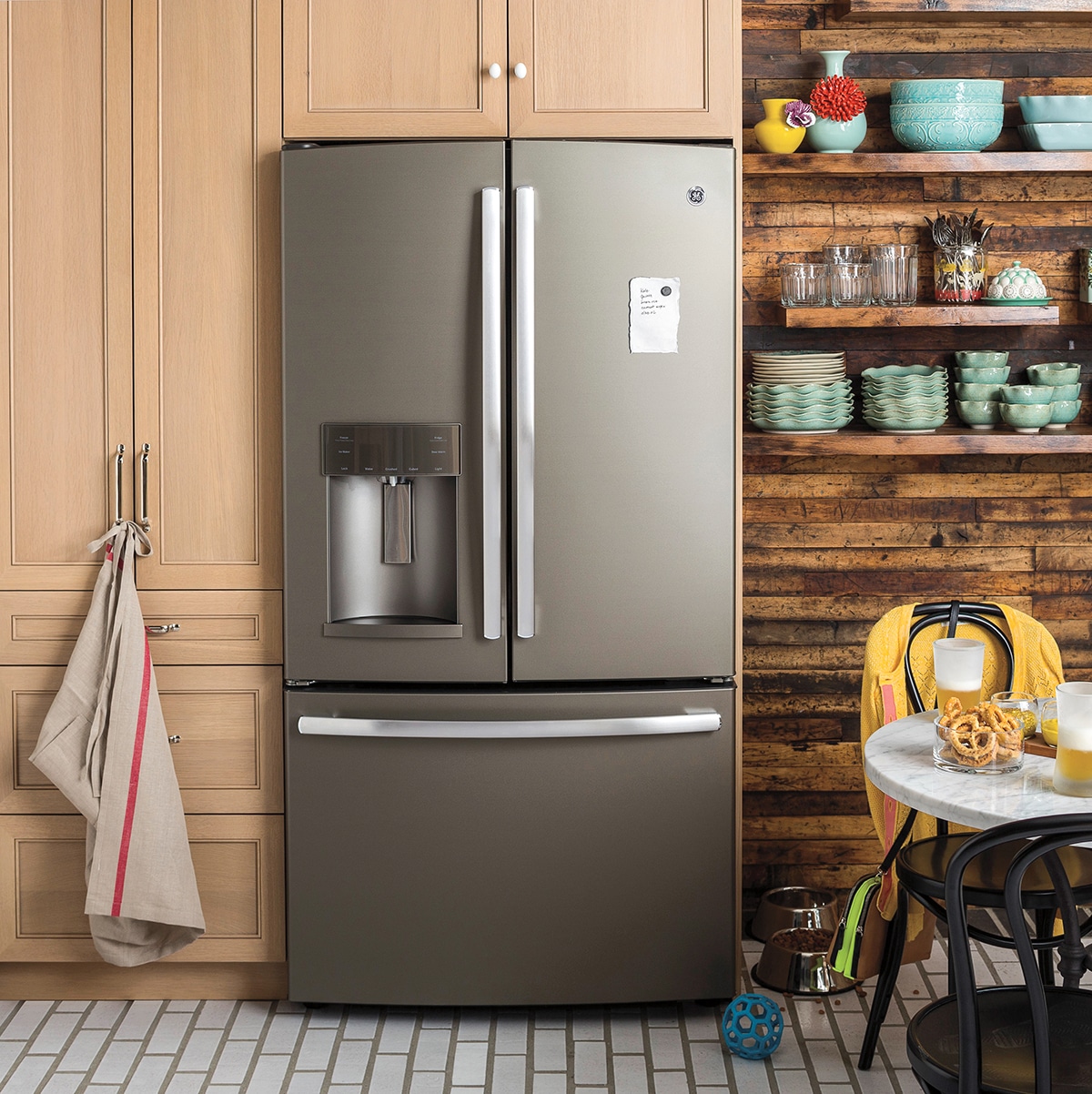 See that gorgeous fridge? Not only is it beautiful, it's MAGNETIC! Splatter all the kids' adorable artwork up there, or whatever tickles your fancy. You've got the room! Also available and drool-worthy – Twinchill Evaporators (creating separate climates), dual ice makers, optional color-coded LED lights, and three different temperature settings for help keeping everything nice and chill.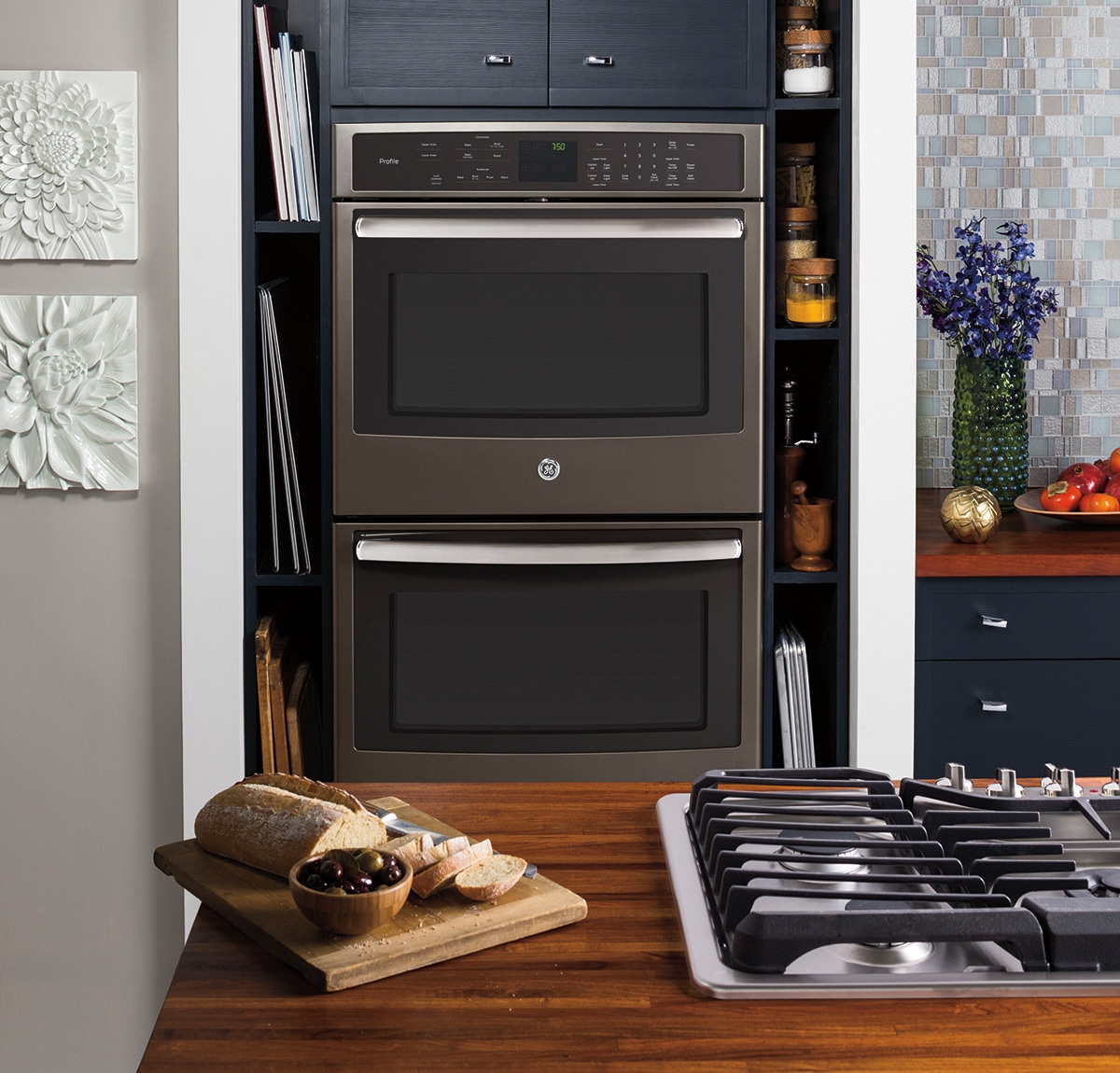 What is it that you want out of an oven? For me, DOUBLE OVEN ALL THE WAY, BABY! For you, though, maybe you want one chimney-style? Or an accessorized hood? Maybe a glass canopy, or dual halogen lighting? For me, whether single or double, I am DOWN with the self-clean, baby! But these don't just self-clean, they use both high heat OR a steam clean cycle! Whoa, momma! And they have wifi controls? I can adjust the temp of my oven from my couch? Dude! Technology is awesome, man. State of the art right there. (With emphasis on "art" with how stunning they are!)
Whether your style is coastal comfort, modern eclectic, rustic chic, or classic contemporary, GE's Premium Slate Appliance Collection is worth investigating! Read all about them in the GE Appliance Slate Finish Brochure.
Don't forget to check the Great American Kitchen Event – receive up to $1500 back from GE via mail when you purchase 2 or more GE Profile Collection Appliances.
Disclaimer: Requires purchase of select GE Profile appliances from the following categories: Refrigerators, Ranges, Wall Ovens, Microwaves, Cooktops, Dishwashers, Rangehoods, Washers and Dryers. Rebate has maximum value of $1500 and minimum of $100. Value determined by number of eligible appliances purchased. See GEappliancepromotions.com to submit online and for full details on manufacturer's incentive. Redemption value received via mail in form of Prepaid Visa Card. Offer valid 3/30/16 – 4/26/16.
The reviewer has been compensated in the form of a Best Buy Gift Card and/or received the product/service at a reduced price or for free