This is a sponsored review for eve mattress.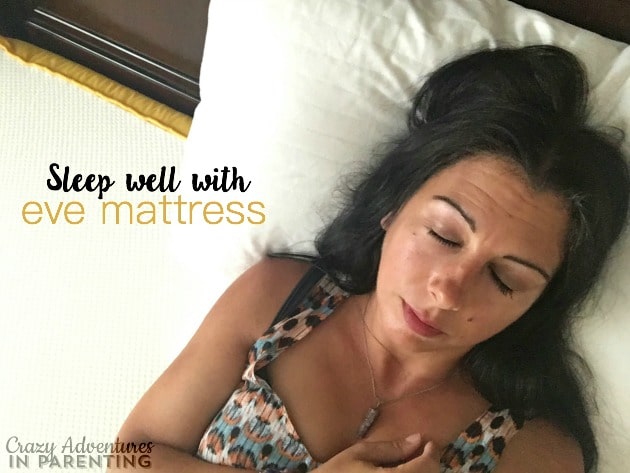 Have you ever visited a hotel where the mattress was one of the softest most comfortables things EVER? The kind of soft that swallows you into it – where you lose all track of time and suddenly want to bail on your to-do list so you can just stay enveloped in the pillowy softness forever? I've had that hotel mattress experience a few times, and thoroughly CRAVED the ability to recreate that at home. And, now I have, with eve Mattress.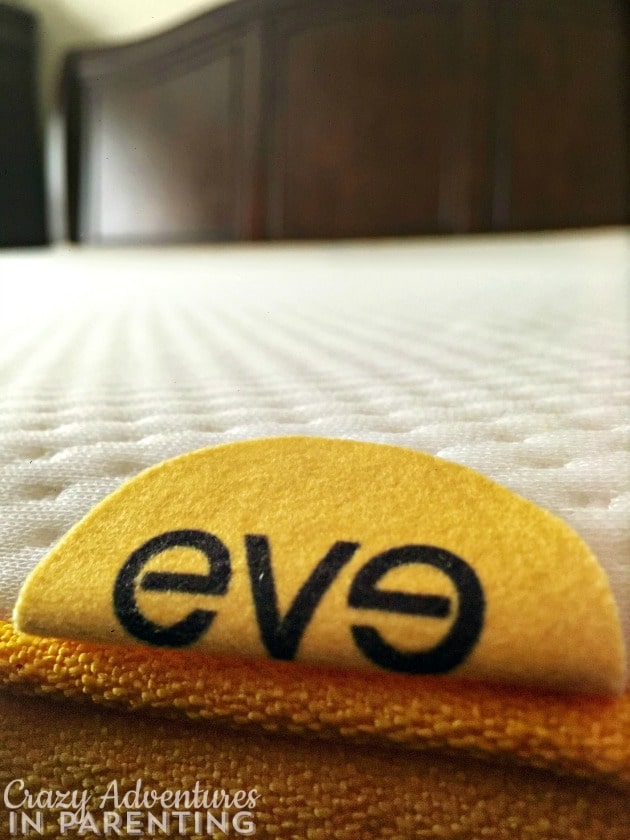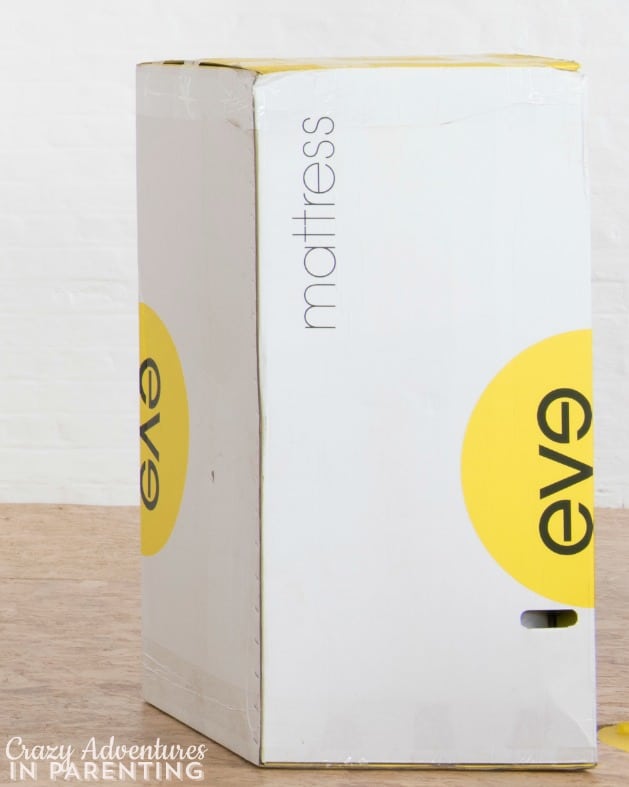 I knew this eve mattress was going to be soft, but to have been THAT SOFT the second we unrolled it? (Yeah, I saw you double-take when you read that – what do you mean 'unroll' it, Lisa?) Ohhh, friends – this mattress company has SKILLS.
You get the package in a tall box, just like this (pictured right). I think the delivery driver secretly cursed at me as he sprinted back to his vehicle, because this box is HEAVY but super sturdy with well placed handles that made bringing up the stairs a breeze with help. But you can't help but sideways tilt your head when you first see it, staring at this ginormous box on your porch, thinking HOW is my KING mattress in THAT BOX?
Like I said, skills. Because it's memory foam, they roll it and vacuum pack that sucker on in there all nice and tight, like this: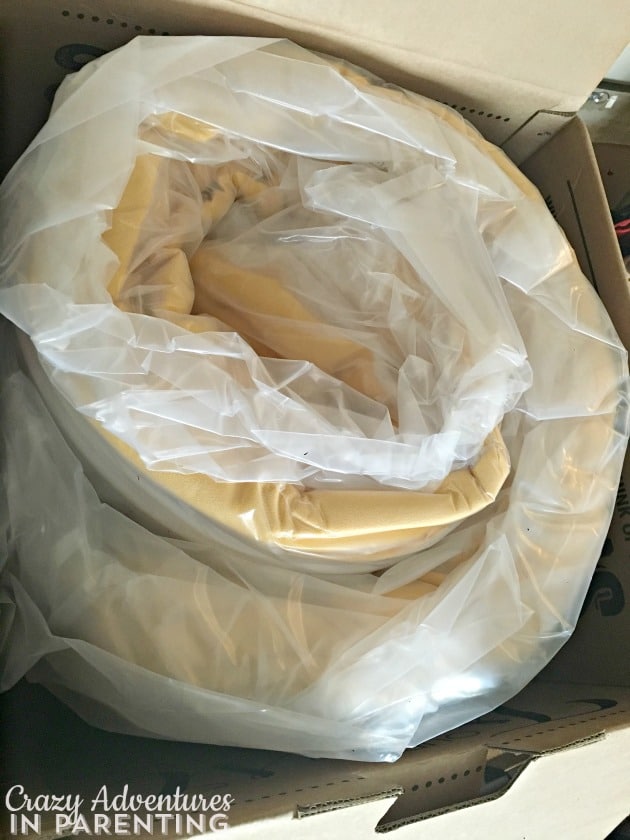 But before I get into unrolling and opening the mattress from its bag, we need to talk about the box itself for a moment. It is SO worth a minute of your time. When you first open the lid to the eve mattress box, you're greeted with this adorable sign staring back at you: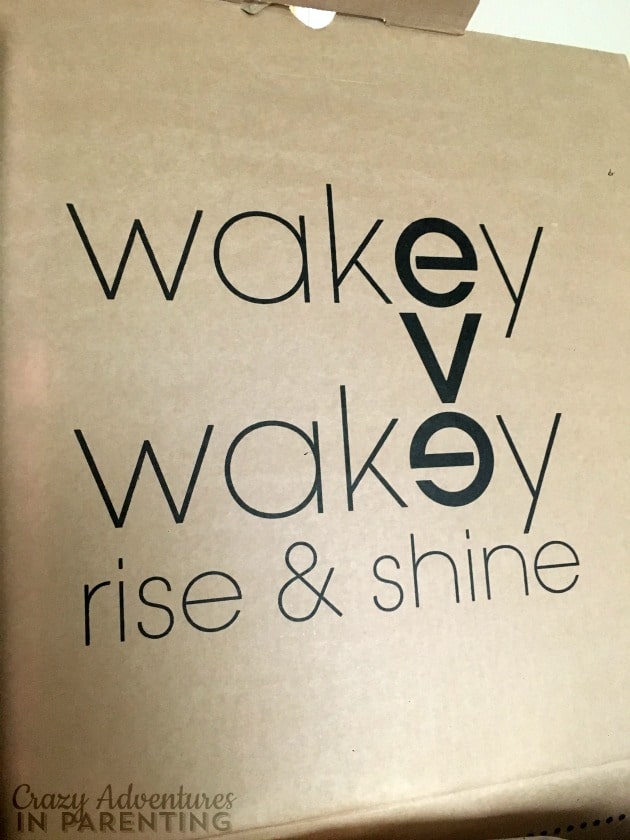 I mean, how ridiculously cute is that? BUT IT GETS BETTER. The second you slide this cinnamon-roll-esque mattress out of the box, you see ART!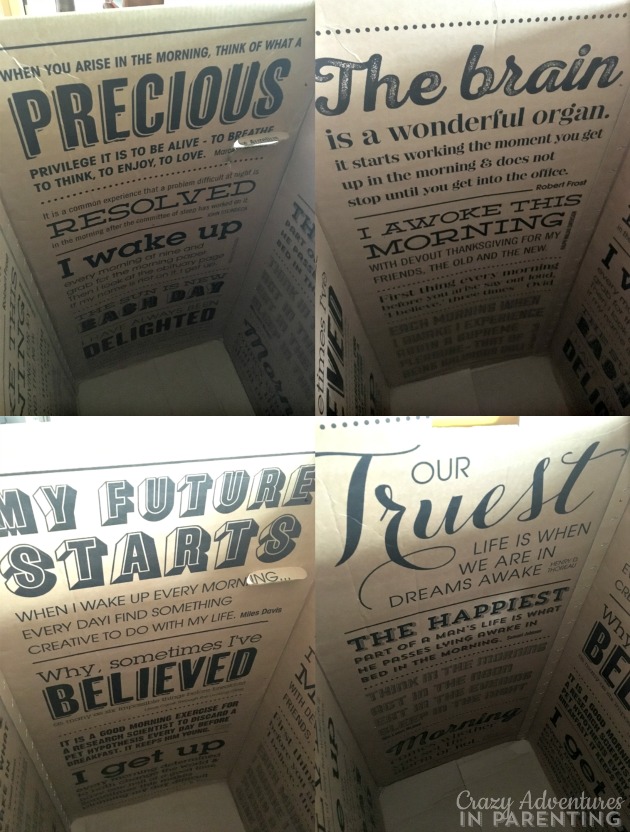 I am so fricken in love with each and every one of those sayings, I've kept the box like a crazy person because I'm going to cut it all out and frame it somehow. I swear, I'm going to decorate the hallway or playroom with 'em all, I'm not sure how yet. (I'll be sure to share it when I do.) But HOLY COW, CAN YOU BELIEVE THAT??? The box ITSELF is a piece of art with such inspiring, wonderful sayings. I am in looooove 😍😍😍
Back to the mattress, yes… we've got this ginormous mattress rolled up tight like a fruit-roll-up ready to be unleashed. After moving our old king mattress out of the way, we unfolded and unrolled the eve and let 'er sit for a second while we grabbed the scissors and gently cut along the seam of the vacuum seal, listening to our new memory foam mattress hiss and exhale. I tried my best to get it on video (the hissing) but it was hard to capture because it came from EVERYWHERE! Here's our unboxing this beauty:
Even though it wasn't fully expanded yet, I was SO CURIOUS – what did it feel like? Like a kid at Christmas, I couldn't wait.. so I laid upon it and closed my eyes, dreaming of the wonderful things I was going to dream later once it was finished airing out, and before I knew it…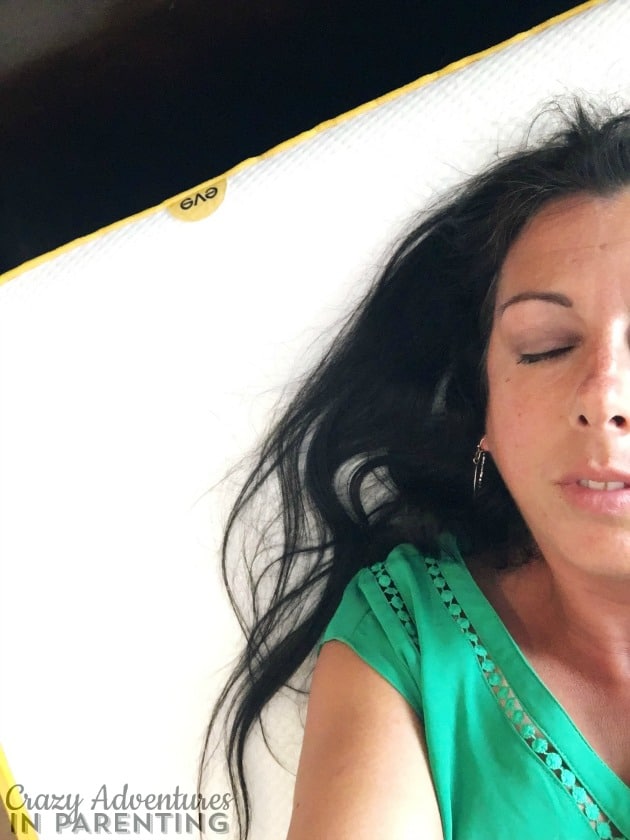 Yeah. That happened. 😂
After a few hours of it expanding and regaining its original shape, here's the fully expanded finished product!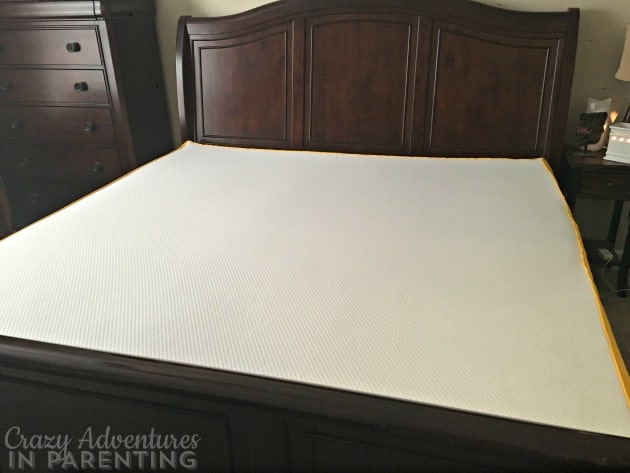 I couldn't believe the sponge cake-like feeling it possessed. I know what memory foam feels like, but this? It's like butter, irresistibly touchable and soft, where you melt right into it effortlessly, as though it were shaped for just you. Until your kids or spouse lay on it and declare it was made for them instead, and you fight over it a little bit until you decide everyone's a winner (at least, the ones that gets to sleep on it, that is). *insert evil cackle here*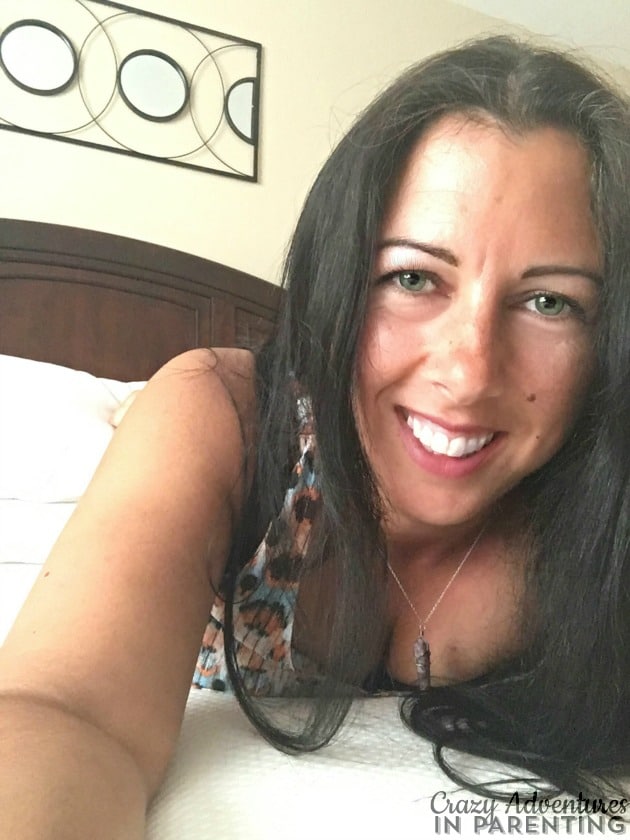 eve Mattress is BRAND NEW to the US (having come from the UK!) and it incorporates four core layers:
A base layer of high density foam: This is what gives the eve mattress support and keeps things firm.
A mid layer of High Resilience Comfort Memory Foam: This layer encourages air flow, is responsive and highly durable, providing the perfect sandwich layer between the base and top layers.
A top layer of their New-generation Memory Foam: engineered to give the total body support of memory foam and bounce and cooling properties of latex combined.
A cover lovingly hand-knitted in the UK: This protects your eve and, by the way, doesn't it look great? (Yes, yes it does.)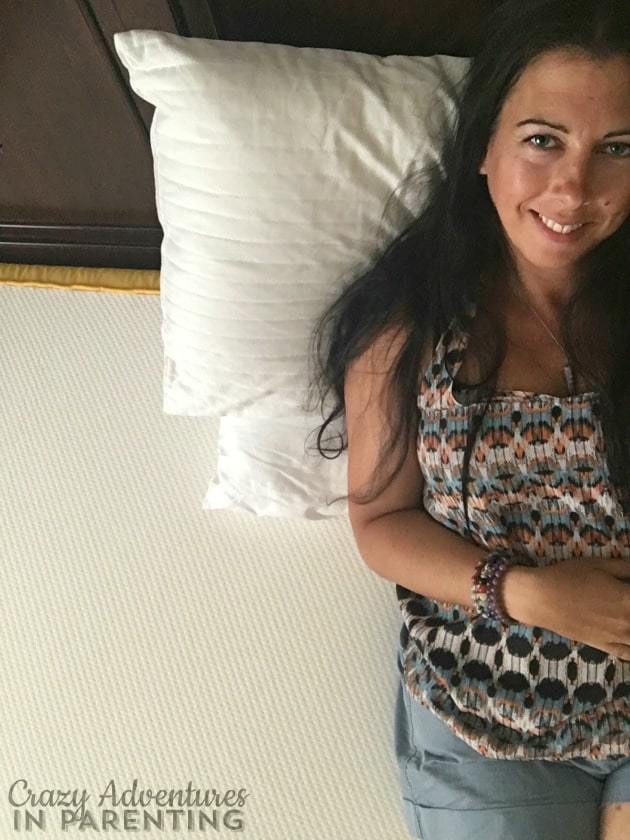 Another fun thing you can do with eve? You can do CUSTOM PRINTS right on top of the mattress. Check out what eve printed for the fashion director of Cosmopolitan UK!!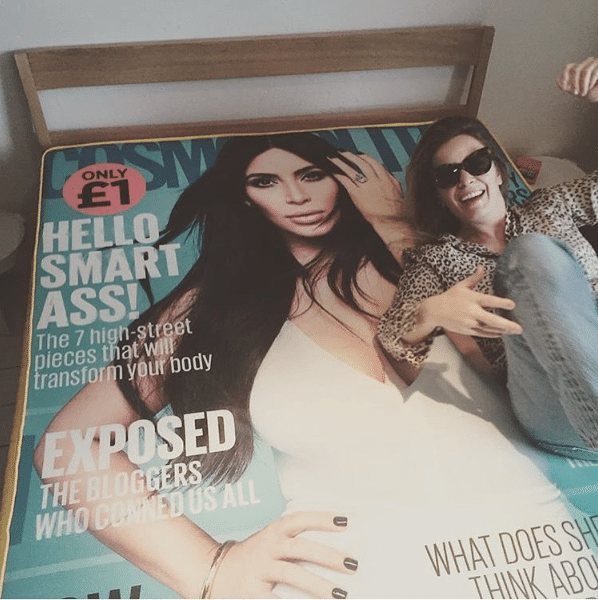 Unlike other companies, eve wasn't born in a laboratory; eve was developed through trial – they wanted to build a product that was perfect for people, for couples, for families – not some sterile idea of a "customer." After four years and 75,000 tests with people from all over the world, eve was born. With free shipping, a 100-night "try out" return policy, and a 30-days-to-pay payment option, how can you resist visiting their website to start your free trial today?!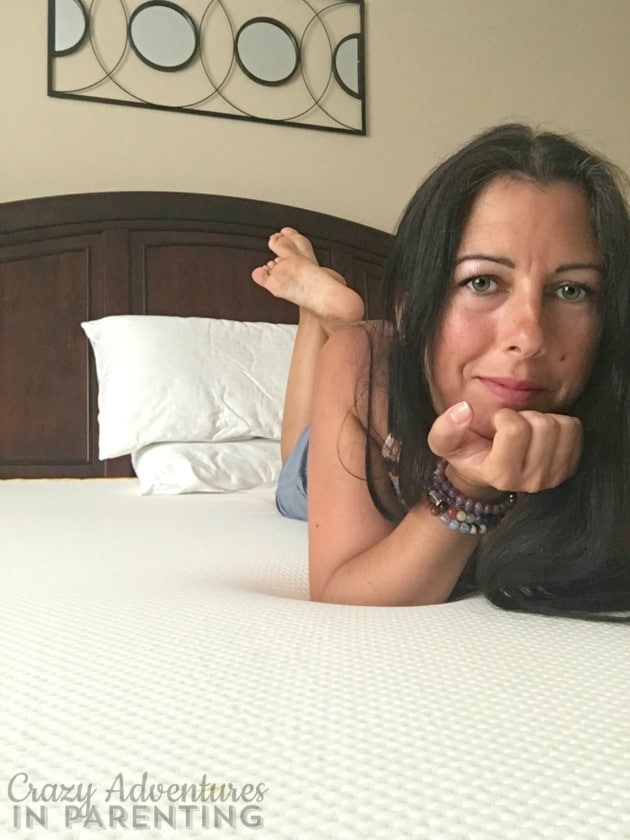 You won't need 100 nights to fall deeply in love with eve. You'll first fall onto the mattress, then fall fast asleep, then you'll know you've fallen in love, too! ❤️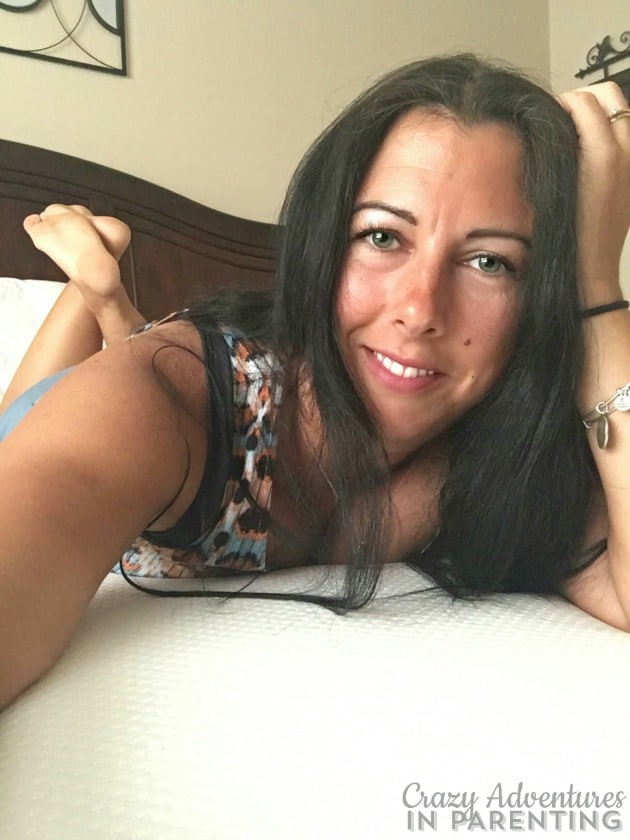 As they say all over their website, every great day starts with the night before, and my nights are feeling PRET-TY good, thank you. How are yours?