This recipe is sponsored by Snyder's of Hanover.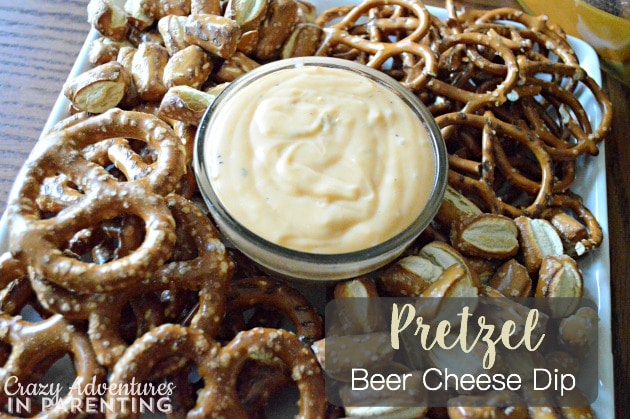 Beer Cheese Pretzel Dip
I have a hearty love for pretzels. Some people fantasize about candy houses, or bacon houses. Me? I want a big ol' pretzel house with a walk-in pantry filled with pretzels and pretzel buns next to the biggest vat of melty cheese sauce ready for dipping (or swimming). Ahem. Yes, it is that serious. I could update my Facebook relationship status to "In relationship with Pretzels" and it still wouldn't be enough. Beer Cheese Pretzel Dip? All the yeses. 😍😍😍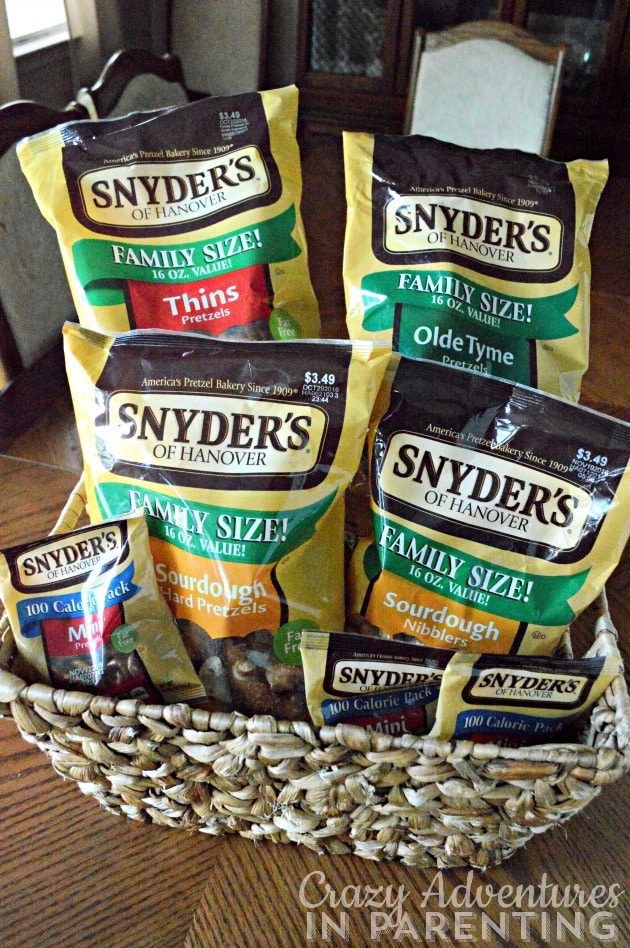 Beer Cheese Pretzel Dip for Parties
You already know how passionate I am about children's school lunches. If you quickly peruse the images on that page, you'll see pretzels in all varieties featured in many of those lunches. Why not? They're fun, they're tasty, and perfectly portable! Our go-to pretzels for as long as I can remember are Snyder's of Hanover pretzels. Available in multiple varieties, that brown bag brimming with pretzel goodness tastes so spectacularly delicious and helps me feed my pretzel addiction (ahem).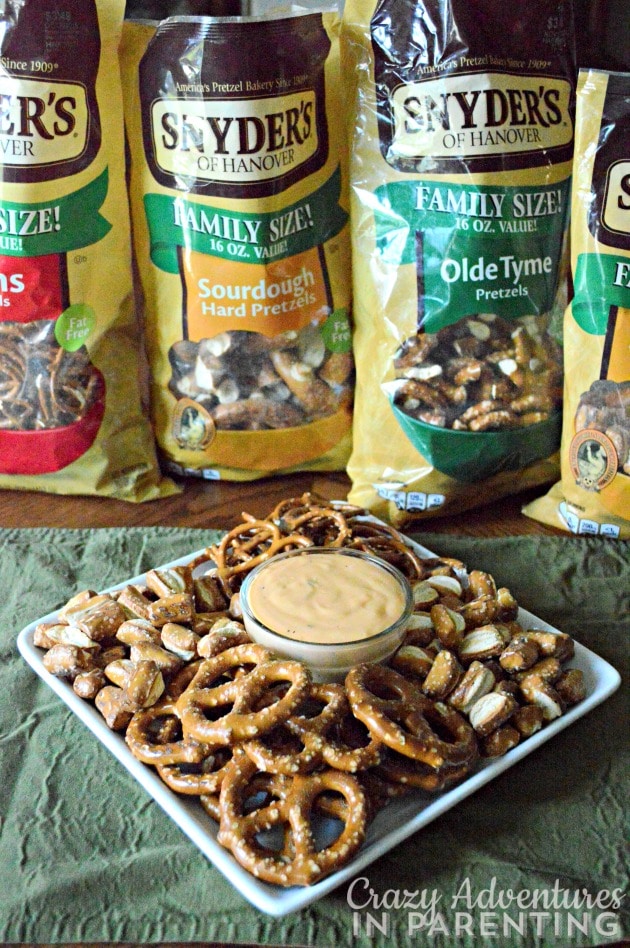 How to Make Beer Cheese Pretzel Dip
With football season just on its way (as well as back to school), why not send make pretzels even more fun with an ooey-gooey creamy cheese dip that tastes amazing hot or cold? Whether you use alcoholic or non-alcoholic beer, this dip is the perfect accompaniment to your favorite Snyder's of Hanover pretzel variety!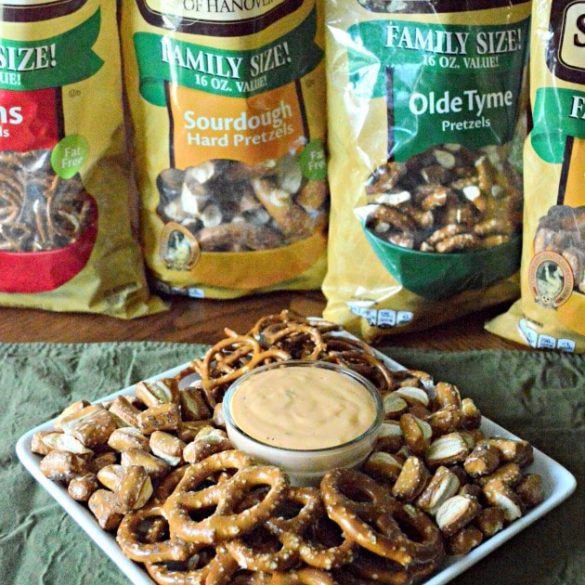 Beer Cheese Pretzel Dip
This Beer Cheese Pretzel Dip is the perfect dip for entertaining!
Print
Pin
Rate
Ingredients
2

cloves

minced garlic

or one teaspoon

¼

cup

butter or margarine

¼

cup

flour

1

can

12 oz regular or nonalcoholic beer of choice

(nothing too bitter or "hoppy")

6

cups

shredded mild Cheddar cheese

1½ lb

1

cup

shredded pepper jack

can use Colby Jack if you'd rather no spice

¼

cup

cream cheese

Fresh ground salt and pepper

to taste

1-2

teaspoons

chopped jalapeños

can omit if desired

Green onion

chopped, if desired
Instructions
Over medium-low heat, add garlic to medium saucepan.

Add butter, whisk gently until garlic starts to golden brown slightly; season with salt and pepper.

Add flour; whisk until it forms a roux (about 2 minutes or so).

Stir in beer and turn heat to medium-high; heat to boiling.

Boil 2-3 minutes, thickening the beer with the roux until it's thick and smooth.

Season with salt and pepper again; reduce heat to low.

Add in cheddar cheese one ½ cup at a time, whisk slowly and thoroughly until mixed before adding more cheese.

Once cheddar has all been added, add in the pepper jack (or Colby Jack) and then cream cheese until mixed thorough.

Season once more to taste before serving.

Optional – add in jalapeños when you add in the cheese.

Optional – top with green onions as a garnish.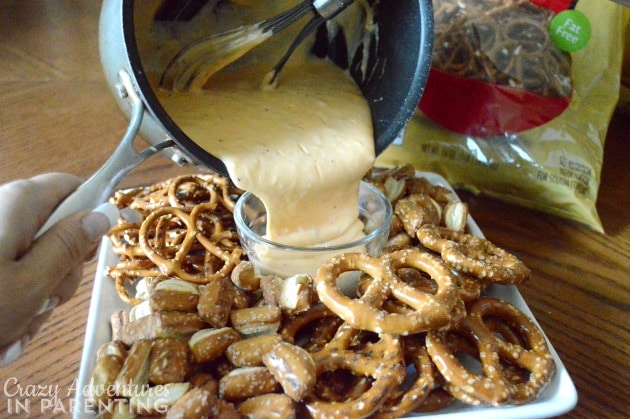 Don't get me wrong, I don't need cheese dip to enjoy pretzels, but they sure taste crazy amazing together, don't they? And if you're going to do a cheese dip, THIS ONE IS THE ONE. I mean, are you not salivating just thinking about dipping a pretzel piece into that warm deliciousness?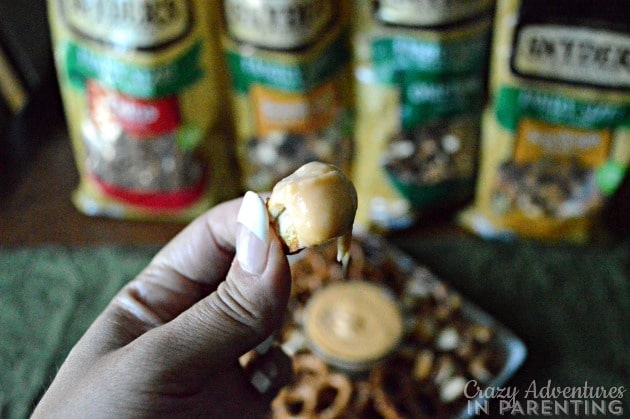 Ohhhh, mama….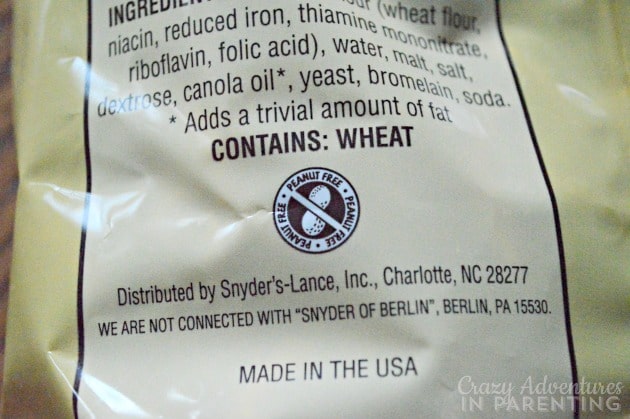 And our favorite snack just got even better! I couldn't be more pleased to share that Snyder's of Hanover pretzels are now being made in a peanut-free facility, which makes them safe for kids with peanut allergies and schools with peanut restrictions. While most Snyder's of Hanover pretzels were nut-free, they took the extra step in making their facility peanut-free. All Snyder's of Hanover pretzels made in the peanut-free facility will be labeled with new allergen information (as shown above). Woohoo!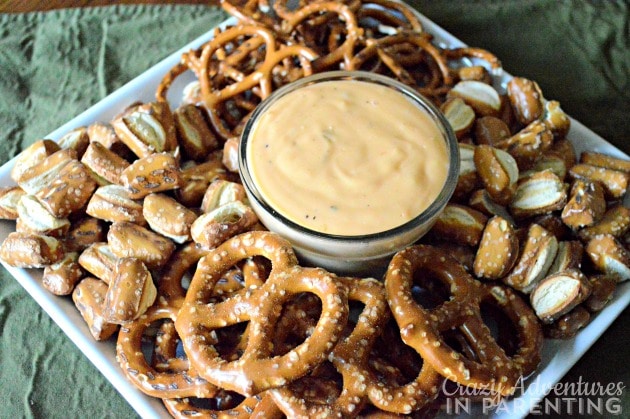 You can rest easier now, parents. If you're on the hunt for wholesome, peanut-free snacks to send to school with your kids, your choices just got more easier, safer and awesome!