Learn how to make beautiful fluffy unicorn pancakes with this magical Unicorn Pancakes Recipe!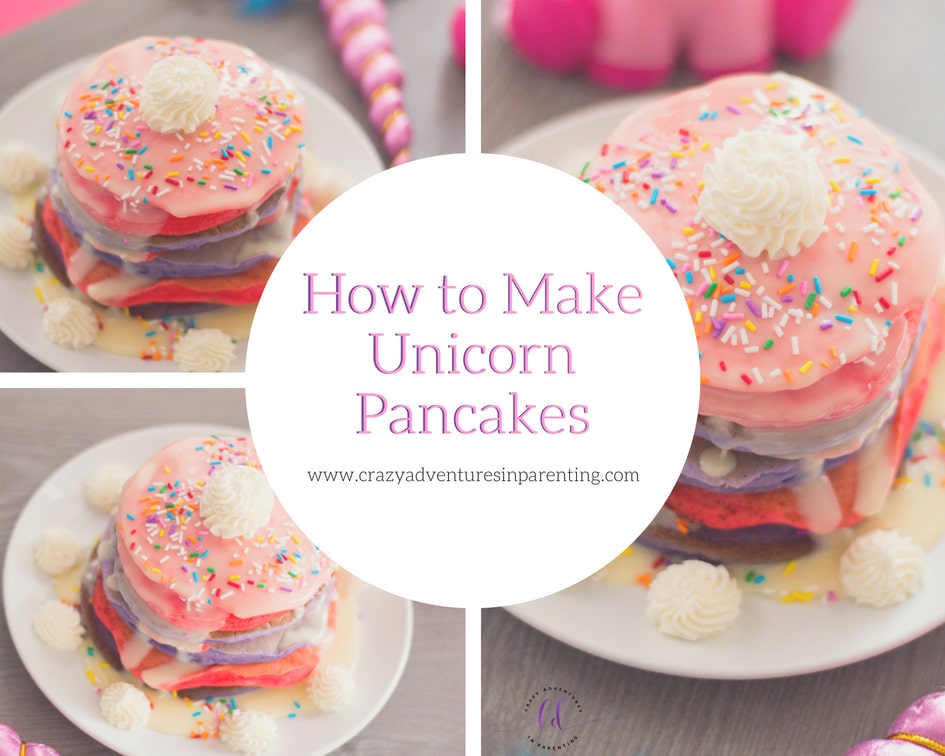 Unicorn Pancakes Recipe
I mean, I don't know about you, but I want to bury my face in these adorable unicorn pancakes right now. I want to trot around with a unicorn horn on my head, neigh like a horse, toss glitter into the air tooting a unicorn horn's horn, and smother myself in pink and purple pancake awesomeness topped whipped cream and sprinkles. Am I ridiculous? Probably. But, I mean, COME ON! Will you look at these gorgeous fluffy unicorn pancakes?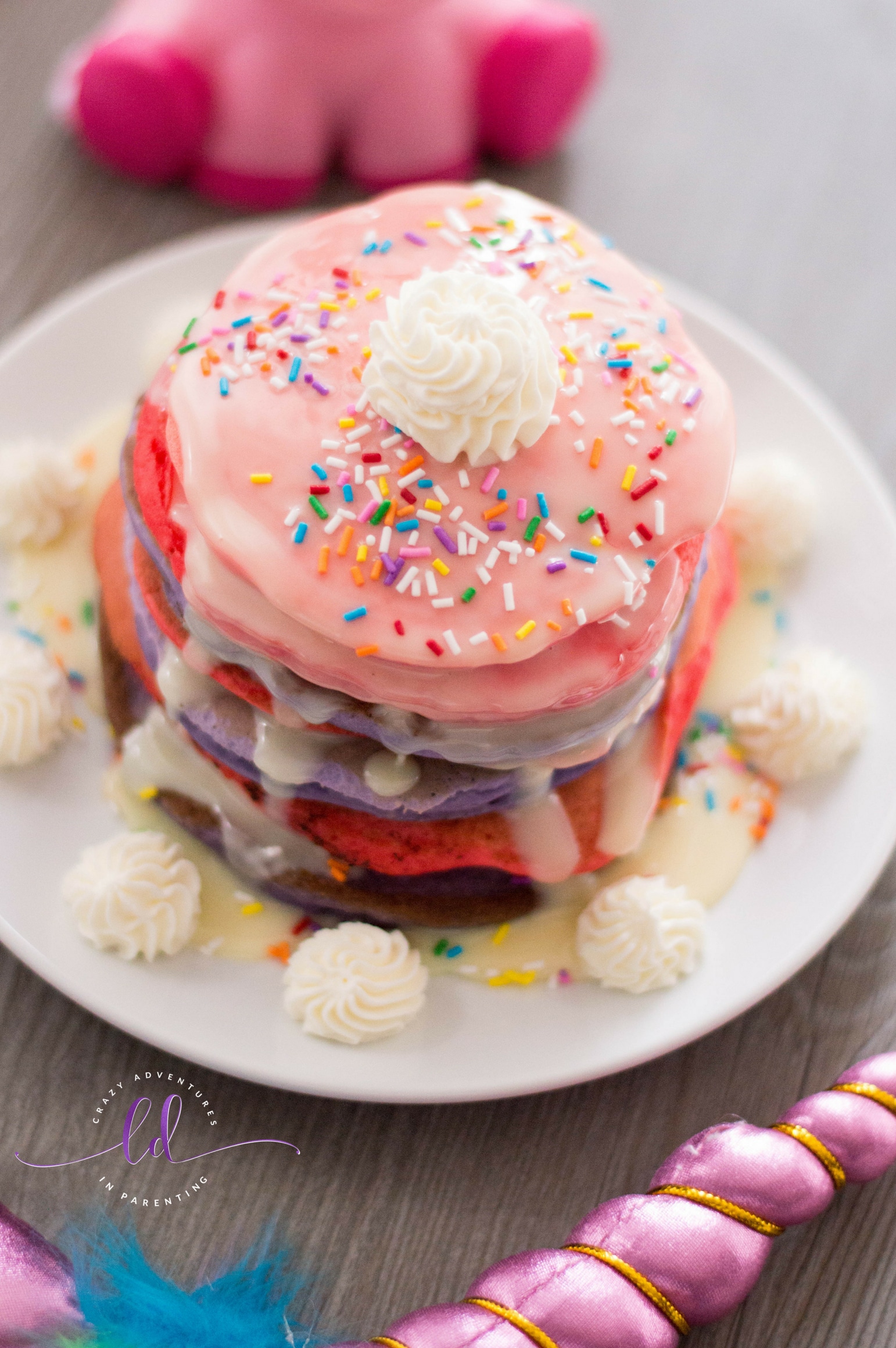 How to Make Unicorn Pancakes
These are so beautiful, homemade, and ready to be yours for the eating as soon as you whip up a batch. Let's get your ingredients readyyyy!!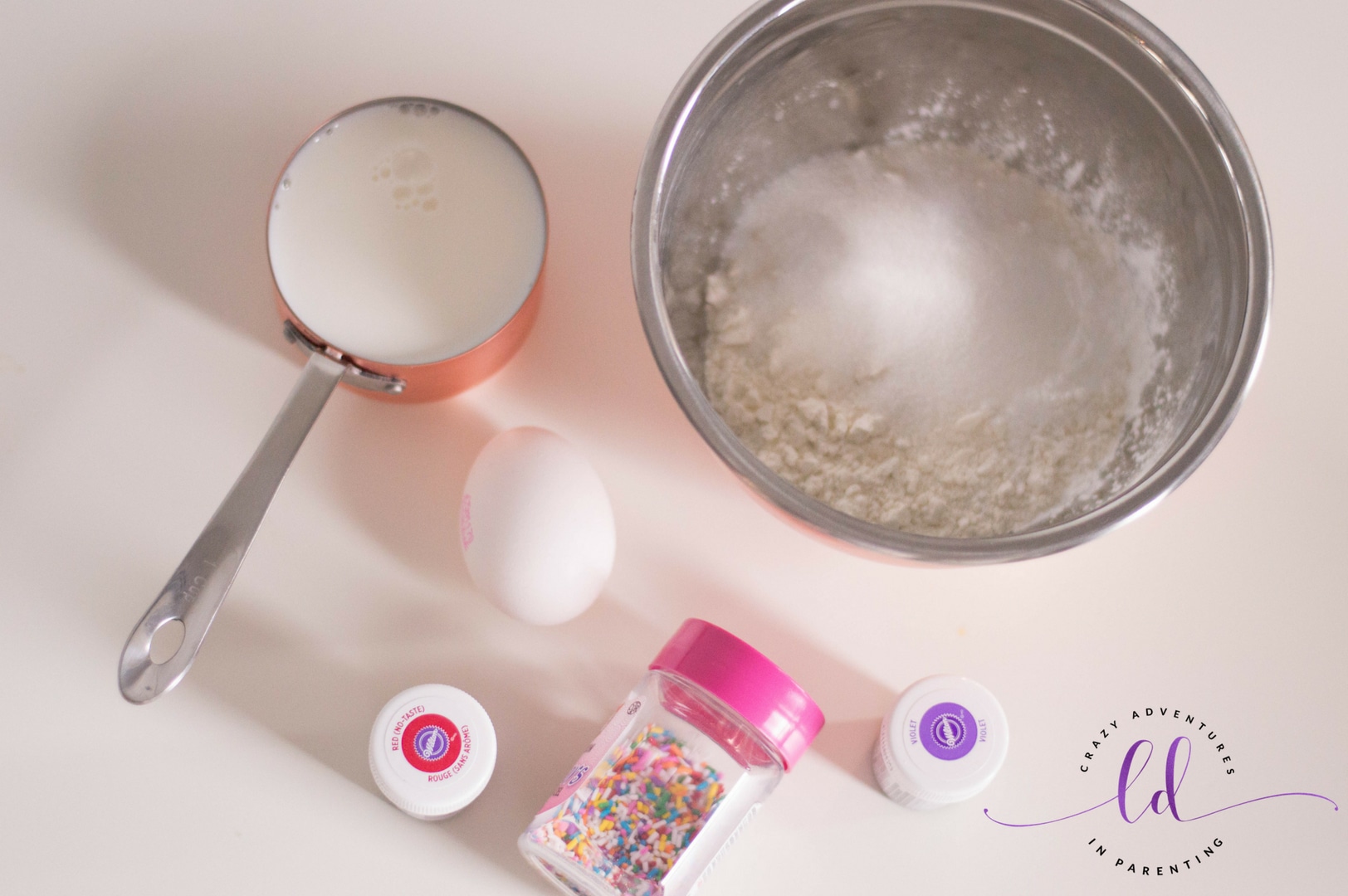 Don't be afraid to get the kids involved making these magical unicorn pancakes, by the way. They aren't that hard to do. Put those dry ingredients into a bowl, with your wet ingredients standing by.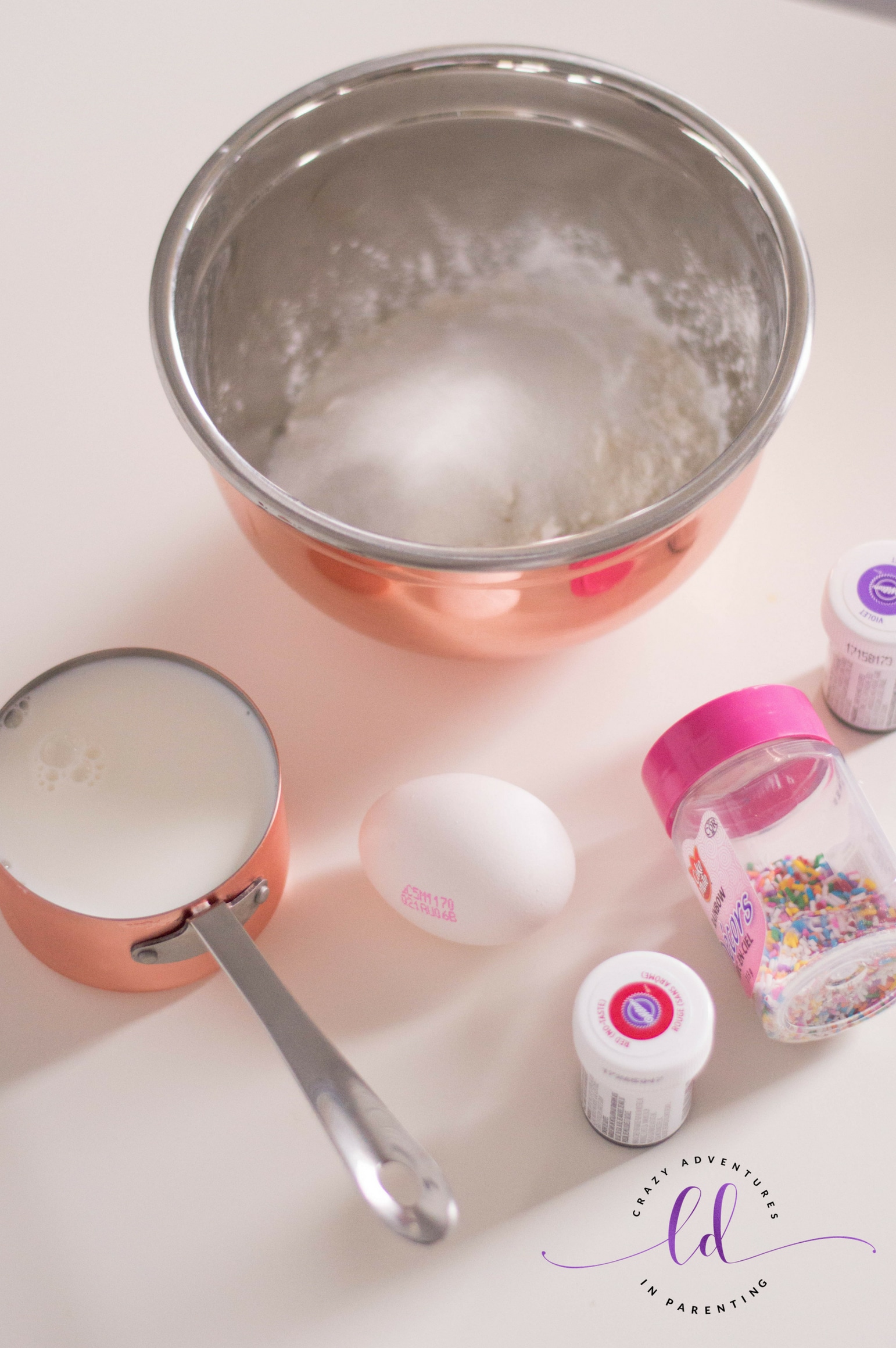 Mix all the ingredients together, and then divide the unicorn pancake batter evenly into two smaller bowls. Then, grab your unicorn colors, and dye those bowls pink and purple!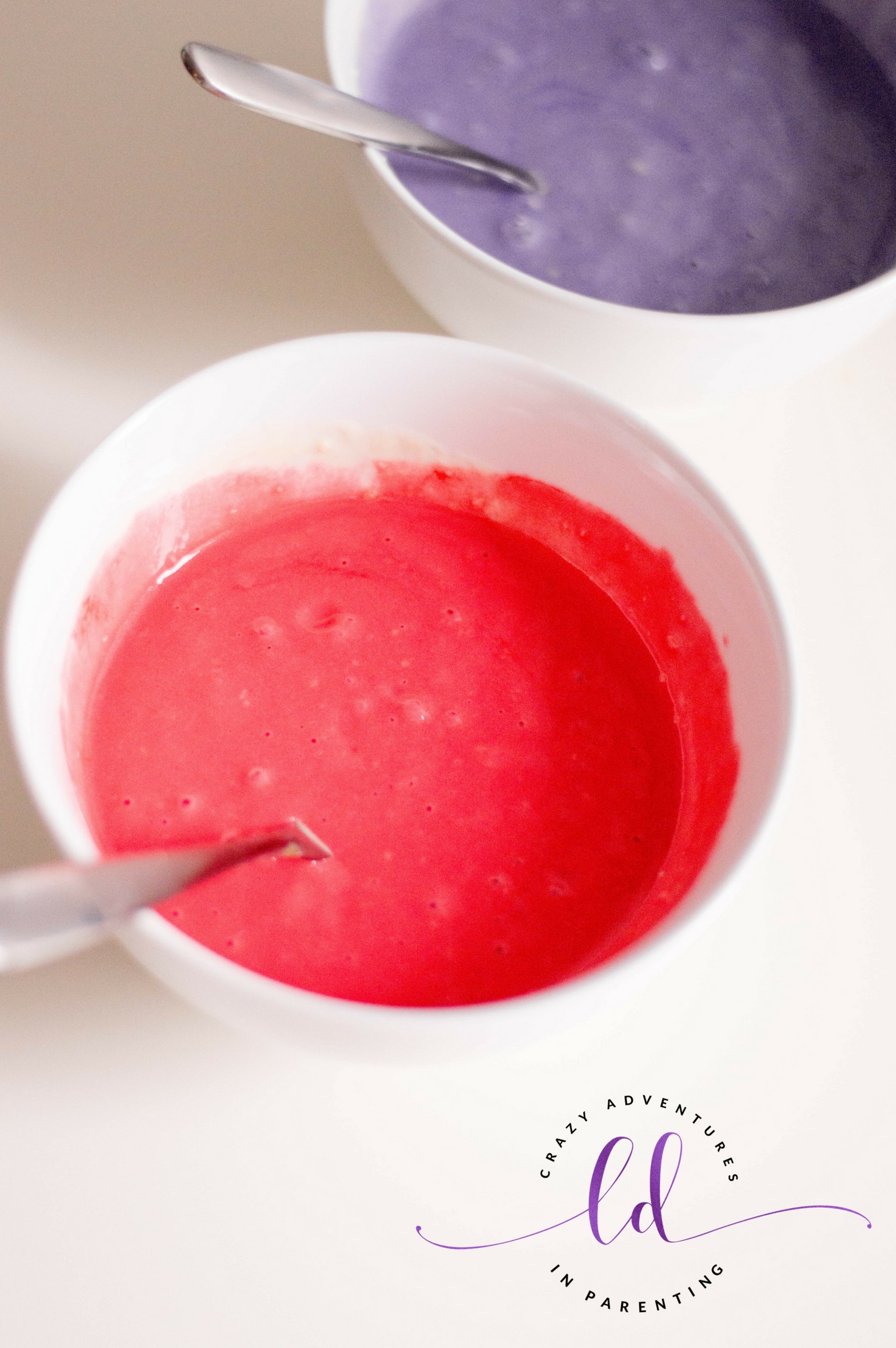 The reason for the gel food coloring is because of the more vibrant colors of the pancake batter, like this!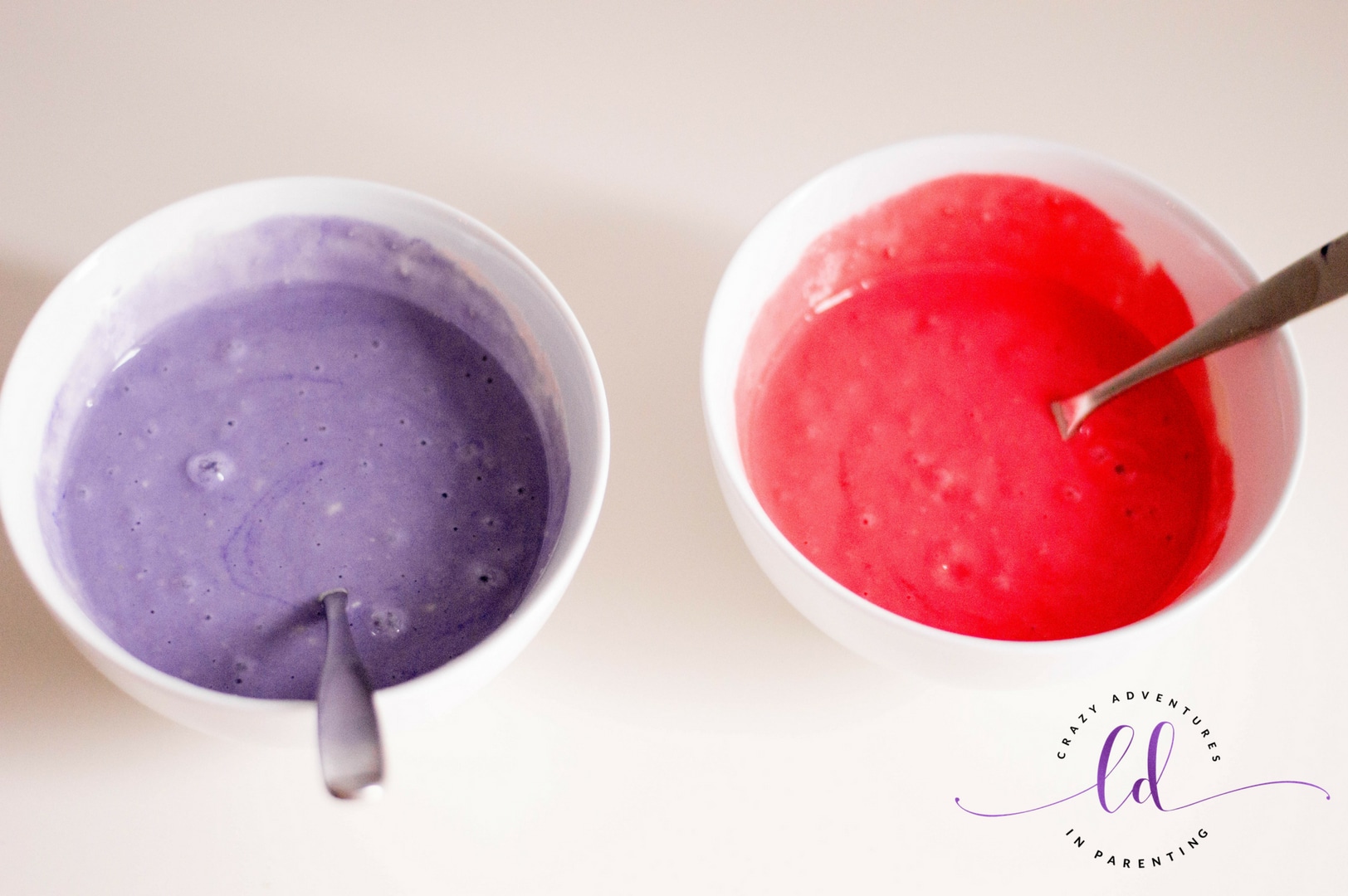 Then, make those pancakes on the griddle, stack 'em alternating on your plate, and get ready for the awesome! My personal choice on pancakes usually is butter on every pancake, then syrup. THEN WHIPPED CREAM!!!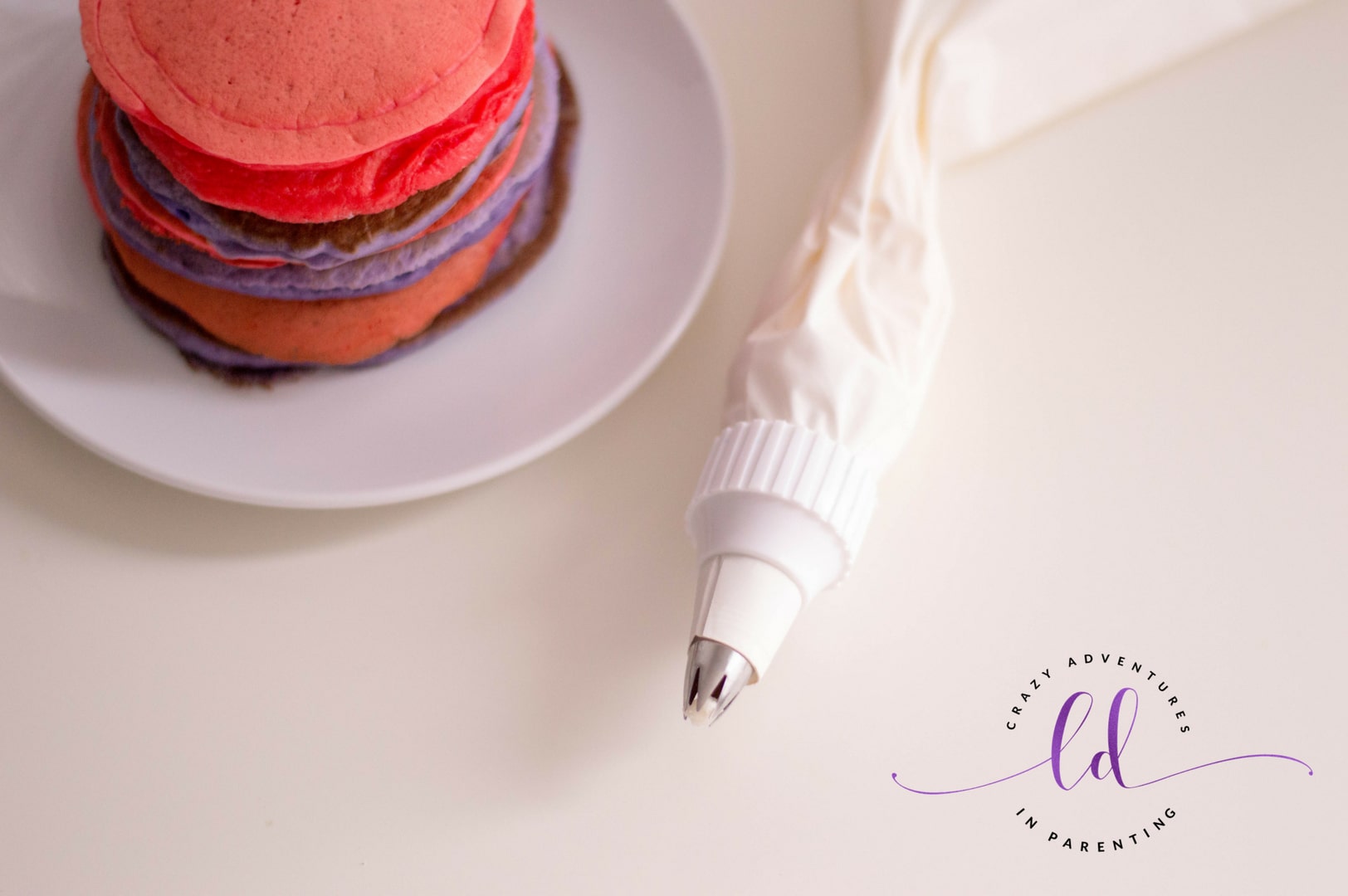 You can use canned whipped cream, but there's something super special and luscious about whipped cream in a piping bag. Something so celebratory, don't you think?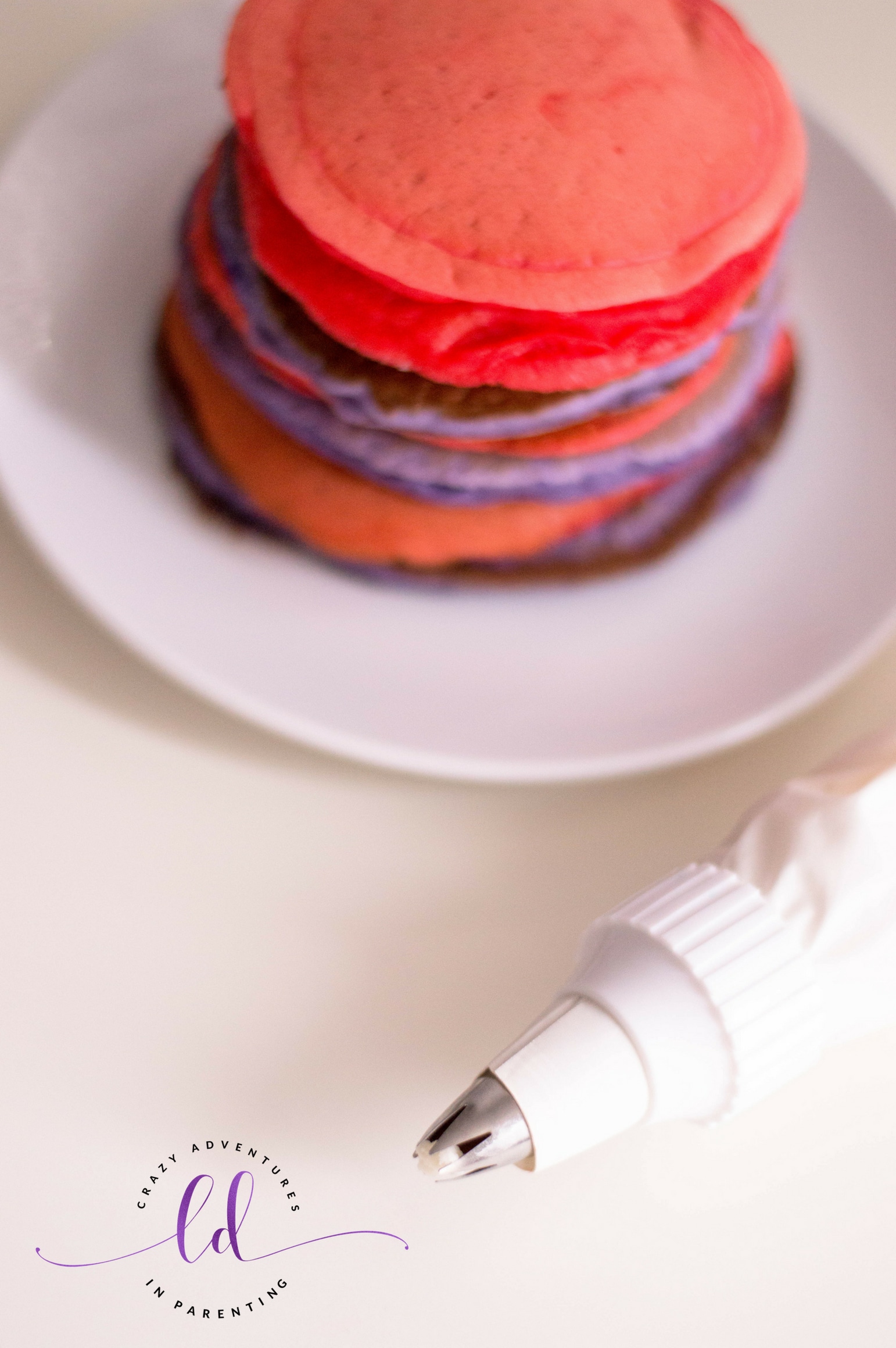 But here? We made 'em even more special with homemade glaze drizzled on top. YES! Loads of oozing fresh vanilla glaze.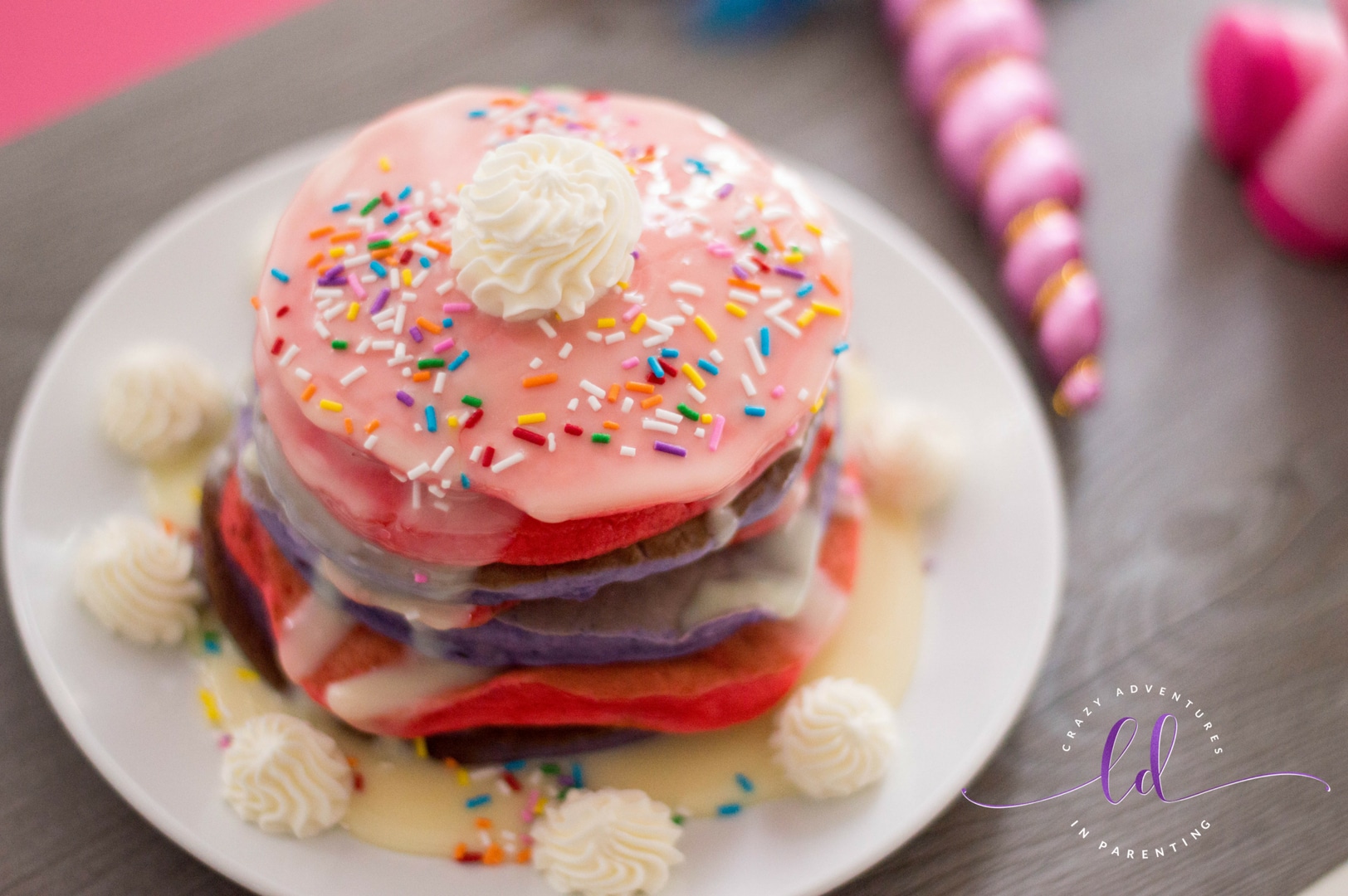 LOOK AT THEM! I can't stand how perfect these unicorn pancakes are.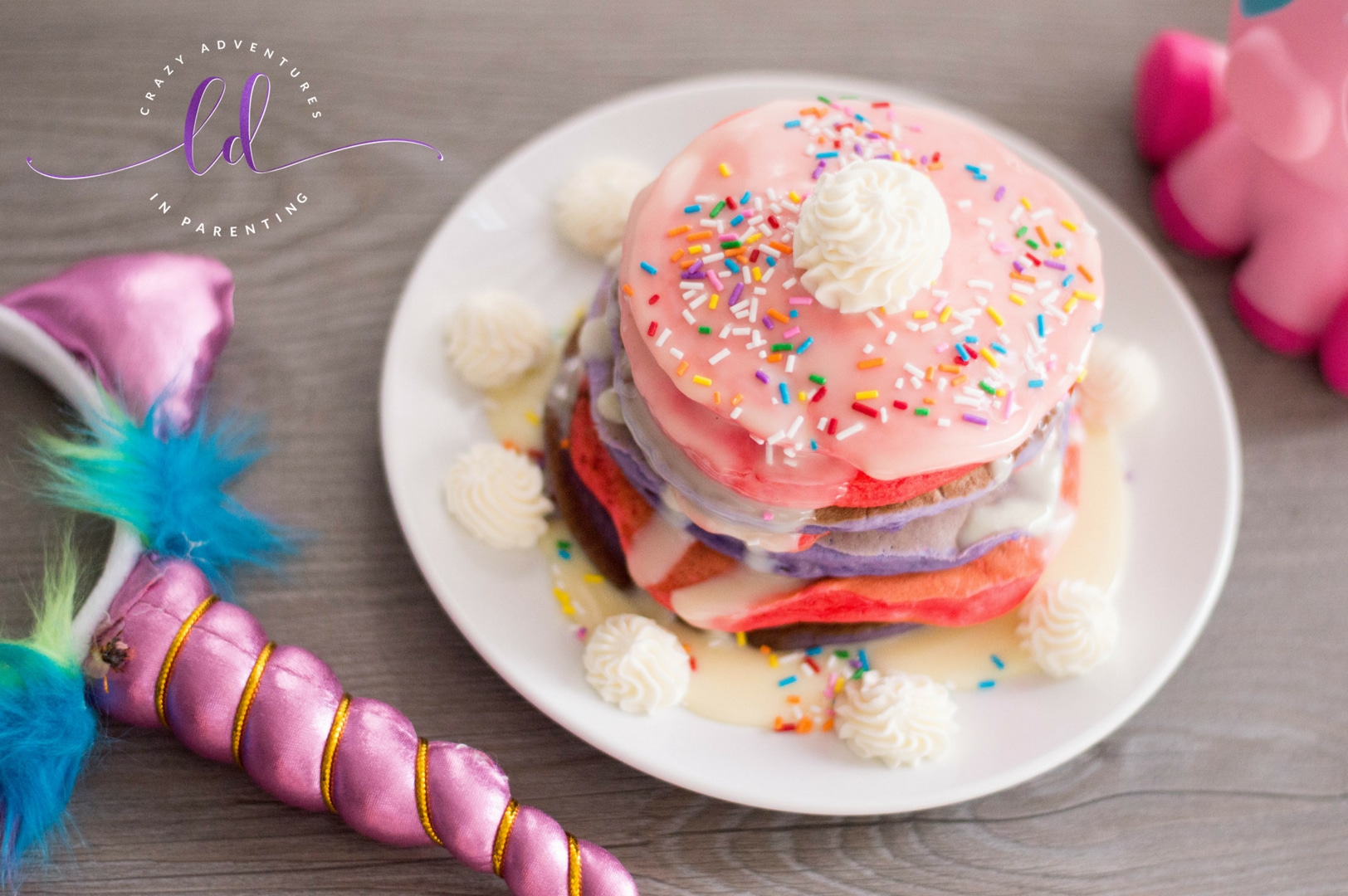 Am I not right, don't you want to smother yourself in unicorn pancake deliciousness right now? I mean, GAHH!!!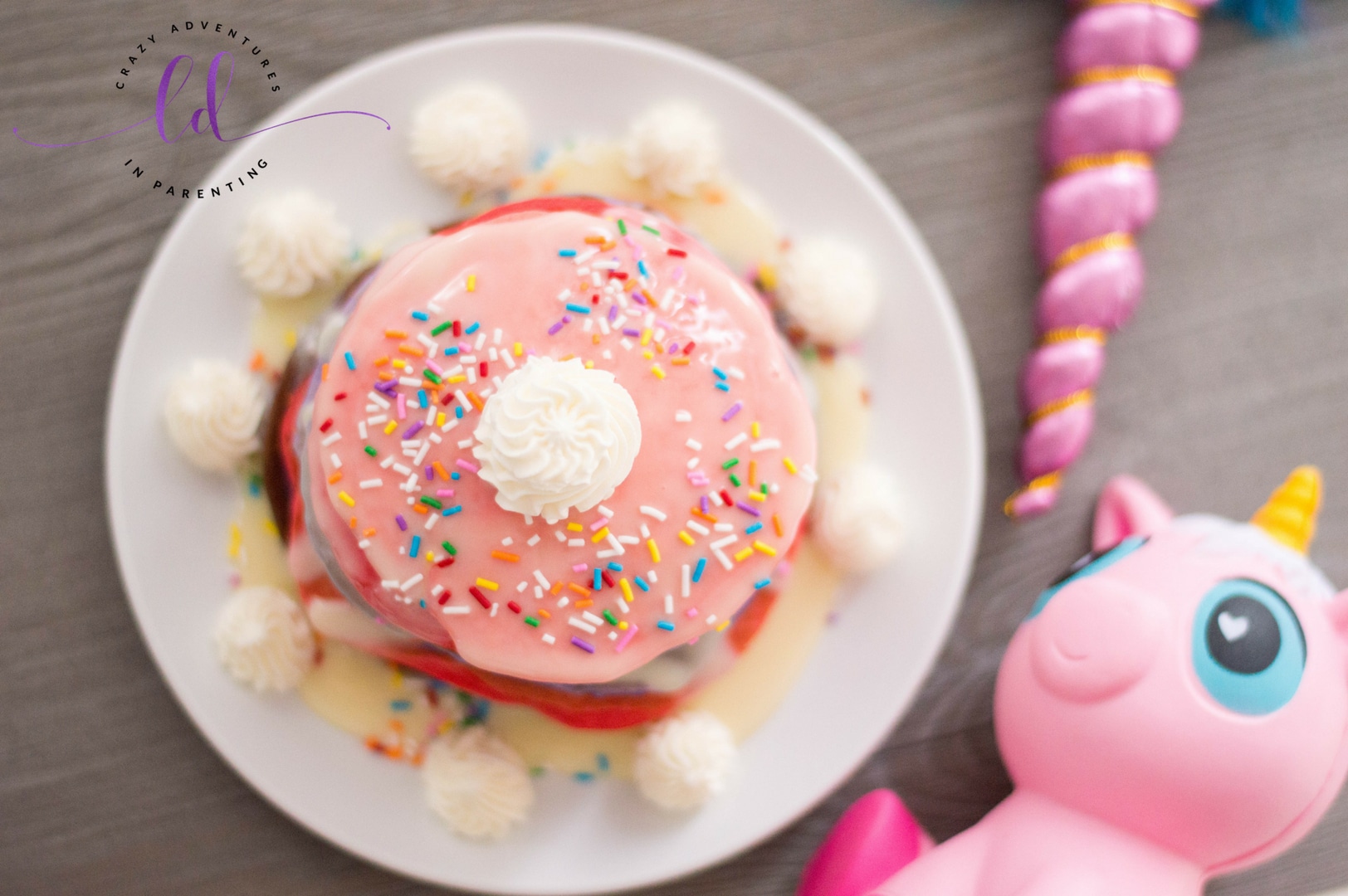 Grab some of your favorite unicorn-loving people on the planet and make yoself some breakfast made of magic!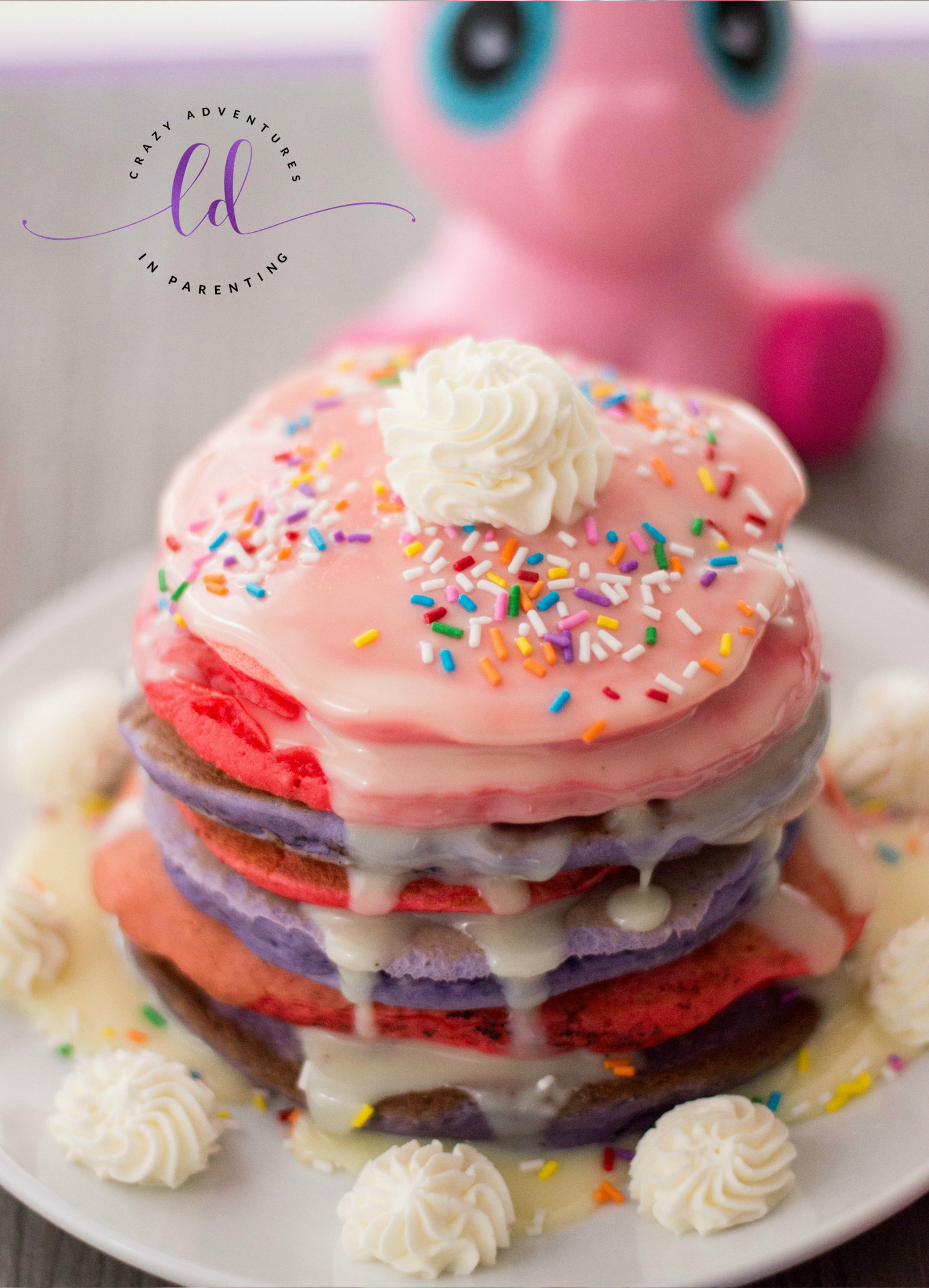 Homemade Unicorn Pancakes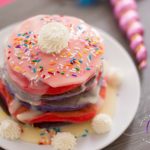 Ingredients
1 cup flour

1 tbsp baking powder

Pinch of salt

2 tbsp granulated sugar

1 large egg

1 cup whole milk

2 tbsp oil

2 drops red or hot pink gel food coloring (Wilton makes the best, most colorful food coloring)

2 drops violet gel food coloring

1 stick butter, softened

Whipped cream

Syrup

1 1/2 cups of confectioners sugar

3-4 tbsp of milk or water

2 teaspoons of vanilla extract

Sprinkles (you can use regular multicolor sprinkles if you like, or these unicorn sprinkles sugar dust, or these unicorn sprinkles)
Instructions
Sift your flour, baking powder salt, and sugar in a bowl; whisk.
Add the egg, milk, and oil and whisk until batter forms and is smooth.
Divide the batter in half into two smaller bowls.
Color each bowl with one of the gel food colorings.
Mix until each bowl of batter is completely tinted uniformly.
On a hot skillet over medium heat and sprayed with cooking oil and/or coated with butter, pour ¼ cup of the batter and cook until bubbles form on top.
Flip and cook until edges lift/turn a very light brown.
To prepare the glaze, in a small bowl, whisk together the confectioners sugar, milk or water, and vanilla extract.
Stack your unicorn pancakes on a plate alternating colors and drizzle over top the glaze.
Top your unicorn pancake stack with drizzled syrup and whipped cream along with unicorn sprinkles and enjoy the magical sweetness!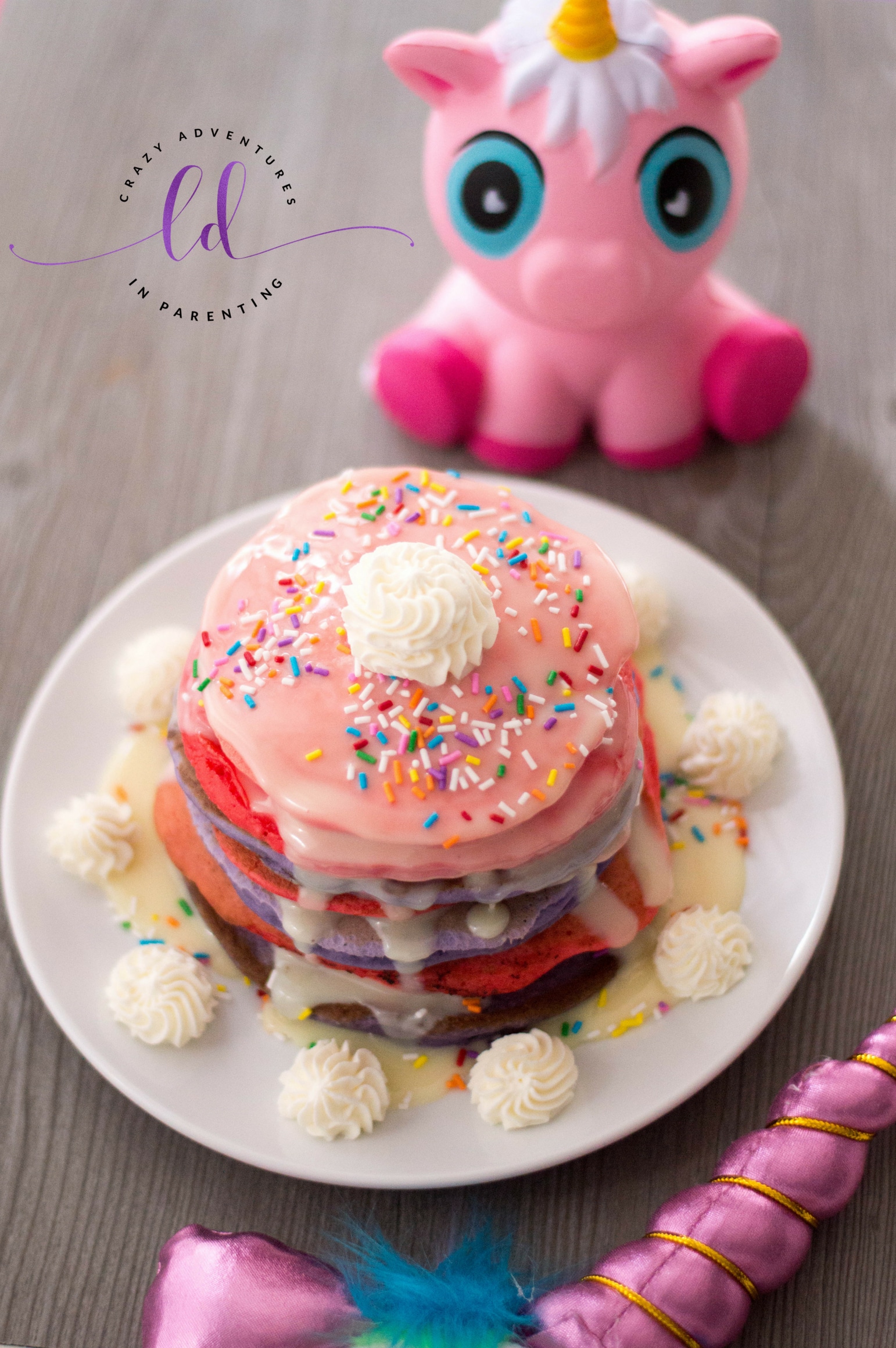 If you don't mind, I'll be over here stuffing my face with these homemade unicorn pancakes with my girls. If you're a fan of these, check out my other unicorn-inspired posts, like this Unicorn Smoothie Bowl!