Learn how to make these adorable Frankenstein Cupcakes for Halloween with this easy Frankenstein Cupcakes Recipe!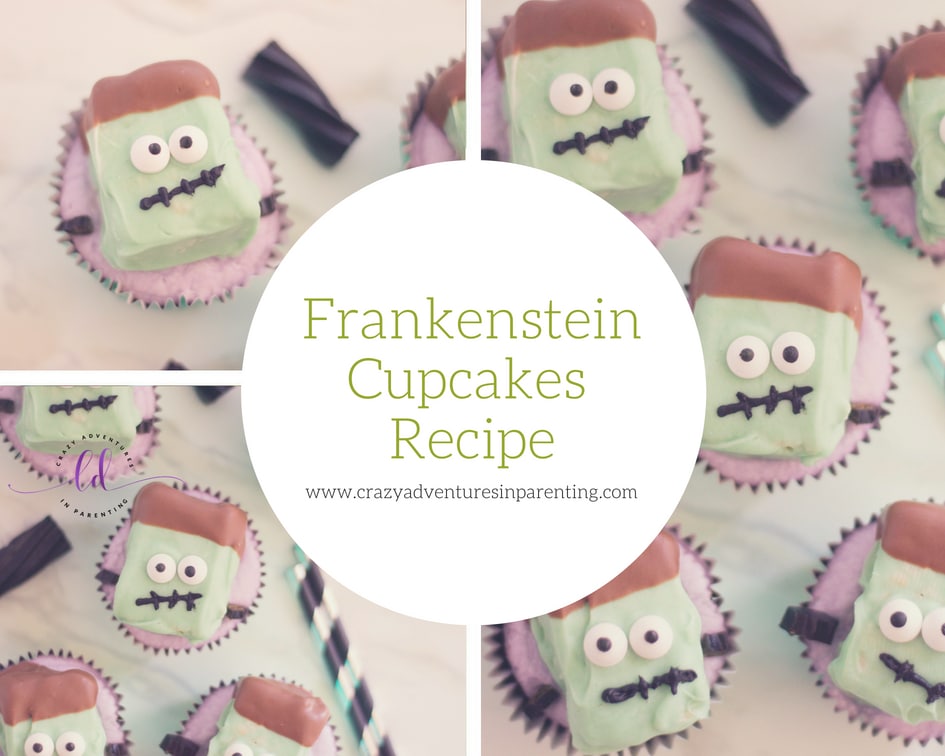 Frankenstein Cupcakes Recipe
These Frankenstein Cupcakes are so adorable, it's almost hard to eat them. LOOK AT THEIR FACES! OMGosh! They are simply TOO CUTE for WORDS! But if you're in need of a non-scary Halloween recipe for a Halloween party, look no further! These Frankenstein Cupcakes for Halloween are PERFECT!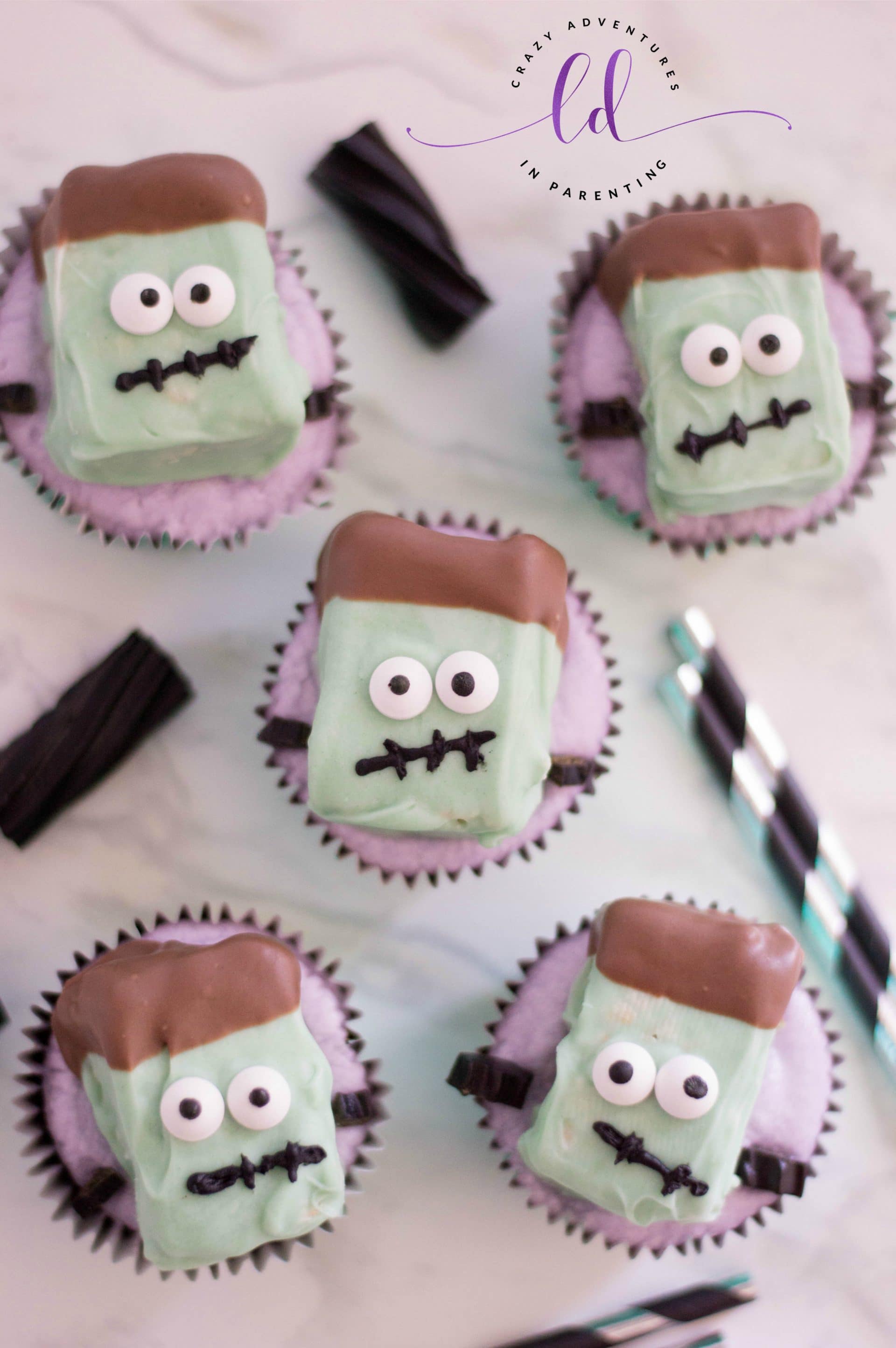 Frankenstein Cupcakes Recipe for Halloween
Whether it's for a neighborhood party or a classroom party, these Frankenstein Cupcakes are going to be a huge hit and they're so fun to make!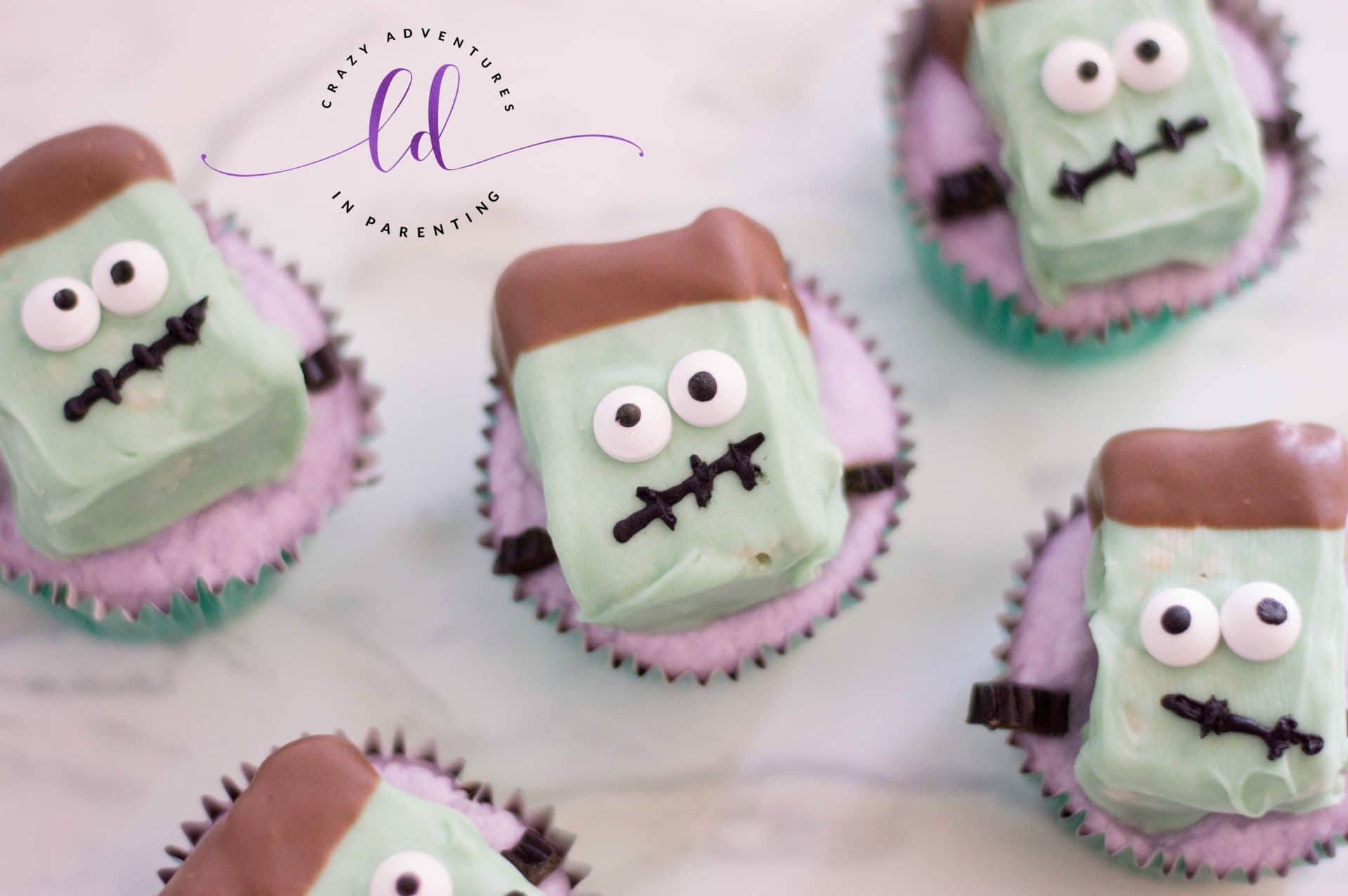 How to Make Frankenstein Cupcakes
To make these delicious Frankenstein Cupcakes, you start off with an easy chocolate cake mix for chocolate cupcakes, plus whatever ingredients needed to make them.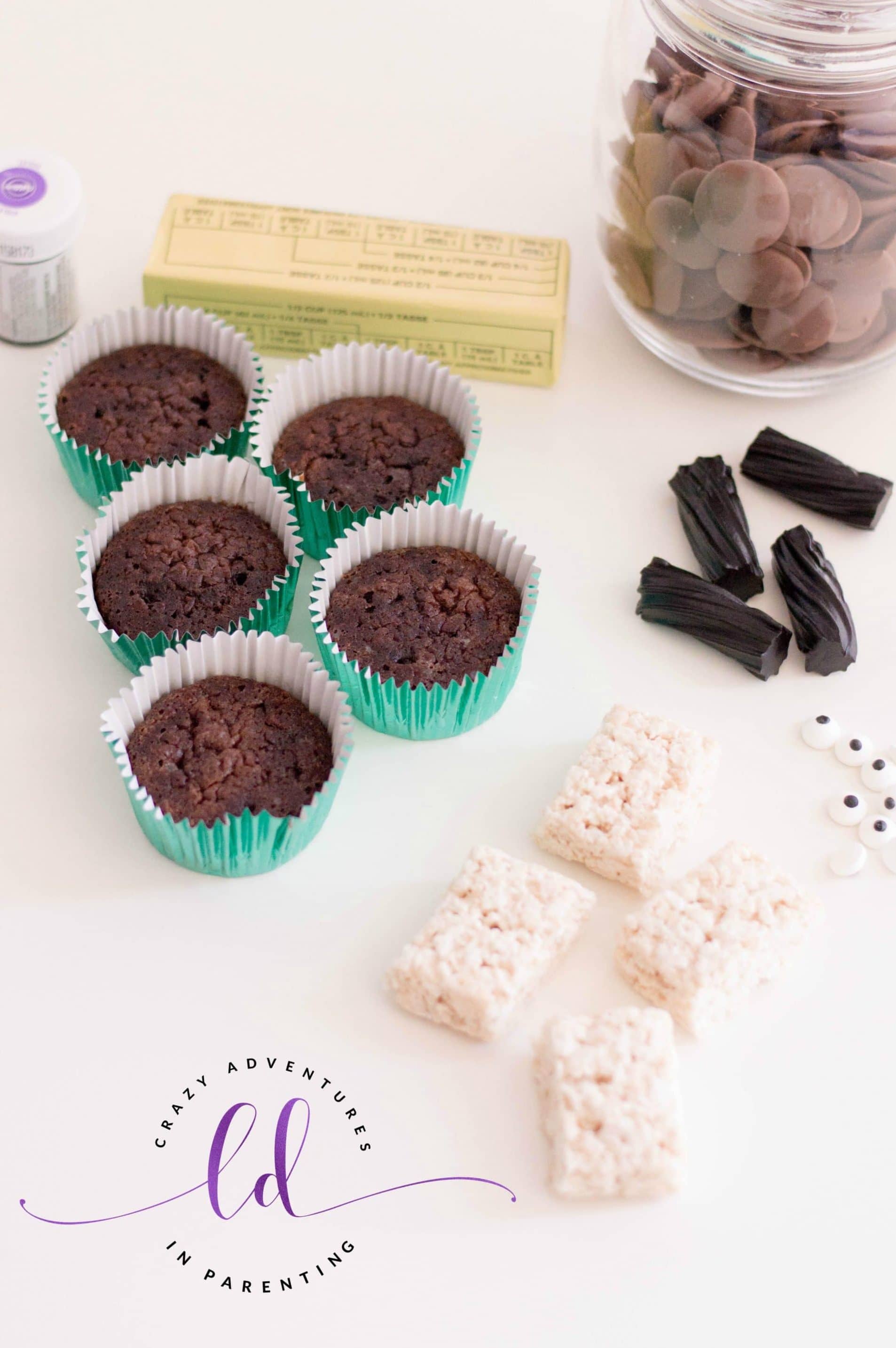 This recipe also calls for using premade rice cereal treats, too, making this recipe even easier!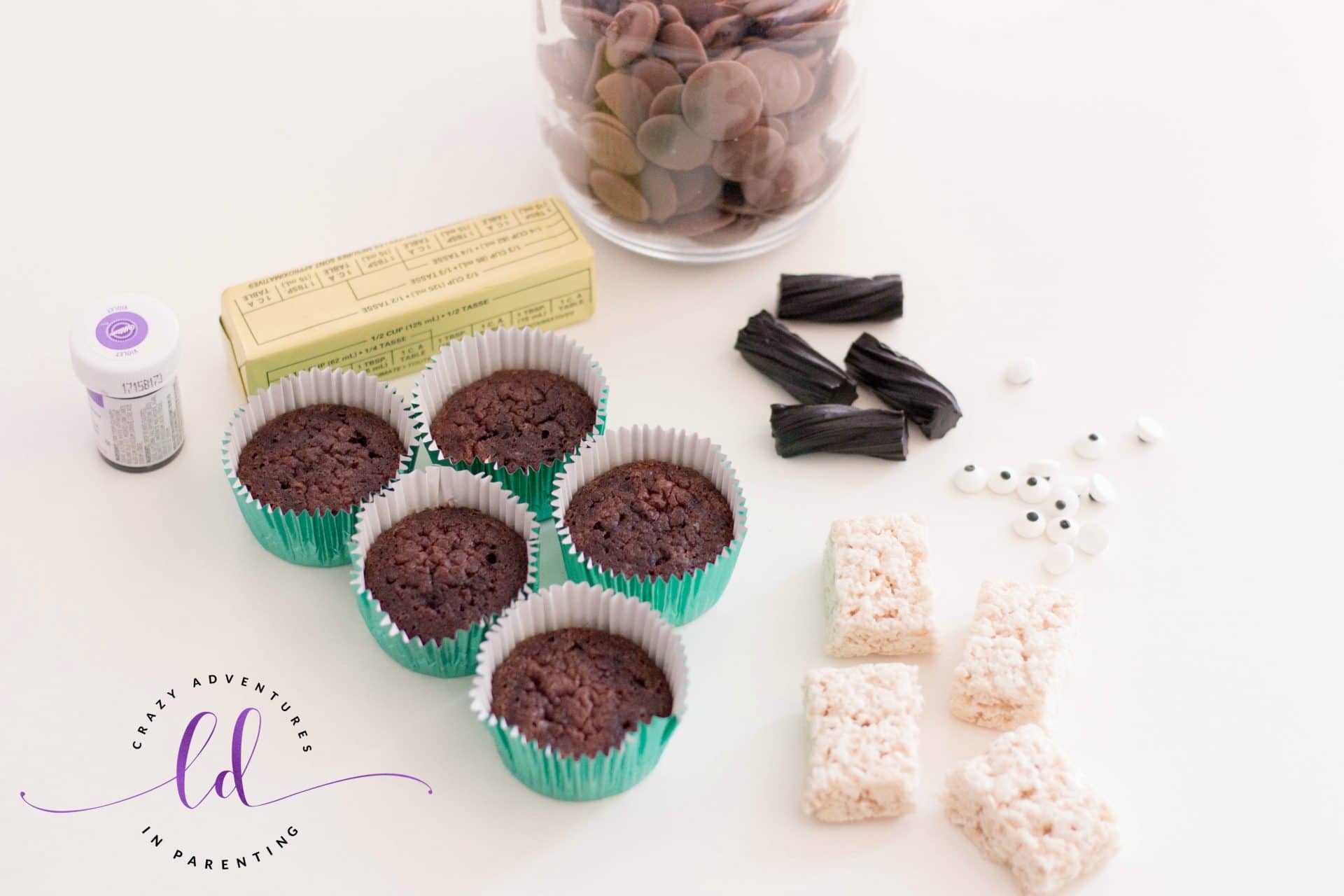 You'll cut the rice cereal treats in half to make them smaller and able to fit on the cupcake.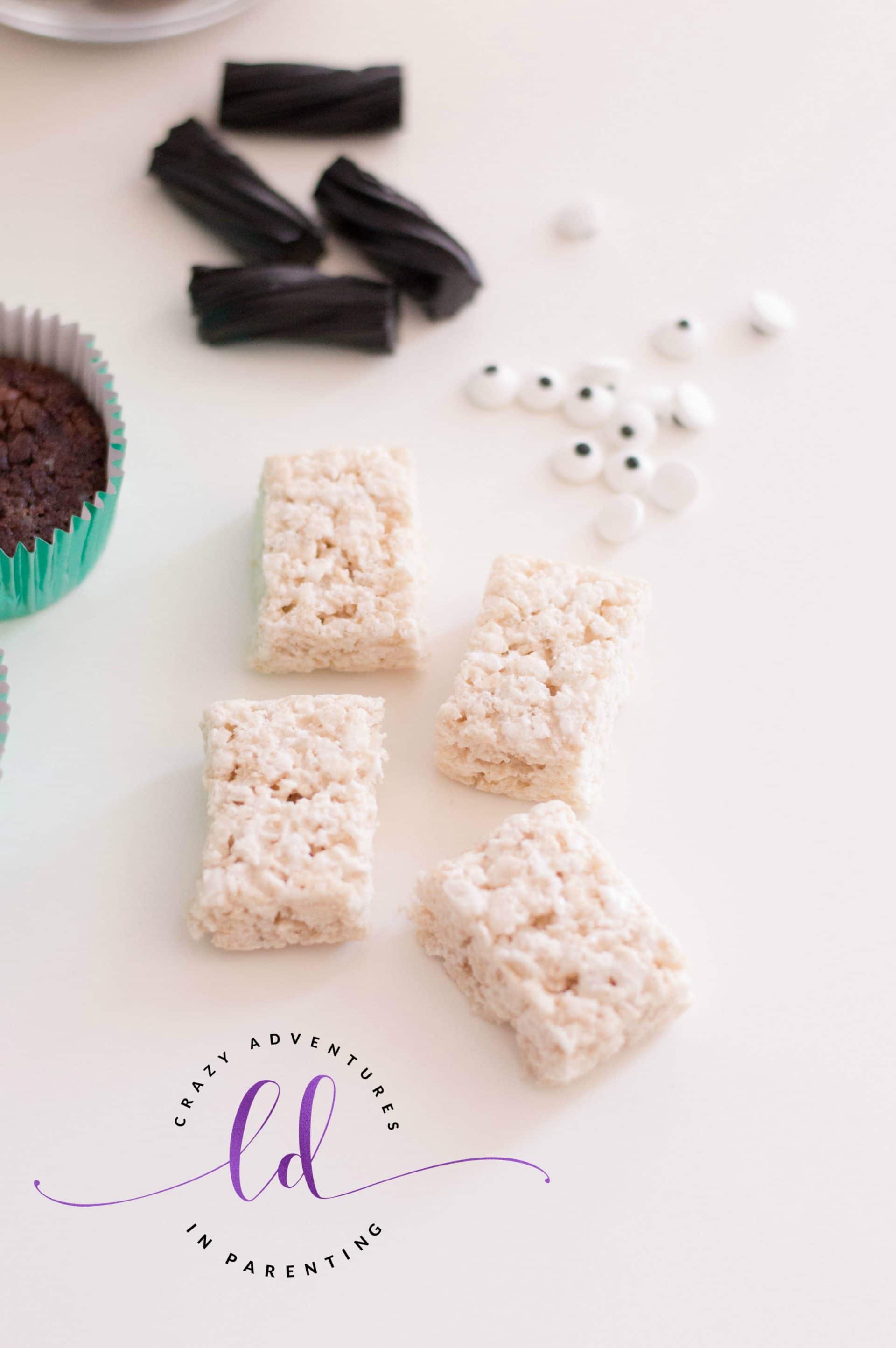 Using muffin liners on your cupcakes makes these so much easier to work with!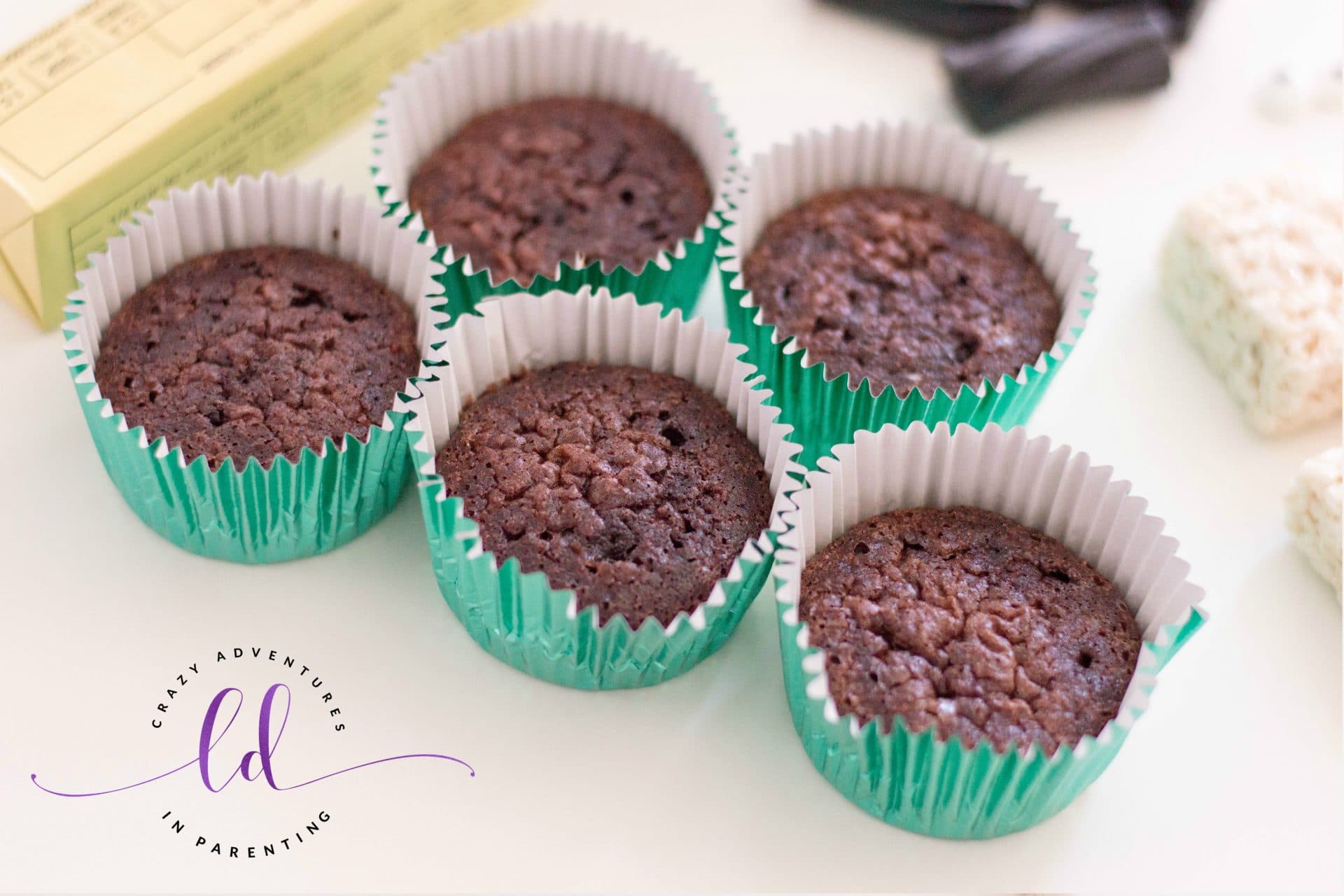 Once your chocolate cupcakes are cooled, and your buttercream frosting is prepared, frost the cupcakes generously (so they'll hold Frankenstein on top).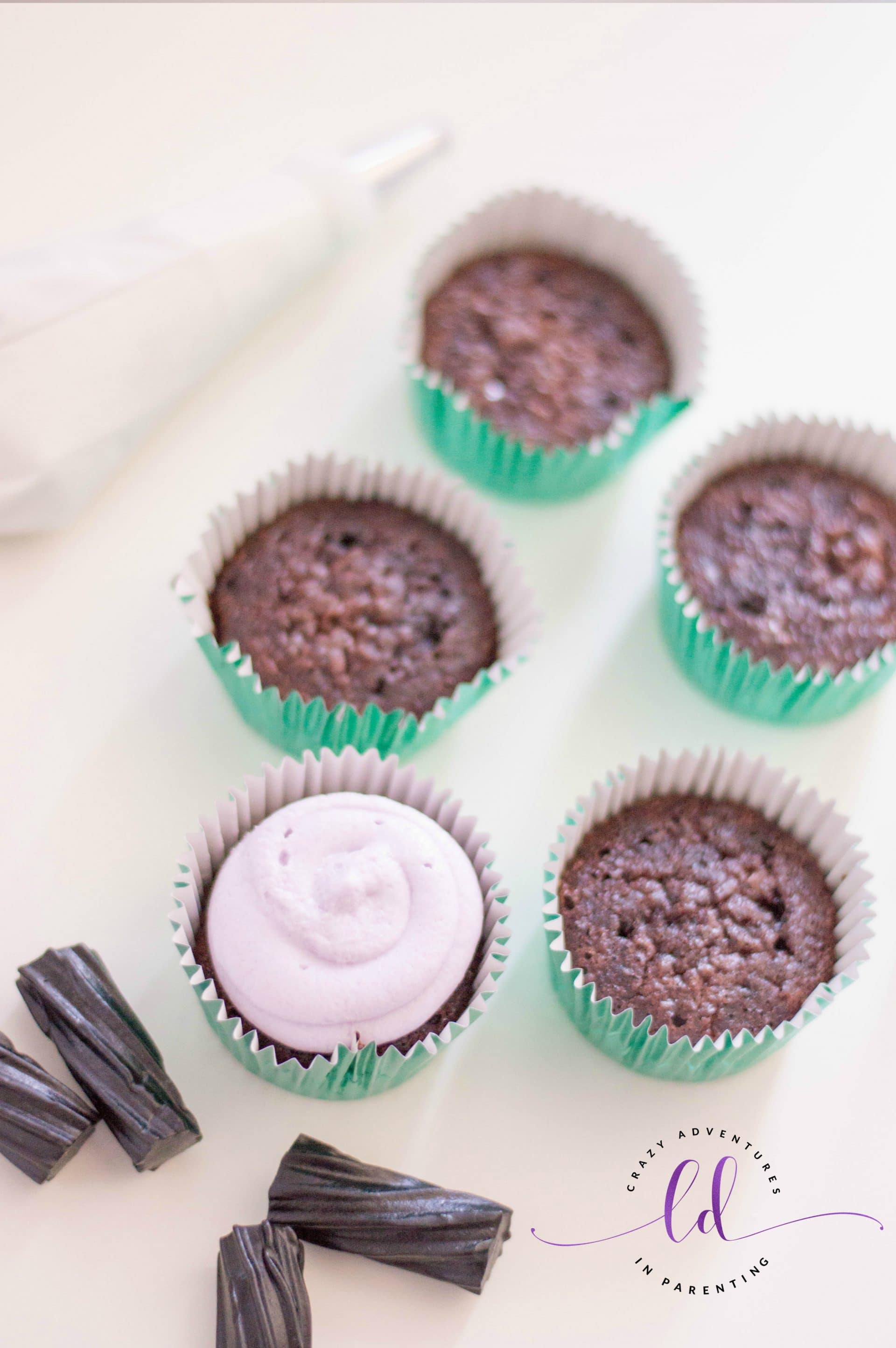 Using a piping bag for the cupcakes works the best in this scenario, and it's faster to work with too!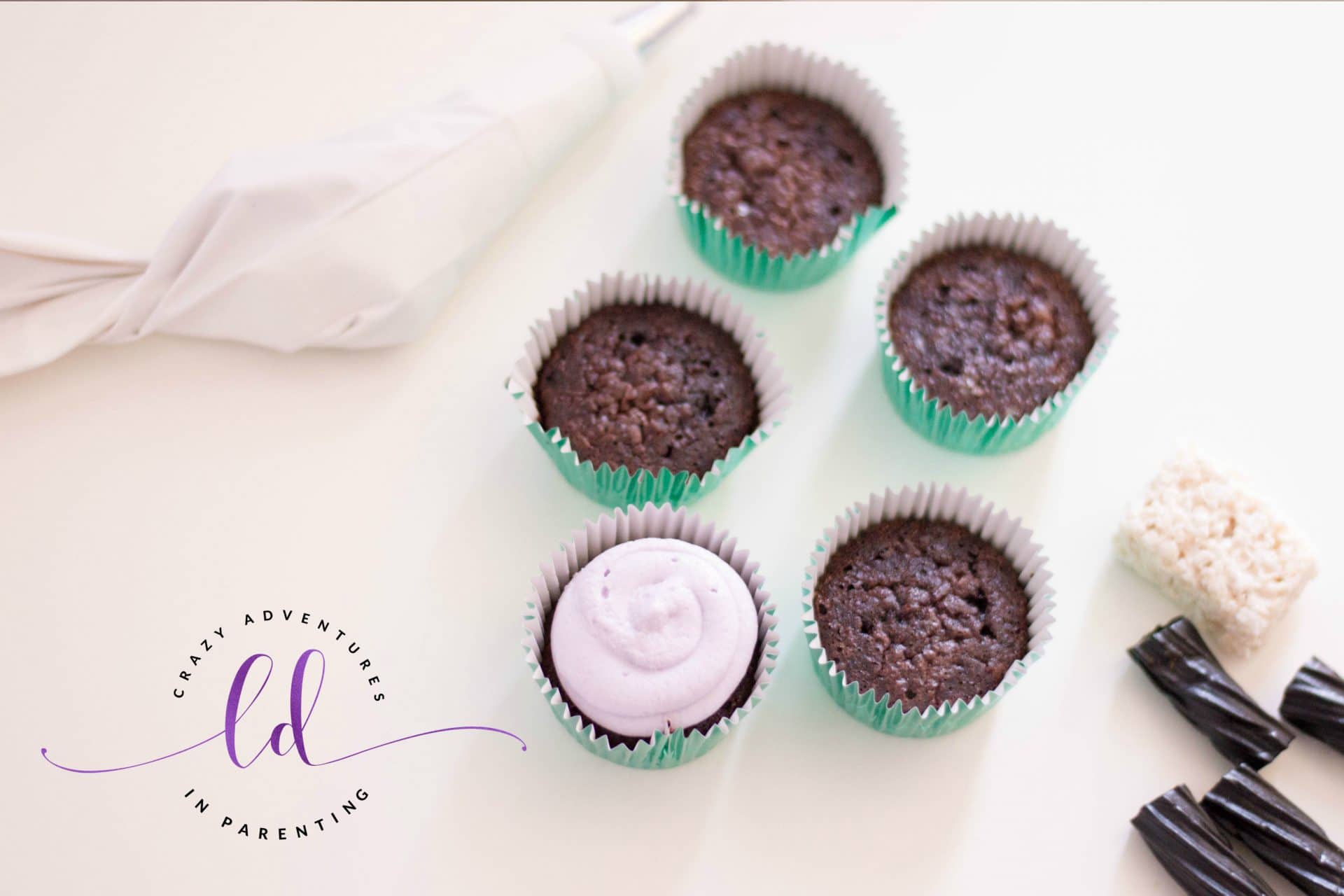 Melt your green candies along with the white candies in the microwave with coconut oil and dip each rice cereal treat in it, immersing completely. Set aside gently on wax paper to let them cool and set.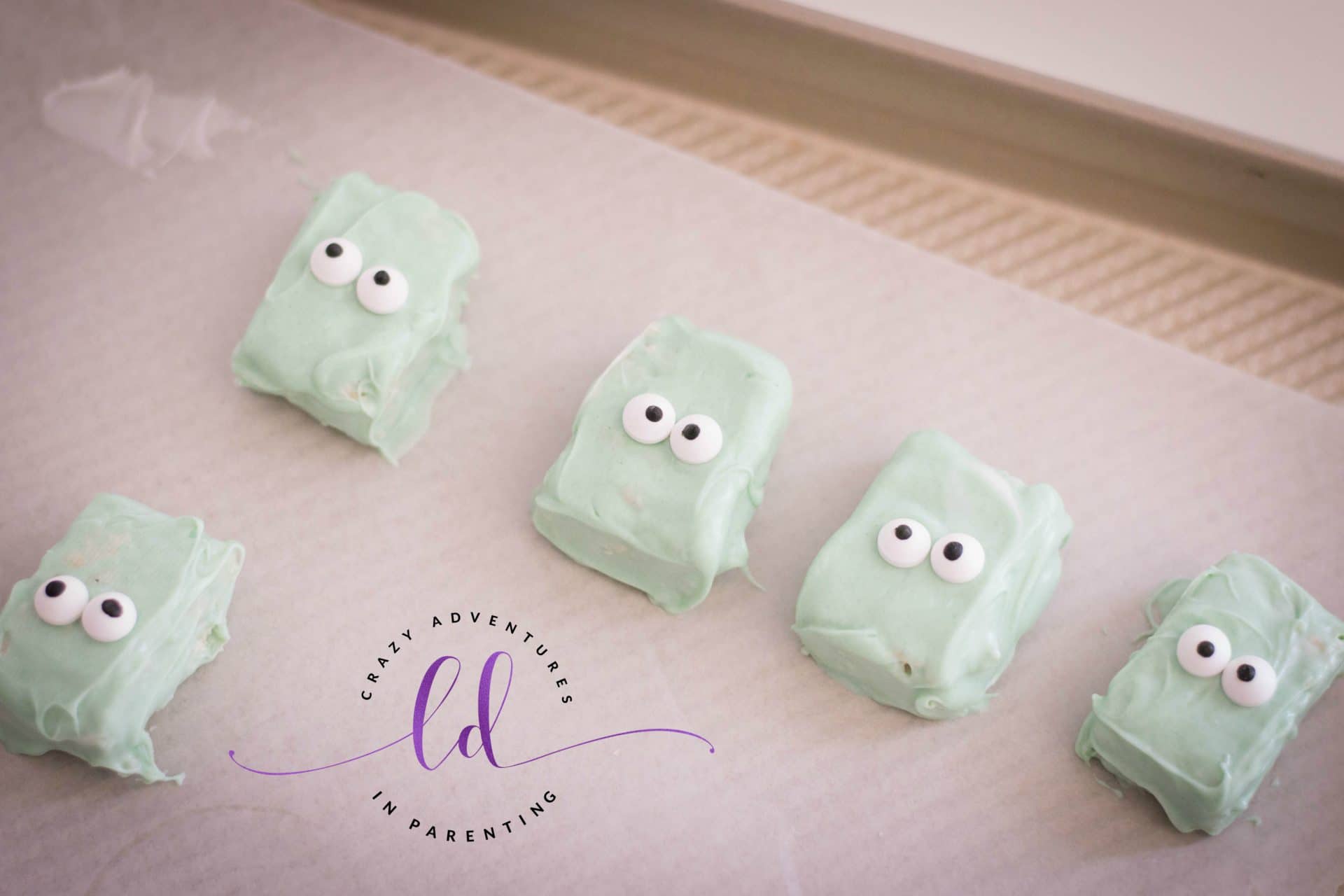 Dabbing the back of the candy eye gently in the green icing (or using the tiniest bit of leftover frosting), apply the eyes onto the rice cereal treats while they are on the wax paper cooling.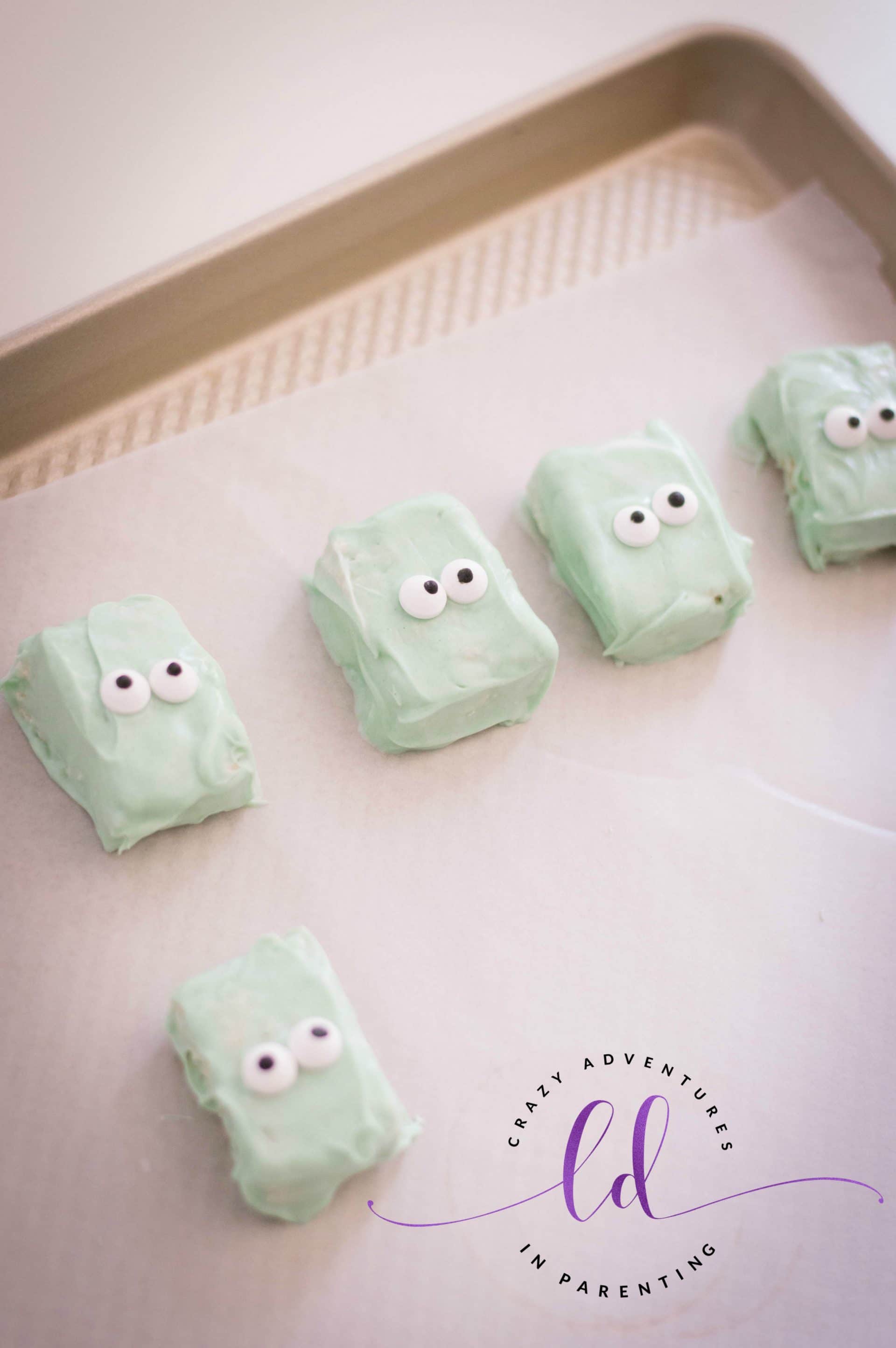 Melt your brown candy melts in the microwave with coconut oil and dip the tops of the treats into the melted brown candy – this serves as Frankenstein's hair. Gently place each treat onto the frosted cupcake. Cut tiny slivers of licorice for his bolts on the side, and use black frosting for his mouth.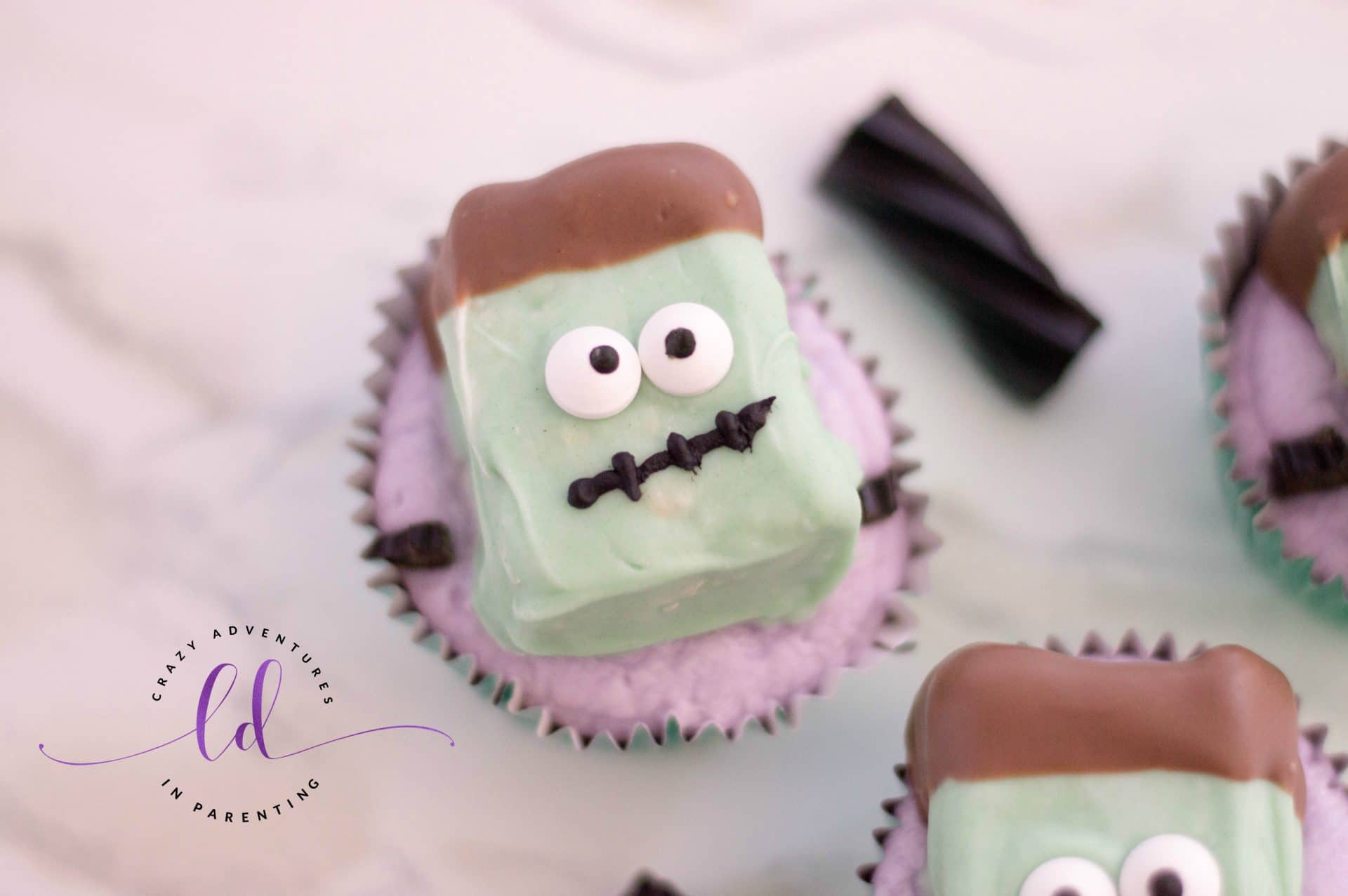 And, just like that, your Frankenstein Cupcakes are ready to party!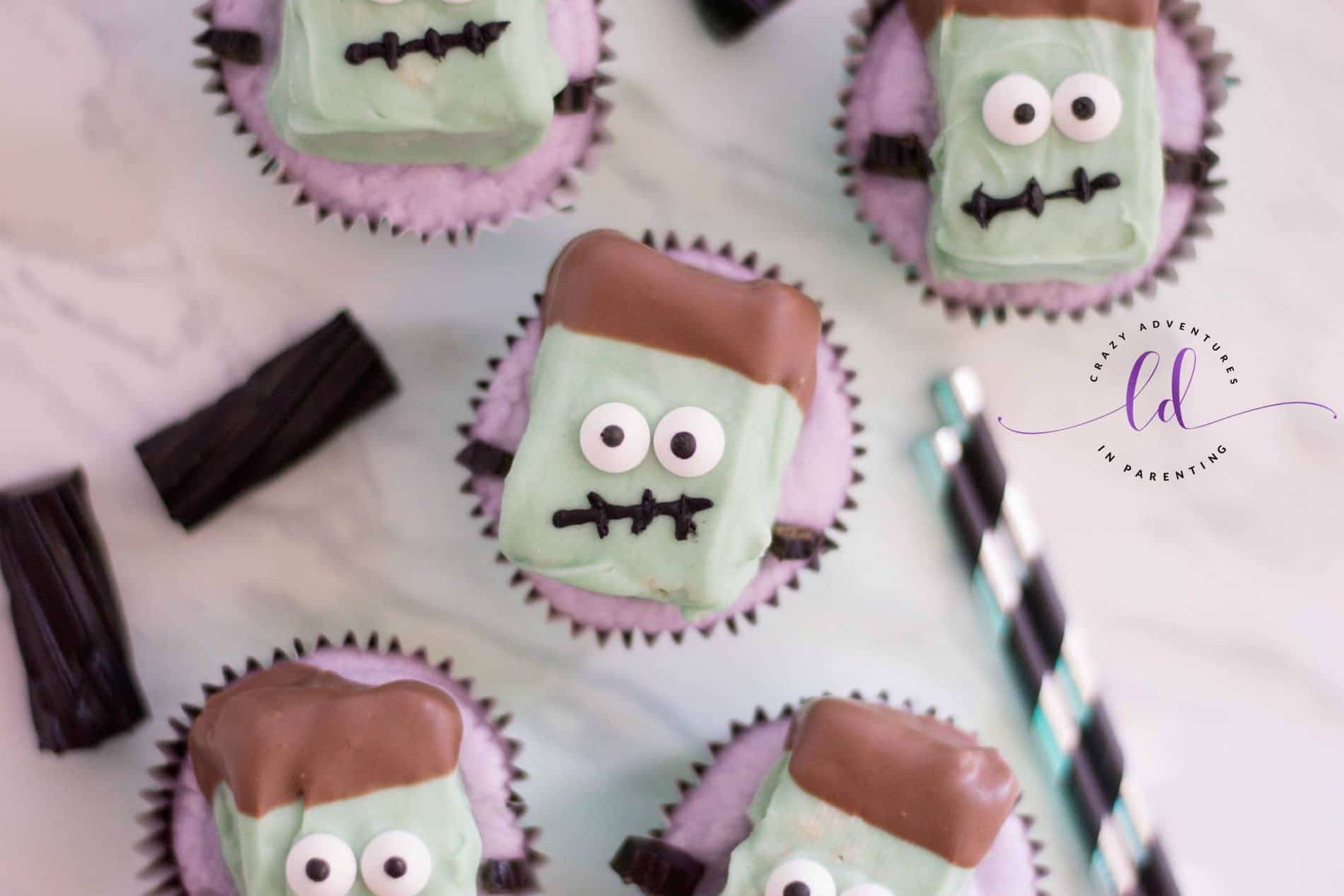 Frankenstein Cupcakes for a Halloween Party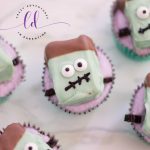 Instructions
Prepare your chocolate cake mix into cupcakes using muffin liners. Allow to cool before decorating.
Using an electric mixer, beat butter, milk, vanilla extract and violet food coloring on slow speed and gradually increase to high.
Once smooth and all ingredients are thoroughly combined, the buttercream is ready.
Frost each cupcake generously with a piping bag.
Line a baking sheet with wax paper.
Cut cereal treats in half and melt green and white candy melts + 1 tsp of coconut oil in the microwave, 30 seconds at a time until completely melted.
Completely immerse each cereal treat into the melted candy and place gently on lined baking sheet.
Place 2 eyes for each coated cereal treat and 2 licorice pieces on the side (this will act as Frankenstein's monster's bolts). Allow to set.
Melt brown candy and 1 tsp of coconut oil in the microwave (again, in 30-second intervals) and dip the top part of your cereal treat in it. This will act as Frankenstein's Monster's hair. Place back on lined sheet and allow to set.
Use black frosting to the mouth.
Place on top of each cupcake and enjoy!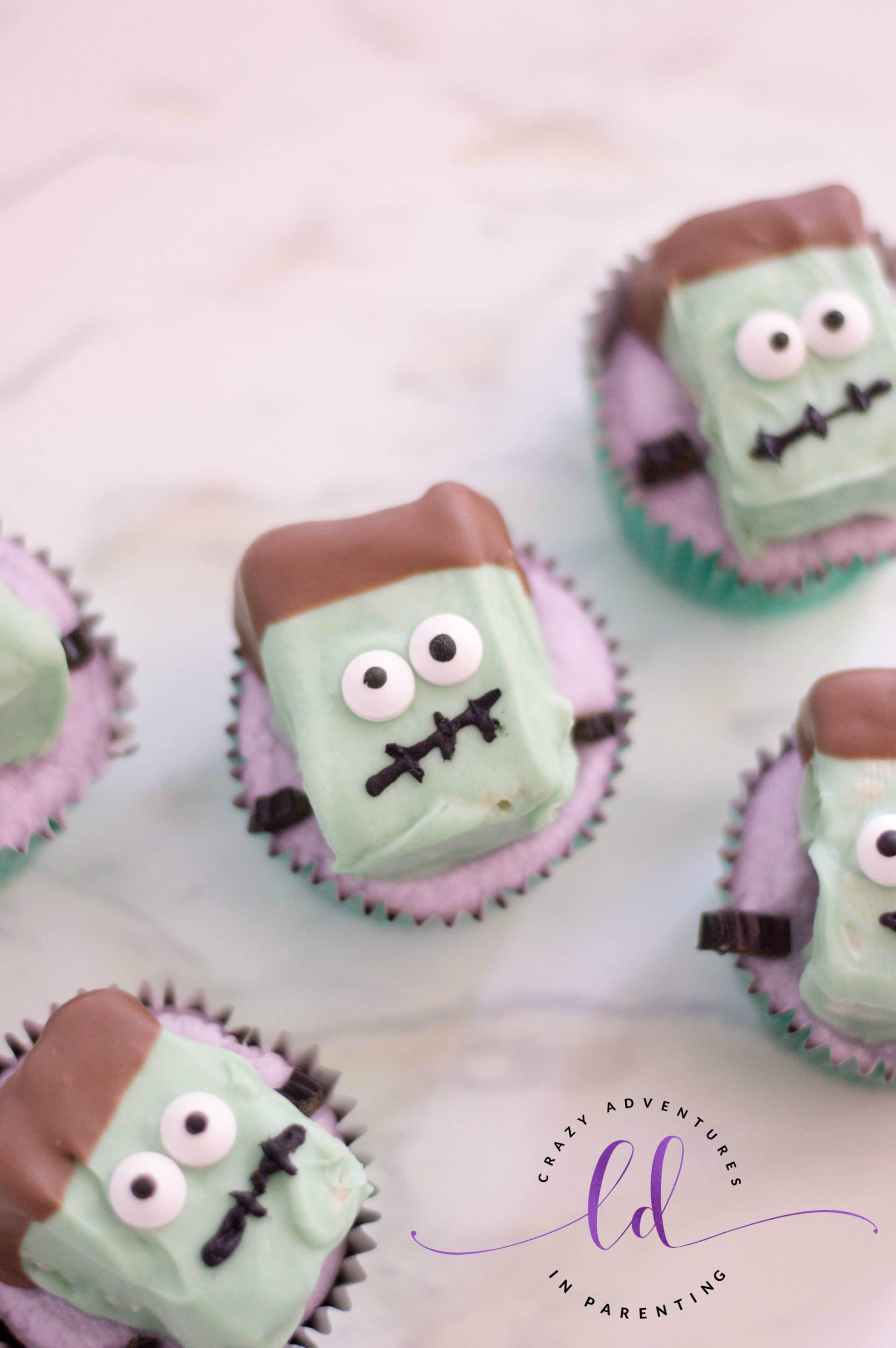 Can you believe how adorably simple these are to make? Your kids are going to LOVE eating these (and they can help you make these, too)!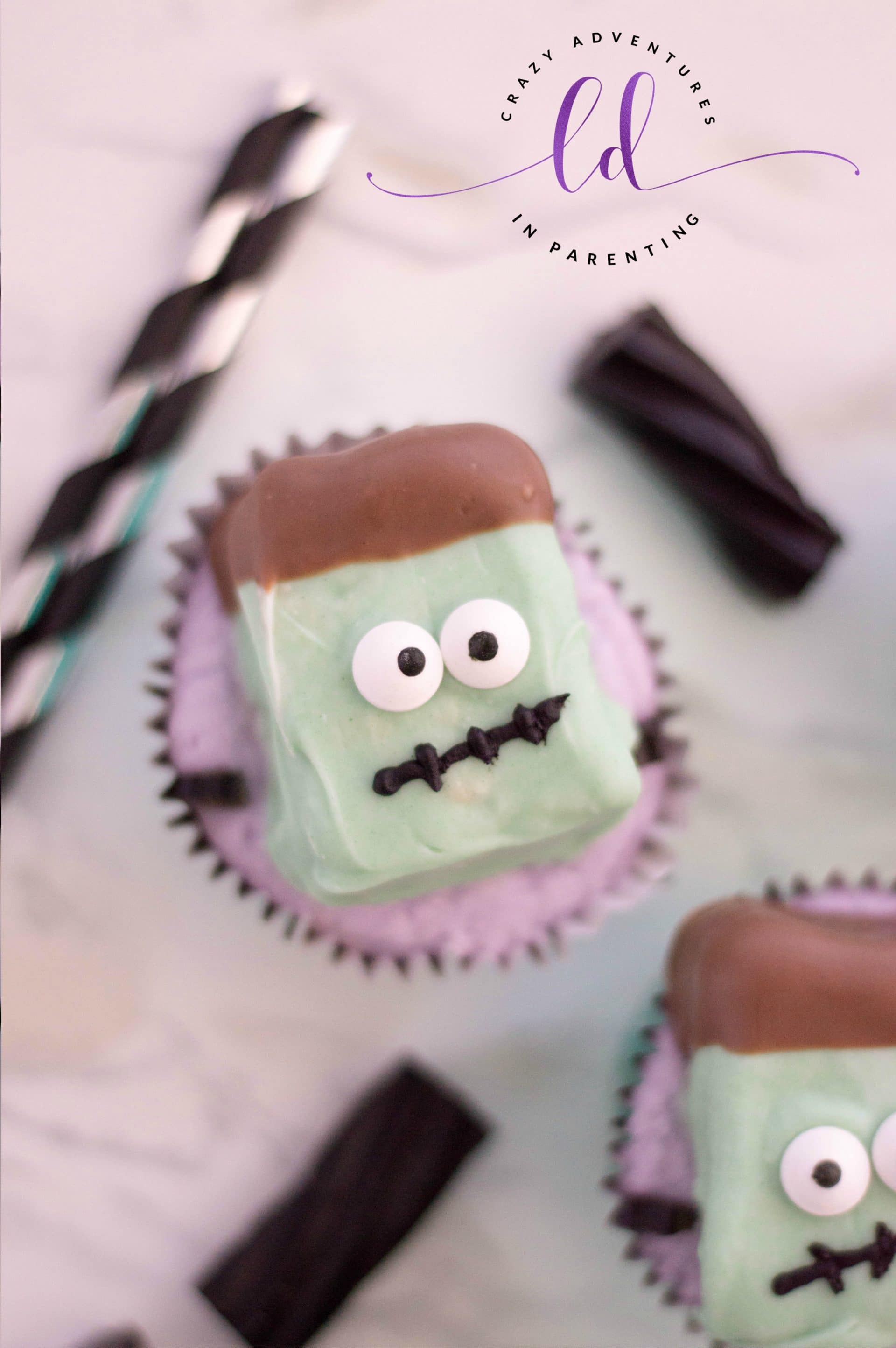 I hope you decide to make these Frankenstein Cupcakes for your next Halloween party! And if you're a fan of these and in need of other Halloween recipes, check out my other Halloween posts, like this !