Celebrate Dr. Seuss' birthday in style with these delicious and adorable Green Eggs and Ham Cupcakes! They're easy to decorate, too! Perfect for tiny hands who want to help make these with you!
This post may contain affiliate links which means we receive a small commission at no cost to you when you make a purchase. As an Amazon Associate I earn from qualifying purchases.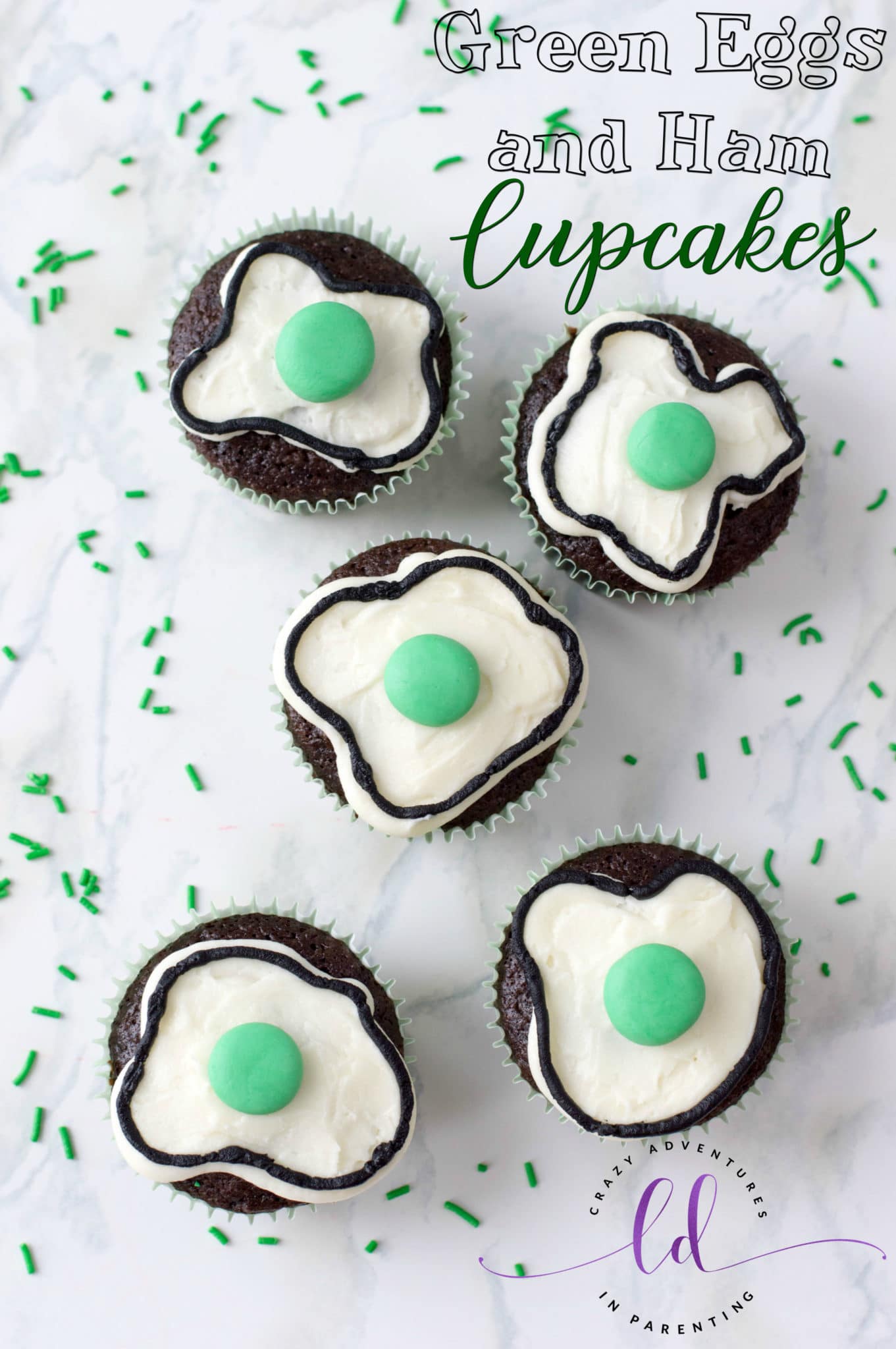 Green Eggs and Ham Cupcakes for Dr. Seuss' Birthday
Only Dr. Seuss could bring something strange yet adorable like this to life, you know? I never thought to myself when I was younger that someday I'd be making cupcakes like this for my kiddos. "Hey self, let's make Dr. Seuss Green Eggs and Ham Cupcakes for the kids." I mean, you think chocolate, or vanilla cupcakes, but green eggs and ham cupcakes? Absolute hilarity!
This timeless children's book from my childhood is one of my absolute favorites to read to the kids. And in honor of Dr. Seuss' birthday on March 2nd, please enjoy making these fun Green Eggs and Ham Cupcakes for your kids and their classes! Such a fun treat to share over a magnificent children's book!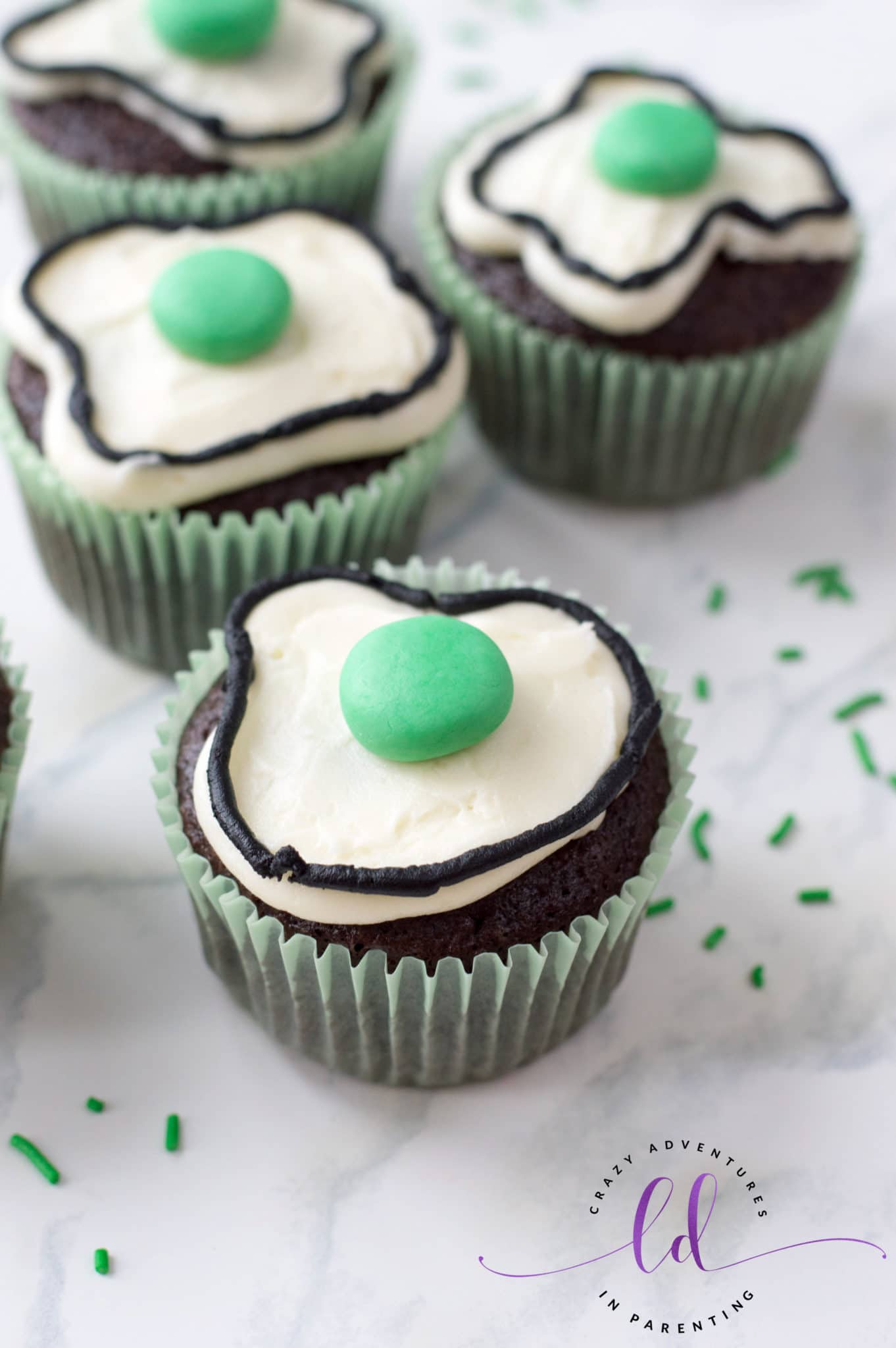 Where Can I Find The Actual Recipe Card?
If you'd rather skip all of my cupcake decorating tips, important information for this recipe, and similar recipe ideas – and get straight to the easy Green Eggs and Ham Cupcakes recipe, just scroll down to the bottom, where you'll find a printable recipe card.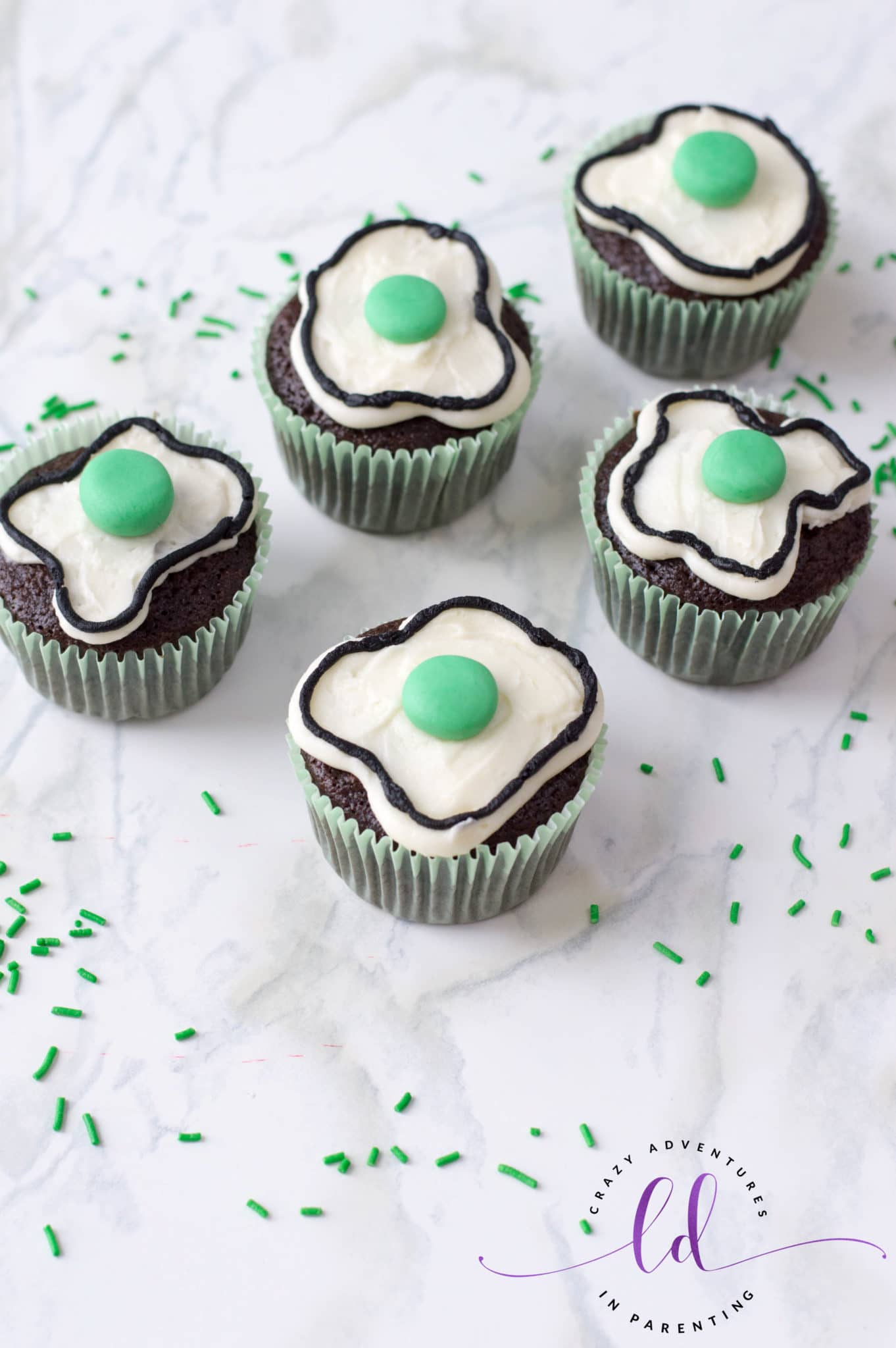 Is This Recipe Easy Enough for Kids to Make?
Oh heck yeah! We adults and parents can't always have all the fun in the kitchen, now can we? Definitely get the kiddos involved with this recipe, you guys! Especially because this is a recipe based on such a beloved children's book, how could we keep the kids out away from this one! We just can't! 🙂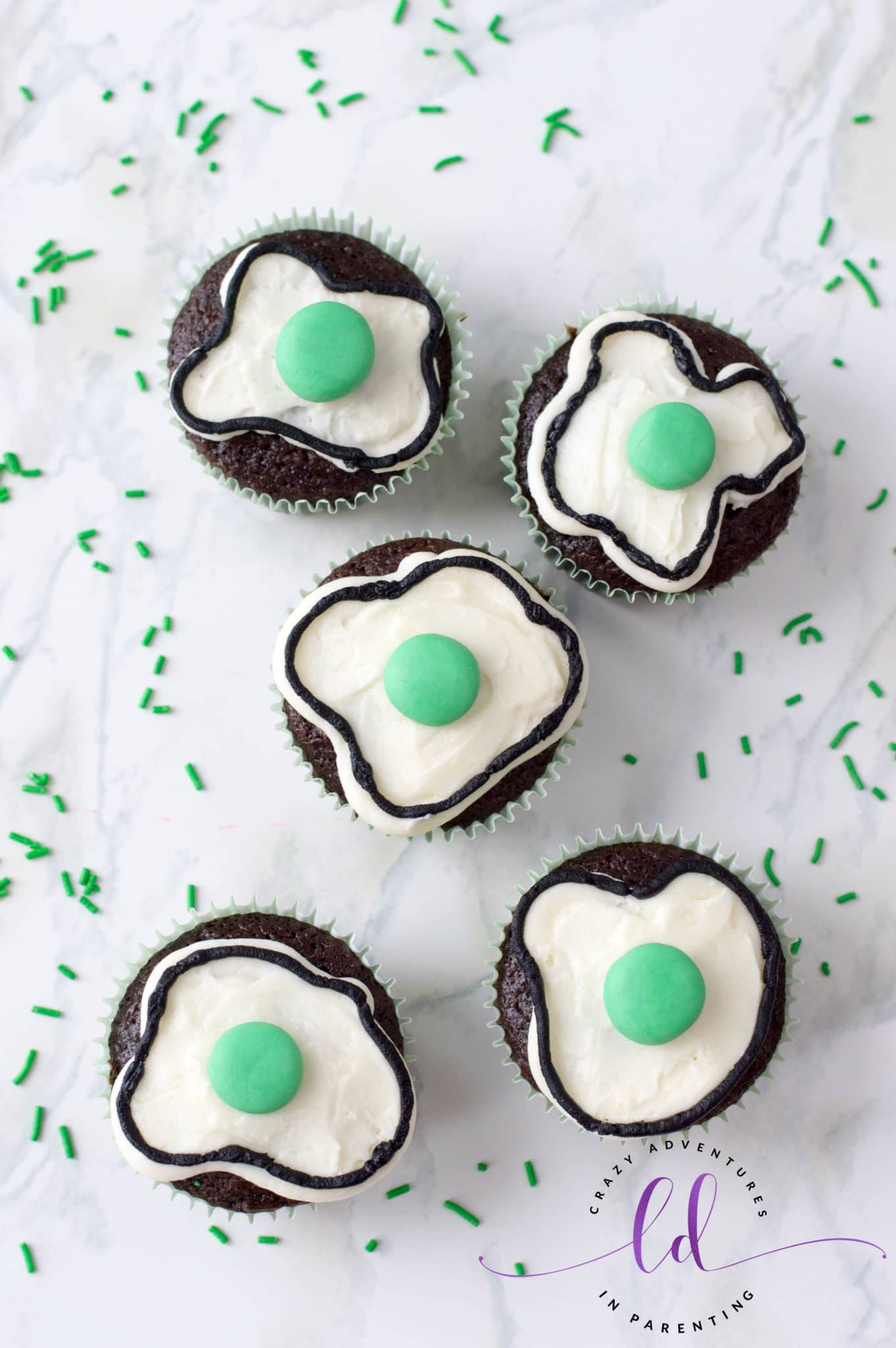 Ingredients Needed to Make Green Eggs and Ham Cupcakes
To make these Green Eggs and Ham Cupcakes for Dr. Seuss' birthday, you will need the following ingredients:
Keep in mind, all of the ingredient amounts you'll need are in the printable recipe card below.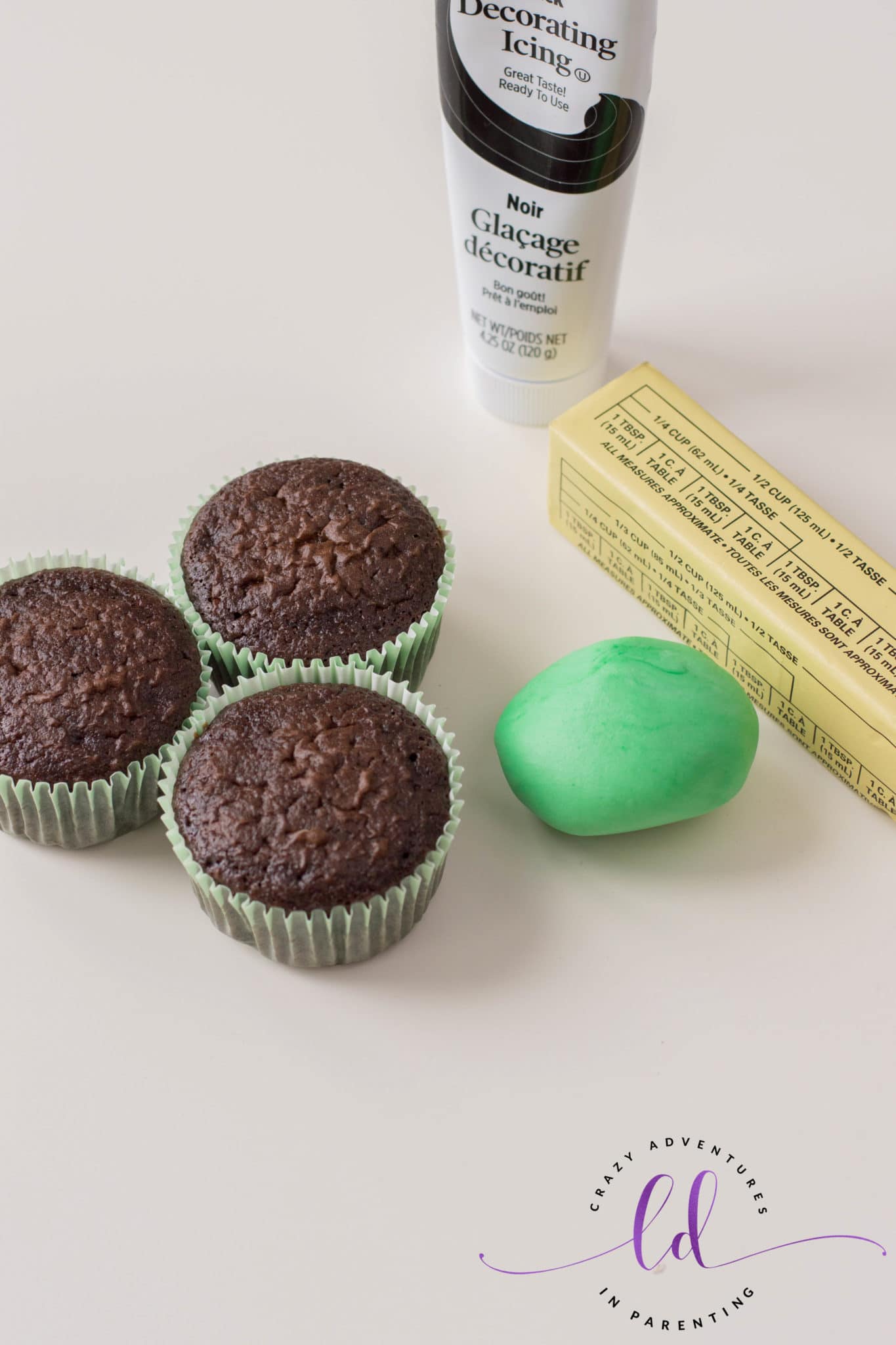 Equipment Needed to Make Green Eggs and Ham Cupcakes
You will need the following kitchen tools at the ready for this recipe, too: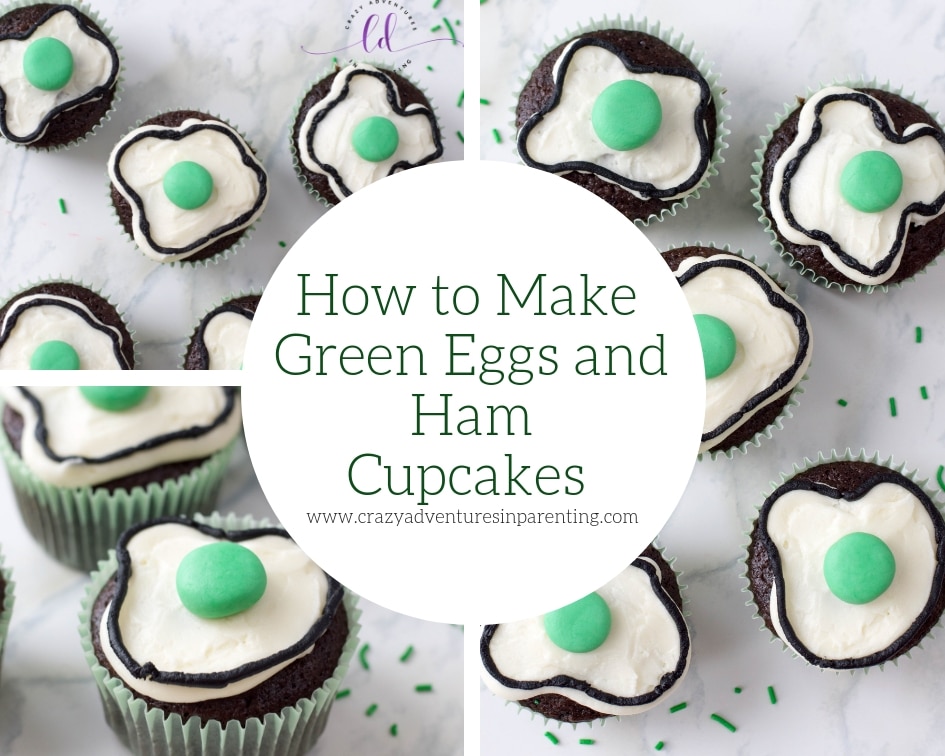 How to Make Green Eggs and Ham Cupcakes
Prepare your chocolate cupcakes in a large mixing bowl according to your recipe or box's directions.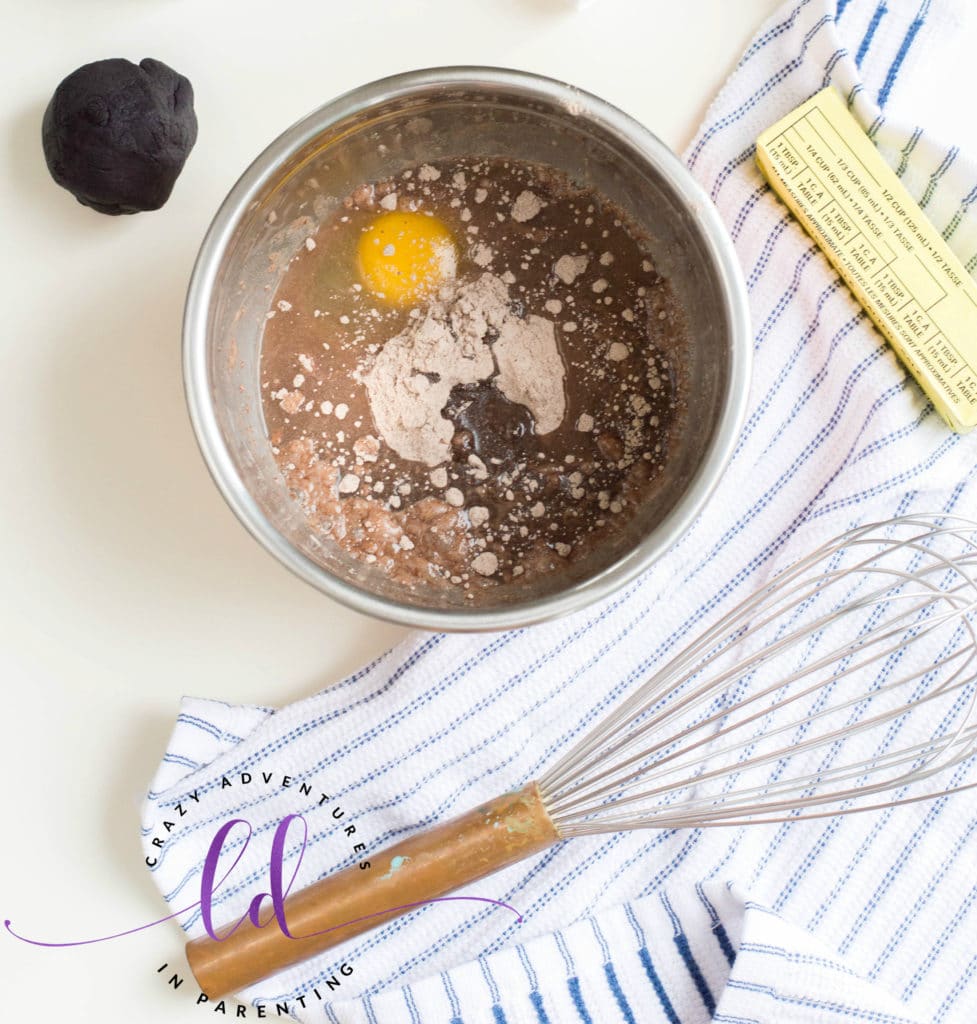 Bake and have them fully cooled on a wire cooling rack before decorating.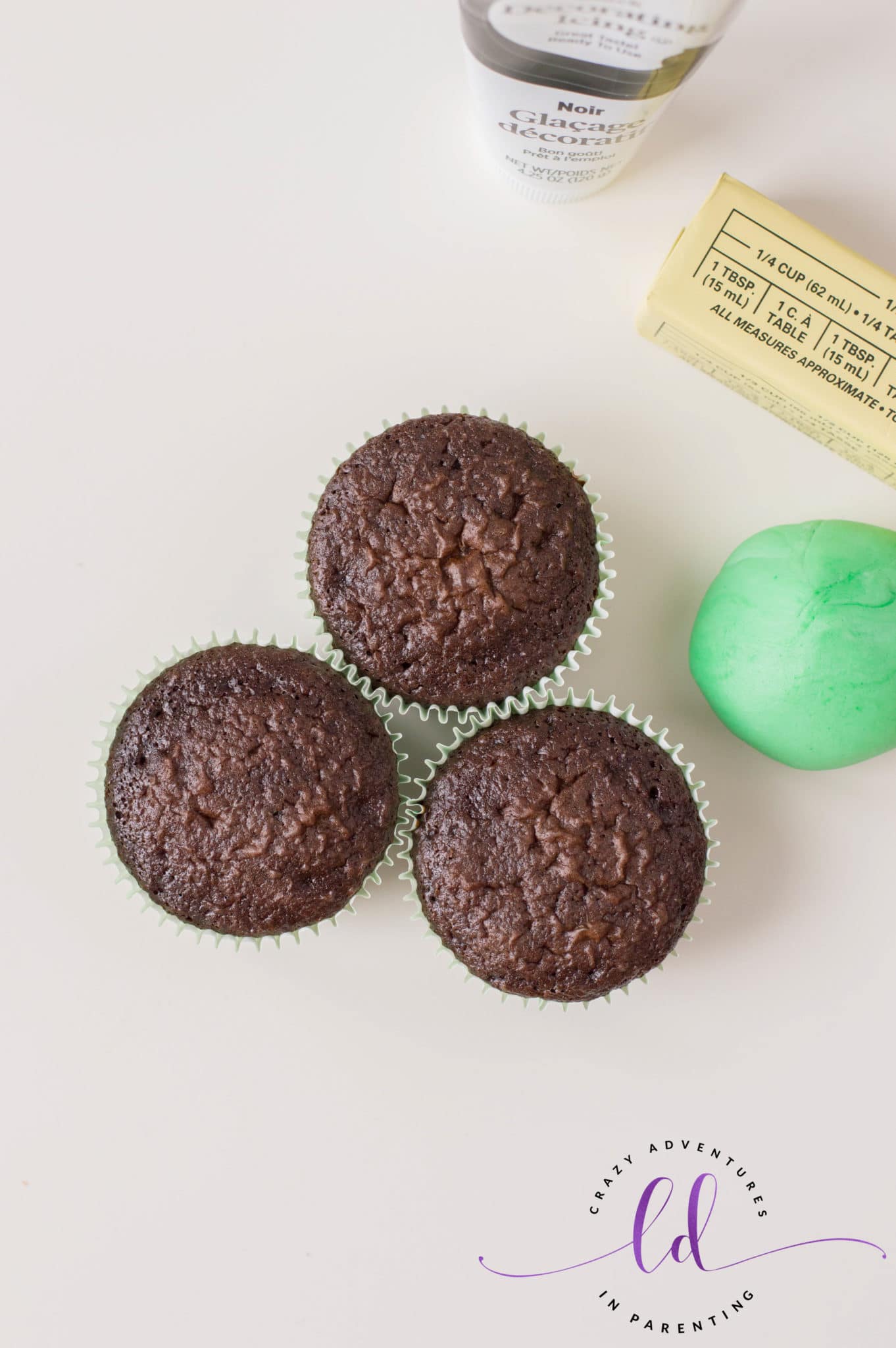 Use an electric mixer to beat together butter, sugar, and milk. Beat on medium speed. Gradually increase the speed to high and once the mixture is smooth and well-combined, your homemade buttercream frosting is ready.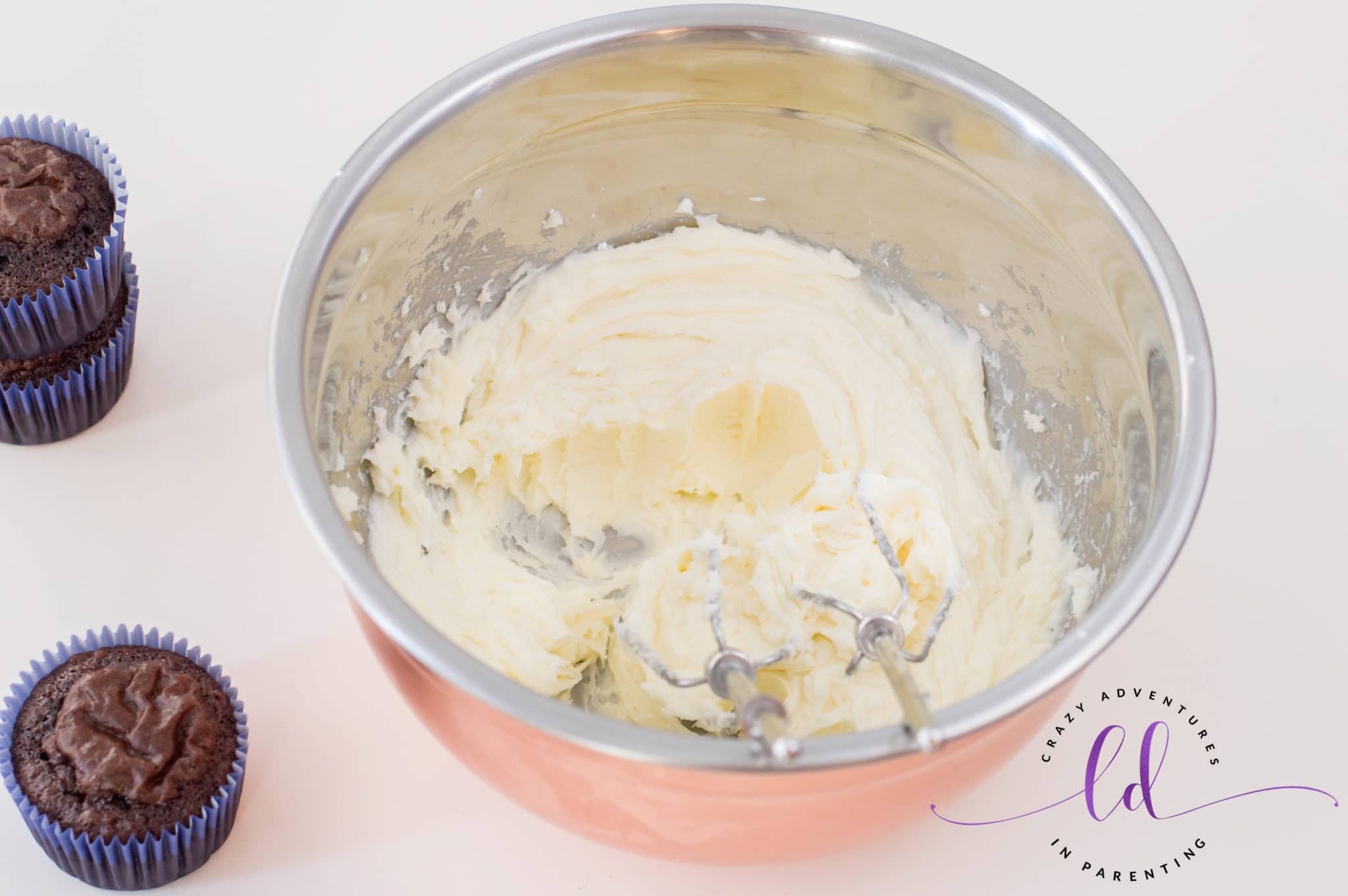 Scoop the buttercream into a piping bag with a Wilton tip #10 attached. Frost each cupcake with a thin layer of frosting making it look like the shape of a fried egg without the yolk.
It might not come out perfectly, and that's okay! That's why we use an offset spatula to smooth out the frosting on each cupcake.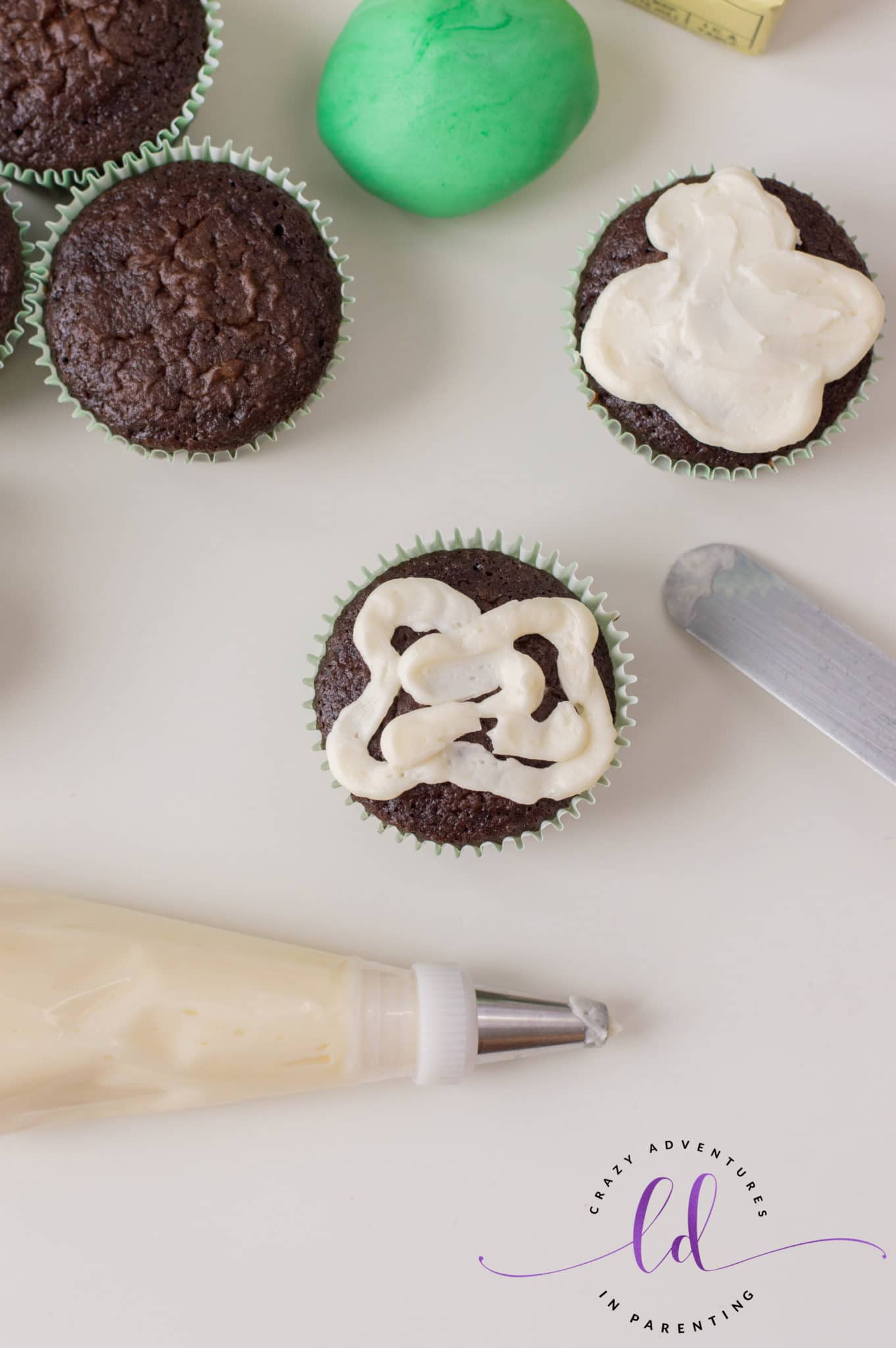 Attach Wilton tip #4 to your black decorating frosting and frost out an outline on the circumference of each buttercream egg.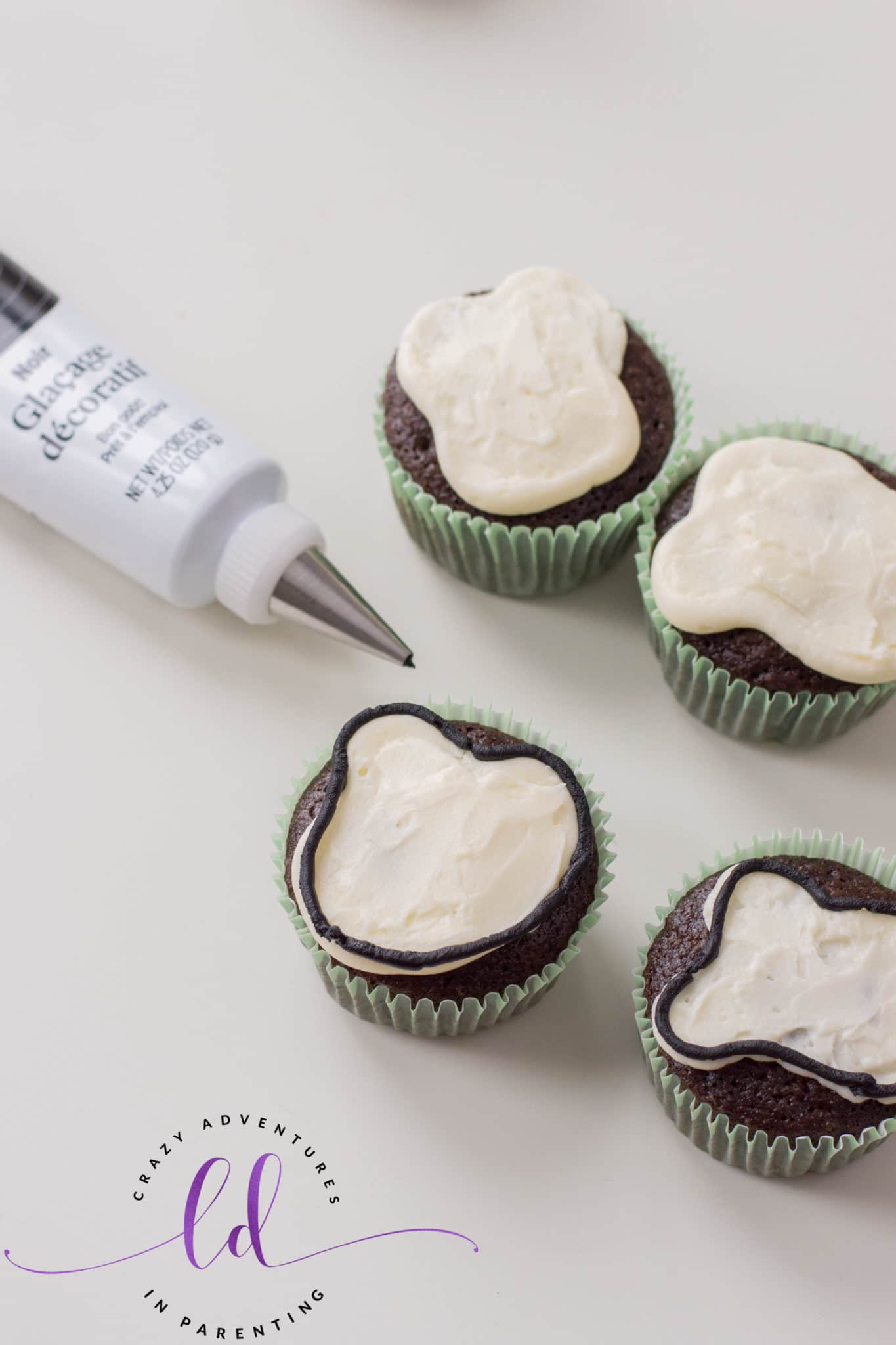 Roll out 24 half-inch spheres from your green fondant. Flatten it slightly and place in the middle of each buttercream to create the egg's "yolk."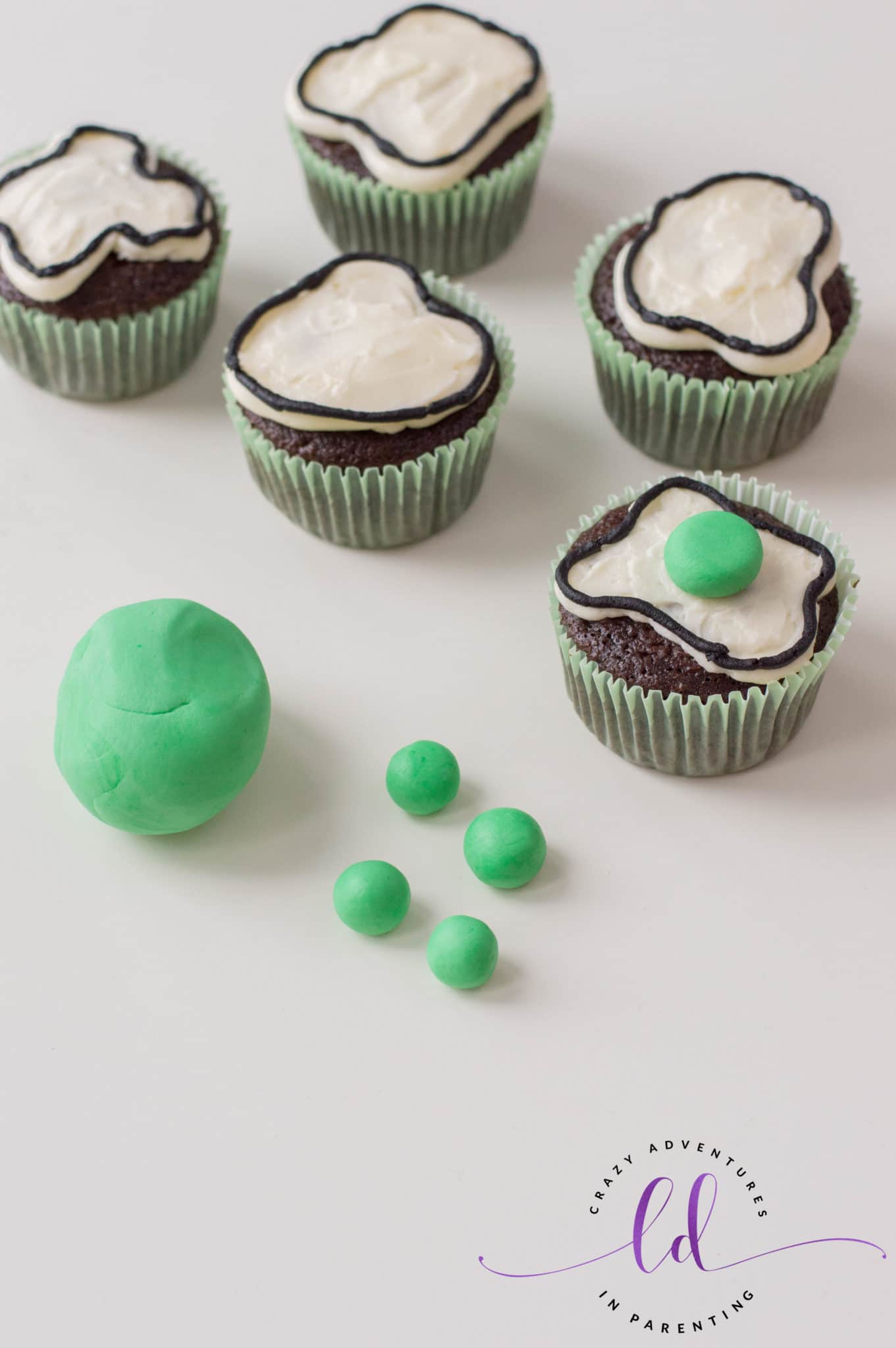 Repeat for all the remaining cupcakes. Serve and enjoy for the birthday celebration, yay!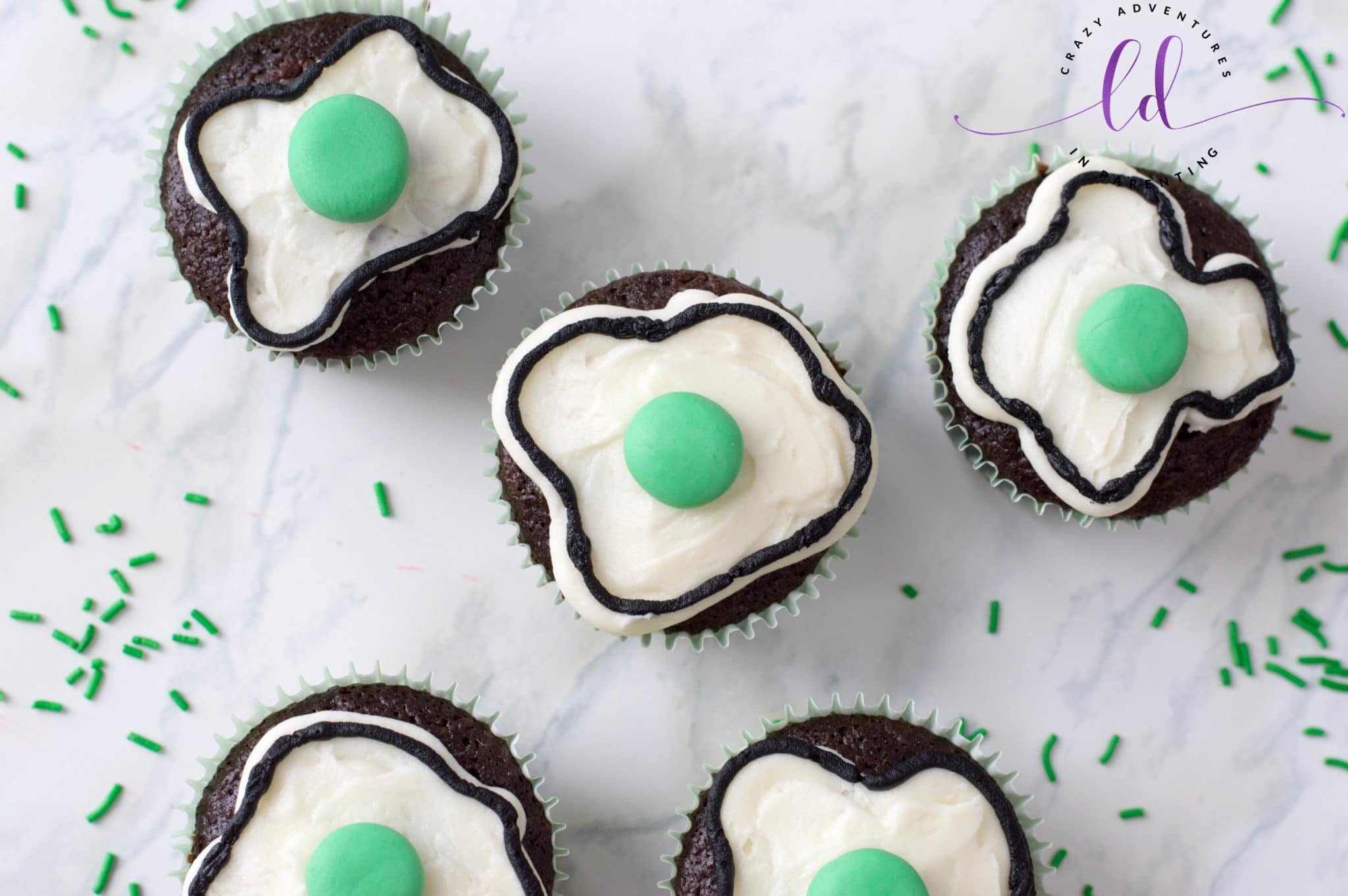 What Other Dr. Seuss Inspired Recipes Go with This Recipe?
If you'd like to make more Dr. Seuss-themed foods for his birthday celebration, check out these fun ideas!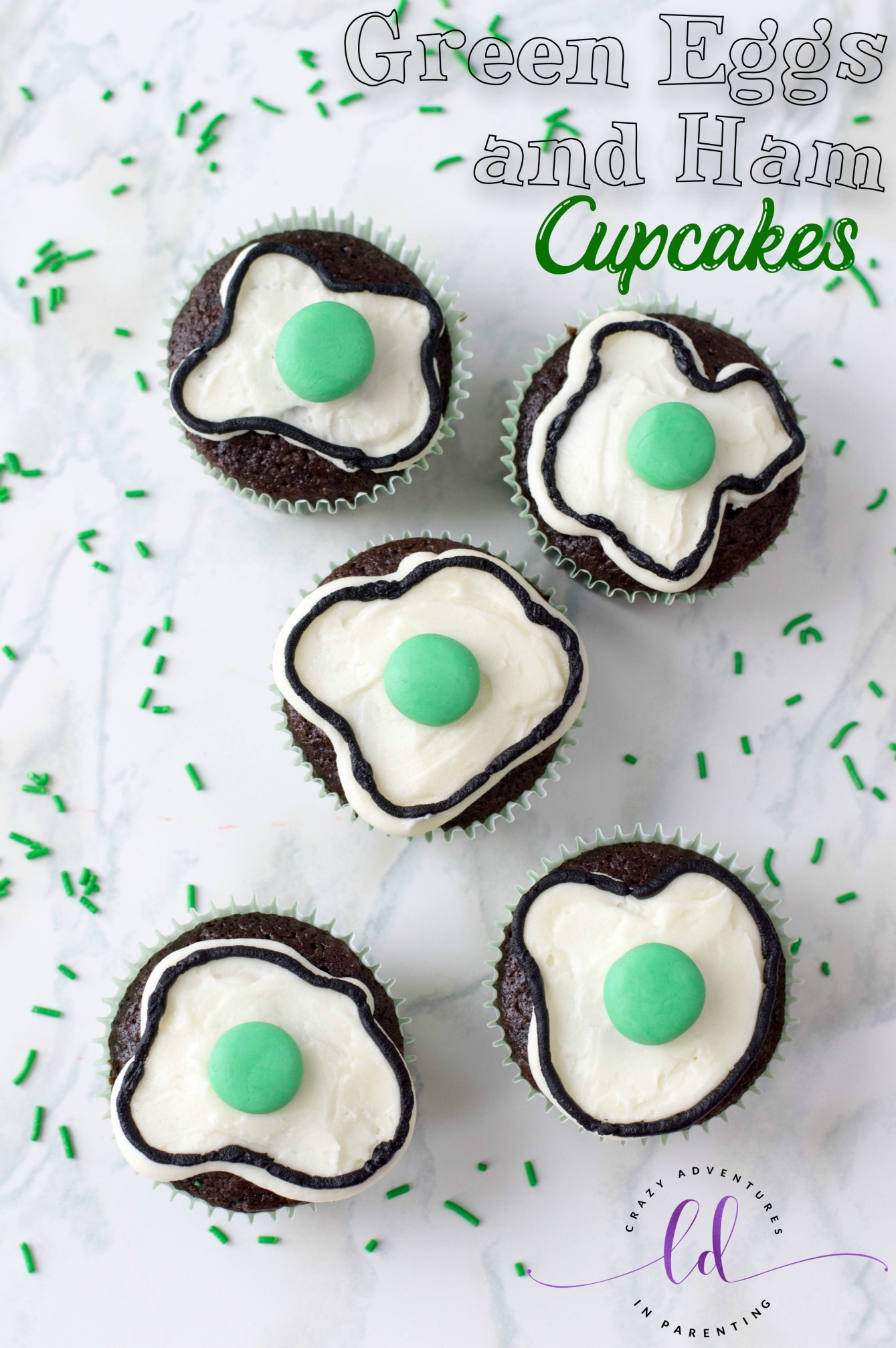 If you love this Green Eggs and Ham Cupcakes recipe as much as we do, please leave me a 5-star review below and help me share this recipe on Facebook and Pinterest! If you do make the recipe, I hope you'll share that you tried it on Pinterest! I love it SO MUCH when readers share their feedback! 🙂

CRAVING MORE CRAFTS AND DELICIOUS RECIPES? Subscribe to my newsletter and follow along on Pinterest, Facebook, YouTube, and Instagram for all the latest updates!
Sign up below to receive my newsletter filled with delicious recipes, fun crafts, and family adventures straight into your inbox: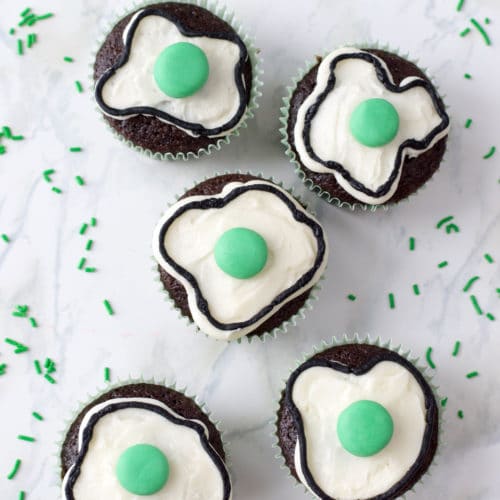 Green Eggs and Ham Cupcakes for Dr. Seuss' Birthday
To celebrate Dr. Seuss' birthday in style, enjoy making these fun and delicious Green Eggs and Ham Cupcakes!
Print
Pin
Rate
Instructions
Prepare your chocolate cupcakes according to your recipe or box's directions.

Allow to cool completely on a wire rack before decorating.

Use an electric mixer to beat together butter, sugar, and milk on medium speed.

Gradually increase the speed to high and once the mixture is smooth and well-combined, your buttercream is ready.

Scoop the buttercream into a piping bag with a Wilton decorating tip #10 attached.

Frost each cupcake with a thin layer of frosting making it look like the shape of a fried egg without the yolk.

If necessary, use an offset spatula to smooth out the frosting on each cupcake.

Attach Wilton tip #4 to your black decorating frosting and frost out an outline on the circumference of each buttercream egg.

Roll out 24 ½ inch spheres from your green fondant. Flatten it slightly and place in the middle of each buttercream egg shape to create the 'egg yolk.'