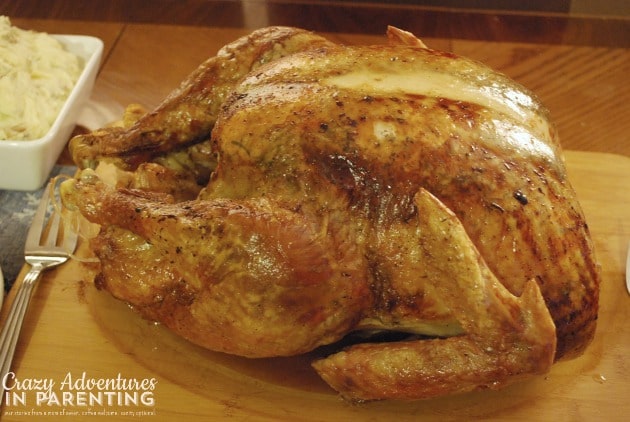 The Perfect Holiday Turkey
Ah yes, it's finally Turkey Day, and it's time to romance the bird. My perfect holiday turkey! Funny thing, this romancing does, other than make you covered with Turkey gobble-de-gook (no pun intended) is make you really ready for the holidays.
Next year I might try to alter this recipe slightly by grinding up the herbs ahead of time and rubbing it into the bird inside and out and letting it 'chill' for 3 days. Or I might do a brine and let it soak/marinate. Not sure. But as it stands? This really is the perfect holiday turkey recipe ever!
Anyway, the foil is to ensure the breast doesn't overcook while the thigh/legs needs to get to the magical 180 degrees it needs to be done. Legs going in first helps assure that will happen, as the back of the oven is hotter. That is how I romance my turkey. What do you do? Here's my Turkey recipe for today: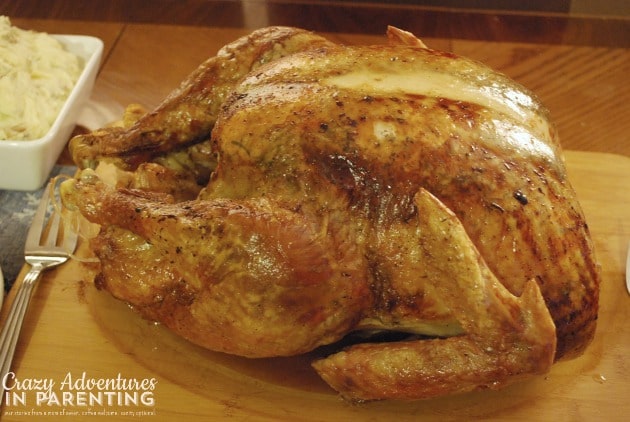 Ingredients
16

pound

turkey

1/4

cup

kosher salt

1/4

cup

fresh-cracked pepper

1

pound

soft butter

4

tablespoons

extra-virgin olive oil

1/2

bunch thyme

leaves removed from stem, and rough chopped

1/2

bunch sage

leaves removed from stem, and rough chopped

3

sprigs rosemary

leaves removed from stem, and rough chopped

1

tablespoons

unseasoned bread crumbs

1

large onion

sliced

4

large carrots

rough chopped

3

celery ribs

rough chopped

2

cloves

garlic

crushed

1-2

cans cream of mushroom soup

or homemade)
Instructions
Preheat oven to 350 degrees.

Wash turkey and dry off with paper towels.

Rub turkey with olive oil, and use aluminum foil to make a shield over the breast and the breasts only, shaped to them.

Take foil off and set aside for later.

Sprinkle with kosher salt and pepper all over turkey and inside cavity.

In a small bowl, mix softened butter with chopped herbs and bread crumbs.

Season with salt and pepper.

Gently push your hand between skin and turkey breast to separate skin from breast, place the herb butter mixture between the skin and the breast, and place pats of butter on the outside of the turkey.

In a large roasting pan, place rough-chopped vegetables on base of pan, place turkey on top, place aluminum foil on top of breast, and place in oven, legs first, at 350 degrees.

Let cook for one hour untouched with foil on top.

Remove foil and baste.

Return to oven and baste turkey every half hour.

Once turkey breast reaches 161 degrees, take out of the oven and let rest for 15 minutes, covered with something, like a lid, more foil, etc.

After 15 minutes, remove turkey from the pan to cutting board or platter.

Strain all the drippings with a fine strainer.

Remove fat from surface with a spoon.

Place natural drippings in a sauce pan and bring to a simmer.

Take 1 or 2 cans of cream of mushroom soup and add to drippings and whisk until bubbly for gravy.
For dessert, I'm trying a different take on Pumpkin pie this year, making a Layered Pumpkin Pie Cheesecake with Pecan Streusel on top. Heck yeah, I'm going for the jugular 🙂
Gotta love Turkey Day! Have a blessed holiday!