If you're looking for a great holiday dessert, try this sumptuous Layered Pumpkin Pie Cheesecake with Pecan Streusel. It's a huge hit in our house!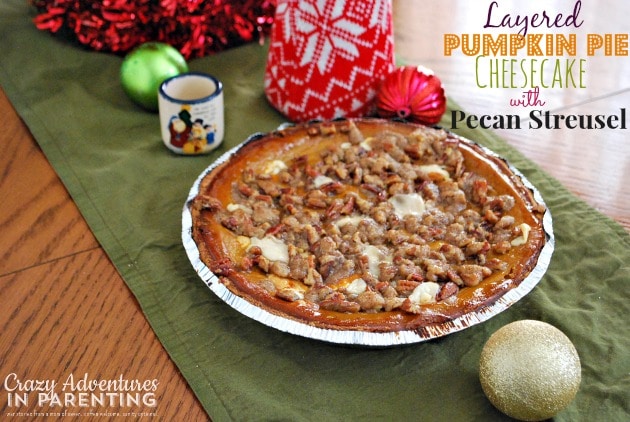 Layered Pumpkin Pie Cheesecake with Pecan Streusel
I might have decided to go a little overboard for our Thanksgiving desserts this year. Two pumpkin pies, a Southern Ambrosia Coconut Apple Pie with Pecan Cream Cheese Topping (oh yes, recipe forthcoming), a layered ice cream cake (another recipe forthcoming), and this phenomenal Layered Pumpkin Pie Cheesecake with Pecan Streusel. Ohhhh my! We have had dessert forever-and-ever in this house!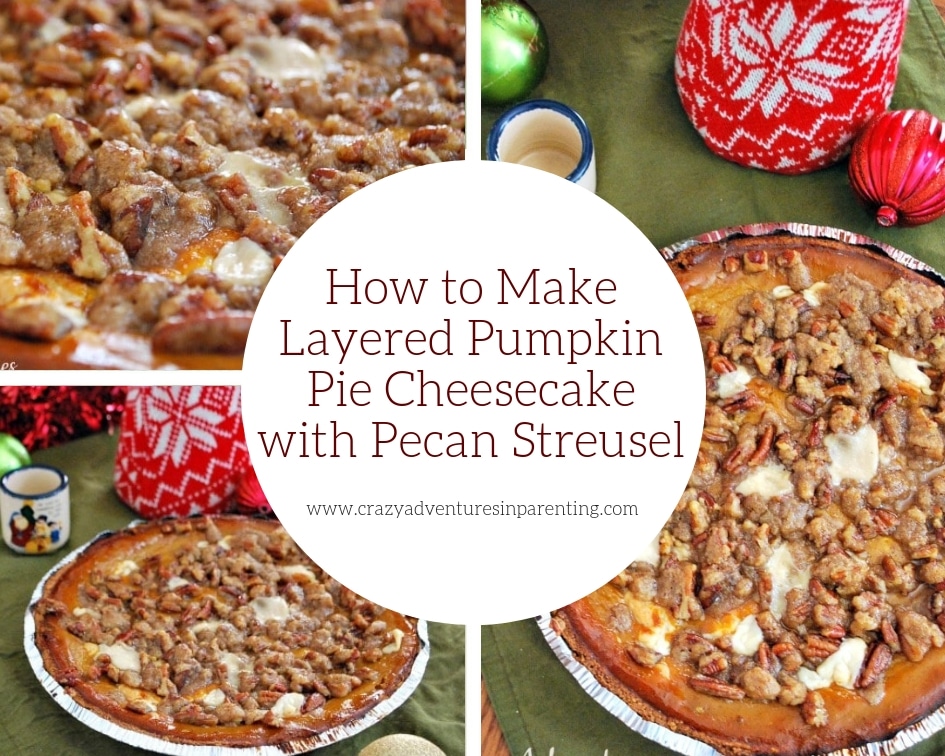 How to Make Layered Pumpkin Pie Cheesecake with Pecan Streusel
But I tell you, this elevates a normal pumpkin pie to new heights – a delightfully tempting cream cheese layer underneath that spicy pumpkin, all topped with a pecan streusel that puts you on your knees. My kids love pumpkin pie, and they fell head over heels in love with this variation. So did I 🙂
Here's a tantalizing close-up of the streusel topping. I love how the cheesecake bubbled up to the surface, it created a gorgeous marbling when served.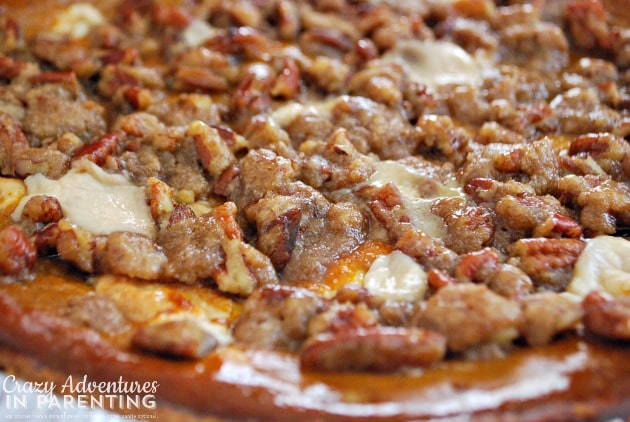 I used a store-bought graham cracker pie crust to save on time (with five desserts, ahem), but next time I want to try my hand at making my own. In the meantime, I'm gonna break out the whipped cream and add a small dollup on top of the piece I have sitting right here with some tea. Heh.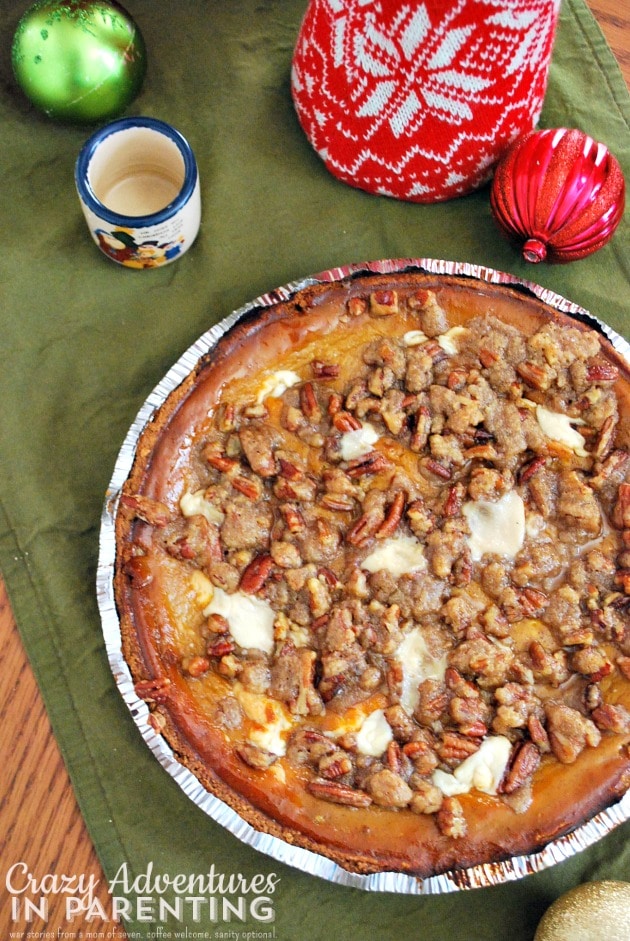 What do you think about pumpkin and cheesecake together like this? Do you think this would be a huge hit in your home, too?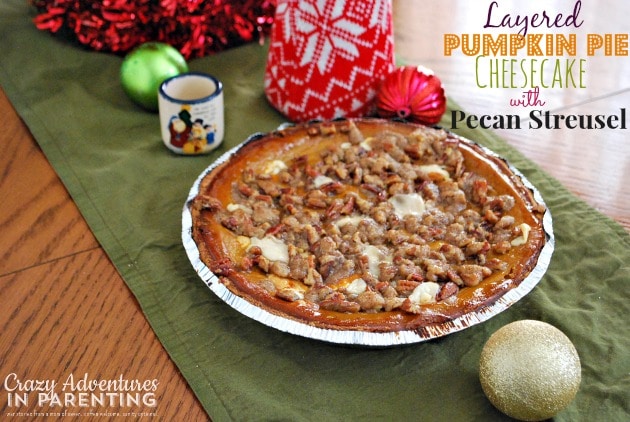 Layered Pumpkin Pie Cheesecake with Pecan Streusel
This nutty, pumpkin-y, cinnamon-filled recipes tantalizes your taste buds as a special treat or for a holiday dish.
Print
Pin
Rate
Ingredients
Instructions
Preheat oven to 350 degrees.
To Make Cheesecake Layer:
In a medium mixing bowl, beat cream cheese until smooth.

Beat in ¼ cup sugar, then add vanilla extract and 1 egg.

Beat mixture until light and smooth.

Chill mixture for 30 minutes, then spread into pastry shell.
To Make Pumpkin Layer:
In a large bowl, combine pumpkin puree, evaporated milk, whisked eggs, both sugars, cinnamon, nutmeg, and salt.

Mix until all ingredients are thoroughly combined.

Pour pumpkin mixture over cream cheese layer.

Cover edges of crust with aluminum foil.

Bake in preheated oven for 25 minutes on bottom rack.

Remove foil from edges and bake an additional 25 minutes on top rack.
To Make Pecan Streusel Layer:
While pie is in oven, combine flour and 2 tablespoons brown sugar in a small bowl.

Mix well, then add softened butter or margarine and stir until ingredients are combined.

Mix in pecans.

After pie has been in oven for 50 minutes, remove and sprinkle pecan streusel evenly over top.

Bake for an additional 10 to 15 minutes on bottom rack, until a toothpick inserted in center comes out clean.