I am a Goldrich Eggs ambassador.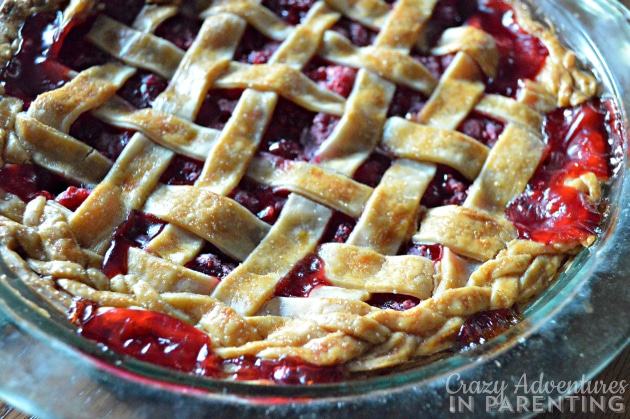 I'm a busy mom, and crazy happens (hence the name of this site). I walk to get the kids at school everyday, and I bring my wallet, place it in the stroller, so that I can show I.D. in case one of the kids has a substitute. On this particular day, I was juggling too many tasks and had forgotten it was in the stroller when I left the house to pick up my son from Driver's Ed, and this wasn't realized until we were approaching the gate to get back on post, and there was a giant hole in my purse where my wallet should have been.
Whoops.
For any civilian, driving without a license or I.D. isn't too big of a deal. But for a military dependent living on a military installation that requires identification to get back onto post (and subsequently home), it's a really big deal, especially when your spouse is deployed.
The M.P. wanted me to go 20 minutes away to the "visitor sign-in center" to get a "visitor's pass," except I had NO I.D. to prove who I was, and so this would be a waste of time. Panicked, I realized there were three scenarios for which we could get back on post:
A friend/neighbor with an I.D. would park on the side of the road, hop in our car in the driver's seat, show their I.D. at the gate to get us through, and then we'd grab my I.D. from my house and take them back to their car to re-enter again. (Not the ideal choice.)
A friend/neighbor with an I.D. would come pick up my son, drive him to our house to get my wallet, drive him back to the gate to drop it off, and we enter that way (We were hoping for this.) Or..
A friend/neighbor with an I.D. would leave the gate, immediately turn around, "accompany" us onto post saying "we were with them," and the M.P. agree and let us go.
Unfortunately, the time of day left the gate backed up with soldiers coming home from work, many mothers at practice or elsewhere, or too busy to see their messages. The kids were growing restless, until we found a sweet neighbor friend whose husband was already home and able to help us, yes! He helped "accompany" us on post (option 3) and we were home with little trouble. I felt the extreme urge to repay them in an important way for their help by way of this amazingly dreamy Raspberry Pie, chock-filled with love and appreciation.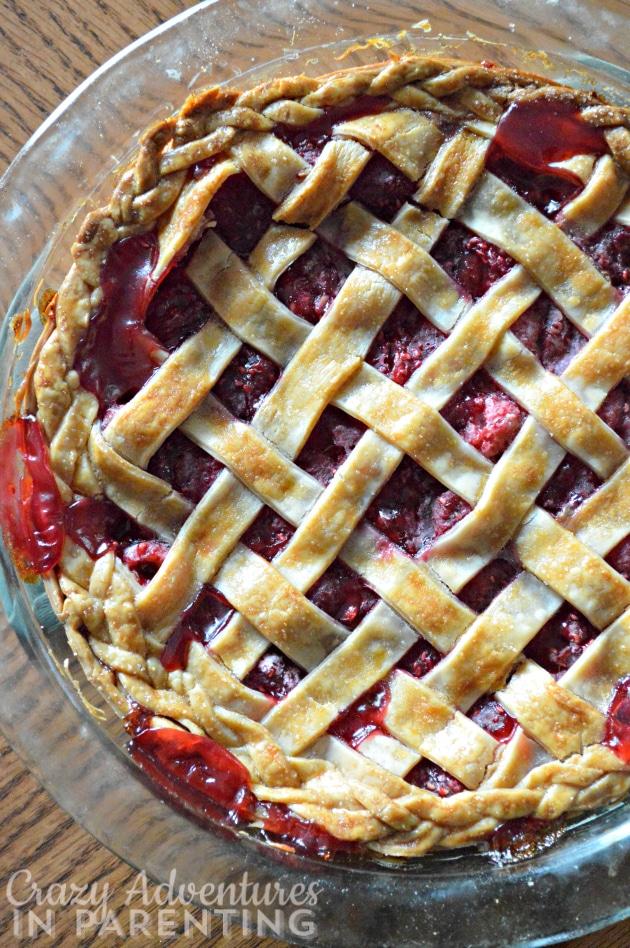 Most Heavenly, Easiest Raspberry Pie Recipe EVER!
Ingredients
2 pie crusts
6 cups of fresh raspberries (can use frozen, must be thawed)
½ cup of organic sugar (with more reserved for the crust)
6 tablespoons of corn starch or arrowroot powder
1 whisked Goldrich farms egg, for brushing the crust
Instructions
Preheat oven to 350 degrees.
Spray your pie crust, and lay one crust into the dish, cutting off the excess.
In a medium-sized bowl, toss the raspberries gently with sugar and corn starch/arrowroot powder, until covered completely; set aside
Roll or lay out the second pie crust on a cutting board and cut into less than 1-inch strips (I used about ½-3/4 inch strips).
Weave the strips into a lattice crust.
Cut the remaining strips of crust lengthwise into smaller strips, and braid together.
Lay the braid on the outside edge, pressing onto the pie, sealing the seams with the new braid, trim extra.
Once braided crust is set, brush entire lattice and braided crust with whisked egg and sprinkle with sugar.
Bake for 60 or so minutes, until crust is quite golden and the raspberry filling is bubbling from the center. (You might have to cover the crust with a shield if it browns too quickly before the filling bubbles.)
I promise you, this is one pie you'll love to create for others, for someone special, for your kids, with your kids, or maybe ask for because of a special occasion.
I mean, take a look at the sugar sprinkled lovingly on that crust! Yessss!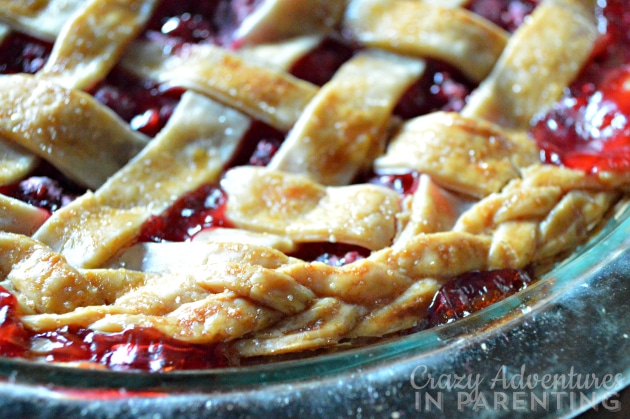 Who would you make this pie for?