I'm a compensated member of the Netflix Stream Team.
School's about to be out for the summer, hooray! Our days are about to be filled with backyard fun, swimming, traveling and ALL KINDS OF FUN! But, as we learned the very first week we moved here, IT RAINS! Ha! And some of our cherished summer days won't be swimming or outdoor days. We're going to have to come up with rainy day summer activities, where indoor tent-making, blanket forts, board games, and fun movie days will be on the menu. Let's make this summer chock-full of both indoor AND outdoor activities that help facilitate some quality family time! Check out this wonderful family-friendly programming for you and your kiddos to consider adding to your summer repertoire!
For your little kids:

1. Lily's Driftwood Bay
2. The Tigger Movie
3. Guess How Much I Love You: S1E5 Big Like You
4. Angelina Ballerina: Superstar Sisters
For your big kids:

1. Crash & Bernstein
2. Life with Boys
3. Spy Kids
4. Russell Madness
And for teens and adults:

1. Raising Hope
2. The Fosters
3. Gilmore Girls
4. Life Unexpected
New on Netflix for Kids and Families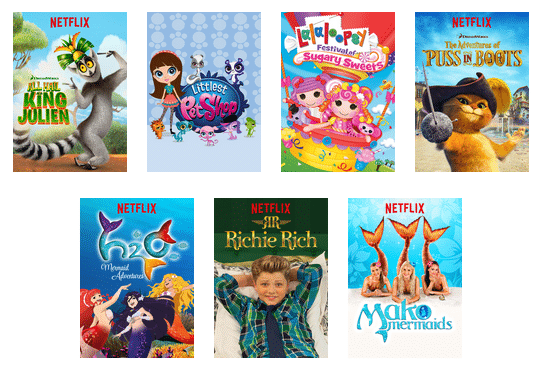 1. All Hail King Julien (new episodes began 4/3)
2. Littlest Pet Shop: Season 3 (started 4/21)
3. Lalaloopsy: Festival of Sugary Sweets (started 5/2)
4. Puss in Boots (new episodes started 5/8)
5. H20 Mermaid Adventures (started 5/22)
6. Richie Rich: Season 2 (started 5/22)
7. Mako Mermaids: Season 3 (started 5/29)
What are your plans for your indoor, rainy days? What are your favorite family favorites to watch on Netflix?