International Babywearing Week is happening now, November 12th-18th. To celebrate, Steph over at Adventures in Babywearing is hosting a fabulous contest to win a Pop Nest Sling or a Sparrow Hatchling Sling from Nonny & Boo! Heck yeah! To enter, Steph wants to see our favorite babywearing photos (or if you don't wear already, to post about babywearing and why you want to try it), so I went through and found a few of my faves!
My first, all-time favorite was from my Welcome Baby shower when my toddler was first born was my wrap. Ironically, were given two! A Moby Wrap and a handmade wrap, ironically both the same color! As if that was ironic enough, both of my friends who gave them to me also had wraps in that color AND had brought them to the party! So we all posed together as purple wrap-lovin' parents! My husband isn't too manly to wear purple! 😉 Problem was, he didn't wrap his tight enough for our son, so, as you can see, my son is a little droopy, haha. That and pants-less, because, well, that's my children for you, always trying to strip wherever we go! (Hey, at least he had his diaper still on!)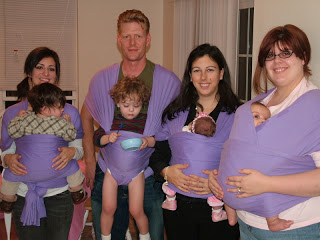 Next fave are some pictures I took of me using those wraps. As you can see, we keep it all in the family! 🙂
Here are two pictures of our beloved Beco! This is one we've used a lot too, with both our son and our daughter.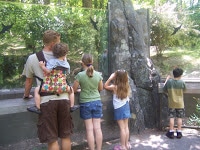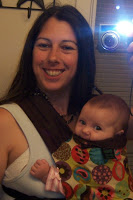 Want to see more babywearing posts? Head on over to Adventures in Babywearing and check out all of the other ladies in the Mister Linky section! Don't forget to check out other babywearing bloggers below, or contact Steph to add yourself to the blogroll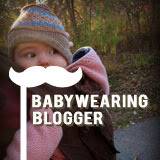 Thanks for reading! Happy
International Babywearing Week
! And if you choose to post some babywearing pictures on your blog, share your links with me! I'd love to see YOUR babywearing pictures!