As much as I love to bake from scratch, and make hot breakfasts for my family to start the day just right, you know there are going to be those mornings that nothing goes right, coinciding with the exact time of your stockpile of pre-made pancakes/waffles/french toast and the like is empty, and of course, the kids are going to be immediately.hungry.can't.wait.any.longer.going.to.die.of starvation and want to fix something themselves.
Things happen. It happens. Cereal happens.
We do our best to get healthy cereals, organic when we can, but man oh man are those expensive! I was so thankful/lucky/appreciative/jumping for joy to have gotten the chance to be introduced to the following alternatives to the healthy-yet-expensive cereals, not only lacking all the gobble-de-gook chemicals and unnatural additives, they are healthy AND affordable, and the boxes are huge, meaning A LOT more for your money, being less expensive AND bigger sized! Yeah! They took my favorite flavors and cereals from my childhood, and made 'em healthy for my kids. Super sweet!
Mom's Best Naturals has gotten us hooked bigtime, man. My husband literally snagged the Honey Grahams and wouldn't share. Ate the whole box, himself, I kid you not. It was gone in a millisecond (and that's a big box). Thank goodness they're priced cheaper than other brands! I had to pry the Toasted Cinnamon Squares away from his hungry hands so we could try it, too, and ohh, was it ever good!
They offer many versions of your childhood favorites, in fact. See if you can decipher what cereals they've created healthier by visiting here, and comment back to me. See any of your childhood favorites, too?
Mom's Best Naturals even offers coupons on top of their already affordable prices! Double sweet! Click, print, shop, eat! Mmm!
Where we live, though, there is only one store that offers these. They are not at our local Walmart, sadly (will try to remedy that, though, and speak to someone about stocking it, since we love it so much!) If you want to see if it's sold near you, click here.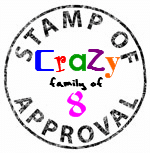 In the meantime, to get my fix, since the local store only offers the Honey Nut Toasty Os and we would like a plethora of their other items, they can SHIP it to me with MyBrands.com (and other, hard to find foods), which is AWESOME, with so very little around us, we'd have to drive quite a ways to get it! SO STOKED! Have you ever heard of MyBrands.com before?? I hadn't until now, and wow do they offer a ton of great stuff! Check it out! Worthy of our coveted Crazy Family of 8 Stamp of Approval!
Alright, now I've gone and talked all about cereal, and yumminess, and I don't have anymore to nibble on. Let's hope MyBrands.com has an express shipping option, or perhaps an "email-from-warehouse-to-mouth" option….