Thank you so much for particpating! The lucky winner of the CD and hoodie is….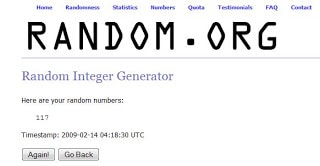 joannaonthelake said…

My favorite song from this soundtrack is "Don't You Want Me" from The Human League. I have always loved this song from the moment I heard it years ago! It is upbeat, love the lyrics and it is totally a song you can dance your feet off too! Thank you for the opportunity to enter.
[email protected]
Joanna on the Lake! CONGRATULATIONS! Please email me your home address and hoodie size to crazyadventuresinparenting at gmail dot com so I can get your information over to One2OneNetwork and get your CD and hoodie out to you! Yay!
For those who didn't win, stay tuned for another CD giveaway, SIGNED BY THE ARTIST HIMSELF (*cough*SEAL*cough*) and for other upcoming goodies as well!
It 'pays' to stay connected to me and my blog, as it earns you automatic entries into all of my contests 😉
Thanks so much for participating! Happy Friday the 13th and Happy Valentine's Day!
Never miss a post! Subscribe here for all kinds of crazy parenting fun!