April showers, yadda yadda. (Between you and me, I've had enough in the past two weeks.)
I am thankful for candles, for flashlights, and backup batteries, too. For snacky food that needs no preparation, for my grill lighter, and for it not being too cold/hot, so we could do without the heat/air, if need be. For the porches in the front and back protecting our things outside, including our minivan. For the board games we have, for toys and for the snuggle time we will endure. For my cell phone, so I can still reach out, for radios and mostly, for the sound of the thunder. Despite how bad it may get, it's still beautiful.
A storm is coming. If I'm not around and answering emails, we probably lost power. But, for now, while it's not too bad yet, I wanted to post my thirteen things I am thankful for right now with this storm on it's way.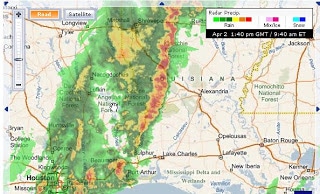 Lights flickered again. Hail's a-comin' I'll be back, kids. Hopefully sooner than later-ish.
**Update: Lights have gone out, and come back. And gone out. And come back. Most clocks are out, things have reset a bunch in the house, and the kid's are officially wigging out. It's a strange day for this weather, because the lights went out after the "bad" storm passed. Weird, huh? So for now, we have lights. But, for who knows how long with this unpredictable weather. Let's hope it passes soon.
Never miss a post! Subscribe here for all kinds of crazy parenting fun!