Did you happen to catch Valerie Bertinelli, Star Jones and Marie Osmond on Oprah the other day? They were talking about their weight loss, and how they went about it. All three women had different stories to tell, with three very different approaches. Regardless of how you choose to do it, and what method you choose, it's always a bit of a boost to hear their revelations, and "a ha" moments, and to know that not all of Hollywood has it as easy as we may think. Wasn't it kind of amazing, in a thank-goodness-we're-not-alone kind of way, to hear they've battled with weight, just as we have, and won? I don't know about what you thought, but I thought they looked AWESOME! I can't wait to look the same way, to work hard and to achieve it too!
I particularly liked Valerie kickin' it old-school with her on-the-go workout. Watch Valerie's "do-it-anywhere" workout here. Great stuff to do, without all the fancy gear (so never mind the impressive home gym she's doing it in, we aren't all stars, you know).
Speaking of gear, there is quite the selection of products on the market out there if you're in the market to lose weight, isn't there? So many products, in fact, that it gets kind of confusing, doesn't it? It seems there's a product for everything under the sun. Some products are for buns and thighs
, some are for flattening your tummy
, some are wildly expensive
and require a lot of room
, some fold up
, are for balance
, etc. The list goes on, and on, and on.
The problem is, those require a lot of money, and a whole section of our house dedicated to working out in order to store all of it in, to ensure our whole bodies are covered. (much like Valerie had there, huh?)
Or, there's the gym. The gym, for me, is for people who are already in shape, who want to use extravagant machinery to keep that way, without owning it themselves. Despite how much it costs, the gym generally requires a hefty amount of money to enroll or stay enrolled, along with the time to get to and from and such, nevermind daycare, as well as the mandatory requirement of a year or more when you sign up at some gyms. What if you decide it isn't for you after the first month? You're stuck, aren't you?
And a lot of people who join a gym to lose weight, end up shy and embarrassed. They don't want to seem so completely out of shape compared to those bullet bodies there, mastering those machines. They don't want to fall on the treadmill and look silly huffing and puffing. What if someone is looking at them, or thinks they're fat, or something? (Can you tell I've been there?) Even though we all know every person there is there to get fit and stay fit, for the same reason as we are, that doesn't mean those thoughts stop, though, and so suddenly excuses are made, and money is wasted, and the problem still exists – your need to lose weight and get healthy.
Companies have capitalized on that fact, by making all those expensive products above, to try to encourage you to stay fit in the comfort of your own home, where you aren't embarrassed, and you can mess up and no one will care (but you of course). But if you don't have all of that money, or all of that space, it doesn't necessarily help you at all.
Products like the Wii Fit are revolutionizing the way people work out. But, in order to work out with the Wii Fit, you of course, need the Wii. If you don't have, or can't get the Wii, the Wii Fit isn't going to do you much good.
Now I will talk about using the Wii Fit and how it helps me, but, like I said, my goal is to help you, with or without it. The Wii Fit is merely a tool, and everything I offer here are mere tools for you to use in your arsenal to fight the good fight and lose weight. With my Busy Mom Fitness series, I'm trying to show you that, whether you're armed with a Wii Fit, other veritable exercise periphernalia or not, you can still do this, you can still lose the weight with subtle or drastic changes, and incorporate activity and healthier eating choices no matter what you do, throughout the day.
Remember, I'm the one who dances while she vacuums, to stay active?
With that goal in mind, and on a quest to find some great fitness finds that are easy to fit into our busy schedules for this series, I was pretty stoked when asked to review the Sane Fitness Cards, because a) they don't cost a ton at all ($19.95) and b) they don't take up much space (they're CARDS! How much room could they take up? Uh, none! Ya know?) and c) they're a pretty hot item right now. So hot, in fact, they've come out with additional versions of it (I talk more about that in a bit).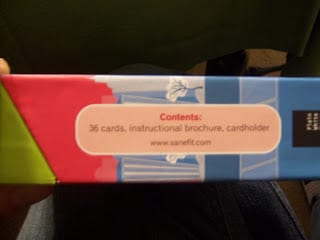 They have 3 sets of complete-body workouts here in the QuickStart package, all matched up together labeled "A", "B", and "C", which is attached to the necklace-thingy, which I think is pretty ingenious if you ask me (except when you do something vigorous and knock yourself in the face with the corner of a card… I'm the world's hugest dork, I tell ya).
Want to take a sneak peak at the cards? Check out a few of their downloadable fitness cards here. Try them out! Tell me if you like them!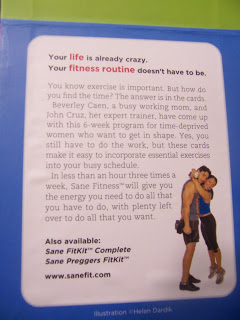 Once you graduate beyond the three levels in this set, you can choose to move up to the Sane NextLevel. Also, for those who can't do regular exercises because you are expecting, they have fitness cards for preggers too! Woo hoo!
I love how Beverley Caen created these with busy moms in mind, as she herself is a busy working mom of three. Perfect for this series (and for busy moms everywhere)!
Now, because these cards are a six-week program, I'm going to be using these cards, in conjunction with my other dieting and fitness routines, and giving you the scoop about how well I think these work, so this isn't the last you'll hear of these from me.
What I like about the Sane Fitness Cards so far:
Lovin' the necklace thingy, even if I do poke myself sometimes. (Hmm, maybe I should put them down when I workout? *giggle*)
I like how handy those cards are, for when I need to change exercises.
These babies are

portable

, I can put them in my purse or diaper bag.
Their versatility, it truly is a whole body workout.
You aren't spending a ton of time doing these exercises (With QuickStart A, it's 20 minutes of cardio, 2 sets of 15-20 reps for each exercise and 5 minutes of abs and stretching).
They're targeting certain key areas of your body with each exercise to get you results.
What I didn't like so far about the Sane Fitness Cards:
I'm unable to do some of the exercises shown, because I don't have the proper gear required (I suppose that isn't really their fault). Some exercises included in the QuickStart are done with the fitness ball, ankle weights, a weighted rod, or other things I don't already own. I suppose you could be creative, and come up with clever alternatives for the things you don't have, substituting, etc. I had just assumed these would be workouts done on your own, without these devices. (You know what they say when you assume, don't you?)
These exercises are recommended to be done together, one after another. As busy as we moms are, sometimes that isn't possible, so for some I could see that posing a problem. For me, I play it by ear, so, in a way, it isn't too big of a deal to break them up, since I try to stay as active as I can.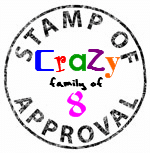 Overall? I like them. A lot. They definitely deserve my Crazy Family of 8 Seal of Approval. I like the variety they offer, and I think they're going to be quite helpful in my quest to shape, tone, and lose weight, regardless of not having some of their 'tools'. Thank you so much Bonny at RoleMommy for giving me the opportunity to try these!
So, what do you think about some of the products out there for fitness? What have you used? What worked? What didn't?
Never miss a post! Subscribe here for all kinds of crazy parenting fun!