With a family as big as ours, we can go through a dozen eggs in one meal. But I'm an advocate for hot breakfasts as much as possible, and while eggs are super-easy to prepare, it's a double-edged sword, because of the fact we have a big family, because it can cost us a lot (particularly since we eat only organic eggs).
My resolution to this egg debacle? Egg Sandwiches.
Simple. Easy. Enjoyable.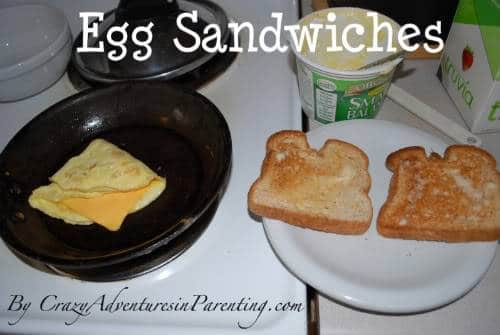 All you need for this breakfast-party is two toasted, buttered pieces of bread, one slice of cheese one scrambled egg (per person), and a good omelet pan to prepare the egg in (an omelet pan, by the way, is also called the small saute pan- should be 8 inches in diameter). Seasoning, too, if you're feeling fiesty.
While the toast is toasting, heat up that pan and make sure you've got it good and buttered, or sprayed (if you fancy that spray-stuff). Ensure the pan is good and hot, and pour on in the scrambled-egg-goodness, making sure it's completely even all the way across. Let it bubble.
Butter that toast when it comes out (your kids will thank you, trust me) and grab a spatula when it appears the egg is almost cooked on top, scoot the spatula underneath, and flip.
Yes, you're making a circle.
Yes, it will fit the bread, don't worry.
Grab that slice of cheese you have handy, and lay it in the corner, there (it might stick out a little, but that's okay, it's all going to the same place). This is already ready to go by this time (yes, it's that quick)! Now fold it in half, so that the part with the cheese remains on the bottom, then again in half, with the cheese still on the bottom.
See? You've done it. Pick that bad boy up with the spatula, lay it luxuriously onto that wanton piece of toast, cover it with the other, and be ready to be hugged by your kidlets. Like, A LOT. 😉
Never miss a thing! Subscribe today for all kinds of crazy parenting fun!