While we were in Disney, my daughter, Captain Obvious, came down with a fever. She had no other symptoms except she was cold. She eventually became tired and lethargic from it, so we took her back to the hotel instead of her feasting on pizza at CiCis. Within a day she was perfectly fine again, liquid ibuprofen went to work so she was still able to enjoy her vacation.
On Saturday, Super M came down with the same, mysterious fever. We already had the orange-flavored rescuer, so we gave him some and let him rest in the stroller when he felt "punky." After a brief nap he awoke ready to take on Epcot and more character greetings. Just like his sister, he was fine within a day – with no other symptoms, it left as quickly as it came.
Since returning on Monday, however, he's been coughing up a lung, or two, with each day becoming worse. (Have I mentioned how this place is evil?) Yesterday I took him to the doctor, as it appeared his asthma was getting the better of him. His pulse/ox was 88 (for you who don't know, it's the percentage of oxygen in the lungs that should be 95 and above, so his 88 isn't good). He has an ear infection, and raspy-junk in his lower lobes (of his lungs) so she declared it Bronchitis (although I beg to differ, and without an X-ray, I can't prove it). After 3+ hours battling the hospital, clinic and pharmacy I had his meds but not the nebulizer I requested to help him. (I am currently battling the hospital for it today).
To say I came home absolutely wiped is an understatement. My children waged an all out behavioral attack on me while at the hospital in ways no mother should ever experience when already being tortured by a long wait. I felt spent, I felt run-over, almost as though I'd gone ten rounds with a prize fighter. I literally slumped over on the couch and drifted in and out of consciousness as my husband arrived just in time to save the day. And by day, I mean me.
It became apparent, as my muscles screamed at me, my legs twitched, my body ached in ways I had almost forgotten they could that I, now, had "the fever." A fever that was owning me worse than I'd remembered it could. Ibuprofen to the rescue, but not before a long, sickly nap. What could be wrong with me? I harbor no symptoms, no cough, not anything.
My children arrived home with notes from their school about an unplanned early dismissal scheduled for today. Because of an impending snow storm coming. In Louisiana. Say what!?
This is what's forecast for the next 48 hours: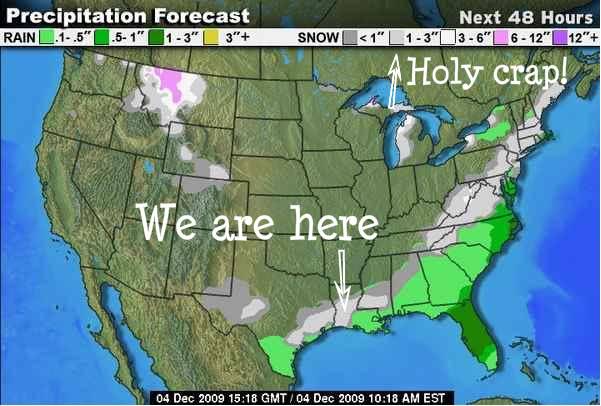 Snow? Here? Whoa!
I have to admit, I'm excited! I grew up with constant snow in New York. Nor'easters and I go way back, I have fond memories of my childhood and snow castles, snowmen and much more. My children haven't had that same fondness because of our living in the south, we haven't had much.
My toddler, Baby Sis, doesn't remember the last snowfall we witnessed in NY back in February 2007 (she was only one-month old), and my Baby Dude has never seen it, ever!
Despite my fever, I will still probably venture out to experience it with them. I can't wait to feel it, to taste those flakes, to snap shots of my children frolicking in it.
It doesn't matter how far away you move from the north, it still lives on within you.
Never miss a thing! Subscribe today for all kinds of crazy parenting fun!