I let the ferocious "momma bear" instinct get the better of me earlier when I became defensive on behalf of Shellie, as she fielded many attacks from those doubting and questioning her loss on Twitter.
It became simply too much to bear, I had to step away. How can people be so cruel in a mother's darkest hour? Speculate all you want, naysayers, wish for confirmation and verification if you do not know her and don't take her's and other's words at face value, if you are concerned this wasn't actually true (in light of this year's events, like Balloon Boy), but there was absolutely NO NEED to attack and vilify this mourning mother and hide behind your right to freedom of speech to accomplish it. Paint it any way you wish, but it's hate, pure and simple.
Do not forget they sent her husband home from fighting to protect that very freedom you trampled on in order to mourn the son you doubted had actually passed.
Things I wish I wrote about this subject:
"Why is tweeting for prayers any different than picking up the phone and calling friends or family?" – Greg @ TellingDad.com
"A mother who has lost a child is entitled to ask for medication, run around naked or quite simply, reach out to her network of support – even if they are online." – Danielle at ExtraordinaryMommy.com
Today, in lieu of my normal crazy parenting picture depicting one or more of my many children, filled with life and breath and beating hearts I have a renewed gratefulness for, please light a candle today in memory of Shellie's son, Bryson, and pray for peace for their family as they say their last goodbyes to his baby hair, his long eyelashes, his soft skin and small hands. May the warmth from the fire be felt by her, blanketing her in love and support during this trying time for her family.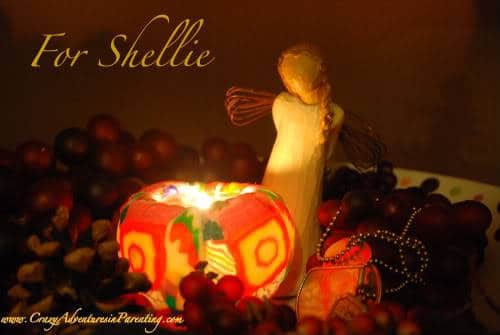 Never miss a thing! Subscribe today for all kinds of crazy parenting fun!