Words actually said by me:
"Baby, DON'T DRINK THE SYRUP!"
Something I actually did yesterday:
I nailed blankets to the wall, covering my front and back doors.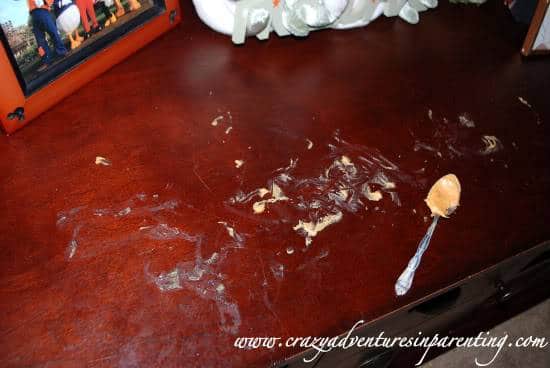 What the crap?
Strange places I found peanut butter this week:
On my entertainment center
Smeared onto the toilet wand
Unbelievable as that sounds, yes, I did in fact say that, right after I found an empty bottle of $4 organic syrup and a sticky toddler. I guess chocolate chip pancakes weren't sweet enough. Ick.
And yes, I did use gigantor cement nails to put up thick blankets to help keep the horrific drafts out of or house, as flurries swirled outside, and noses began running as if on cue. Our uninsulated southern home was leaking in cold air horribly, and something had to be done. The temperatures were reaching the single digits and our home would not get warm.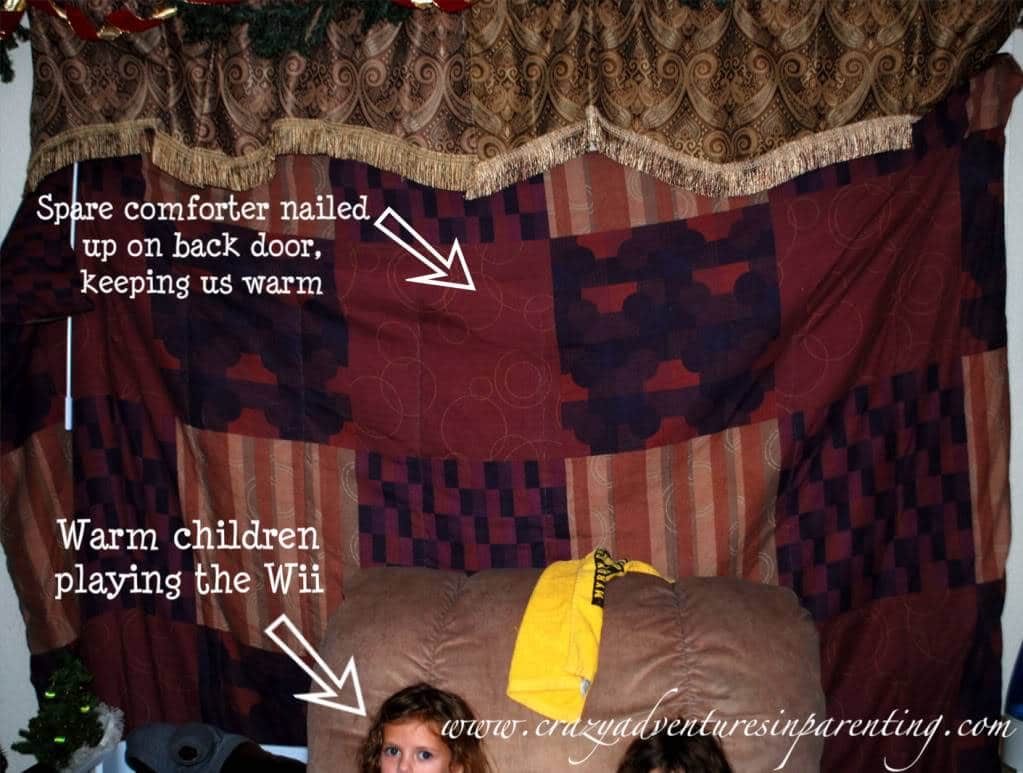 Nevermind the Christmas decor you see here. My kids have been sick, yo.
And um, I have no explanations for the peanut butter, other than my children love peanut butter (like me), and are freakin' gross (so totally not like me). Unbelievable. And? Ew.
Just as unbelievable as the fact that I've done 238947238492374 loads of laundry, rewashing about half due to PukeGate 2011, as well as coming home with some sort of illness both times I shopped at the grocery store (the first was the aforementioned virus, and yesterday morning I woke up with (what I thought was) Pink Eye (despite my bathing in antibacterial lotion before/during/after the trip) (turns out, I either killed it in a day using the saved remedies, or it wasn't Pink Eye after all) (thank God).
Every text message to my husband is an update of something else gone wrong. It's exhausting and laughable and oh, ever-maddening. I have a headache the size of Texas and my toddler fell asleep on the kitchen floor waiting for his "HAH DAWDS*" to be ready (*Hot Dogs in Toddler-speak).
I almost wanted to curl up next to him. On the kitchen floor. Anything for a nap.
And then comes the news of no school and the entire post being shut down. An ice storm was coming. An ice storm in a place with no salt trucks, no plows, no winter preparation. I had hoped for at least snow, for snow angels and snowmen and snowball fights and things to occupy at-home kids. (and parents, who like that sort of thing. Ahem.) Instead, we woke up to this:
As beautiful as it is, encapsulating everything in glass-like ice, the kids can't play in it, forcing us all to remain cooped up indoors.
But hey, at least we got to sleep in an extra day, huh? Sigh.
(P.S. My husband flies home tomorrow night. I pray the roads have melted, and are safe for his hour-long drive back from the airport. Will you keep his safe return home in your thoughts and prayers for me, please?)


Never miss a thing! Subscribe today for all kinds of crazy parenting fun!