Nothing says "We're home!" like kids and husbands puking. (We've got skillz, friends.) Needless to say, all are on the mend, but damn, was that ever a not-so-happy end to the wonderful time we had this weekend.
Won.der.ful. Oh my gosh!
First things most importantly first – I want to thank Amy, Susan and Janice, Jennifer, Laura, Leanne and Maria and everyone who made this weekend happen. Thank you all for creating a wonderful conference and blessing me and my family with the ability to attend this amazing event. After choosing not to try to attend last year, and seeing all we missed out on, I vowed to try to make it happen this year for my family, and feel so very lucky and grateful to have been given the opportunity to do so! It was an experience we won't ever forget, ever!
My plan, here, is to write about everything we did and experienced: the good, the bad, the gorgeous, the ugly, and the sickly! (Yes, unfortunately, the sickly, too!)
To properly set the stage for all of this, I must confess that, while this was still a surprise trip, it was unlike my family's First Disney trip (our first trip was a surprise that announced itself as we turned the corner at Walt Disney World). This surprise was a Christmas gift I gave my entire family (yes, husband included) that was their last present to "open" on Christmas morning. Inside the box I gave them was their Mickey Ears from last time, a photo album, and a note that said "SURPRISE! We're going to Disney World March 2011!!" (I love sneaky surprises, don't you? Heh.)
This was a two-in-one gift, actually. This conference was being held March 17th-20th, and March 20th is my husband's birthday! His 33rd, in fact. (Odd fact for you: we both spent our 33rd birthdays either on our way to or coming back from Disney. Strange how that worked out, huh?) And yes, I made my husband wear a birthday pin. He was accosted by each cast member who wanted to wish him a happy birthday, and given a chocolate mousse cake at Brown Derby that night, too. Happy Birthday, Husband-type Person! 🙂
Our trip to get there spanned two days – we left Wednesday, doing the bulk of our driving that day, staying in Clermont, FL, aching and sore from such a long trip. We had anticipated getting up, eating the hotel's continental breakfast and getting to Disney in time to check-in and pick up our conference tickets to hit the parks early. That didn't necessarily work out. Once we got there (and I hugged Sarah who I spotted in the parking area), we found out  firsthand parking also was super-booked, with the self-parking lot being full. After about fifteen minutes of desperately wanting out and to have fun, we opted for valet parking at $12 a day (which ended up being the absolute perfect option – we had access to our car whenever we wanted, and it was closer to the hotel, too). Another thing that worked out perfectly? Running into Katja and family at conference check-in! We introduced our families and decided to eat lunch together at the Grand Floridian Cafe before hitting the parks. We were all famished!
After waiting only a few minutes for them to set up tables for thirteen people, we noticed several bloggers and their families were already there, like Stacie, Christine, and Andrea. It was so wonderful to see and hug them all again! Katja's family, along with ours, were split between three tables (my oldest got to sit all by her teenagery-self and people watch). Our collective (younger) children sat around an adorable circle table and got along famously well, while we adults rocked a four-top table by the window, and got chatty over drinks. We were awestruck at how the kids hung out and spoke to one another like they'd known each other forever – like peas and carrots. We got remarks at how well-behaved they all were, too! (Always does a parent's heart proud to hear that!)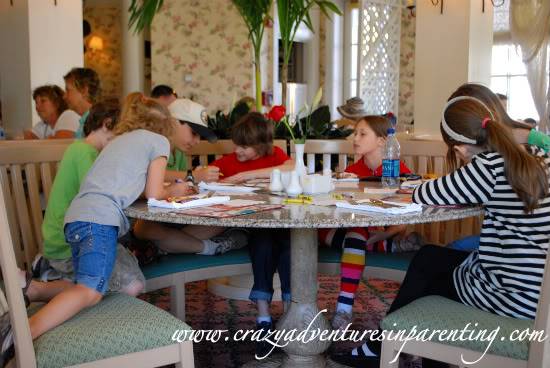 Our kidlet crews together
We ate the most wonderfully decorated food, and unique, too! Take a look at my husband's burger (Katja's husband, Matt, ordered the same thing, too) – it's called the Grand Floridian Burger, with asparagus and lobster on top! Wow! (I will have a separate, entire post, all about the gorgeous Disney World food we ate while there!)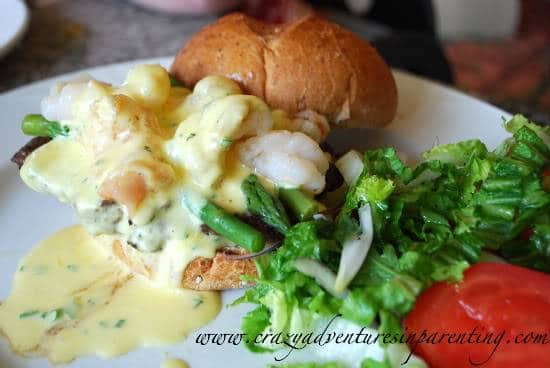 Grand Floridian Burger: Angus Chuck Burger, Lobster, Asparagus, and Horseradish-Chive Hollandaise served with Tomato Salad
Once we finished, it was about 3pm and, from what our itinerary told us, this was the time we were told we could check-in to our rooms. Katja and others had been smart, and had already checked-in. I, however, not so much. As I made way over to the check-in area, I noticed many other bloggers (Amy and Kelby) trying to do the same as I. After all, we had an event in an hour – a wedding event to attend! As I was seemingly breezing through the check-in process, admitting to the cast member I should've done as others had done, in checking in a while ago, it happened. I seemingly BROKE the COMPUTER. (Yup, that was totally me!) It isn't like I took a sledgehammer or bat to it Office Space-style, or anything, but I just have that kind-of luck, I presume, because she tried to print the cards to our rooms – no dice. Couldn't get access to my room number, or anything, nor could ANY other cast member! I killed the hotel computers with my presence! You know I'm the black widow of computers – behold my evil powers! Ha!
The hotel handled themselves as beyond professionally. They accompanied me while giving me access to my bags at the bellhop station, so that I could get my families swimsuits so they could partake in the pool while I waited for the computer situation to be straightened out. Also, I desperately needed my phone charger, as it was already dead! Every person on staff was wonderful, smiling, helpful, eager to please. I appreciated that in what could have been a stressful situation. In that time I waited, I put Baby Dude down for a nap, propped him up comfortably in his high chair, and proceeded to tweet (once I had enough of a charge) that I'd most likely be late or miss the wedding event, since I had no room just yet. As soon as my kids came back bathing-suited-up, it was just like that, BAM, that the computers were back up, we were back in business and we had our room!
Having our room, though, did not mean getting my clothes instantly. The lovely bellhop did his best, though. That computer did a number on his ability to make deliveries, too. We thanked him when he finally showed as we tipped him, and I got started on getting ready for my event while my children went to splash around in the lovely pool below us (and I won't lie, I was totally jealous. That pool looked wickedly inviting). Here was the view of our wonderful room on the fourth floor of building eight:
Finally dressed, hair done, make up applied and ready to walk out the door at 5:45pm (not to mention highly late for our wedding event/welcome reception), my children walked in from the pool, soaking wet, eager to get to dinner with rumbling tummies. I chose to stay to help my husband dress my little critters in their Sunday, uh, Thursday best (and who am I kidding, I'd never make the event in heels 11 minutes away, anyway). As we headed to our beachside party, greeted by lovely cast members decked out in old-fashioned attire, we were welcomed by the amazing smells of the food, beckoning us to come and sit and enjoy.
I hugged many (Kim, Sandy, Toni, Andrea, Amanda, Danielle, Maria, Shellie…), smiled and waved at many more, and reacquainted myself with friends old and new, while meeting everyone's families and enjoying the beautiful atmosphere and delicious food. Characters kept making their way into our celebration, and Baby Dude had to go hang out with them constantly. Kids built sand-castles while adults enjoyed almost kid-free time. So far, Disney was proving to be quite magical.
After our scrumptious dinner and copious amount of grown-up time with friends, we made way over to Magic Kingdom for the evening fireworks. We got there superfast with the monorail stop right at our hotel, arriving just in time to see the fireworks go off. Last time we came, Baby Dude was scared. This time? He loved every second! Between his amazement, and hearing the classic Disney song "When You Wish Upon a Star" with perfectly timed fireworks, with Tinkerbell flying through the air, I tweeted that I was crying, and I totally was! What can I say, Disney can move me to tears.
Because we missed out the first time we visited Disney as a family, the kids (and hubs) rode Space Mountain and the Tomorrowland Speedway while I waited with the littles, but Super M wasn't feeling to well. His asthma was really flaring up, and he was in need of another machine treatment, despite getting one before we ventured to Magic Kingdom. Florida's pollen, it seems, was too much for my little dude's body to handle. Little did we know what was in store for us next…
Day 2 all aboard!
Disclosure: As a participants in the 2011 Disney Social Media Moms Celebration, we received reduced rate park passes and hotel room for my family as well as other perks, including private parties and events, while receiving several gift items.
Never miss a thing! Subscribe today for all kinds of crazy parenting fun!