The night before, I had found a fellow conference-goer who wanted to run at Disney World. Her name is Krista (@kristalswan on Twitter) and, after connecting on Twitter about meeting for a run before the conference, we met at the registration desk downstairs at O-dark-thirty (6:30am) Friday morning. The air felt a bit cool (being it was still dark outside!), but once we got going, we were just fine in more ways than one.
It was marvelous.
Watching the sunrise over Disney World and the castle against the pink sky! Oh my gosh!! Seeing the sights, everything was so quiet, except for our conversation, the music you hear in the distance (at Magic Kingdom, no less!), as well as the whooshing water sounds coming from all the sprinklers busy watering the well-manicured grounds around us (we had to duck a few times!). We ran to the Polynesian resort, around it, and back again – 2.25 miles. Ma-gic-al! Thank you, Krista, for making my first time running at Disney World such a wonderful experience! It was wonderful to meet you!
I returned to cool off, rehydrate, clean up and get ready for the day. My family was going to be traveling to Animal Kingdom without me while I enjoyed breakfast, lunch, and conference time with my friends, listening to speakers, and connecting with fellow bloggers. Little did I know how wonderful and different it was going to be!
I joined Toni, Andrea, Briana, Crystal, Amy, and Sami at our prompt 8am breakfast at Citricos. Toni is such an inspiring person, folks. Let me tell you, she took a bite, looked at me, and asked me, "So what's next for you, Lisa? For you and your blog?"
And I clammed up.
It was crazy. I had no idea how to respond to that. I mean, I did, but she really gave me pause. I'm really excited by the prospects before me, and things going on, but there was something so centering, so focused, so career-minded about her pointed question. We had a great talk, her and I. She centered me in a way I hadn't realized I'd needed centering. (And, she tweeted about our talk at breakfast together, too.) I am grateful for her, and my friends. (More on that soon.)
We gathered at the conference hall where I hooked up with Katja, my good friend and comrade-in-arms all weekend, and we made way to a table almost in the corner and sat comfortably with cups of coffee in hand and bags of Truvia on the table. We're die-hard fans, folks. I tweeted our little Truvia party, too.
Our introduction to the conference portion of the event was made by Meg Crofton, President of Walt Disney Resorts. She had some wonderful insight into the enormity of Disney World. A great recap of her speech can be found here, by Vanessa.
First up to speak, Matt Jacobson, Facebook's eighth original employee and Head of Market Development. A great recap of his full speech can be found here. My favorite part, other than being blown away by bloggers asking him questions they'd never considered before (Ha! Go bloggers!), was when he wowed us with some amazing stories they're now collecting via stories.facebook.com. Here's one of them (video) – the 93 Dollar Club (their Facebook page). Watch the video!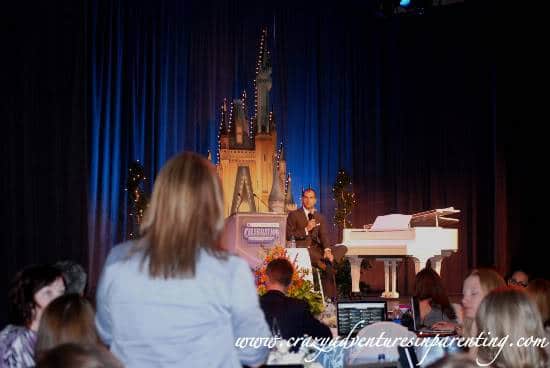 Andrea asking him about monetization for bloggers using Facebook – yeah baby!
Formerly of the CBS's The Early Show, Author Rene Syler from Good Enough Mother was next up to speak, and I must tell you, she was awe-inspiring, and tear-inducing. She, too, teared up on-stage as she spoke about her experiences. Notable quote, "In December I said goodbye to my TV audience, and in January I said goodbye to my breasts.." as she spoke about choosing a double-mastectomy with a long history of breast cancer in her family. She went on to speak about the ups and downs she experienced since, and how the most unlikely things happened to bring her where she is. She was one of the best, most engaging speakers I've ever encountered. We were all so impressed, we made her a worldwide trending topic on Twitter! When she finished, we gave her a standing ovation at the end, and I don't believe there was a dry eye in the house. Here is her recap of the experience and Christina's liveblog of her speech. How could you NOT fall in love with her?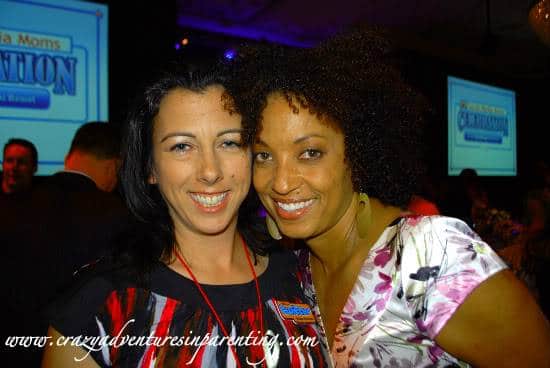 I need more Rene in my life. Think she'll mind if we move next door?
In between sessions, the folk at Disney had been giving away special gifts via raffle tickets given on conference entry that morning. This time, however, the Fairy Godmother herself came out to give away the "big one" – a night in Cinderella's castle. And, the winner is… Andrea!! Ahh! She hopped all the way on stage, I was so excited for her (and jealous – dude, we're talking Cinderella's castle, yo)!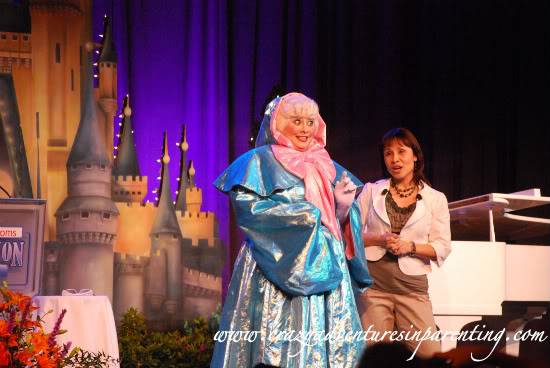 Fairy Godmother giving away magic!
At this time, they polled the conference goers for their favorite Disney memories. One woman went on stage to give her answer, rambling almost incoherently – it was strange! Turns out, it was a gag – she was a surprise speaker, Fran Capo, fastest woman talker (in the Guinness Book of Records five times), published author and comedienne. And boy, can I ever attest to her fast talkin'!
Hugs and picture time with the lovely MJ Tam!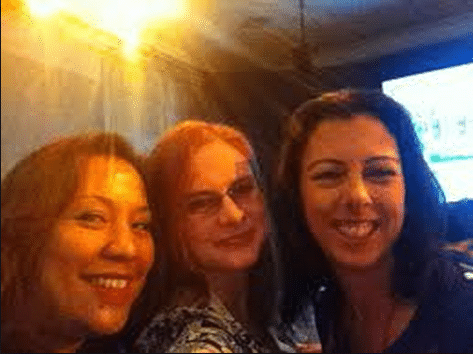 MJ, Katja and I. Aren't we cute?
At this time, it was time for lunch back up at Citricos. Katja and I grabbed a sunny table by the window and enjoyed eating and chatting while catching up with passers-by and occasional stoppers-by (like Molly, Amy and Christine). Our long lunch was wonderful as we brainstormed and laughed – Katja is such an inspiration to me! While we enjoyed the sun and atmosphere, we ate even more beautiful, delicious food, and drank more coffee (naturally). Before returning to the conference, though, my phone was dying, so I had to run back to the room before the next session started.
I arrived late back to the conference, as Chris Brogan was already on stage speaking. After awkwardly crossing the room mid-speech (Hi, Chris! Yes, that was me!), fumbling to get my phone jacked in, and attempts to get my bearings after quite a filling and sleep-inducing lunch, Katja caught me up a bit just as he began talking about his C.R.A.P. acronym he uses for blogging success. I felt a little lost and out of sorts around this time, to be honest. I tweeted about the Duffy bears we were given upon return, how comfy they looked. Little did I know, I had a massive headache brewing, and this was my body's way of forewarning me. Uh oh!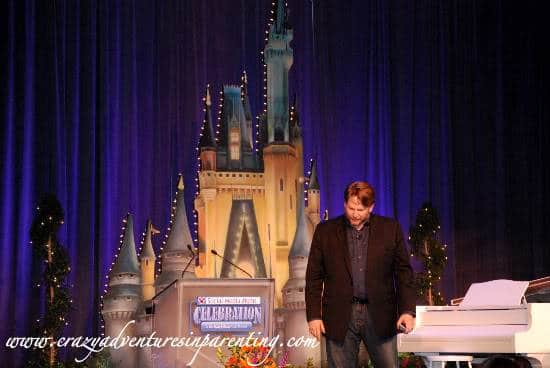 Chris Brogan talking C.R.A.P. on stage. Ha!
To liven us up some, we were treated to glasses of champagne being passed around the room to the tune of "Be Our Guest" from Beauty and the Beast (video captured by Katja). I thought this might help perk me up,  but in actuality, it only brought on my headache worse.
Which didn't make our next speakers the easiest to enjoy. Georgia Stitt and Susan Egan, both famous for their roles in the music and Broadway industry, came on stage to delight conference goers in singing us many songs they co-wrote while speaking to us in between. It was unfortunate that my headache grew to an unspeakable level right at this moment in time, and their singing felt excruciating to my brain. (No offense to their talents, migraines are just a misery.) It didn't help matters any that the volume in the conference room wasn't dialed down while they sang, either, to compensate for their obviously powerful voices in no need of amplification to such a degree. I tweeted an SOS for pain relief. Thankfully, Briana had a bottle of ibuprofen at the table next to me, my hero! I don't think I could've endured walking across the room to Colleen, Stacie's or anyone else's offers. (Stacie, that stinker, wanted me to funky dance for her in return for her Tylenol. I'll get her for that one!)
One of the highlights of Susan and Georgia's performance was Susan singing to the Hercules scene in which the character she lent her voice to, Meg, sang in the movie. It was a great live performance while we watched the movie play on screen.
Susan then showed us a video montage of her time spent as Belle from Beauty and the Beast on Broadway. Fascinating to see the behind the scenes stuff – she's so gorgeous! Georgia and Susan then capped off their time on stage with their version of "The Mom Song" – hilarious! You must watch (video captured by Vanessa)!
The conference portion ended here, and it was now "free-time" to spend as we wish for a couple hours before we would rejoin everyone for dinner at Hollywood Studios at 7pm. Unfortunately, I was still feeling the effects of my headache, and ended up going back to my room for a bit, trying my damnedest to see if they had any appointments available for a massage. Unfortunately, after about almost ten minutes of waiting for someone at the spa to answer (was on hold listening to a recording), I hung up and decided to make way to the Grand Floridian main building and hit that spa shop, Basin White instead. I purchased many goodies with which to help me, to include this lovely foot massager I feel might double to massage my aching calves after running, too. (I must mention, with all the walking we did all weekend, this foot massager was the best thing EVER to come back to the room and use!)
My family, all this time, had been visiting Animal Kingdom, and were on their way back to meet with me. Once arrived, they got dressed, and we set off to meet up with everyone and catch a bus to Hollywood Studios for our private Disney Junior DJ Dance Party and Dinner on the set of Lights, Motors, Action! Freakin' cool!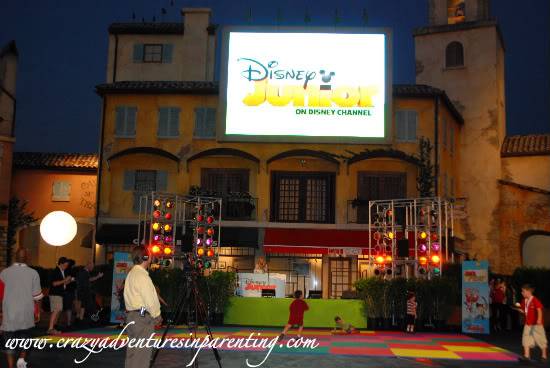 The dance floor stage set up – how awesome!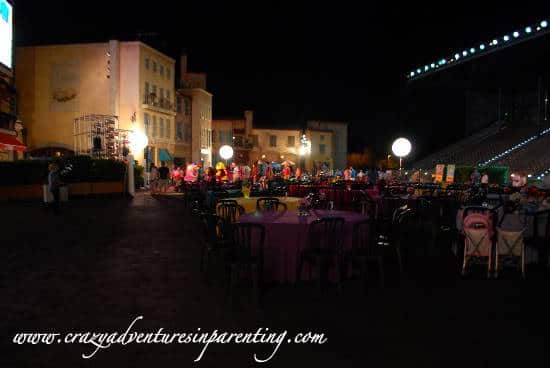 The gorgeously decorated and colorful tables
While we ate, we were given the chance to hear about how fast Disney Junior (formerly Playhouse Disney) has grown during it's rebrand the past four weeks, discussing it's hit shows like Jake and the Neverland Pirates and characters came out to visit and dance with the kids! The kids went crazy (and the parents were eating it up)!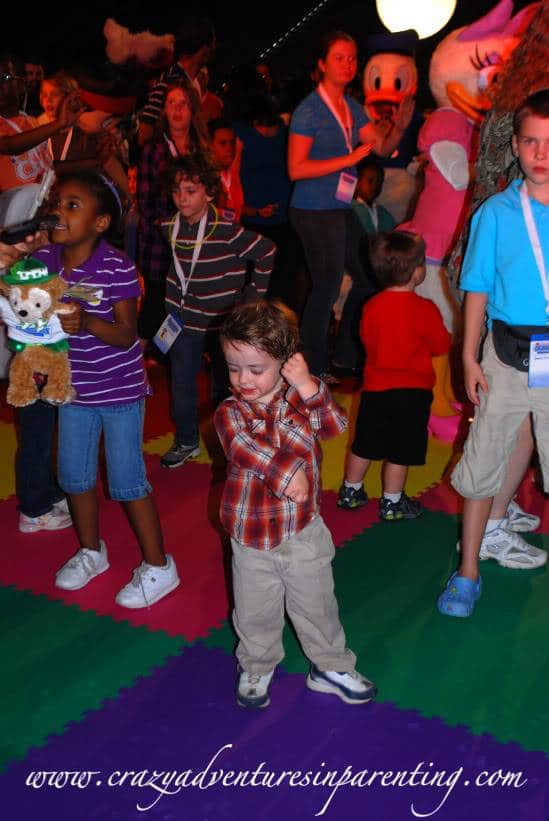 Baby Dude and three of my other children gettin' jiggy with it!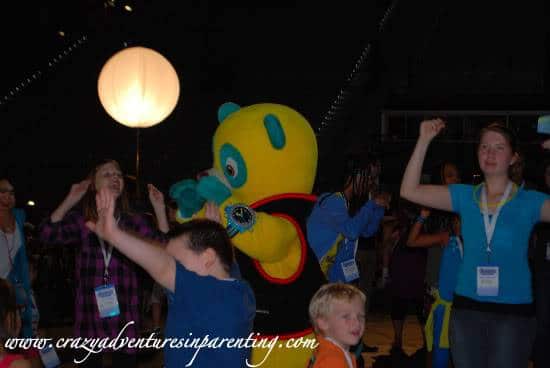 Secret Agent Ojo liked my older daughters. They Do-Si-Do'ed a lot.
Here are some videos I took of our dance party!! Shake it!
My three youngest were given some cool
Disney Junior
gift bags as we left. We made it back to the hotel in time for my older ones to hit the pools with hubs for some night swimming while I stayed behind while my younger ones colored and fell asleep (yay dance party, thank you!). I was still plotting to join the live
DisneySMMoms
Twitter Party
on
MomTV
going on that night, and drink some blue drinks with Maria,
Shellie
, Amy,
Shannon
and crew, but I wasn't sure where everyone was, and ended up deciding to stay in the room and getting some much-needed sleep after such a busy day. I mean, can ya blame me? Those comfy
Grand Floridian
beds were a-callin' me!
Besides, we had a REALLY big day ahead tomorrow….
Disclosure: As a participants in the 2011 Disney Social Media Moms Celebration, we received reduced rate park passes and hotel room for my family as well as other perks, including private parties and events, while receiving several gift items.
Never miss a thing! Subscribe today for all kinds of crazy parenting fun!