Who wants to win a new fridge?! Ahh, I feel like Oprah! Stay tuned, details on how to win are below.
Living a (mostly) all-natural and organic lifestyle isn't just limited with food, cleaning solutions and personal care products, but it also involves water, too. Tap water nowadays contains chlorine (to control bacterial growth), lead (from old piping), and so many more (gross) things you wouldn't want to ingest on a daily basis (ew).
When we lived on post in North Carolina, we used water delivery services, which got quite costly. On post in Louisiana, we dabbled with water delivery there, too, and unfortunately, it was even more expensive! We turned to purchasing gazillions of gallons of bottled water from the commissary, which didn't cost nearly as much, but took up massive amounts of room in our super-teeny house, plus we recycled so much plastic, it was ridiculous.
We tried those filtered pitchers and faucet-mounted gadgets, but they never lasted, and didn't offer cold water at-the-ready when we wanted it. After all we experimented with, we knew there had to be a better way to get great tasting filtered water in our home.
Upon moving to Texas and purchasing our own house, we told the builder we only wanted black Whirlpool ENERGY STAR appliances installed, leaving us to purchase a new refrigerator from the store on our own. We chose black appliances so that it wouldn't show so many finger prints (having learned our lesson over the years with white ones from military housing). Another of the must-haves we had on our list was an icemaker/water dispenser in the front of our black side-by-side fridge. We thought we were going to have to purchase a filter for the input water line at the back of the fridge, but, as we perused what Whirlpool offered at Sears, we were thrilled to discover they offered PUR water filters installed in their refrigerators! Fanfreakintastic!
Here's our pretty new fridge. We chose this textured fridge because it shows even less smudges than ones with a smooth surface. Can you tell we have kids with all the stuff on it? Heh.
We are thrilled with how much we can fit into this refrigerator. As I'm sure you can imagine, with how big our family is, we need all the space we can get. 25.1 cu. ft. works perfectly for us. Those gallon-sized adjustable shelves in the door are no joke!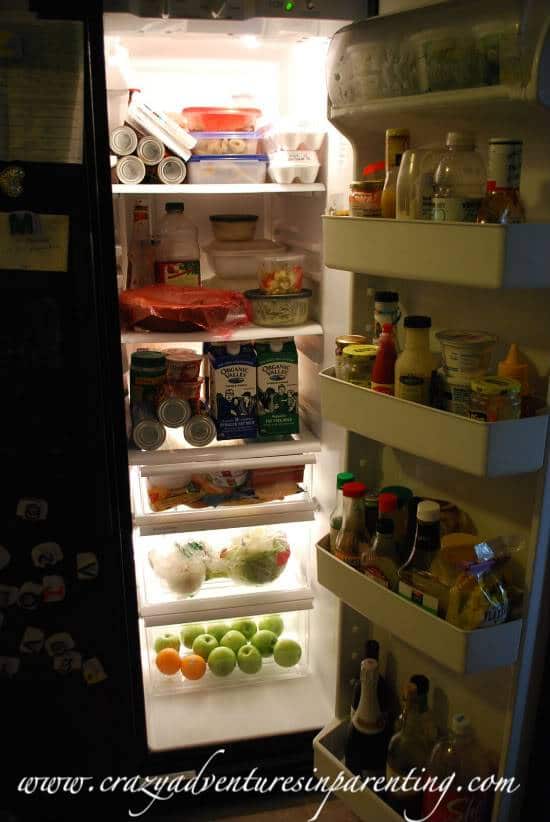 As if you couldn't already tell, we have a big family, and that requires A LOT of food.
The shelves are huge and adjustable as well as being easy to clean, too. I love that you can see-through the shelves, so you can see the products above and below, in case you happen to be missing something. (I mentioned they were huge, right?)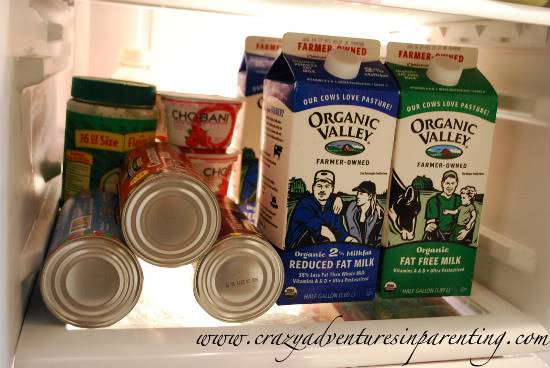 Shown here are only four half-gallons of milk, but you can see there's still room for a third row of milk there.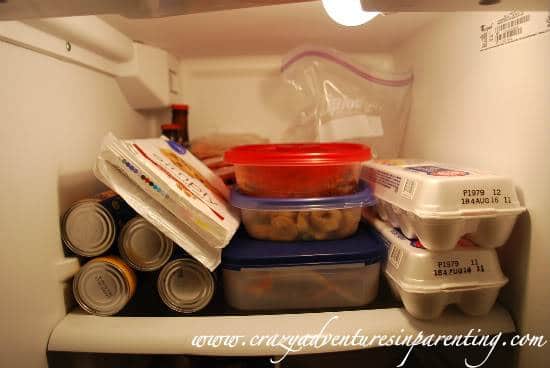 This top shelf is set on the second setting so we can stack tall things on this shelf. This shelf easily fits four cartons of eggs, and a lot of leftovers.
The drawers are super-capacity, which we need. We have a lot of cold cuts, cheeses that we need in the smaller drawer. The bigger drawers we divide into vegetables and fruits with individual moisture controls (which I love) that are see-through so you can easily find what you're looking for. Clearly, we need more veggies and fruit, though. You can tell how much room is left.
Above the fridge side is the PUR water filter indicator, making it fool-proof in remembering when to change the filter, it let's you know! Whirlpool's website recommends you change out your filter every six months, but I like the indicator, because it's able to gauge based upon our usage when it needs to be swapped out for a new one, especially considering the size of our family and how much water we consume daily. Cool, huh? And it's super easy to replace, too.
Important note: The replacement filters are available at Whirlpool.com, and during this Water Filtration month you can get free shipping and save 15% on one filter using code JULYH20, or 25% on two or more using code MULTI25. You can buy one filter at a time, or use Whirlpool's Replacement Program and set yourself up on an autoship replacement program, so that it's automatically mailed to you around the time you'll need it. Cool, huh?
I absolutely love the fact this fridge not only filters water, but the ice as well! It offers cubed or crushed ice, a cute little light to see what you're doing, oh, and fits pots under there so you can fill the water directly into posts to cook with! And for those of you with little ones who like pressing buttons and dispensing water and ice on the floor, it locks, too. Ahem.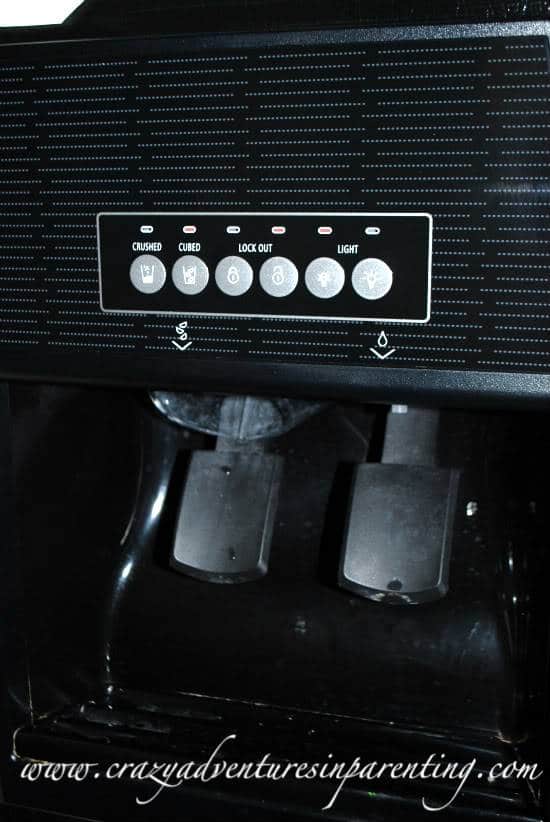 The kids can be a little messy with pouring their own water all the time 🙂
And the freezer surprises me with how much it holds! This freezer currently contains 3 cartons of ice cream, 2.5 big bags of tater tots, a bag of fries, around 20 miscellaneous bags of veggies (15 in the drawer at the bottom alone), two whole chickens, 5 packages of assorted fish, a carton of Bubba burgers, 2 packages of ground beef, 2.5 packages of corn on the cob, a package of sausage, 3 pounds of ground turkey, 3 packages of bone-in ribs, a huge package of fishsticks, 3 bags of chicken nuggets/patties, a package of chicken breasts and 3 bags of raviolis. And yes, the freezer closes. Heck, I have room for more in there, as you can see! Can you believe it?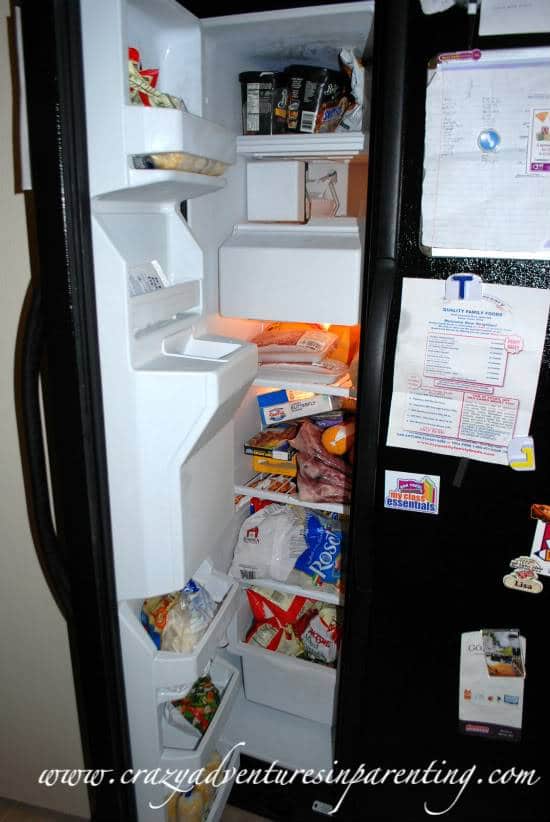 The door only opens this far because it's so close to the wall. We can still get in easily enough.
And all of that fits even with the filtered ice-maker in the middle!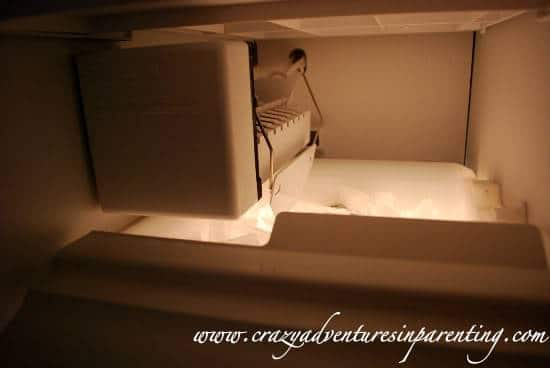 The only downside? When your kids mess with the ice-making handle (you can see), it takes almost 72 hours to fill the ice bucket back up.
The moment you've been waiting for! Here's the Twitter Party details! To have a chance at winning a brand new Whirlpool Fridge with PUR Water Filtration, simply RSVP in the comments below with your Twitter username and attend/participate in our Twitter Party on Tuesday. One participant at the party will win the shiny new fridge shown below! Woohoo!
HOLY MOLY!
Are you as excited as I am about this!? What do you currently do to provide filtered water in your home? And what features are important to you when looking for a fridge? Tell me in the comments below!
Disclosure: Compensated campaign with Whirlpool. Fridge discussed was purchased ourselves. All views expressed are my own.