This was Baby Dude's first big-deal birthday party, where he was old enough to realize everything happening. He'd been talking about it being his 'birt-day" for weeks now, but doing all of THIS? This was HUGE to him.
As huge Toy Story fans, we've amassed quite a collection of Toy Story paraphernalia. We broke it all out for this shindig, and set up his play set action figures on the table as decorations.
We hung color coordinating ribbons, and hung dangly ceiling decor with a huge helium Toy Story balloon from Party City.
I flipped my two-tier centerpiece and aligned Buzz Light Year, Woody and Jessie to hug together in the center.
To create the "Andy's Bed" cake shape, we needed to bake it in a 9×13 pan, and make some gingerbread dough to roll out and cut into the shape of the headboard. We then cut out thick "pillows" from the dough, and, with the excess dough, we created cut-out cookies in Disney shapes. Can you guess who?
I may or may not have gotten flour on my pregnant belly in the process. Whoops!
Meanwhile, I was busy at work creating the homemade "Pizza Planet" pizza for the party. I used pre-made dough, organic pizza sauce, and made cheese pizza, sausage pizza, and sausage with peppers pizza.
Time to sing!
Here's our all-natural finished product – our Andy's Bed Toy Story Cake! A from-scratch made vanilla cake made with homemade whipped cream icing, gingerbread headboard and pillows, and melted-then-frozen chocolate chips, cut into pieces to signify the cow design on Woody's vest, topped off with a miniature Woody and Buzz on the top, and a number three candle.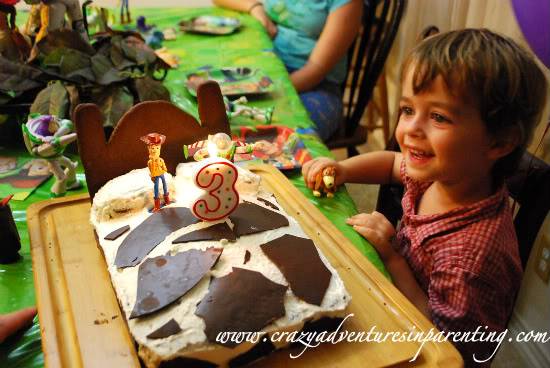 The headboard was secured with metal barbecue skewers. Neat, huh?
The cake was so delicious, Woody tried to crash the party, but he missed.
Silly Woody!
Happy Toy Story Birthday, Baby Dude!
Have you ever done a themed party like this? What did YOU do?
Never miss a thing! Subscribe today for all kinds of crazy parenting fun!