In order to prepare the two toddlers for our new baby, I felt the need to celebrate the momentous occasion with some new little babies of their own to play with. Constructive Playthings sent us over their Basket of Babies to play with, and my daughter has been smitten every since.
She insists it's a "girl baby" in my tummy, and prefers carrying the pink one over the others, pretending it's her new little sister, but won't relinquish the basket to her baby brother (much to Baby Dude's dismay). So much so, she grasps it, tightly, in her sleep. See?
One of these days, he's going to be able to play with some of them, too. (I hope!)
I'm particularly pleased that these babies are soft (as in, PLUSH soft. Like a teddy bear). They're pretty nice to cuddle up against, and hold in the crook of your arm. The only snafu I find with these is that they are surface clean only. As a mother to children with constant peanut butter fingers, I would've loved the ability to wash these in my washer and dryer.
Win it!
With Christmas and the holidays coming, and visions of kids toys dancing around in your heads, I thought it'd be fun to give a set of these babies away to one of my readers. They really are cute, and soft, and perfect for sharing (except for my daughter, that is).
Mandatory entry:
Click on the CP Toys Button below and take a look around the site. Come back here and leave a comment, telling me what other items interest you. Byclicking this button, you will receive a 15% discount off your entire order, should you decide to order. (And why not! Lots to see and contemplate for upcoming gifts – like numerous play-sets, children's educational toys, and even a play kitchen or two that might strike your fancy!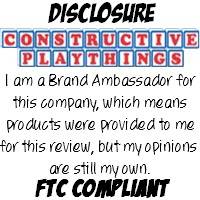 For additional entries, you can tell me more about some of the products you found there that are of interest to you at Constructive Playthings by leaving additional comments. You can also follow Constructive Playthings on Twitter, subscribe to or follow my blog, follow me on Twitter, or share this contest using the buttons below. Please leave a comment for each additional entry you decide to do.
This contest ends November 4th at 10pm CST. Winner will be notified by email. Contest open to residents of US and Canada, 18 or older.
Never miss a thing! Subscribe today for all kinds of crazy parenting fun!