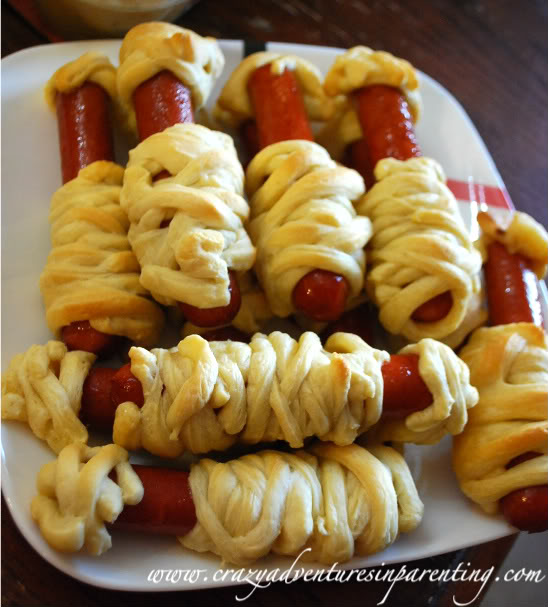 I'm a huge pigs-in-a-blanket fan, but cocktail weinies you often find are chock-filled with additives and preservatives, as well as the dough they use. We always buy Oscar Meyer franks that are all-beef and have no extra additives, preservatives and colorings, so we decided to create our own ghoulish creation for our Halloween, recipe inspired by Dawn at Party Bluprints, except we made whole hot dogs for our Halloween party.
Mummy Hot Dogs
1 pkg of Oscar Meyer All-Natural Beef Franks
1 pkg all-natural refrigerated crescent rolls (we used Immaculate Baking Co)
Unroll the crescent roll dough and cut each triangle into thin strips, wrapping each hot dog in strips to make a mummy. You can choose to cut out dough eyes, or leave eye-less (like we did).
Place onto a greased baking sheet and bake at 350. Cook 10-or-so minutes until dough is lightly browned and hot dogs are sizzly. Cool a few minutes before serving.
You can let the kids help you wrap, and don't be afraid of goof-ups. Mummies weren't wrapped perfectly, and your hot dogs don't have to be, either.
Have you ever tried making these for a Halloween party before?
Check out my other Halloween recipe posts:
Whoopie Pies with Pumpkin Cream Cheese
Mummy Hot Dogs
Ghost Pudding with Homemade Whipped Cream
Chocolate Pretzel Spiders
Spooky Alien Cupcakes
Never miss a thing! Subscribe today for all kinds of crazy parenting fun!