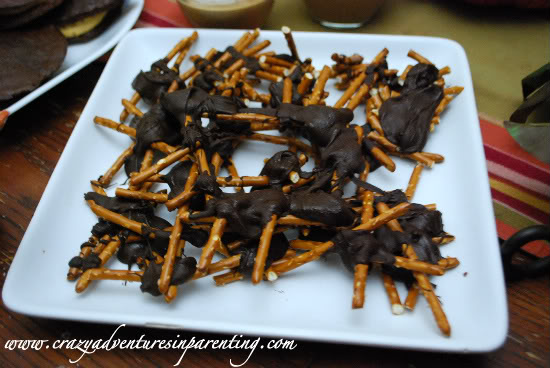 What do you get when you combine mini pretzel rods with melted chocolate chips drizzled on 'em? A fun Halloween craft for your kids, that's what!
Chocolate Pretzel Spiders
Bag of tiny pretzel rod sticks
Bag of chocolate chips
Microwaveable bowl
Tea spoon
Parchment Paper
Baking sheet
Open the bag of pretzels and spread out a handful or two on the table for the kids to grab. Rip off a piece of parchment paper the size of the baking sheet, and fold down over the baking sheet so it doesn't stick up.
Let the children arrange the pretzel pieces anyway they want on the parchment paper, to attempt to form spiders, and then have them drizzle melted chocolate chips on them to keep them together with the teaspoon.
While the kids are working on this project, go and free up some space in your freezer so that they'll rest flat. Once they're finished, keep 'em in the freezer until the chocolate hardens.
My kids had such an enjoyable time creating their Chocolate Pretzel Spiders and even more fun eating them when it came time! These keep pretty well in the freezer, too!
What do you think? Have you made something with melted chocolate like this before?
Check out my other Halloween recipe posts:
Whoopie Pies with Pumpkin Cream Cheese
Mummified Hot Dogs
Ghost Pudding with Homemade Whipped Cream
Chocolate Pretzel Spiders
Spooky Alien Cupcakes
Never miss a thing! Subscribe today for all kinds of crazy parenting fun!