I've written many (many) times here about my adventures in Mount Washmore, and my kindergarten ways to tackle it. Moving here to San Antonio was simply a God-send in so many ways. And one of those ways was deciding to sell our old washer and dryer and taking the plunge in purchasing a shiny new set.
We sold our old washer and dryer, just before moving, to a single soldier. It would do him a ton of good, being he's the only one he washes for, since those old pieces still had a ton of life left in 'em. But for our growing family? They weren't doing the job well enough. Laundry used to be a task I'd have to tackle everyday, and wash and rewash just to get it done to get the kids' stains and dirt out. Let's not forget to mention drying and redrying. It was a friggin' MESS, it was so tough!
I fell mildly in love with the Duet® set after hearing Katja talk about her "loving doing laundry." I heard a record scratch while I heard her say that – say WHAT? She LOVES doing laundry!?! Surely she can't be serious, can she? I hated doing laundry with the fire of a thousand suns!
And then I met the Whirlpool folks at the Mom 2.0 conference, and witnessed the Duet® series myself. We talked at length about it's features, and I was sold. Within a day or two of moving here to San Antonio, we bought the Duet® from Sears.
I wanted to cry as the Sears install guys hooked it up for us. We had a week's worth of laundry in bags in the back of our van (while we unpacked the rest of our house) and countless other things that needed washing from the move, too. I could not wait to put these babies to the test.
And since June, we sure have put them through the ringer (laundry pun intended). I wanted to be sure I used 'em for just about everything before writing about this set. Our huge king-sized comforter? No big deal. Our kids' clothes? No big deal. Towels? Jeans? Dirt? Stains? Stomach flu? (Eww.) These babies manhandled it all.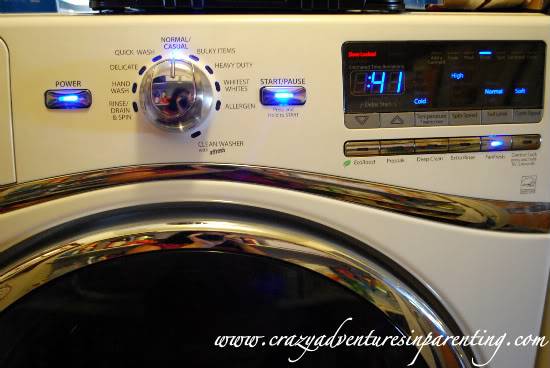 So many wonderful options to set your washer, including "Fan Fresh" which keeps air flowing until you retrieve your wet clothes, preventing them from smelling.
I have to agree with Katja, now. I love doing laundry (and no, I'm not on drugs). Yes, I know I have six kids' laundry to do, with two outfit changes a day now that they're in school. But it's no longer time consuming for me to do! You have to understand, this washer and dryer saves me time, money, and sanity. Using these machines, I'm only doing laundry 2-3 times A WEEK. THAT'S IT!
These units hold so much more in clothing that I'm able to bang out my laundry demands a couple times a week. And (!!) I wash them once, and they're done. Clean. Finito. No two or three times washing AND drying to get 'em done, over and over. Both these units are amazingly efficient and fast.
I love the dispenser for the HE liquid on the washer – not only does it help make sure the clothes are cleaned properly (by NOT putting detergent directly onto the clothes before washing), it helps me save money, too, not only in using less water, but less detergent as well. I bought the big refill pouch of HE detergent, to use less waste.
The dryer gets everything done in a flash, too, with many cycles to help me get my laundry done in no time. My "normal" drying cycle is 43 minutes, and it's good enough for my jeans and towels.
It tumbles everything perfectly, and to ensure it doesn't sit too long and wrinkle, I have it even set to something called "Wrinkle Shield" which tumbles it every now and again until I have time to unload it.
This dryer single-handedly give me the wonderful, endless gift of helping me to avoid using my iron. It's called "Quick Refresh" and it uses steam and heat to get out the wrinkles in clothing. If your kids are anything like mine, they shove their perfectly folded clothing into their drawers, and then look like ragamuffins when it comes time to dress for school. Hello, Quick Refresh to the rescue!
On top of this unit being energy-saving, I also use reusable dryer sheets to save money that way, too.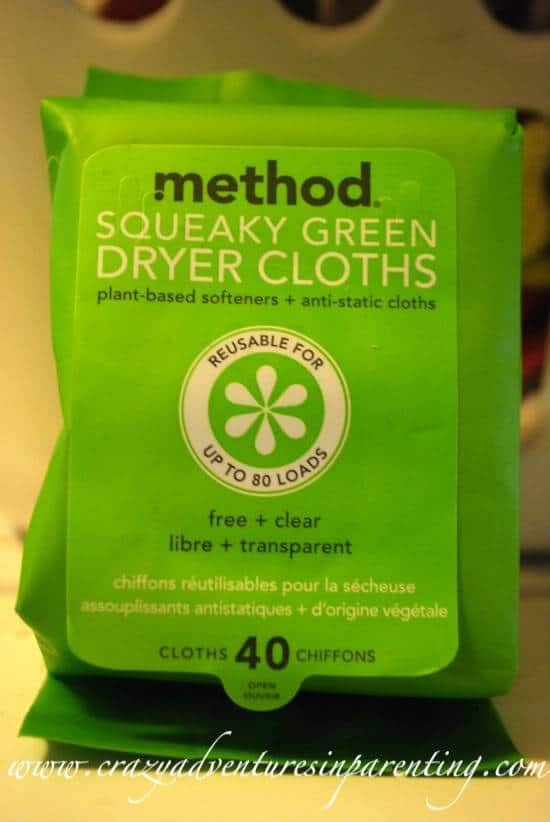 And once I'm through using them in the dryer, I give them to my kids to put in their drawers.
Each unit emits a sing-songy jingle to tell me that they're done, and to remind me to retrieve them if I don't get them right away. You can turn that setting on and off, but I won't, it helps me!
Because we don't have a ton of detergents or anything to use, and because my laundry room is just off the kitchen, in our pantry, I use the laundry pedestals for much-needed pantry storage, mostly for pans and baking items.
Another thing I absolutely love about this washer, it tells me when it needs to be cleaned. (If only ALL appliances had this feature!) The light blinks to tell me when I need to clean it using Affresh, and cleaning it is a breeze, since it has it's own Affresh cycle you set it to. Just set the tablet in and go, it does all the hard work for you.
I am grateful these machines have made my life that much easier, it helps me in so many ways, and I feel confident my children's clothing will stay newer-looking longer, and get washed thoroughly without mom banging her head against the wall with repeated attempts. I hardly have to use pretreat sprays anymore, saving me even more money saving, cha-ching!
The only "negative" thing I have to say about the Duet® washer is that the sing-songy melody it used to emit as I'd slide the button from one option to the next no longer sings. (I know, how silly is that? That's all the negative I've got!) I'm not sure how it happened, or if I accidentally turned it off, but seriously, in our five-plus months of owning these machines, and super-using it with my huge family, that is my only negative mark. It's handled everything I've thrown at, err, in it with ease.
This set has been a dream come true. Now, if only Whirlpool would get a "folding" feature, that'd be awesome. And maybe a "put your clothes in the hamper properly" feature.
Ahem.
Disclosure: Whirlpool sent me the pedestals, but the washer and dryer we purchased ourselves. All views expressed are my own.
Never miss a thing! Subscribe today for all kinds of crazy parenting fun!