She's not the prettiest thing in the world, but she sure is goood!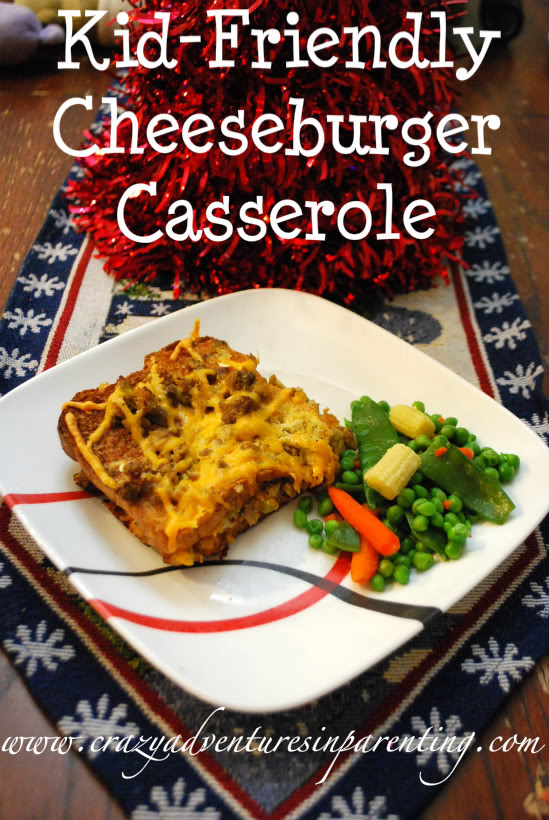 Cheeseburger Casserole "Toasty Cheese Bake"
Once upon a time, I was a kid and my mom ordered one of those old recipe card sets from a cut-out in a magazine. You remember those? For $9.95 and a self-addressed stamped envelope, you could own you're very own recipe collection, mailed right to your door! Who needed informercials or ads on the intrawebs, right?
One of the favorite recipes from the circa 1971 Betty Crocker card collection was "Toasty Cheese Bake" – essentially browned beef with cheese, egg, set in a casserole pan with spices and toast. Ridiculously easy, and ridiculously good.
See? Hella old.
Today, though, not only do I have to make at least double what the recipe calls for, I choose to make it healthier, using ground turkey in along with lean ground beef, using whole grain healthy bread, while adding more vegetables to it. Plus, the add-ons you can do for yourself are unreal.
Keep in mind, the original recipe is for a square casserole pan, utilizing only eight pieces of bread, serving 4-6. My gigantor family with eleventy-billion kids, however, requires double, and so the recipe reflects that below.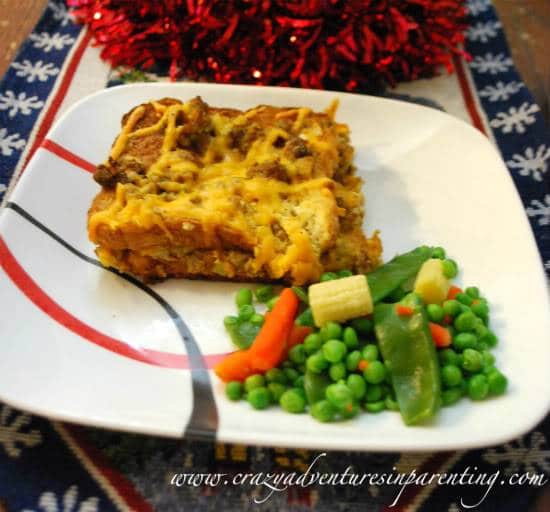 Cheeseburger Casserole "Toasty Cheese Bake"
This healthier cheeseburger-inspired casserole is a kid favorite. Makes two 9x13 casserole dishes.
Print
Pin
Rate
Ingredients
16ish

slices

bread

organic butter

we use Organic Smart Balance with Flax

1

lb

lean ground beef

browned

1

lb

ground turkey

browned

1/2

cup

chopped celery**

2+

tbsp

yellow mustard

2

cups

all-natural shredded cheddar cheese

we used the thick cut

2ish

organic eggs, beaten

2

cups

1% organic milk

1

teaspoon

dry mustard

powder

1

teaspoon

chopped

or minced garlic

salt

pepper, garlic powder, onion powder, Mrs Dash table blend, celery seed to taste

*These ingredients you may need more of

keep handy in case you do.

**You can omit celery

and/or add other vegetables, such as carrots, peppers, tomatoes, (ones that work well on a burger, for instance) etc.
Instructions
Heat oven to 350 degrees.

Toast your bread lightly and spray both 9x13 casserole pans with cooking spray.

As your bread finishes toasting, butter each piece both sides, and lay a layer in the bottom of your casserole pan. You may need to cut to make them fit. Cutting and puzzle-piecing together, Tetris-style is A-OK.


Once meat is browned, drain it, then stir in the chopped onion, celery, mustard, garlic (and any additional vegetables you desire) with chosen seasonings and saute a couple minutes until the onion is soft. Try not to eat from the spatula as you stir, I know it's tempting.


In a bowl, whisk together the egg, milk, and some seasonings, place it inside an easily pourable measuring cup and set aside.


(You can choose to follow the following simple trick of ensuring enough meat is in both casseroles, or ignore and do you're own thing.) Draw a "line" in the skillet of meat, dividing it by halving it evenly. Draw another line across, separating the cooked meat mixture into four equal sections. Each section will now become a layer in the two casserole dishes. (See how that works! Math! Fractions! At work!)

Place a layer of meat on top of the buttered toast, and a layer of cheese. Season a little.


Place a new layer of buttered toast over top, followed by a layer of beef, then cheese again. Season a little again. Do not eat anything yet, don't spoil it!


Pour the egg milk mixture over top both casseroles, being careful to pay attention to how much you are using on each. (Here's why it's important to pour from the measuring cup, and why I mentioned potentially needing more egg/milk mixture.)

If, after pouring, it seems to dry and not covered enough, feel free to beat at additional egg and 3/4 cup of milk to pour until you feel it's completely covered nicely.

This egg/milk mixture is the "glue" to this casserole that keeps it together, and helps make it super-dee-duper yummy. I like to make sure all the crusts are covered nicely, and that it seems to set all the ingredients together well.

Once poured, spray your foil with cooking spray (so it won't stick), cover, and place it into the oven for at least 40 minutes to cook. Turn your oven light on so you can peek, especially if your casserole dish is see-through like mine.

In the meantime, you get to agonizingly sit and wait and smell the deliciousness coming from your oven, trying to mask the stomach growls while you pant incessantly while watching the timer. It's okay, it's almost done. You won't die from hunger. Promise.
But! Don't forget to prepare some vegetables as a side dish while you're waiting. After the timer dings and when you are sure the egg is fully cooked through, and the casserole is nice and bubbly with steam coming from the center and not mushy, you can remove the cover for a couple minutes to help the top brown, but it's not necessary, but it makes it look prettier (cheeseburger anything isn't exactly the prettiest, but it's so dang good).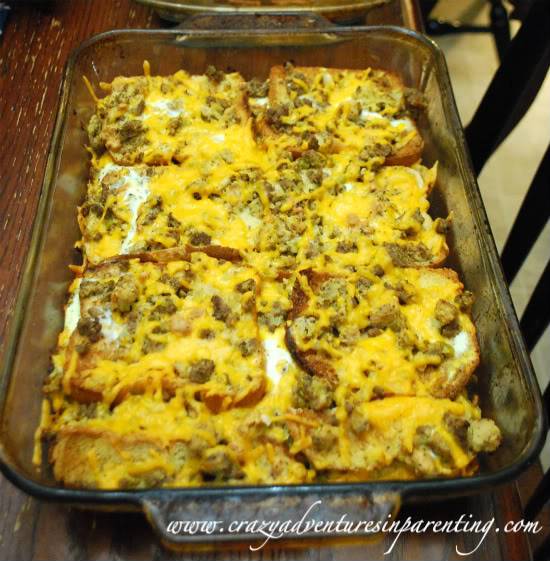 Slice 'n serve, baby. Slice. And. Serve.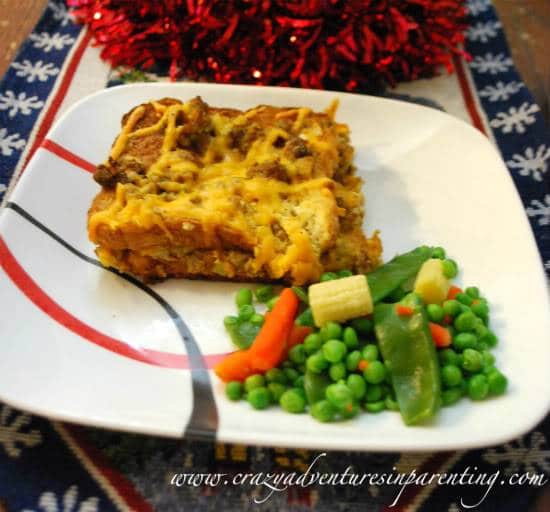 What do you think? Is this modernized 1970's budget casserole something that your family might like?