I have a thing for purple. With the softest, scrumptious, most delicious purple yarn I could find, I broke out my knitting loom and made this. Lookie!
The above picture didn't get the depth of purple-y-ness, so I held it near a window for you. Unfortunately, it lightened it up a little much. Believe it or not, it's even deeper!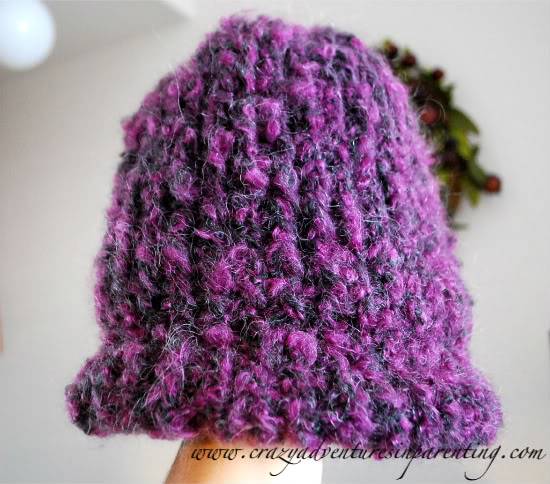 And it's as soft as it looks!
I doubled the thickness, knitting and bringing the original, looping it back in to make it even warmer, even softer. I let a couple rows go single, then knit until I doubled back for the brim area. This was so much fun, I forgot how much fun they are to make!
Now, if you were me, would you add anything on the top of the hat, such as a crocheted flower? Or fuzzy pom? Or would you leave it plain?
(And if you have any wonderful tutorials on fun crocheted flowers, let me know! I'd love to create one, even if I don't put it on the hat, as a pin to match!)
Never miss a thing! Subscribe today for all kinds of crazy parenting fun!