Glazed Strawberry Doughnuts
I've been on quite the strawberry kick lately. Between snacking on them with my kids, enjoying them in my smoothies, and making them in cakes, I am excited to have them on-hand constantly.
A week or so ago, I pinned this recipe on Pinterest.
Strawberry Glazed Doughnuts
The day we had to cancel our vacation, I immediately got up to prepare these first thing that morning. I had to do something special to try to smooth over the disappointment everyone was feeling.
And this strawberry glazed doughnuts recipe was seriously that special. With a few modifications, I am happy to say these doughnuts were delicious and comforting at a time my family really needed it.
Can you just taste them?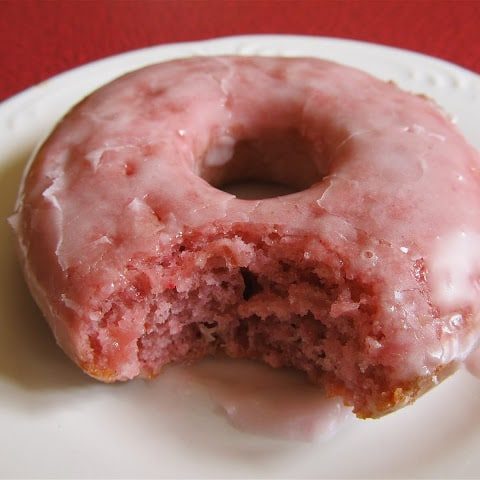 Glazed Strawberry Doughnuts
These delicious strawberry doughnuts will make any breakfast special.
Print
Pin
Rate
Instructions
Preheat oven to 425 degrees.

Grease two 6-doughnut pans with cooking spray.
To make doughnuts:
Combine and whisk together the dry ingredients in a large bowl.

Create a well (or hole) in the center of the dry ingredients with your spoon; add in milk, egg, butter, and maple syrup. (If adding food coloring, add in it at this time. Red food coloring will make it pink. Using all-natural ingredients, such as I do, the result is not as pink without the addition of coloring.)

Stir ingredients gently together, starting with the center, until ingredients are well combined.

In a blender or food processor, combine frozen strawberries, jam or spread, and lime juice and blend until well combined. (Note: this frozen mixture makes a WONDERFUL frozen treat for snack or dessert!)

Gently stir the frozen strawberry mixture into the flour mixture, a little at a time. Please note, batter should be wet, but not runny, so test with a spoon after each time adding strawberries in.

Once desired consistency has been achieved, spoon dough into doughnut pans, or pipe into pan using a pastry bag or plastic bag with a hole snipped. (I prefer spooning it in because there is less waste.)

Bake for 7-9 minutes or until doughnuts spring back when touched.

Turn onto a cooling rack to cool completely before frosting.

Continue preparing doughnuts until all batter has been used.
To make icing/glaze:
While doughnuts are cooling, place parchment paper under cooling rack.

Stir all ingredients together into a medium-sized bowl (large cereal bowl) until smooth. (Note: have extra powdered sugar on hand in case you need a thicker consistency as I did. I actually used approximately 3.5 cups)

When doughnuts are cooled completely, dip one end into glaze, flipping and dipping the other end.

Place dipped doughnuts back onto cooling rack, letting excess glaze drip onto parchment paper.

Let glaze set at least 20-30 minutes, until glaze has hardened enough to not stick to fingers when handled.
I promise you, these are just as delightful as they look.
What do you think? Will you try these?