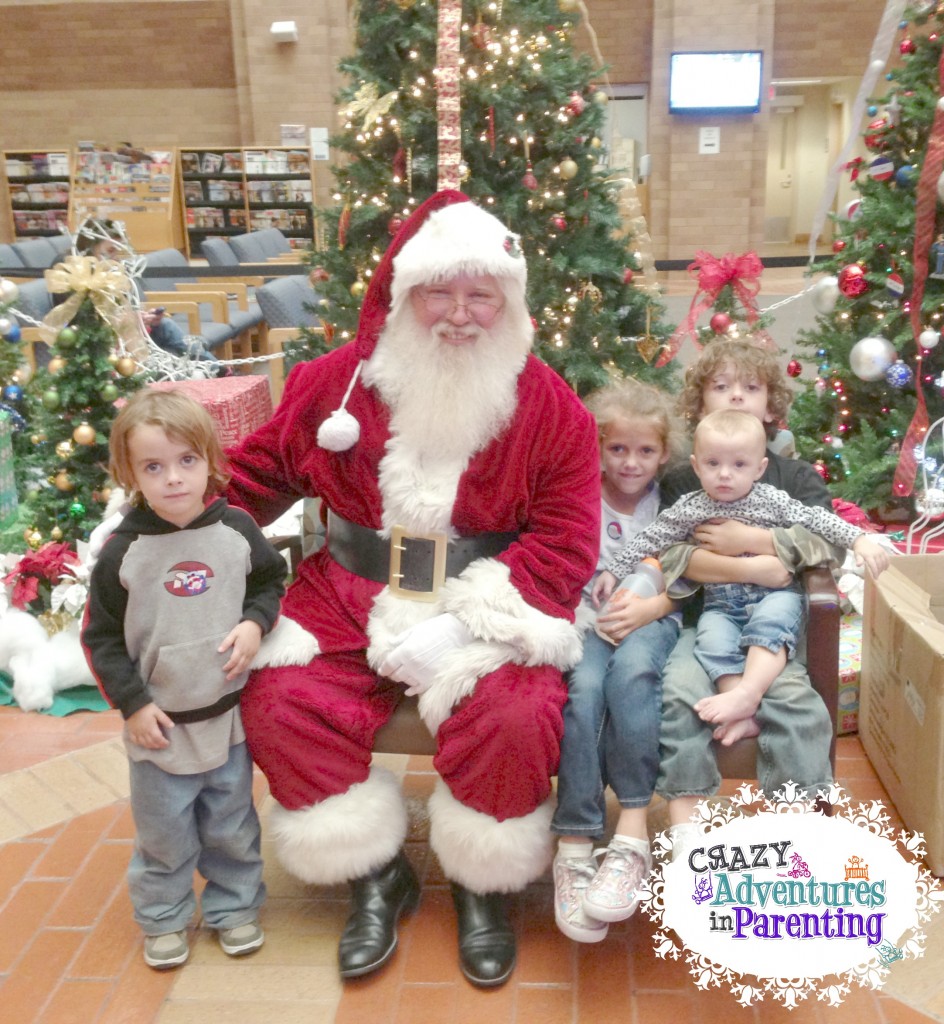 Her first meeting with Santa was (mostly) magical, but because she still wasn't feeling well. (You can see in the picture she doesn't seem herself.) We went to the hospital for all their ear infection "re-checks" (which turned out to be ear infection re-prescriptions), and Santa had a nice set-up right there in the main entry area. Welcoming and genuine, folks crowded around the jolly ol' fellow, and when it was our turn, our kids piled up onto his bench, unafraid and content. I propped V on her brothers lap, and she instinctively grabbed for his velvet suit and tickled and swished her pointer finger over it.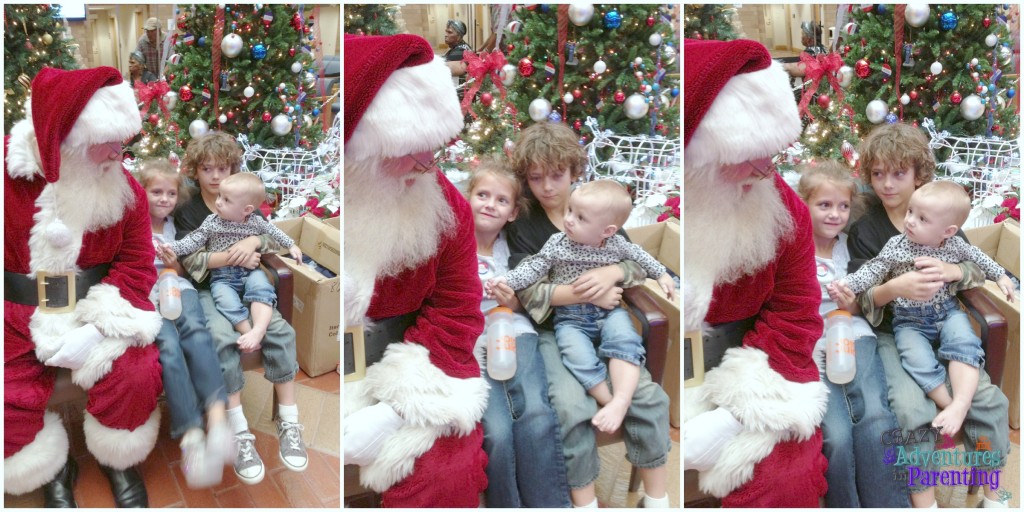 She's had a rough couple of weeks of sickness and cutting four top teeth alongside her ear pain, she doesn't have too many calm and peaceful times unless she's sleeping or on the breast (or medicated). But there was something about this Santa, she didn't cry for hours afterward. In fact, she looked a lot like regular V, playful and happy and joyful.
It did my heart fantastically good.
Just like it did to see her happy and ready to wreck the tree when I dressed her up earlier this week, Christmas-style. You remember her Halloween costumes, yes? All her fancy ruffles and tutus and adorableness? Oh yes. I can't stop. I didn't WANT to stop. And so, I didn't.
I got Christmasy ones.
OH YES I DID.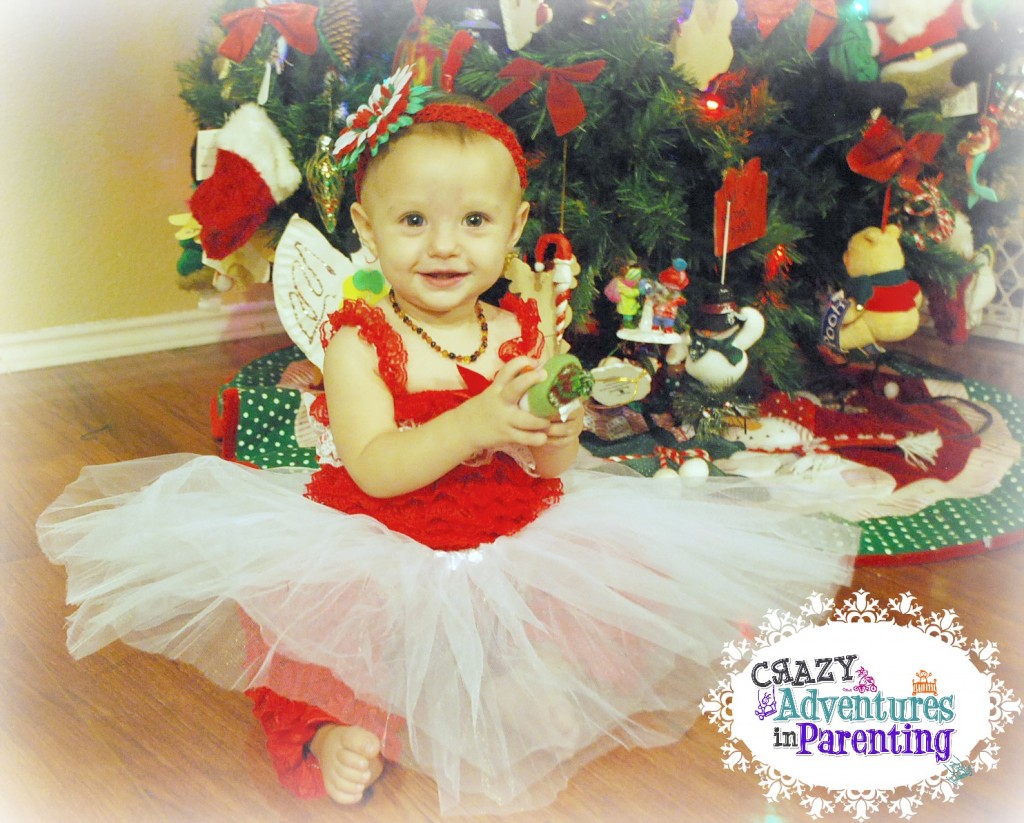 That could be a freaking CHRISTMAS CARD in the holiday card section right there, OMG!
I've said it before, and I'll say it again. I. LOVE. DRESS-UP.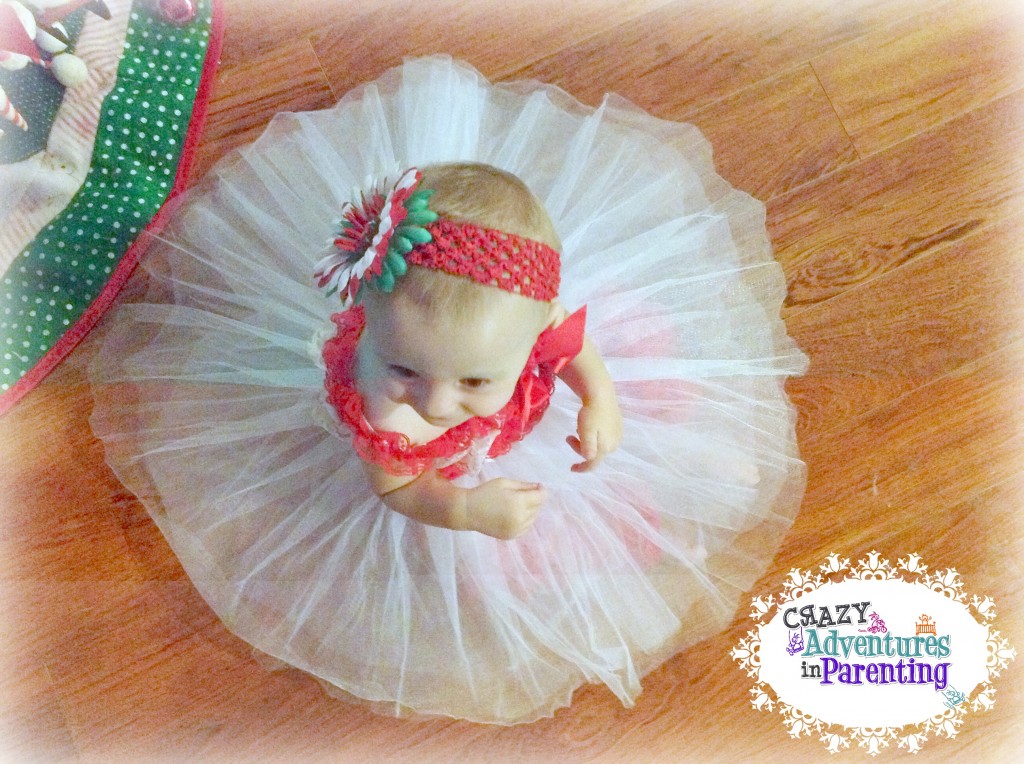 The folks from Girls Crochet Headbands (which is where I purchased all her cutesy outfits) fell in love with all the dress-up pictures I was postingand decided to send me a holiday outfit for her to try. What she's wearing:
I freaking love how elastic their pretty rompers are, they will grow with her, as opposed to traditional costumes. This medium she's wearing will go to 18+months. The large? Goes from 18 months to FOUR YEARS OLD. Dude!
Would you like to get a few of these fantastic items yourself? The GCH folks gave me a coupon code to share with you, too! Save 20% using my exclusive coupon code "crazy20" good until December 31st 2012.
Holiday shopping deadlines:
Standard shipping (free with a $30 order, no code required) ends Dec 17th
Priority two -day shipping is Dec. 19th
Overnight shipping is Dec 20th.
Win It!
Would you like a set of this adorableness for yourself? I'm giving away a $30 Gift Certificate! This one's a quick contest, so you can be sure to receive it in time for the holiday!
1) Mandatory entry: Head over to the Girls Crochet Headbands website and look around. Then come back here and leave a comment telling me what your favorite GCH item is.
For extra entries:
2) Follow GCH on Pinterest (we're pinning so many awesome things!) and leave me a separate comment letting me know you did.
3) Follow GCH on Twitter and leave me a separate comment letting me know you did.
4) Fans of GCH on Facebook get an extra entry, too. If you don't already like GCH on Facebook, you should check them out and consider liking them for special notifications, sales, etc! If you're already a fan, come back and leave a separate comment letting me know you did.
5) Share this contest via the buttons below, and leave a comment for each share! You can enter daily, share more than once, and have unlimited entries!
6) And if you like seeing baby dress-up and other fun parenting posts, you might consider subscribing to my blog. Followers of mine on social media (Twitter, Facebook, Pinterest, Instagram) get extra entries, too.) Comment for each way you follow!
Contest ends Tuesday December 18th at 8pm CST. US only. Winner chosen by Random.org. Good luck!
—
Now, if you don't mind, I just spotted a few ridiculously cute new items and I'm going to take advantage of the coupon code and free shipping and finish Baby V's shopping right now.