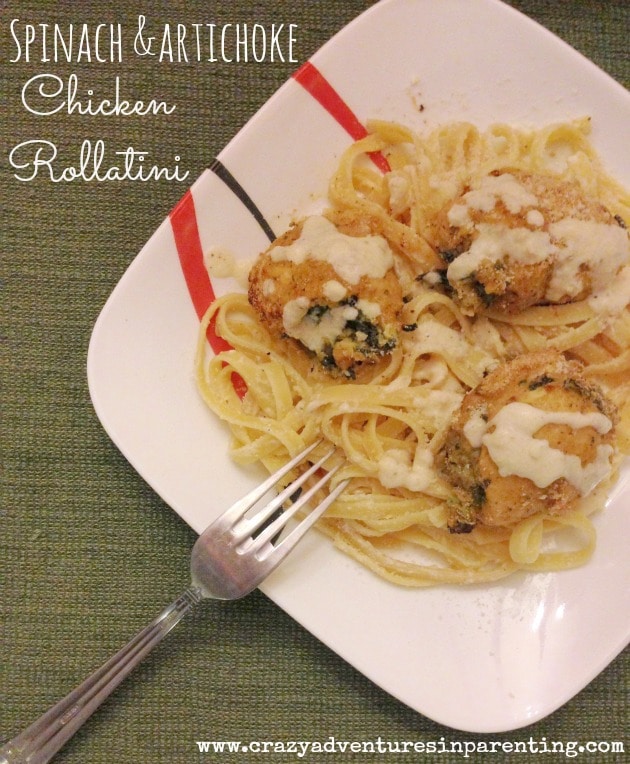 Spinach and Artichoke Dip Chicken Rollatini with Alfredo
You already know our fascination with spinach and artichoke dip, and turning it into awesome dinner ideas, like with our Crock Pot Spinach and Artichoke Lasagna (oh yes)!
I think whomever invented spinach and artichoke dip should be knighted. Or crowned KING or QUEEN OF AWESOME. Or, deemed pretty much my favoritest food creator EVER. I'm not sure. What I am sure of? If you couple spinach and artichoke dip with chicken cutlets, top them with Alfredo sauce, and bake them in the oven (like chicken cordon bleu), you'll get a pretty fantastically awesome dinner, particularly served over linguine or fettucini!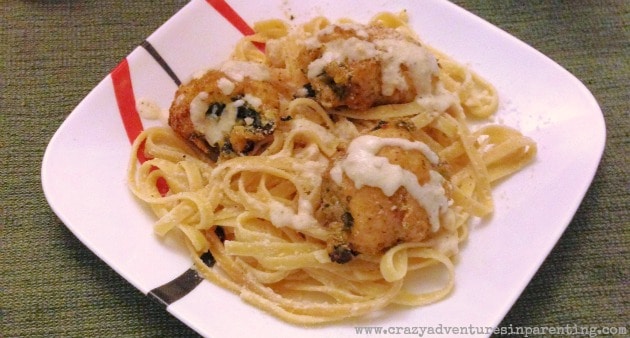 Spinach and Artichoke Dip Chicken Rollatini with Alfredo Recipe
Ohh, baby! Come to momma!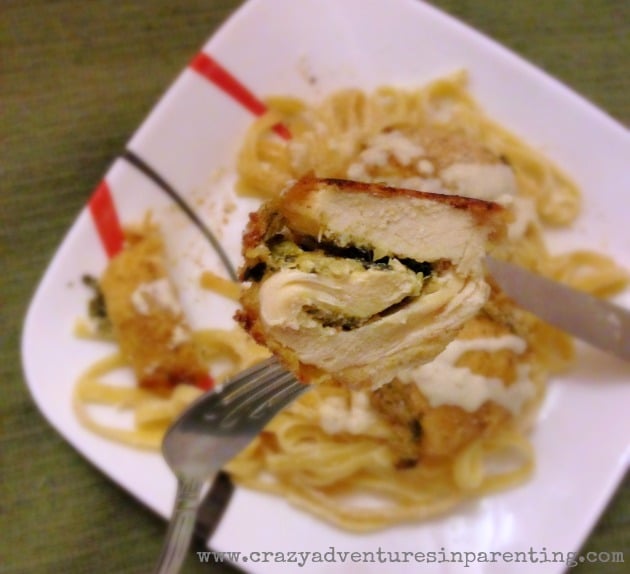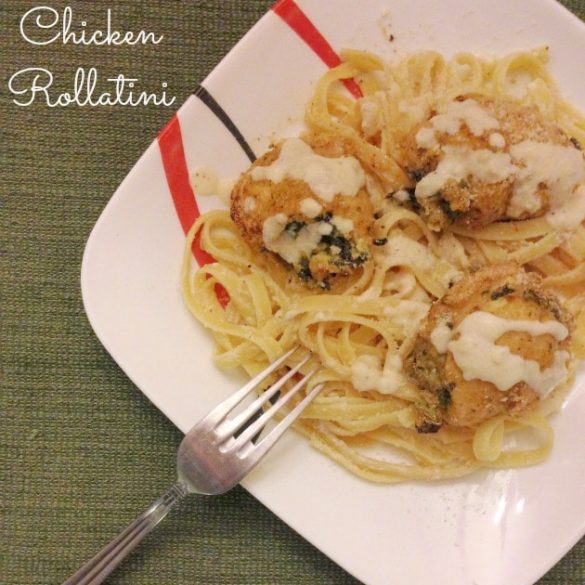 Spinach and Artichoke Dip Chicken Rollatini with Alfredo
Pairing spinach and artichoke dip with chicken, alfredo sauce, and fettucini, makes this dinner a winner!
Print
Pin
Rate
Ingredients
12-16

chicken tender cutlets

pounded out like the dickens with a meat tenderizer

3

eggs

whisked

Seasoned bread crumbs in a bowl
Spinach Dip
10-oz

package

frozen chopped spinach

thawed

1

can/jar of artichoke hearts

chopped

¼

cup

mayo

¼

cup

sour cream

¼

cup

Parmesan cheese

grated

1

tsp

minced garlic

½

cup

Mozzarella cheese

shredded

4

ounces

1/2 cup whipped cream cheese

Frank's Red Hot sauce to taste

5-6 dollups is optimal

Seasoning to taste

I use a tablespoon each of Mrs Dash Table Blend, Onion Powder, & Garlic Powder
Instructions
For Spinach Dip filling
Place your sour cream, mayo, Parmesan, garlic, and seasoning in a bowl; whisk until well blended.

Blend in the cream cheese, Mozzarella cheese, adding in the thawed spinach slowly; cream all ingredients together to make a creamed spinach mixture.

Add artichoke hearts into creamed spinach, and blend together; taste and add seasoning or hot sauce as needed.
For Alfredo sauce (to be made when chicken is done baking)
In small saucepan, add milk and cream cheese, blending together until mixed (might be slightly lumpy).

Heat thoroughly until bubbly and lumps melt.

Add parmesan and garlic; season to taste.
Putting it all together
Spray a 9x13 baking dish with cooking spray.

On a large cutting board, lay chicken tenders out side-by-side.

Lay out a tablespoon of spinach mixture along the cutlets, rolling chicken into a roll, and fastening with toothpicks so they stay in place.

Dip each chicken tender gently into the egg wash (holding by its toothpick) and then into the breadcrumbs, lightly coating it with breading.

Lay into the sprayed baking dish one by one.

Cover with foil and cook until chicken is 180-degrees, about 30 minutes or so.

Take off foil, and let brown slightly on top.

Toss prepared pasta with most of the alfredo sauce, saving some to drizzle over top the chicken when serving.
Can you taste it? I swear, this is one of those dinners the kids BEG for!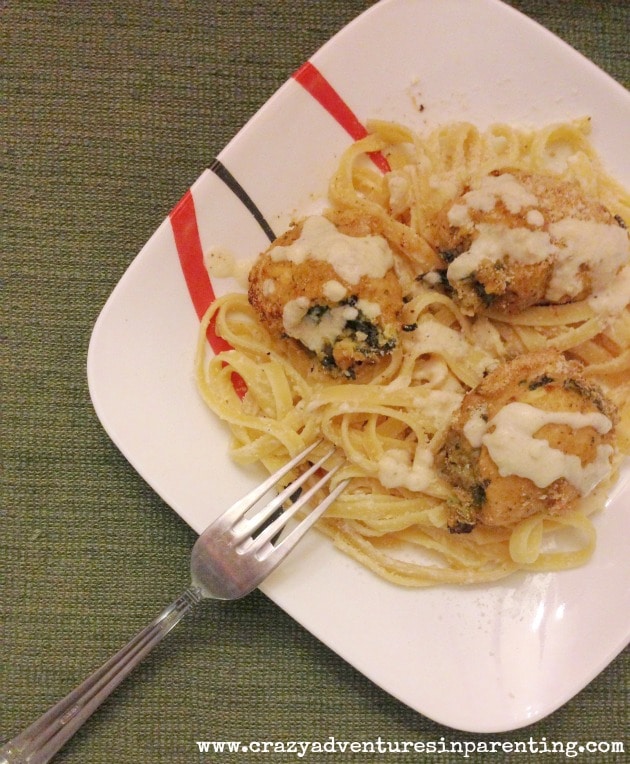 What about you? Do you love spinach and artichoke together, too?