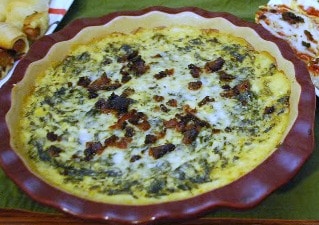 I may suck at decorating cupcakes, but I don't suck at making food for gatherings.You know our love of football and baking/cooking from scratch. Having worked in many restaurants throughout college and thereafter, I learned a few tricks of the trade when it comes to recipes, and I believe my Spinach and Artichoke Dip recipe is to DIE for. I hope you try it and see for yourself!
The key to a really tasty Spinach and Artichoke Dip is adding a few dollups Frank's Red Hot sauce. I can't explain why, but having been forced previously to eat it without adding it, it just adds this extra, tasty "oomph" that is much needed to take the taste to the next level.
Spinach and Artichoke Dip with Chips

Spinach and Artichoke Dip Recipe
A few surprise ingredients make this crock pot recipe a must try!
Author:
Lisa Douglas - CrazyAdventuresinParenting.com
Ingredients
2 10-oz packages frozen chopped spinach
1 can/jar of artichoke hearts, chopped
½ cup mayo
½ cup sour cream
½ cup Parmesan cheese, grated (divided into two ¼ cups)
1 tbsp minced garlic
¼ cup Mozzarella cheese, shredded
4 ounces (1/2 cup) whipped cream cheese
Frank's Red Hot sauce to taste (5-6 dollups is optimal)
Mrs Dash Table Blend
Onion Powder
Garlic Powder
Tortilla chips of your choice
Instructions
Pre-heat your slow cooker/crock pot by turning it on the "high" setting.
Thaw your spinach in the microwave until it can be separated and no more ice is found.
Place your sour cream, mayo, ¼ cup Parmesan, garlic, Franks Red Hot sauce and one tablespoon each of Mrs. Dash, Onion and Garlic powder into the slow cooker; whisk until well blended.
Chop your artichoke hearts; set aside.
Blend cream cheese, remaining Parmesan cheese, Mozzarella cheese and one tablespoon each of Mrs. Dash, Onion and Garlic powder into the bowl of thawed spinach; cream together.
Add artichoke hearts and creamed spinach into slow cooker, blend together; taste and add seasoning or hot sauce to taste.
Does that not sound ridiculously yum? You can see more delicious recipes by visiting FranksRedHotBowl.com.
Do you have a special recipe you like to make when entertaining?
Never miss a thing! Subscribe today for all kinds of crazy parenting fun!