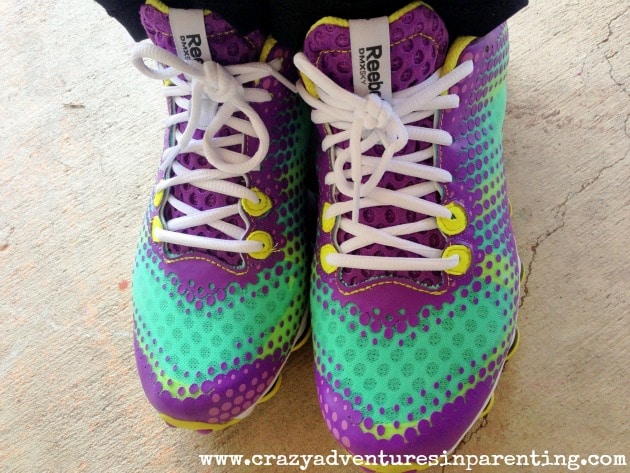 I am pretty faithful to the running shoes I already have, as I was fitted for them (and I recommend every runner be fitted for their running shoes initially), but I have always been a longtime lover of the Reebok brand. When I was younger working in retail and restaurants, anytime I could wear sneakers to work, I wore my Reeboks. I was also a huge fan of their Easy Tone sneakers, too. Reebok seems to have that "walking on a cloud" technology down pat, and so when Fitfluential sent me a pair of Reebok's DMX Sky to try, I simply couldn't resist. These shoes came out March 1st 2013, and are AWESOME.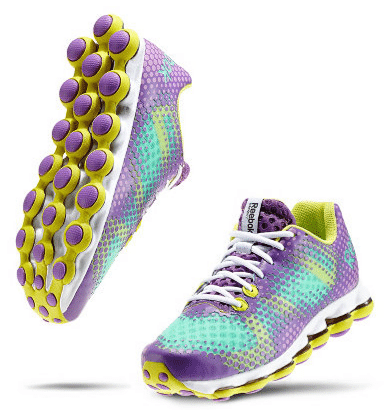 It took me a bit to break them in, particularly because you should break running shoes in for at least 60-70 miles or 4-6 weeks before you compete in a long-distance run. However, since these are being marketed towards shorter-distance, casual, or the occasional runners, I had to pick and choose which days to run with them, since not every run of mine was a short one, which took a bit longer to break them in running-wise. Also, I really wanted to get them good and broken in to give you an idea of how they feel, as shoes don't necessary feel the same on the first day as they do on the 60th, or 100th. (You've seen me post about these before.)
I gotta tell you, I became addicted to these quite quickly. Once I got over the soccer cleat feeling from the air-filled bubbles on the bottom (which took all of about five minutes initially), and the slight tightness I felt around the arch (a little extra support than I'm used to), I began reaching for these everyday. The bubbles added a nice spring to my step, and I began not only wearing these for short runs, but while walking, too. My fast-paced walks with the kids feel more secure now, too. These are pretty breezy and airy, allowing your feet to breathe quite nicely while still being pretty secure in and around the arch and toes. I have come to crave that slight compression around the arch, I feel supported like I haven't felt before. And they're SO lightweight, too!

I'm not sure I'd solely define these as a casual running shoe, I would definitely add in that it's a walker to its description. I also think it makes a pretty spectacular everyday shoe, too. In fact, they fast became my go-to sneaker for everyday use, simply for aesthetics alone. I loved the pop of color it gave my boring black yoga pants clad outfits. I have never owned such a colorful pair of shoes before, and I adore that!

Reebok DMX Sky shoes are available for both men and women at the Reebok store and retail for $129.

What about you? Do you typically wear colorful sneakers? Do you like cloud-walker type of shoes like this?