HO-LY-COW! I can't believe I'm actually writing this, but here goes:
In the past 3+ weeks, it's been all about spring cleaning and home projects galore. Between lifting heavy patio stones, huge mallets and hammers, nail guns, bags of sand, wheelbarrows, digging, raking, shoveling, planting and more, my exercise has come naturally by being more active with all these crazy home projects. We're desperately trying to get this outdoor stuff done before the San Antonio summer heat hits. (You know?)
We've been busier than ever, particularly with soccer on top of it all, too, there's rarely a time I get to sit still! Couple that with regular daily housework, like, sweeping, mopping, cleaning, laundry, as well as constant baby-wrangling, not to mention how many times I climb the stairs carrying laundry, making beds, vacuuming, mopping with my feet – all aerobic, but normal, everyday things. By being more active naturally, and being on my feet and go-go-go all day long, that coupled with a healthy diet, the pounds and inches have seemingly just melted off!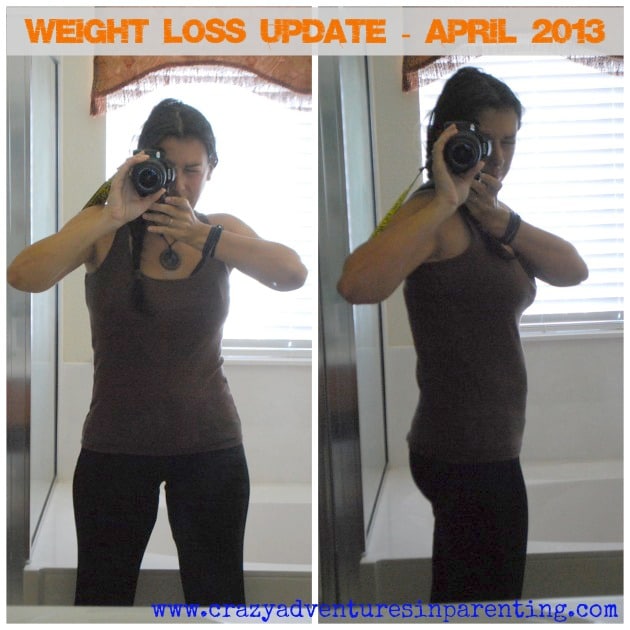 8.5 inches gone, and 8.6 lbs lost since the beginning of March. I don't even know what to say, other than HOLY CRAP!
While the change is awesome, I miss that "me" time you get by exercising regularly. My son wants to restart our Sunday runs again, too (looking forward to those!) For now, though, with all the crazy stuff going on, it helps to know that I'm still on the right path, and staying active enough. I just hope life lightens up on us soon! Whew!
What about you? How are your weight loss goals coming along?